Best Racing Drones for Sale in 2019
BEST RACING DRONES FOR SALE IN 2019
Elevate your flight experience with unfounded speed never seen before. The racing drones are one of the most fastest quadcopters that brings speed, agility, and high performance with incredible aerial capabilities. Enhance your piloting to a whole new flight level today with the best racing drones for sale online.
UVIFY DRACO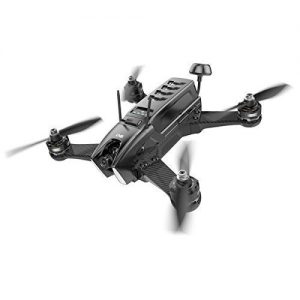 CAMERA RESOLUTION
720P HD
Built for Speed
Meet the UVify Draco racing drone, one of the world most fastest quadcopter that is already assembled to fly right out of box. It is uniquely designed to be aerodynamically as possible and outfitted with powerful brushless motors to ensure superior flying speed. This racing drone can easily reach a maximum flying speed of 100 miles per hour within few second. Because of its small size and compact design, it doesn't require that much working power to achieve lighting fast flying speed.
In addition to that, the UVify Draco racing drone uses carbon fiber which is both lightweight and incredible durable. Compared to the standard plastic which is widely used in drone industries like the HS150 Bolt Bee or Parrot Mambo. The UVify Draco racing drone focuses on making it lightweight, durable, smart, compact, and of course, speedy. And, that's what makes this racing drone so good that it deserves to be listed in the best racing drones for sale in 2019.
It Is Not Just Fast, But It Is Also Smart
While the UVify Draco racing drone obviously dominates the racing drones category with its superior flying speed. It is not always just about being able to fly the fastest. As matter of fact, the Draco racing drone is outfitted with smart modules which automatically adjusts its speed for stability and flight controls. Most of the racing drones you see on the market usually don't have these kind of features and that's what makes the UVify Draco an easy choice.
Not to forget to mention that this racing drone also included software module that updates over the time. This is an important feature that keeps the racing drone in check for any software issues like stability, controls, and of course improvements. These can be done remotely from the drone company themselves. So, you will never have to worry about maintaining the quality of racing drone since the UVify Draco is being taken care by the manufacturer already.
High Tech For The Win
One of the main takeaways that the UVify Draco racing drone has to offer is its high-tech appearance. You don't see these kind of designs often. On my first impression, I was impressed with how it looked with colorful LED lights and its aerodynamic design. Certainly the drone manufacturer has taken the design appearance to a whole new level. If you are looking for a stylish racing drone with amazing performance capabilities, the UVify Draco racing drone might be the perfect match for you.
Besides, it uses carbon fiber framework to provide durable support to hold all of its essential components like camera, brushless motors, GPS/GLONASS module and such. The UVify Draco racing drone is the type of quadcopter that will easily survive crashes while boasting its unique appearance in front of your audience.
Draco Racing Drone
On the top of list, the Uvify Draco racing drone dominates the category. Due to its superior flying speed that it can easily reach up to 100 miles per hour. Making it one of the fastest assembled racing drone designed for entry-level to experienced remote pilots. The Uvify Draco racing drone is uniquely designed with high-tech style that makes it both appealing and overall a professional quadcopter. Outfitted with 720P HD camera and lighting fast analog that offers state-of-the-art response time, it can be easily commanded to perform set of aerial maneuverability.
BOLT DRONE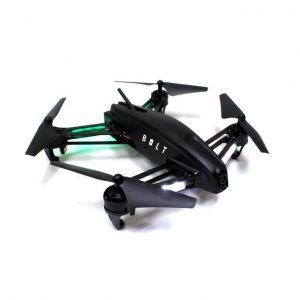 Aerodynamically Designed
Introducing the Bolt Drone, this lighting fast bird is aerodynamically design to deliver an ultimate flight experience for beginners. It focuses at trimming off the weight, creating durable, tough, and well structured body framework that minimizes the air drag, while providing impressive flying speed. Beginners will enjoy the fact that Bolt Drone is professionally crafted of durable carbon fiber that makes it very strong against impact and suitable for outdoor activities.
In the front of the drone, it has built-in camera that provides resolution setting up to 480P HD. Not just only that, the Bolt Drone also focuses at minimizing the additional module while ensuring it is capable of fulfilling the purpose as an entry-level racing quadcopter for beginners. Combined with its aerodynamically design, control range, and great flight time makes it one of the best affordable racing drone that beginners and vying quadcopter racers can shop for.
Speed, Battery, and Experience is What All Matters
The battery on average provides Bolt Drone up to 15 minutes at most of the time. However, the low end is 12 minutes which is done with recording and livestreaming the video directly to the remote controller. Don't worry about flying a racing drone if you have no prior experience. Because the Bolt Drone is incredible easy to get start, fortunately. Thanks to its responsive and built-in speed mode which enables a smooth and gradual learning curve for all remote pilots.
At the beginning, you will learn the basics of flight controls. Once you understand and mastered the basics, you can increase the speed to challenge yourself. From that point, you will be able to perform advanced aerial stuns such as 360-degree flips and even navigate around in close quarters. With the ability to record videos, you will be able to show off your piloting skill to your audience and win some fans who enjoys your content and aerial tricks.
Bolt Drone
One of the popular racing quadcopter is the Bolt Drone. This isn't to be misunderstood with the Holy Stone HS150 Bolt Bee. However, this quadcopter is professionally-designed with built-in 5.8GHz receiver for lighting fast real-time video streaming. It has a maximum remote control distance up to 300 meters and can be flown at 30 miles per hour. Which is comparable less to the high-end racing drones. But at the price tag that Bolt Drone is going for, it gives an affordable option for beginners who are into racing drones.