Are you a big fan of the popular Potensic brand? They have been making high-quality drones for quite a few years, slightly longer than Holy Stone. However, they have been making several strides recently with the release of Mirage Pro and the D60 Smart Camera drone. We decided to write a buyer's guide covering the best drones crafted by Potensic.
If you are looking for smart camera drones to start with. Then you have come to the right spot. Because in this definitive buyer's guide, we are going to share the top 5 best Potensic drones for beginners. So, stick with us and let's find out what are the best drones Potensic has in the store for you so far.
Top 5 Best Potensic Drones for Beginners
1. D50
The Potensic Mirage Pro D50 is one of the best and most popular entry-level camera drones for beginners. It resembles a similar appearance to the popular DJI Spark drone. However, if you are on a tight budget and want a smart camera drone to begin with. The Potensic Mirage Pro D50 is a very good choice.
Here is why you will want to have your hands on this fancy mini-sized drone. It is outfitted with GPS / GLONASS systems which provides the drone with an accurate hovering position. In addition to that, this drone is capable of performing intelligent aerial capabilities such as Follow Me mode and Orbit mode.
Although, if you are looking for cheap drones with a high-quality camera, you won't find anything like these in the price range they are selling for. You would be better off checking these professional-grade camera drones out. But, the Mirage Pro D50 comes with a decent camera that delivers quality aerial footage. Which makes it a great training quadcopter for beginners.
back to menu ↑
2. T35
Meet the big bird of Potensic. This advanced camera drone is packed with smart features and impressive aerial capabilities. Not to mention that the Potensic T35 competes with two most popular drones on the market: HS700 Ophelia and HS100 Navigator.
Outfitted with a 1080P camera that can be adjusted remotely, offering you a complete and vantage aerial perspective. The Potensic T35 is the perfect choice for training beginners to experienced aerial photographers. Not to forget to mention that each battery is designed to deliver powerful performance, lasting 15 minutes per charge.
One feature you'll surely love is this drone's remote control's fantastic design, which matches the drone's design itself, unlike the usually ugly and clunky drone controllers out there. Though it's quite large, it's not uncomfortable to hold, thanks to its curved design.
Design-wise, the Potensic T35 looks like a clone version of the popular DJI Phantom 4. While DJI stopped the production of Phantom 4, the Potensic T35 could be a good alternative option if you want to fly a quadcopter that looks like one of them. Especially without spending too much money on your first drone.
back to menu ↑
3. D60
The Potensic D60 is another wildly popular quadcopter that comes with a lot of interesting and cool features. Unlike most Potensic drones that you find on the consumer market. This drone is perhaps one of the most advanced and very capable of performing intelligent flight modes thanks to the integration of GPS / GLONASS module.
A single battery on average provides flight time up to 20 minutes. Furthermore, it has a maximum control range of up to 1,300 meters which gives beginners like you plenty of flying space to soar the drone around. Aerial photographers will also enjoy the camera specifications that the Potensic D60 drone brings to the table.
The drone's remote controller has a transmission range that can reach around 300 meters when flown in excellent conditions. When live streaming your video footage, the maximum range is 150 meters. Though expect to have some interference and lag, so remember to record your footage in your memory card.
With its high-definition resolution setting of 1080P, it does a good job of delivering images with details and vibrant colors. Plus, if you are looking for traveling drones to take with anywhere you go. The Potensic D60 drone is also a great pick because of its size and aerial capabilities that make it one of the top 5 best picks for beginners.
back to menu ↑
4. D80
Don't get me wrong, the racing drones is relatively new and also a quickly growing segment of the popular quadcopters. I thought it is worth mentioning the Potensic D80, notable for its performance and the quality that it has to offer to beginners. While this drone is designed for racing, it comes with a multitude of beginner-friendly features such as altitude hold and speed mode.
Each motor is outfitted with brushless motors which improve the performance. At the same time, it reduces the power it consumes for longer flight times. Thanks to high capacity battery, each charge provides the drone an average 20 minutes of flight time. Plus, it has a maximum remote control distance of approximately 1.5 miles.
The D80 drone is powered by a 7.4v 1800 mAh lipo battery, which means that its flight time can be between 16-20 minutes, depending on the weather conditions and how fast it is flown. The drone has a pretty decent remote controller and a transmission range that can reach 700 meters and 300 meters for FPV purposes.
The camera that Potensic D80 drone uses is equipped with 1080P HD resolution quality. It does a good job of delivering clean and crisp-sharp still in an aerial perspective. Although, if you are looking for a lighting fast drone that matches the flight speed of JMX Bugs 6 or HS150 Bolt Bee with impressive camera quality. Then the Potensic D80 is the right choice for you.
back to menu ↑
5. D20
And finally, the final best drone makes it to the top list in this guide. We didn't forget to include the Potensic D20, which is one of their latest released nano-sized quadcopter for beginners. For some of you who are on a tight budget and don't want to spend too much money. The Potensic D20 drone might be a great pick for several reasons: amazing specifications, built-in camera, and an intelligent chip that makes it a smart quadcopter with an affordable price tag.
The intelligent chip is very new and was recently added to the latest models. The intelligent chip installed on the Potensic D20 drone helps out with balancing its stability and ensuring a smooth flight experience. It is done automatically by detecting the changes in air pressure and adjusts accordingly. This feature makes flying the drone much easier for beginners and comes with three-speed levels to master the flight controls.
This drone has an aerodynamic design that helps minimize the air drag as much as possible and maximize the airflow for better flight performance. It comes with a sleek white coat around its main body framework with black accents in its propeller guards. These propeller guards work as a shock absorber, a useful feature, especially for beginners.
The Potensic D20 is an inexpensive camera drone packed with helluva of fun features. It doesn't come with advanced functions that you normally would find on more expensive drones such as the Mavic Air or Parrot Anafi. But, at the price tag that the Potensic D20 is going for. This is a great budget-friendly quadcopter packed with kick-ass features.
Which Potensic Drones Should You Choose?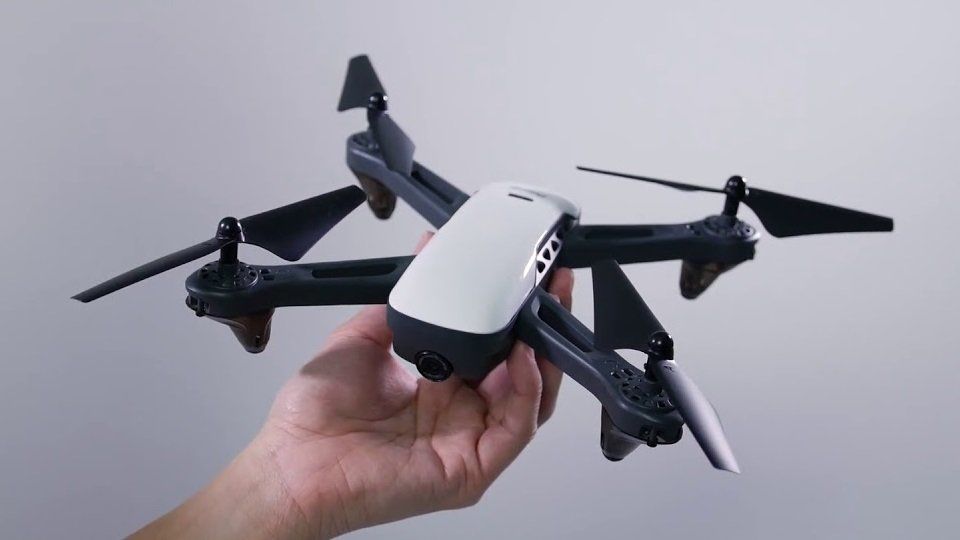 It all depends on your preference and how much you are willing to spend. If you are looking for the best camera drone sold by the Potensic brand, then either T35 or D60 is the pick. But, if you were to ask me what is my favorite Potensic drone. I would have to say that my top choice is the D50 for several good reasons (you always can read my review to find out more information about why I recommend it).
However, you should pick based on your needs. Think about this, what are you planning to do when you get a drone. If you want to fly a drone mainly for recreational or just to learn how to fly. Get one of these drones under $100 like the Potensic D20 quadcopter. On the other hand, if you are planning to capture aerial shots then you should check out these camera drones.
Alternative Options to Potensic Drones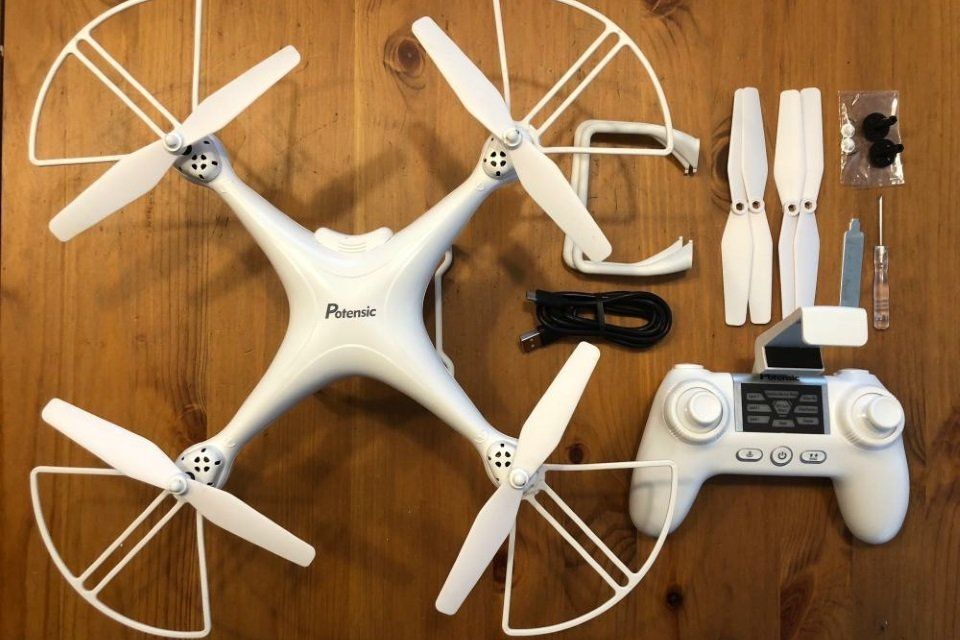 Lastly, before we wrap up the top 5 best Potensic drones for beginners. I have several alternative options for you who might want to explore other popular quadcopters. Check out our top 10 best Holy Stone drones for beginners. If you have kids and young children who are interested in flying drones, I wrote a guide sharing the top 5 best Holy Stone drones for kids only.
Not to forget to mention that if you are a first time and has no prior experience in flying drones. You probably don't want to spend that much money. Don't worry about that because we included a budget-friendly buyer's guide for beginners and kids. Alternatively, if you just want to enjoy piloting the drones, you can just check out these quadcopters designed for hobby and recreational purposes.
If you're working with a small budget, say less than $100 or buying for a younger child, the Potensic D18 is a great choice. It's foldable, durable, and inexpensive.
That's all I have to share with you about the top 5 best Potensic drones for beginners. You can head over to our ultimate guides & tips page if you want to learn more about the world of drones. Happy flying and fly smart!