Recently Contixo released a brand new smart foldable camera drone that can be bought under $300. Introducing the Contixo F24 drone, the most portable and advanced intelligent quadcopter for beginners and professionals. If you are looking forward to getting your hands on one of this brand new camera drone, there is a new toy just right around the corner. The Contixo F24 smart foldable camera drone is the latest modern generation encompassing a multitude of features and functions. Through researching the product and sifting the customer reviews, I decided to write an in-depth review of the Contixo F24 drone. In this review, I will be talking about the design quality, performance, features, camera, remote controller, and several other key points that you need to know about this smart foldable quadcopter. The purpose of our Contixo F24 drone review is to help shoppers like you make an informed decision. At the end of the article, you will be able to decide if you want to shop for a Contixo F24 drone. Without further ado, let's start flying into the sky!
What's Inside The Box:
To kickstart our Contixo F24 drone review, we are going to talk about what is included in the box. As you know that learning what comes in the box and what you need to shop to complete your drone experience is the utmost important part. Fortunately, the Contixo F24 is a ready-to-fly drone which means the moment you take it outside of the box. You can fly it immediately to enjoy the drone experience.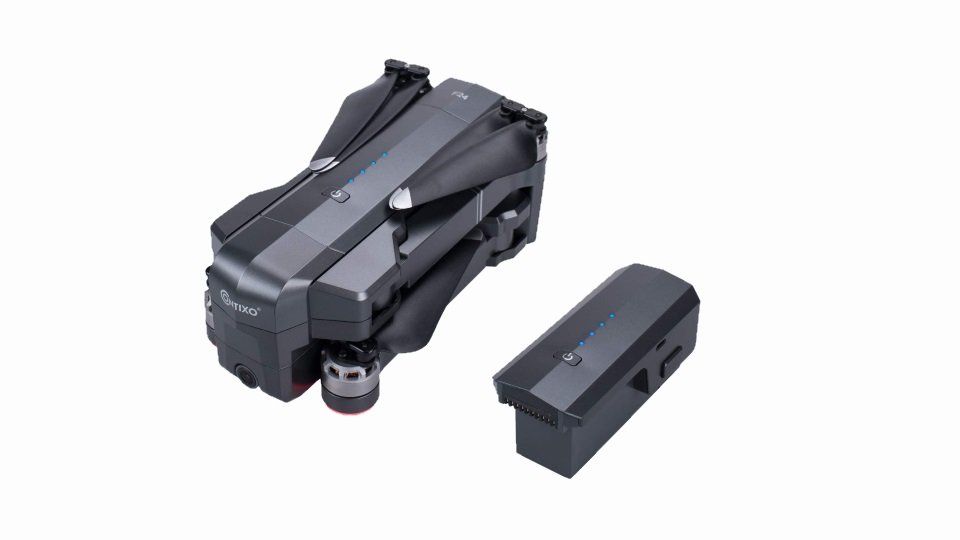 Normally, a drone comes with a battery and several accessories. But, the Contixo F24 drone is unique because it includes a travel case. This means you can easily store all of its accessories inside one place and take with you anywhere you go. This makes Contixo F24 drone one of the most portable and convenient quadcopters for travelers and beginners. Check out all the items that are included in the box:
Package Content:
Contixo F24
2500mAh Intelligent Flight Battery
Remote Controller
Travel Case
Battery Charger
Quick-Release Foldable Propellers
User Manual
Design & Build Quality
On the first impression, the Contixo F24 drone resembles a sturdy and durable design that features similarities to the popular Mavic 2 Pro. For beginners who are looking to get their very first smart camera drone, you would be surprised by how resilient this foldable drone is. It is made of durable alloy metal that encompasses impact resistance features and toughness. Also, the weight of the drone makes it resilient to the wind which is an important factor for performance.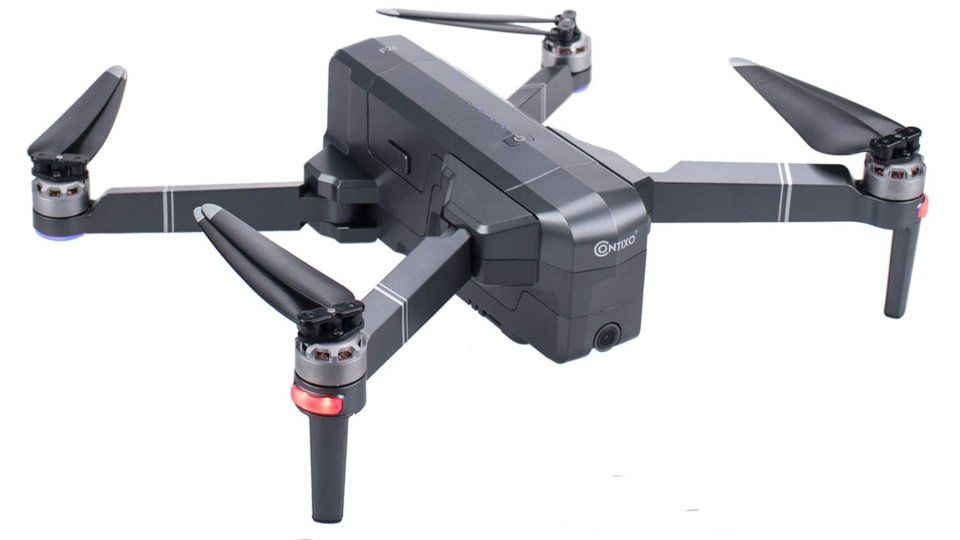 The foldable motor arms that Contixo F24 drone features help out with protecting its internal components from impact. Plus, I liked how its camera is located underneath a protective cover that does a good job of protecting. The majority of the design feature focuses on providing the protection that it needs while ensuring beginners get an all-round smart camera drone that will last for years.
Design-wise, the frontal motor legs feature landing legs that support the soft landing. Also, the led lights are located all around its motor arms that resemble similar locations as the Mavic 2 Pro. I liked how this foldable drone is crafted because you can easily store it inside your backpack or a travel case and take with you anywhere you go. It even comes with an intelligent flight battery which provides 30 minutes of flight time. The longest flight time you can get out of any drones under $300 or under $200 for that matter!
Performance
When it comes to performance, you would be surprised by how well the Contixo F24 drone fares compared to the rest of drones under $300. As I mentioned previously that this drone has pretty high wind-resistance due to the fact it is being crafted of alloy metal. Several important factors impacts on how well this drone performs. The first and most notable is its brushless motors. It doesn't generate friction which results in higher rotation per minute (RPM) for faster maximum flying speed.
In a second, a much more subtle way is the installation of a GPS/GLONASS module that provides enhanced precision and stability. The Contixo F24 drone is also outfitted with a 9-Axis gyroscope that keeps the quadcopter stable to achieve maximum aerial maneuverability. The third factor is the inclusion of intelligent flight battery. It has been modularized design so to provide better power flow for more efficient performance.
As you probably already noticed, the Contixo F24 drone comes with foldable propellers. This is called aerofoil technology which originally was introduced on the popular Mavic Pro drone to gear toward beginners and travelers who wanted a compact quadcopter. A battery on a single charge provides up to 30 minutes of flight time. Furthermore, it has a maximum remote control distance of up to 1,100 meters. Plenty of flying space to soar the drone around.
Juicy Features
Don't underestimate the fact that the Contixo F24 drone is chock-full of juicy features. No matter how small or compact it is, this drone comes with plenty of fun features that improve your flight experience. Furthermore, it gives you the capabilities to fly and create video professionally which is something that is truly challenging for drones under $200 to achieve so. Thanks to the integrated GPS/GLONASS feature, the drone has access to intelligent flight capabilities.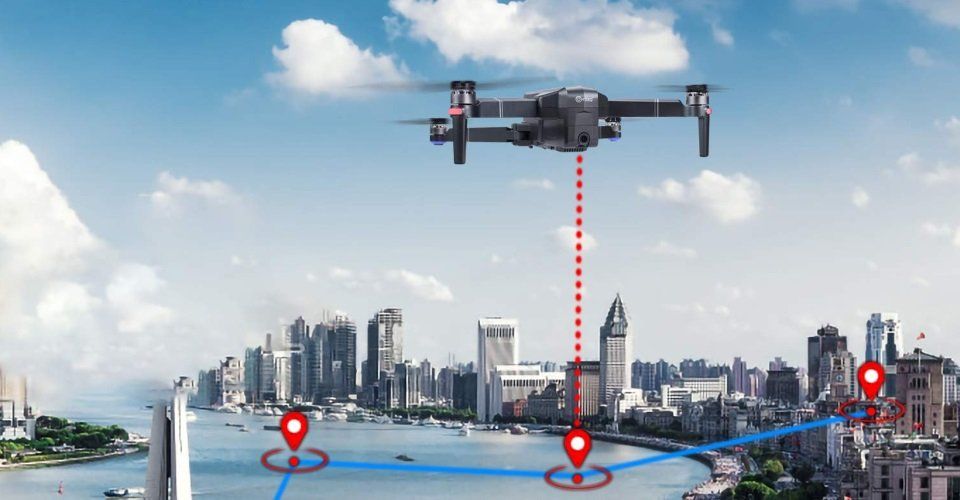 Using the intelligent flight capabilities, you can command the drone to perform such as Follow Me Mode, creating custom flight paths, and Orbit mode. This gives you the ability to create quick videos at an impressive 1080P HD resolution. Furthermore, it is packed with smart safe flight navigation features such as return to home, low battery alert and out of range alarm. Unlike other drones, the Contixo F24 is outfitted with important alert systems such as wind velocity, flying speed and height.
If you are planning to fly your drone professionally, you will need to know this important information. Which is absolutely a must for these professional-grade camera drones? Along with these smart functions, the Contixo F24 also can perform automatic takeoff/landing and number of beginner-friendly features to jumpstart your flight session. This is truly one of the best smart camera drones packed with a lot of features. A perfect match for beginners and professionals.
Customer Experience
Drone users are impressed with the Contixo F24 drone. They love how easy it was to assemble; the manual was clear and flying it was a breeze. Beginners are happy with the drone's features and how responsive it is. Perhaps their minor issue is the remote phone holder, as it can be flimsy at times or is unable to hold larger smartphones.
Conclusion
To conclude our Contixo F24 drone review. We think this is one of the best smart camera drone ever to this drone. It is portable, compact, and easy to use for beginners who have no prior flying experience. This drone is simple and super easy to learn how to fly. If you are looking to become an aerial photographer but you don't want to spend too much money. The Contixo F24 drone is a great option because it is outfitted with a 1080P HD camera that delivers video in real-time.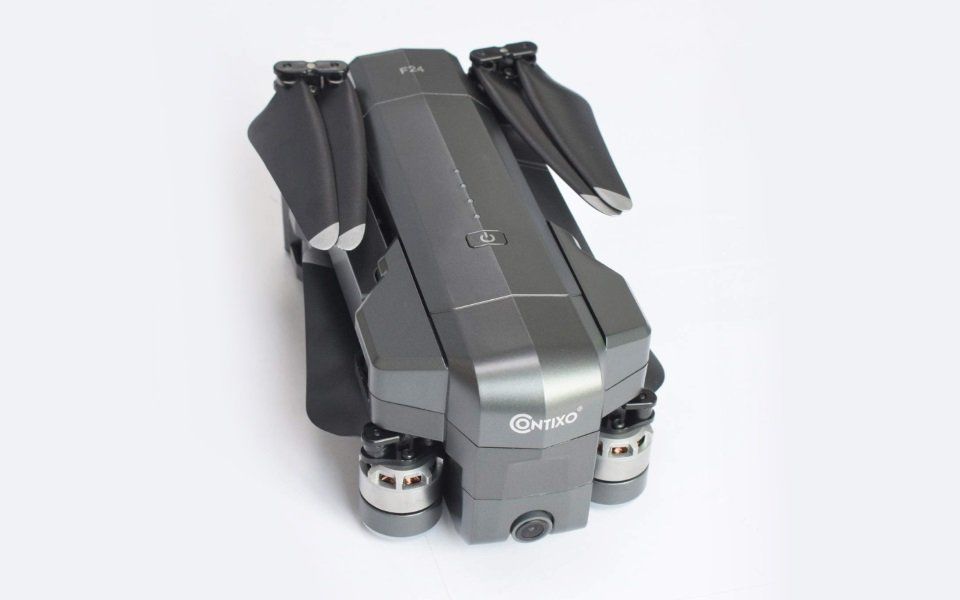 At the price tag under $300, the Contixo F24 drone is truly packed with amazing features. Intelligent flight capabilities, safe flight features, automatic functions that make the flying experience much easier and absolutely a breeze. We are thrilled to say that we highly recommend the Contixo F24 smart camera drone to beginners and professionals. You can shop it on Amazon for just only $199.99. We hope you found our Contixo F24 drone review helpful and insightful.
If you have any questions about this smart camera drone. Please feel free to drop a comment in the comments section below. We will answer back to you as quickly as soon as possible. Thank you for reading our review and be sure to check out our ultimate guides and tips on everything about flying drones to safe pilot practice. Happy flying and fly smart!
Set Lowest Price Alert
×
Notify me, when price drops
Set Alert for Product: Contixo F24 RC Quadcopter Foldable Best Drone for Beginners| Follow Me, Selfie, 1080P FHD FPV Gimbal Camera for Adults, GPS with Brushless Motor, 5G WiFi, RTH, 26 Minute with Backpack - $199.99
Last Amazon price update was: November 25, 2023 4:56 am
×
Product prices and availability are accurate as of the date/time indicated and are subject to change. Any price and availability information displayed on Amazon.com (Amazon.in, Amazon.co.uk, Amazon.de, etc) at the time of purchase will apply to the purchase of this product.
Editor's Review
The Contixo F24 is a professionally crafted drone packed with chock-full of features and impressive modules that gives it an amazing control distance and flight time. It is also super easy to learn how to fly and use, making it an ideal choice for beginners plus professionals. We highly recommend the Contixo F24 drone for beginners who wants a smart camera drone.
PROS
Amazing remote control distance up to 1,100 meters.
Maximum flight time up to 30 minutes that gives plenty of flying space.
Portable, Foldable, and Compact that makes it easy enough for travelers and beginners to travel around.
Built-in 1080P HD camera that delivers quality aerial footage.
Chock-full of features.
CONS
Only comes with one battery, additional batteries purchase required if you want to have longer flight sessions.
Add your review
|
Read reviews and comments