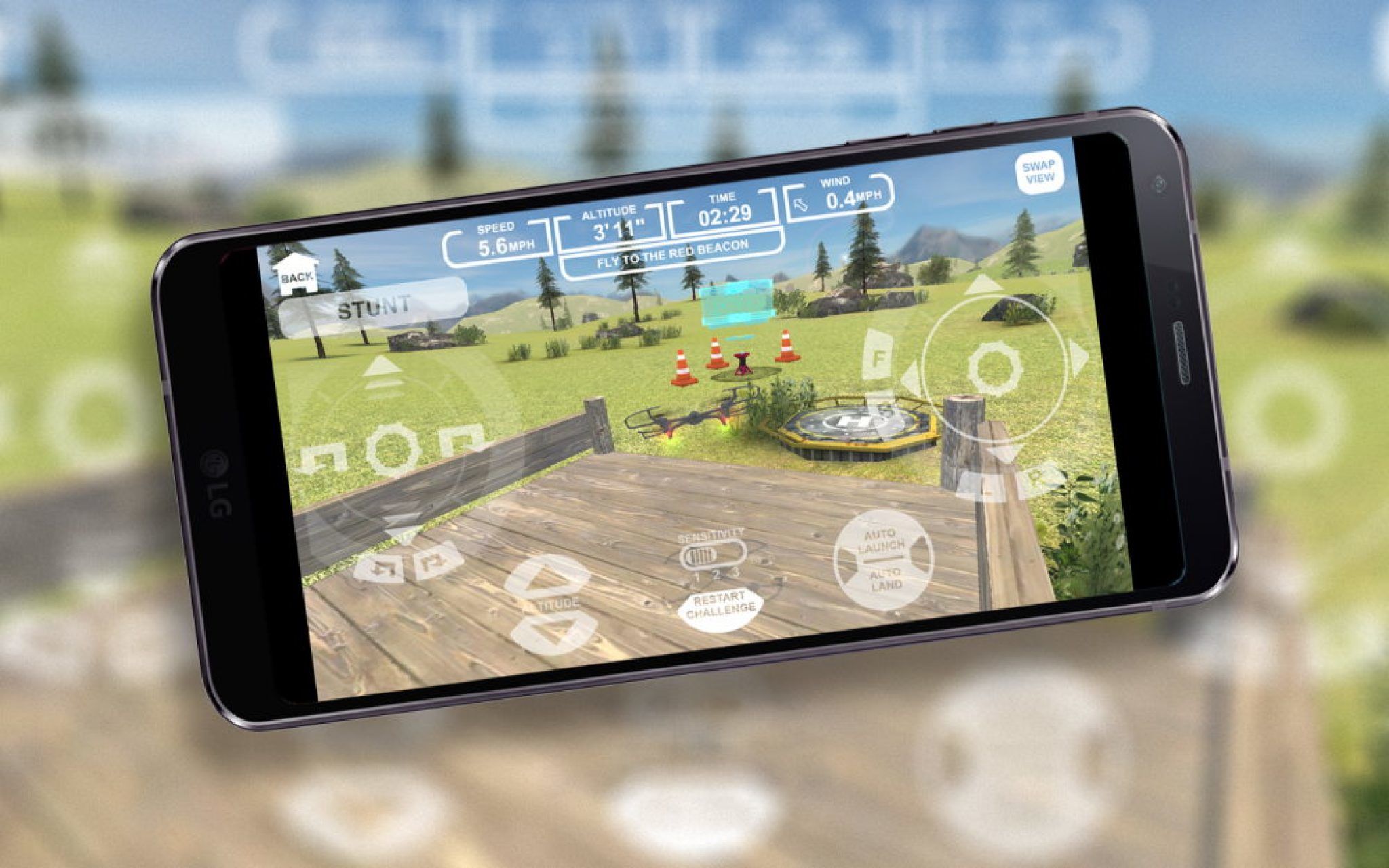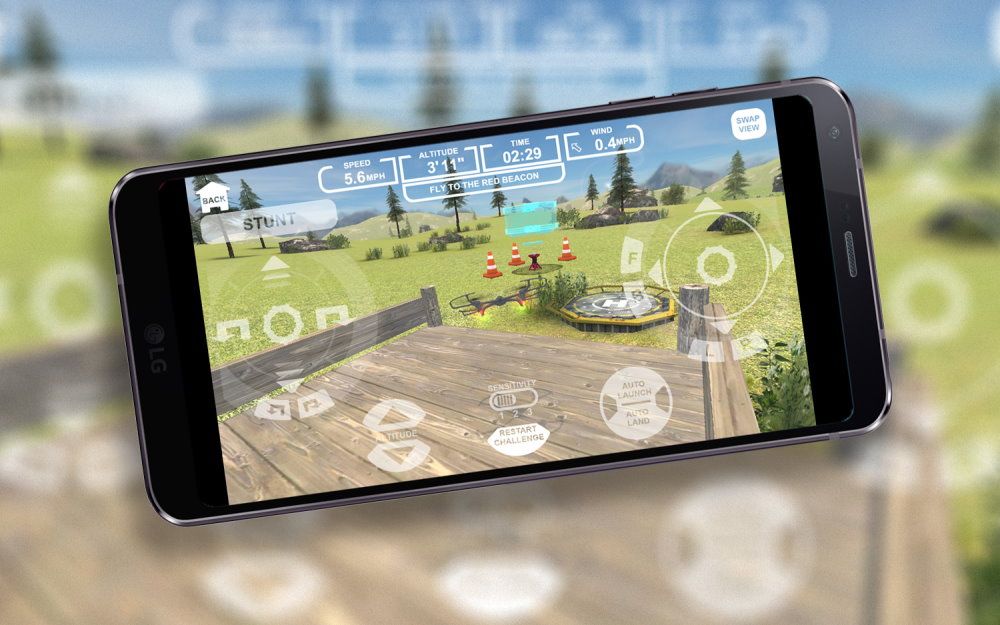 These days, most drones work with one app or another. Whether it's to actually pilot the drone, see through the drone's camera, do pre-flight prep, plan a flight mission, or control the drone's settings – there are a lot of apps to contend with.
Both the Apple App Store and Google Play Store have hundreds of drone apps available. Not all of them are good, of course, but there are plenty of fantastic drone apps on the market that is definitely worth your time. With all of that variety though, it can be hard to distinguish between the good ones and the not-so-great ones.
And not everyone has enough time to sift through all of the mediocre apps out there to find the ones that work. So we've done the hard part for you! We sorted through the many mobile and web drone apps out there to bring you the best ones across a variety of app categories. Check these out.
A Quick Word on Safety
Since we're going to be discussing a lot of apps here, keep in mind that not all app developers have your best interest at heart. If you're veering off the beaten path to try out some new apps not listed here, make sure they've been vetted by other reviewers first. You don't want to accidentally expose your devices to malware or hackers because you downloaded the wrong app.
Also, before downloading any app (even the ones mentioned here), make sure it's the correct app, verify that the developer is legitimate, and look at user reviews. Also, check app permissions before agreeing to them. Many people just click the agree button without realizing what they're agreeing to. If the app is asking for a lot of permissions that don't make sense for that app, rethink the download.
The Best Drone Apps on the Market
The following apps are listed in no particular order but all of them can be considered some of the best drone apps available on the market right now. That said, not all of these apps will be useful to everyone. You should consider what you want to get out of your drone and whether the apps you use will help further that goal.
Maybe you just want to know where you can legally fly? Or perhaps you want an app that helps you keep track of your flights or the weather? Someone who owns a camera drone is going to have different needs from someone who owns a racing drone. All of these factors contribute to what makes an app useful.
So go through these options and see what's available, because even though these are some of the most popular drone apps out there right now, not every app will be the best app for you.
Sure, this is probably the most well-known app among drone owners in the US (not so much the rest of the world), but it's definitely worth mentioning here. If only because no drone app list would be complete without a shout-out to an app created and officially endorsed by the Federal Aviation Administration (FAA). If you're a drone owner in the US, then you're all too familiar with the FAA – the organization that enforces airspace laws in the country.
Official support aside, the B4UFLY app fully stands on its own merits too. It's an incredibly user-friendly app that makes for a handy tool, regardless of whether you're a beginner or master drone pilot. Although it doesn't offer all of the other fancy features some other apps have, the one thing it excels in is being a reliable source for where to fly legally in the US.
Some drone pilots feel that the app can be a little overzealous with its restrictions at times, but it's definitely the go-to app if you live in the US and want to make sure you're compliant.
2. Aloft (formerly Kittyhawk) (iOS / Android)
This is another app that is officially endorsed by the FAA and DJI. This incredibly robust app not only comes with a lot of amazing features that are helpful to recreational and commercial flyers alike, but it's also one of the only apps through which you can get LAANC airspace authorization.
The app provides information about no-fly zones, the weather, and live air traffic maps. It can also log your flight data and helps with pre-flight checks and planning missions. It supports live video streaming, UTM, and aircraft telemetry. Aloft's maps are also used on the B4UFLY app, so legally, it's a safe bet to use this app as well/instead.
While AirMap has a lot of fantastic commercial features thanks to backing by companies like Qualcomm and Microsoft, don't let that scare you away if you're a recreational flyer. You can still get just as much use out of it.
With features like flight mapping and data logging, geofencing, and real-time air traffic alerts – the app has a lot to offer. Airmap even offers drone insurance. In addition to all of its many features, AirMap can also replace the remote controls for some DJI drones, making it another DJI alternative controller option like Litchi and DroneDeploy – but more on those later.
Like Aloft, it's also supported by the FAA and can be used to get airspace authorization via LAANC. The app is especially useful for drone owners who like to travel, as it displays airspace rules and conditions based on your flight specifications, even sending real-time alerts while you're flying. Airmap follows the laws of around 20 countries, including the US, Canada, UK, New Zealand, and Germany. So it's a handy tool to have around on your next trip.
While it won't be the only drone app you'll ever need, Hover is a solid staple in any drone owner's toolkit. The app is pretty simple to use too, making it a wonderful choice for both beginners and seasoned flyers.
Hover uses mapping and location awareness info provided by Airmap to provide safety and regulation information while you're flying. In addition to that, the app takes your real-time location into account and provides up-to-date information about the current weather as well as forecasted weather for your area. That includes detailed data like rain and snow, visibility, wind speed and direction, and temperature.
Another extremely handy feature is its news feed. Hover keeps drone owners updated on the latest drone news and announcements, ensuring you stay up to speed with what's going on. When the FAA releases new rules, drone owners have to stay abreast of these changes and Hover's newsfeed provides an easy way to achieve that.
5. UAV Forecast (iOS / Android)
While Hover provides a lot of additional features, UAV Forecast, much like its name implies, focuses solely on the weather. But it's almost the better for it because you'd be hard-pressed to find a more user-friendly or detailed weather forecasting app out there. Especially one that's geared specifically towards drone owners.
Probably one of its coolest features is the 'safe to fly' prediction, which lets you type in the parameters of your drone and it will tell you if it's safe to fly (weather-wise) in your chosen area on that given day. Along with that, the app provides useful weather information like the wind speed and direction, temperature, visibility, the chance of precipitation, and when sunrise and sunset is, among other things.
The app is also perfect for drone photographers UAV Forecast displays information about cloud cover and wind chill as well, both of which can influence how images/videos turn out.
6. Sun Surveyor (iOS / Android)
Any photographer will know that a big part of the job is keeping track of and managing light exposure in your shots. That's amplified even more when it comes to drone photography, as there's practically no way to limit or manage sunlight by conventional means. You just have to plan around it. And that's where an app like Sun Surveyor comes in.
The app provides incredibly accurate information on where the sun and moon will be at all times. If it's important that you adjust your drone's position relative to either of these celestial bodies, then Sun Surveyor is your best bet.
While Sun Surveyor is an undeniably great app, PhotoPills takes it a step further. Among its many other features, this app lets you enter exactly where you want the sun, moon, and even the Milky Way to be in your shot (within reason of course) and will calculate when and where your drone needs to be to take the shot. This includes sunrise and sunset, as well as blue hour, supermoon dates, and more.
You can also specify an area and the app will tell you when you can expect those elements to be in the right places. With Drone View, you can plan out the exact altitude your drone needs to be at to get the right shots.
If you prefer the stars instead, the app offers a similar function called Spot Stars Calculator. But instead of telling the app what you want to see, it calculates what stars you should be able to see in a specific area at different times throughout the night.
Other useful PhotoPills features include a FOV calculator, exposure information, DOF, timelapse and long exposure calculators, and a location scouting tool. Finally, PhotoPills also regularly gives out cash awards to the best shots from photographers who use the app and upload their shots.
8. Tesla Field Recorder (iOS)
A lot of drone owners tend to forget that their drones can be affected by the earth's magnetic fields. Some drone owners don't realize this at all. But it is, in fact, an important consideration because these magnetic fields can disrupt the drone's compass and systems. This can result in the drone losing its sense of direction and even crashing – especially if it's automatically following a pre-planned flight.
Essentially, the app makes use of a mobile device's magnetometer sensor to turn it into an electromagnetic scanner. It doubles as a metal detector as well, since it can be used to measure the presence of metallic objects too. But for drones, the main benefit is that it's able to determine if there will be high levels of magnetic interference in the area, making it unsafe to fly. It allows for both real-time scanning and saving location data for a later period.
Tesla Field Recorder is only available for iOS devices at the time of writing.
Not every drone owner wants to plan out autonomous flight missions, but for those who do, Litchi is one of the best flight planning options out there. The app has a well-designed waypoint mission planning engine that's easy to learn but offers cutting-edge features that even seasoned drone owners will appreciate.
Among its many impressive features, Litchi offers different flight tracking modes that include waypoints, follow me, VR mode, follow the subject, orbit the subject, head to ground station, and panorama. Its VR mode is compatible with most mobile VR headsets, including Google Cardboard and Freefly VR which lets you fly the drone in virtual reality.
The app is compatible with both Windows and Mac, so you can plan out your flights in detail and then sync it with the app on your mobile device. Once you reach your intended location, you can just open up the app and start up your planned flight mission.
Right now, the app only works with most of the DJI Mavic and Phantom drones, as well as the Inspire and Spark models.
10. DroneDeploy (iOS / Android)
Like Litchi, this app focuses solely on DJI drones but is worth a mention because the DJI models are so widely popular and this app is a great mapping app and alternative controller for those models. However, it's much more geared towards commercial drone use. DroneDeploy can still be of use to recreational drone owners – especially photographers.
The app also has flight planning features that include autonomous flying. Map out a route, set the path, and watch the drone head off according to your planned course. It can control the drone's camera exposure in real-time too, among other powerful features. But it's the app's 2D and 3D mapping capabilities that really stand out above the rest.
DroneDeploy can create accurate, high-resolution maps and models. Although, the coolest part is probably the thermal mapping feature, which lets you create detailed maps that display thermal temperature imaging of the area. With the app, you can get both interior and exterior mapping data at any altitude and angle.
On top of that, it has great collaboration and sharing tools for people that want to work with these maps as part of a team. Part of this collaborative effort is extended app integration support with other software in agriculture, construction, inspection, and other industries.
DroneDeploy is compatible with most of the DJI drones but is not free.
11. Pix4Dcapture (iOS / Android)
Like DroneDeploy, Pix4Dcapture is geared more towards commercial/enterprise drone owners. Unlike that app, though, this one is free and offers excellent flight planning and both 2D and 3D mapping. Not only can it create high-quality maps and models, but it also supports multispectral and thermal imaging if the drone has those capabilities.
Pix4Dcapture supports different photogrammetry options as well, using the images it captures through the drone. With this, you can choose between point clouds, orthomosaics, terrain models, and textured models through the maps you create. All of which can be viewed in real-time as the drone follows your pre-planned path. A path that can follow various set plans, including a grid and double grid structure, free flight manual controls, and a circular track.
The flight mapping allows for precision control, where you can preset the altitude according to the GSD you want, as well as the camera angle, how much image overlap you want, and the drone's flight speed.
In addition to supporting DJI drones, this app also supports Parrot's range of drone models. Images and models can be uploaded directly from the app into the cloud for sharing and collaboration. Pix4D also offers a range of other native app integrations for commercial drone use in industries like agriculture, construction, and surveying. While Pix4Dcapture is entirely free, the rest of the apps in the ecosystem are paid but offer free trials.
12. PrecisionFlight (Android)
Because of the popularity of DJI drones, a lot of apps on the market tend to focus solely on those models, which is a bummer for drone owners with other brands but definitely a boon for DJI owners. PrecisionHawk's PrecisionFlight is another great app geared towards DJI drones.
Like both Pix4Dcapture and DroneDeploy, you can use this app to create detailed flight plans but it has no 3D mapping or modeling capabilities on its own. Instead, you'll need to upload the images you capture to precisionmapper.com. Thankfully both the app and website are free to use.
This app on its own is a tad more user-friendly towards recreational flyers than the others we've discussed here, though professionals in the agriculture and construction industries will get a lot of use out of it too. PrecisionFlight offers fantastic features like orbit missions around any point of interest, the ability to pause and resume missions, and real-time tagging of points of interest among other things.
What makes this app really great is its ability to automatically determine the most efficient flight path according to the data or images you want to collect. It also provides real-time flight monitoring that includes the drone's ground speed, altitude, mission progress, flight trail, GPS, and battery and signal strength. All of which is displayed in a neat overlay above the live video feed.
To top it all off, the app has a very user-friendly interface and its features feel intuitive and simple enough to learn that even beginners shouldn't have much of an issue. This app is currently only available on Android.
Insurance is one of those hated adult things that you just have to get over with, because accidents happen quicker than you'd think! And you'd rather have your expensive drone – and any other possible casualties – insured. Otherwise, you'll potentially have to pay an exorbitant amount out of pocket. Of course, drone insurance isn't right for everyone, but if you do need to get insurance then Verifly is a good option.
The idea behind Verifly is pretty unique: instead of paying for insurance full-time, you pay for insurance on demand. Drone flying usually doesn't happen on a regular, scheduled basis and often also not at the same place or time, making it expensive to insure it permanently. So instead, you can log your flights with the app and pay for those hours, starting at $10 per hour at the time of writing.
As you likely already know, DJI drones are some of the most popular models on the market right now, so naturally, the DJI app should be useful to quite a lot of people. The latest version of DJI's app is the Go 4, and although it's not required for every DJI drone, it does make a big difference. The app adds a lot of functionality and can increase the altitude and maximum distance of the drone since it can be limited with just a regular controller.
Some of the best features this app offers include intelligent flight modes and advanced drone and camera settings adjustments. The app works with most DJI drones since the Phantom 4.
15. Dronedesk (Web app)
Finally, there's Dronedesk, which we decided to include because it's such a popular flight planning app. While plenty of recreational flyers use the app, it was definitely designed with commercial flyers and business in mind.
With business management, flight planning, and multiple drone operation management all rolled into one, this app is a powerhouse for companies that have to keep track of a bunch of drones. What makes Dronedesk great is that it provides all of the information you might need to plan a safe and compliant flight. Including, NOTAMs, weather forecasts, and any air or ground hazards you might encounter on your flight path.
Keep in mind that this is a web application and not a standard app. But it can be accessed from any device making it a great tool for those who want to use the application across a variety of devices without worrying about compatibility. This is also a paid app but it has a free trial.