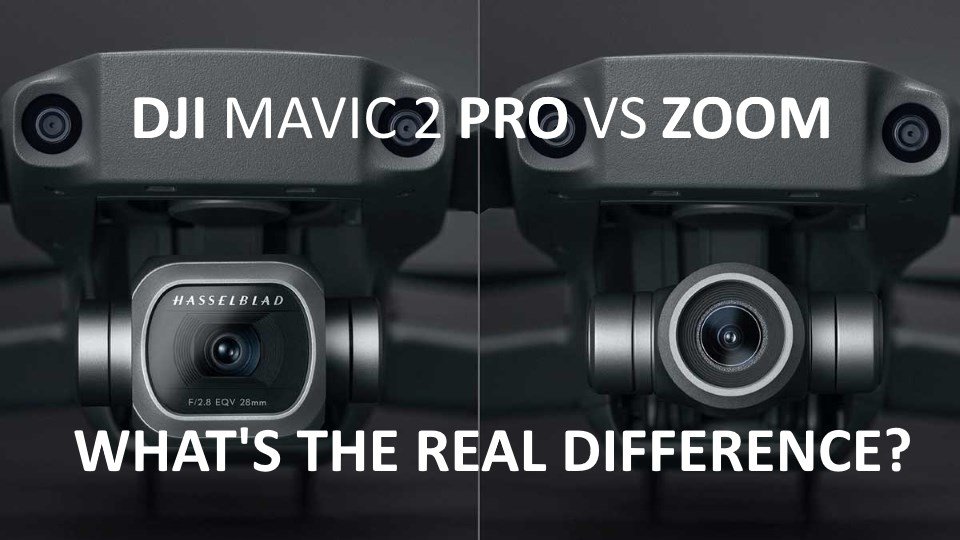 Since DJI released the Mavic 2 in early August 2018, introducing two different versions: Pro and Zoom. The DJI Mavic 2 was the latest drone that features major upgrades such as improved obstacle avoidance, longer distance, and powerful battery life. Many remote pilots are deciding which one is the best pick. In this guide, the DJI Mavic 2 Pro vs Mavic 2 Zoom has the same features and design style. However, what makes them different?
If you're into taking aerial photography using a quadcopter, there are several factors that you should consider during your drone shopping. That being said, the difference between Mavic 2 Pro and Zoom is only the camera quality and specifications. Having a camera that can do specific tasks can be very important for photography, especially when it comes to providing aerial services.
Photographers who are looking to buy a drone to expand their gallery by including aerial shots will find this DJI Mavic 2 buying guide helpful and insightful. For beginners who want to buy a camera drone, I suggest you read 8 important tips that drone photographers should know. Let's take a look at the specifications below.
Mavic 2 Pro

Mavic 2 Zoom

Dimensions
Folded: 214×91×84 mm
Unfolded:

322×242×84 mm

Folded: 214×91×84 mm
Unfolded:

322×242×84 mm

Weight
907 grams
905 grams
Max. Flight Time
31 Minutes
31 Minutes
Image Sensor
1-inch CMOS, 20MP
1/2.3″ CMOS, 12MP
Lens
28mm, f/2.8-16
24-48mm, f/2.8 (24mm) f/3.8 (48mm)
Photo Resolution
5472×3648
4000×3000
File Format
JPEG/DNG (RAW)
JPEG/DNG (RAW)
Video Resolution
4K: 3840×2160 (24/25/30 fps)
2.7K: 2688×1512 (24/25/30/48/50/60 fps)
FHD:

1920×1080 (24/25/30/48/50/60/120 fps)

4K: 3840×2160 (24/25/30 fps)
2.7K: 2688×1512 (24/25/30/48/50/60 fps)
FHD:

1920×1080 (24/25/30/48/50/60/120 fps)

Color Mode
DLog-M 10-bit
D-Cinelike 8-bit
Video Format
MP4 / MOV (MPEG-4 AVC/H.264, HEVC/H.265)
MP4 / MOV (MPEG-4 AVC/H.264, HEVC/H.265)
Price
Sensors
This is one of the most important differences between these two models. The 1/2.3″ CMOS sensor that the Mavic 2 Zoom features are what you'll normally find on smartphones or entry-level cameras such as iPhone 7S Plus. However, the Mavic 2 Pro is packed with much more firepower. It's equipped with a 1″ CMOS sensor that uses the same format by Sony in the RX100 series. Not only is it capable of capturing a much larger resolution size, but it can also collect more light and produce a high detail level. But, it doesn't necessarily mean that the Mavic 2 Pro is the best choice.
Lenses
A camera that has a large sensor will require larger glass. The Mavic 2 Pro doesn't have zoom function capabilities. Instead, it has a fixed 28mm full-frame equivalent. Although, it does have a mechanical aperture with a range of f/2.8 to f/11 that lets the camera work in a wide variety of light conditions. This makes it very easy for aerial photographers to take pictures during night time without having to increase the shutter speed.
The Mavic 2 Zoom uses a 1/2.3″ CMOS sensor with the Dolly Zoom function that lets the drone zoom up to 4 times. Using a modest 24-48mm full-frame equivalent zoom range, taking pictures isn't all about bringing the objects closer. But, it can be about creating creative effects that will capture your audience's attention. For instance, with the drone rotating a subject, the background will appear to move at hyper speed.
The built-in dolly zoom makes it very easy to capture this classic technique which is known as the "Hitchcock Zoom." It can be quite unsettling since it involves warping the image and can be sometimes quite tricky to do. But DJI makes it very easy to do so with the Mavic 2 Zoom that a beginner even can learn how to do it without having to spend too much time on it.
What is DLog-M 10-Bit?
The DLog-M 10-Bit is a name used by DJI for its logarithmic tone curve that gives a way for the camera to capture high detail levels by preserving a greater dynamic range. It records a very low contrast image so that the image doesn't blow out and turn shadows into pure black. But, the footage needs to be color graded before it looks normal. Essentially, professional photographers and filmmakers will be very happy to have this feature. For regular people, it isn't a feature that will make things simple and easier for the rest of us.
The 10-Bit refers to the color depth of an image. It has nothing to do relating to the bitrate of a video file (which both Mavic 2 Pro and Zoom have a bitrate of 100). Most of the videos and images that you see online such as on YouTube and on social media are shot using an 8-bit color that provides 256 levels of luminescence per color channel. The 10-bit increases the number to 1,024, making it very rich in color and smoother transitions. Much like the DLog-M feature, it is something that only professionals will use it.
So, Which Mavic 2 Is Right For You?
In general, the consumers will be happier with the Mavic 2 Zoom. Because of its flexibility, zoom function and it opens up new creative shots. Not only it includes new upgrades such as better flight controls, improved flight safety, and more. It is around $200 to $300 cheaper than Mavic 2 Pro.
The Mavic 2 Pro, as its name, implies that it is built and designed for professionals users. It has an edge in image quality thanks to a 1″ CMOS Sensor, 20MP, 10-bit color, and DLog-M. That being said, it can't achieve the same perspective that the Mavic 2 Zoom does. Quite frankly, professionals might want to pick up both.
Editor's Recommendations: