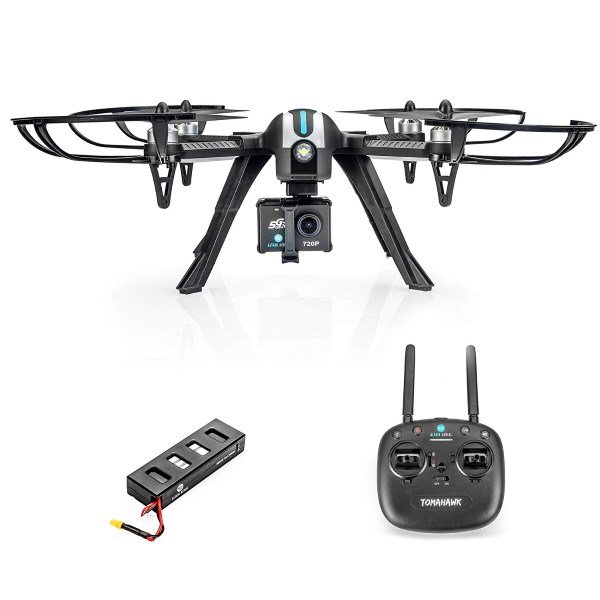 Update - 2019.12.14
This drone is no longer available on the market. We apologize for any inconvenience it may have caused.
This week, we are covering an action camera drone for beginners and kids. Since the introduction of camera drones, they have become a popular choice of method to capture beautiful aerial shots. However, there is two main difference between an action camera drone and a regular camera drone. An action camera drone like the Altair Tomahawk drone is equipped with an action camera underneath.
These drones have the main advantage over camera drones: the ability to change the action camera to your choice. If you wanted to upgrade to a better action camera like the GoPro HERO5, you could do that. Even though, that would require an extra investment on your part. But for what it is worth your time and money as well as extra space. Camera drones, such as Mavic 2 and Phantom 4 Pro are mounted with a camera. There are limited options but often of the time, they have the best image quality and professional-grade level footage.
If you have been checking out on action camera drones. We think you will find the Altair Tomahawk drone to be quite an interesting choice and possibly get this quadcopter. So, stick with us and find out if the Altair Tomahawk drone is the perfect fit for you!
---
Altair Tomahawk Drone Review
To kick off the Altair Tomahawk drone review, we are doing what is inside the box. This is my favorite part of doing an in-depth review because all of us want to know what is in the box. Fortunately for you, the Altair Tomahawk drone is an RTF model. Which means there is little to no assembling required. You can easily start flying the drone right out of the box. So, let's reveal what is inside the box:
Altair Tomahawk Drone
Remote Controller
4 x Propellers
4 x Propeller Guards
1 x Modularized Battery
Spanner
Screwdriver
Battery Charger
Gimbal Mount
720P HD Action Camera
---
Crafted for Durability
On my first impression, the Altair Tomahawk drone features jet black coating around its main body framework. With a couple of chrome white streaks across its top body framework branded by the company logo that says Altair Aerial. In the front, there is a teal coloring which adds a nice touching to the style. However, the main design feature of this drone is that it is made of durable and thick ABS plastic which provides resilience against impacts.
A piece of advice for beginners, I recommended that you fly the drone with propeller guards on. Because you are more than likely to crash the drone accidentally on your first few flight attempts. The propeller guards act as a layer of protection against collision and prevent damaging the propellers. Even though so, the drone is packed with high-powered performance that these guards will not make a significant difference if it was installed.
Flexible and Portable
While this drone might look not flexible or portable, it is the opposite. As matter of the fact, you can easily remove the action camera, landing legs and guards in favor of faster flying drone and longer flight time. Even though so, these are completely optional and that's what I like the most about the Altair Tomahawk drone.

It is flexible and portable which makes it easy enough for you to pack inside a travel backpack and take it with you. Not just only that, if you are not happy with the quality of action camera that the drone comes with. No problem! You can easily replace it with a better action camera that shoots at 4K resolution. However, that means you probably will need to invest between $200 to $300. For starters, I recommend either the YI 4K or GoPro HERO5.
High-Definition Resolution Images
One of the key features that the Altair Tomahawk drone has to offer is the ability to deliver high-quality images and videos from the sky. It features 5GHz frequency for longer remote control distance as the ability to stream real-time video more fluidly. From what we have experienced during our flight test, the quality of an image is great but there is plenty of room to improve.
The only minor drawback to this is that the drone doesn't come with a micro SD card. Which means if you want to get the images and videos in its true format. We recommend that you buy the 32GB micro SD card. If you do plan to upgrade to one of those 4K action cameras, then we strongly recommend at least a 64GB micro SD card.
Turbocharged Performance for Precise Controls
The Altair Aerial Tomahawk drone is equipped with powerful brushless motors that create strong propulsion force for faster maximum flying speed. Plus, it features a built-in barometer that detects changes in the air pressure for a smoother and stabilized flight controls. Which makes it easy enough for beginners who have no prior flying experience to fly right out of the box.
Also, the Altair Aerial Tomahawk drone features a multitude of beginner-friendly features that encompasses performance improvements. Namely the upgraded 6-axis gyroscope stabilizer and long-lasting battery life. On average, the drone can be flown up to 15 minutes and have a remote control distance of 300 meters. Which makes the Altair Aerial Tomahawk drone quite an impressive quadcopter to start with for beginners and kids.
Remote Controller Made Simple
In this part of the Altair Tomahawk drone review, we are going to talk about the remote controller. At first glance, it does look a little bulky and complex. But it is straightforward, simple and yet, professional looking. I liked how it is equipped with dual antennas that play an important role in supporting a long remote control distance. Both levers are used for movement such as flying the drone around and adjusting its height level.
The tiny buttons located below the levers and on the sides are called trimmers. They are used to adjust the drone's stability if it starts flying unsteadily. It is a common issue for drones that do not have a GPS module. If you do prefer to check out the GPS drones because they are much more stable, I recommend you to check out the HS700 Ophelia or Mirage Pro for starters. Finally, the buttons above the levers are features that allow the drone to perform certain functions like switching speed mode and such.
Final Verdict of Altair Tomahawk Drone Review
Before I conclude the Altair Tomahawk drone review, let's go back to what we talked about. Throughout the review and researching on this drone, we think the Altair Tomahawk drone is a great quality for beginners and kids. If you are looking to own an action camera drone that you can grow with it over time. Such as better action camera quality and the like. the Tomahawk drone would be an excellent choice for it.
Not to forget to mention that the Altair Aerial Tomahawk drone is packed with incredibly powerful performance that will blow you away. Long-lasting battery lifetime up to 15 minutes and a flying distance of 300 meters. That will give you plenty of flying room to soar the Tomahawk drone around and capture some stunning aerial shots. We highly recommend this drone for beginners and is one of the best action camera drones under $200. You can check out its price here.
Editor's Review
The Altair Aerial Tomahawk drone is packed with incredible powerful performance that ensure faster flying speed and precise flight controls. Furthermore, it is portable and compact that makes it easy enough to take with you anywhere you go. Top with professional-grade level remote controller and unique design. This is a drone that will make you look like a professional remote pilot. We think the Altair Aerial Tomahawk drone is definitely one of the best action camera drone for beginners.
PROS
Unique and stylish design that gives it a professional appearance, a major plus for beginners.
Portable and compact, featuring collapsible legs, camera and propeller guards.
Easy to control, perfect for beginners who wants to learn how to fly.
Includes a 720P HD action camera that delivers quality images and videos.
Incredible flexible, gives you plenty of upgrade options to choose from.
Crafted with durable and thick ABS plastic that makes it resilience to impacts.
Long-lasting battery life time up to 15 minutes per charge.
CONS
No GPS Module, which is a little disappointing, but the drone is still easy to control regardless.
Add your review
|
Read reviews and comments