Are you looking for a DJI Mavic Pro clone to buy? Do you want to own a Mavic Pro drone but its price tag is too high for you to afford? Fortunately, in our ATTOp XT-1 review, I'll talk about this foldable drone and why beginners are shopping for this product. The ATTOP XT-1 drone makes to one of the most affordable DJI Mavic Pro clone just for under $50. So, if you want to know how durable it is and how well it performs. Grab a coffee and read through because I'm going to talk about this awesome foldable drone in detail.
Related Article: Best Drones like DJI Mavic Pro Clones Under $100 for Beginners
Build and Design Quality
While the ATTOP XT-1 drone resembles a similar appearance to the famed DJI Mavic Pro. It's very different in terms of specifications, performance, and features. But, we are talking about the design quality of this foldable drone. First and foremost, the ATTOP XT-1 drone is built with high quality and durable plastic ABS. That material provides an additional layer of protection as well as resilience to keep the drone in service for a longer time. Plus, it makes the drone less likely to break on impact, which is what every beginner needs: a durable drone.
The drone comes with an alloy-like coating that gives a clear impression it is a drone professional crafted. Unlike DJI Mavic Pro that's equipped with an advanced camera on gimbal systems, the ATTOP XT-1 features a 720p HD camera. While this isn't bad at all and can be considered quite good within its price range. The camera can be adjusted manually which gives you the freedom to point it in the direction you want to capture video. The only drawback is that you can't adjust the camera remotely.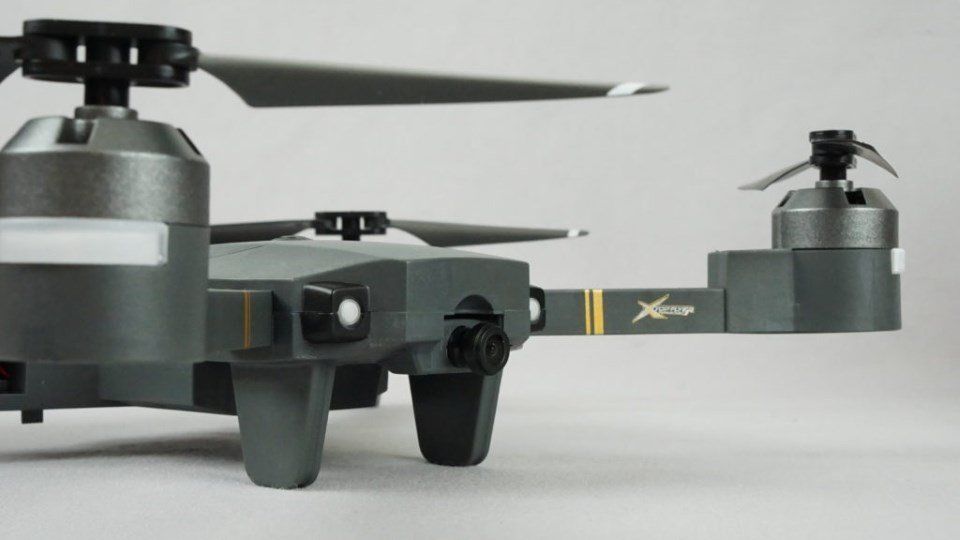 On the same note, the ATTOP XT-1 drone comes with an 800mAh modularized battery. A single battery on average gives the drone a flight time of 8 minutes. Compared to the more popular Visuo XS809S drone that utilizes a powerful 1800mAh battery and flies up to 18 minutes. If you're an avid fan of Mavic Pro, purchasing additional batteries is highly recommended for this drone. At least two to three batteries should be good enough.
I especially liked how this foldable drone comes with its gold stripes and a logo design that mimics its grand brother. Not just only that, the sensors are replaced by two powerful LED lights that act as a searchlight. Assisted by four additional lights around the motor arms corner that provides a clear visual positioning. Your flight mission doesn't have to end if it gets dark outside and makes a nice night show with moving lights.
Related Article: 7 Quick and Important Tips for Beginner Drone Pilots
Performance
When it comes to performance, there are a lot of good things to be said about the ATTOP XT-1 drone. This little DJI Mavic Pro clone copter boasts incredible stability and smooth flight controls. Thanks to a multitude of beginner-friendly features such as altitude hold function and headless mode. Now, you might be scratching your head, wondering what headless mode is. Sit tight, because I'm going to explain what headless mode exactly is.
The headless mode is a feature introduced for all the drones, even you'll find on high-end models like Phantom 4 Pro or Inspire 2, but they're utilized to a lesser extent. It switches the control orientation from the drone to a remote controller. This means you can pilot the drone based on the direction you're pushing the movement lever at. If you push the lever forward, the drone will fly forward regardless of its facing position. This is an extremely useful feature for beginners who are starting.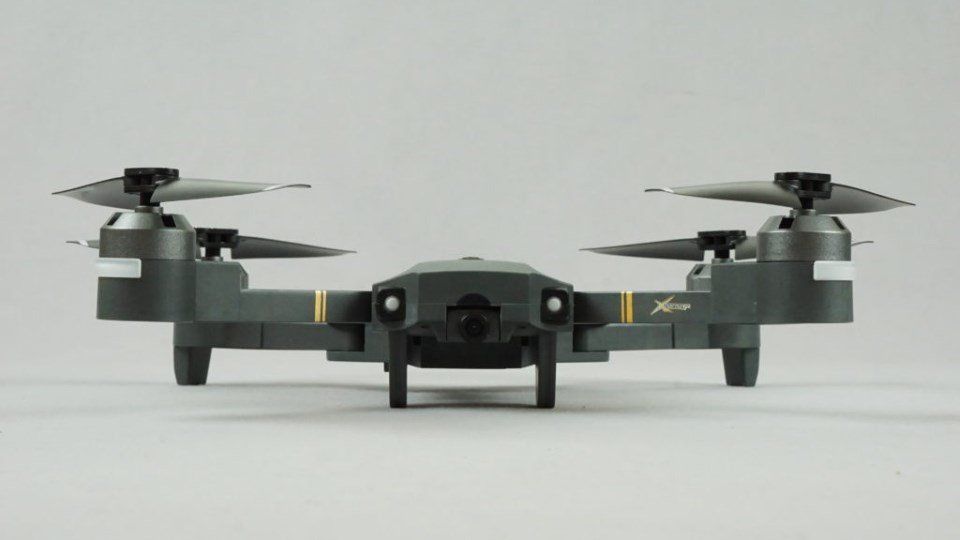 Furthermore, the drone comes with a three-speed mode that allows a smooth and gradual learning experience for beginners. On default, the speed will be on the lowest setting. This presents a great opportunity for beginners to learn the flight basics 101. Once they master the flight controls, they can move through the speed levels to challenge themselves and test their piloting skill. Overall, it makes the ATTOP XT-1 quadcopter a great training drone for beginners. Thanks to its durability and decent flight time.
Related Article: How to bring your drones on the planes: Beginners' Guide
Remote Controller & Accessories
I couldn't help myself but noticing that the remote controller looks very similar to an Xbox 360 controller. If you're a gamer like who enjoys playing games on PlayStation 4, Xbox360, or Nintendo Switch, then the gaming mentality should come to you completely natural. As you can see, there are two levers: one for movement and another for throttle and altitude. On the right side, these are trim buttons that help you balance drone stability.
On the left side of the remote controller is features. You'll have access to one-push key buttons such as automatic landing and takeoff. Plus, the ability to perform headless mode to impress your audience. On the shoulders, these are the speed mode and flip mode. Also, the remote controller features a foldable mount holder that can be expanded via the top. You can easily insert your smartphone with a favorite case on it and view the video in real-time.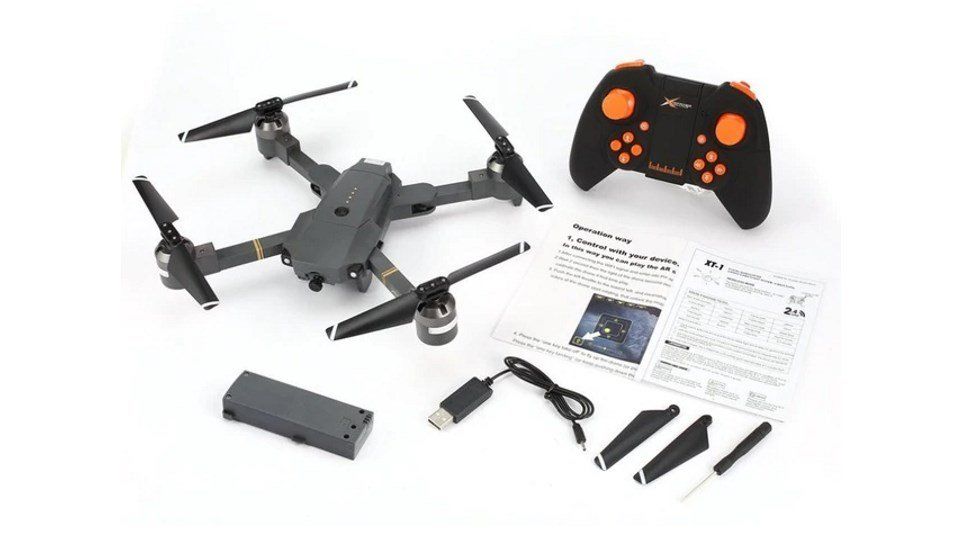 The package comes with one battery, a USB charger, extra propellers, a screwdriver, and an instruction manual. As I mentioned that one battery might not be enough for you and suggested that extra batteries are needed if you want to extend your flight sessions. However, if you're worried about breaking a piece, then I recommend you to buy a crash kit for this drone. It's always nice to have a kit ready to get the ATTOP XT-1 drone back into the air right away.
Related Article: 6 Good ways you can make money flying drones
Final Remarks
As usual, before I conclude the ATTOP XT-1 review, I've quite a few to say about this foldable drone. I think the ATTOP XT-1 drone in overall is a great training quadcopter for beginners. It isn't too hard or easy to learn how to fly a drone. Plus its foldable motor arms make it very easy to carry around. A great drone to have for when you go on a road trip and need a company to keep you entertained. However, its control distance might be somewhat limiting for some pilots who are looking to fly far.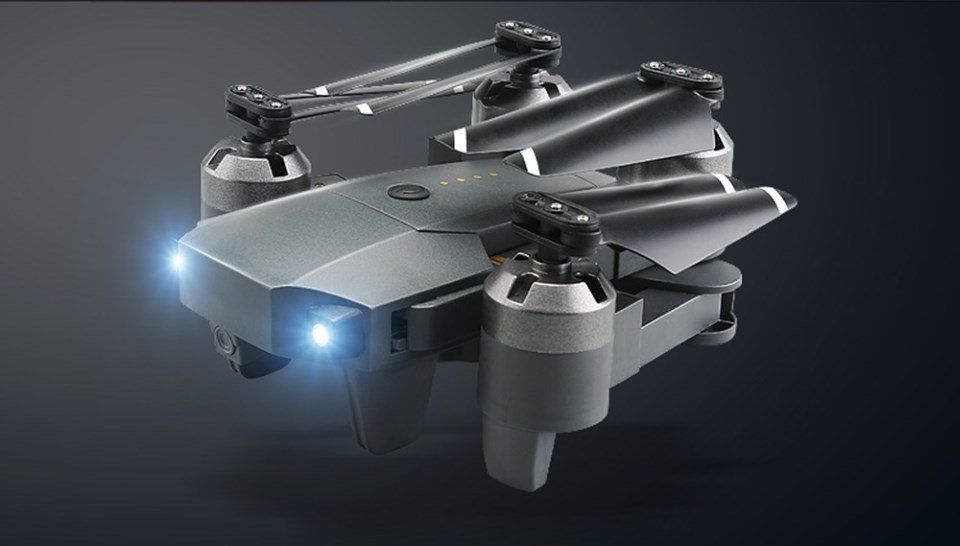 It's perfectly reasonable since the ATTOP XT-1 drone can be bought for less than $50. Not just only that, you'll have the option to choose the quality of the camera. If you're planning to become an aerial photographer, you should read our 8 tips that all drone photographers should know. Use that guide to serve you and master your aerial photography with this drone. When the time comes, you can be sure to utilize your photography skills on expensive drones like Phantom 4 Pro.
The ATTOP XT-1 doesn't have many reviews on Amazon and its average rating is only 2.4 out of 5. That said, I recommend the ATTOP XT-1 drone due to its durability, easy to learn, and packed with features. If you do have any questions or inquiries regarding this drone. Please feel free to drop a comment below and let us know. We'll get back to you as soon as possible. Furthermore, you can buy an AT TOP XT-1 drone for less than $50 by clicking on the button below. Happy shopping and fly safe!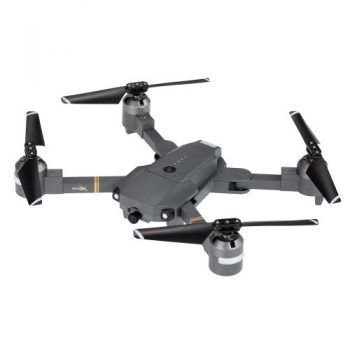 Last Amazon price update was: December 2, 2023 7:06 am
×
Product prices and availability are accurate as of the date/time indicated and are subject to change. Any price and availability information displayed on Amazon.com (Amazon.in, Amazon.co.uk, Amazon.de, etc) at the time of purchase will apply to the purchase of this product.
Editor's Review
The ATTOP XT-1 drone is carefully crafted with professional craftsmanship. Built to last for a long service time thanks to high durability and multitude of beginner-friendly. First time flyers and kids will greatly enjoy this foldable drone. Its compact and portable design makes it very easy to take with you anywhere you go. Because of these features and performance, we think the ATTOP XT-1 is a great starter drone to start with.
PROS
Foldable
Compact
Easy to learn
Stable
Built-in Camera
Responsive
CONS
Short Battery Life
Limited Control Distance
No Advanced Features
Add your review