The memory micro SD cards are integral to these smart camera drones. Without one of these best micro SD cards to store the footage, you won't be able to obtain reliable content to share with your family and friends. One of the main advantage that these memory cards has to offer is the original content of the footage. That is because the footage stored in these cards retains the original quality which is far superior to quality transmitted on your mobile devices.
While there are a lot of micro SD cards to choose from. You want to have a quality card that writes and reads the footage at lighting speed. But at the same time, you will want to have a micro SD card that can store a lot of data. Especially if you are flying professional-grade camera drones such as Phantom or Mavic quadcopters.
What is MicroSD?
As I'm sure you know, MicroSD a removable flash memory card used for storing information. MicroSD means Micro Secure Digital card. It has two types: HC and XC. The former stands for High Capacity, and the latter Extended Capacity. The difference between these two types is their data storage capacity.
MicroSDHC cards range from 2GB to 32GB, while the MicroSDXC can reach up to 2TB.
Choosing the class of your card is essential. Each class corresponds to the minimum transfer speed of the card. For example, Class 10 has a minimum speed of 10MB/s, Class 8 has 4MB/s, and so on. However, most cards are faster than their expected minimum speed. Though it is stated that the minimum speed of a Class 10 card is 10MB/s, it can off about 90+ MB/s.
In this guide, we assembled the best micro SD cards to shop for your drones. The guide consists of the top five best micro SD cards that you should buy. These cards are relatively cheap and can be easily bought as the price tag has plummeted in recent years due to how widespread they are. Without further ado, let's find out what these best Micro SD cards are for drones.
Top 5 Best Micro SD Cards for Drones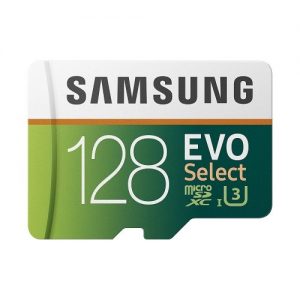 Samsung Evo is an internationally recognized brand that quickly become popular among customers. More than thousands of this micro SD card is bought everyday. But for drones, you are going to want a 128GB Samsung Evo. It has a reading speed up to 100 MB and writing speed up to 90 MB. Furthermore, it has Class Speed 10 and U3 that certainly will meet the performance expectations for a smooth footage content.
Samsung Evo 128GB is the ideal candidate for recording 4K UHD footage including capturing high-resolution stills. This micro SD card has been tested to be waterproof, weatherproof and magnetic-proof. Best of all, it has a 10-year limited warranty if it somehow doesn't meet the quality expectations. They will be more than happy to send you a new one free of charge. You can never go wrong with this memory card.
back to menu ↑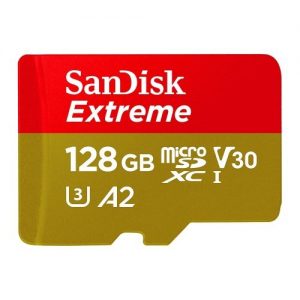 SanDisk Extreme Speed is another incredible popular option with an awesome lighting reading speed up to 160 MB. Which makes it important to save the time transferring high resolution footage and stills.. Just like Samsung Evo, it has a writing speed of 90 MB that handles 4K footage with ease. It has UHS Speed Class 3 and Video Speed Class 30 that comes with rated A2 for fast loading and improved performance.
SanDisk Extreme Speed is tested to deliver optimal performance to meet your expectations. This 128GB is the perfect option for high-end drones such as Phantom 4 and Mavic 2 drones in particular due to their advanced camera specifications. But they also can be used on-camera drones such as Mavic Air and Phantom 3 for instance if you want to be able to capture plenty of shots inside a compact micro SD card.
back to menu ↑
Lexar 128GB Professional
Lexar Professional is a premium micro SD card that offers solution for electronic gadgets like smartphones, tablets and even camera drones. It has similar class speed to the SanDisk Extreme Speed. However, Lexar Professional micro SD card has both reading and writing speed at 100 MB which makes it an exceptional choice for professionals. This micro SD card is outfitted with rated A2 that delivers the data at blazing speed.
Unlike other micro SD cards, Lexar Professional comes with an SD adapter. It is very useful in accelerating the transfer process and ensuring that everything goes smoothly. One of the major advantages that this micro SD card has to offer is a limited lifetime. No matter how long you have been using it, you always can replace it if you are not happy with the quality free of charge.
back to menu ↑
Gigastone 128GB Prime 600X
Gigastone Prime 600X is an entirely new brand that quickly became popular among customers due to its excellent reading and writing speed. As a matter or fact, it has several application use that makes it the perfect micro SD card for storing stills and videos. This micro SD card is tested on several products like drones, action cameras and camcorder before first hitting the market. They have proven to be very successful.
Gigastone Prime 600X micro SD card also includes an SD adapter for gadgets that has an SD card slot. Which makes this brand one of the most flexible and widely utilized micro SD card out of all. Gigastone is a globally recognized brand that sells a million units every year and comes with a five-year limited warranty.
back to menu ↑
Silicon Power 128GB Superior Pro
Silicon Power Superior Pro is an affordable micro SD card featuring reading speed of 100MB and writing speed at 80MB. It has slightly less power compared to popular brands like Samsung and SanDisk. But this micro SD card is an ideal choice for those who are on a tight budget or simply just need to buy a cheap one mainly for photography. Silicon Power Superior Pro makes the perfect match for drones, gaming and action cameras delivering quality at 4K UHD resolution setting.
We highly recommend this micro SD card if you plan on using drones mainly for photography. But if you decided to produce videos, either Samsung Evo or SanDisk Extreme Speed would be a better choice. This micro SD card comes with a five-year limited warranty.
back to menu ↑
Next Step for Shopping Best Micro SD Cards
By the time you read our guide, you should have already decided on what type of micro SD card you want to buy. The next step in this guide is to shop for a high-quality camera drone. You can start by checking out our best drones under $500 guide or visit our ultimate guides & tips page to see what drones we recommend for beginners and professional remote pilots. If you know any micro SD cards that are better than what we listed in the guide, let us know by dropping a comment in the comments section below.