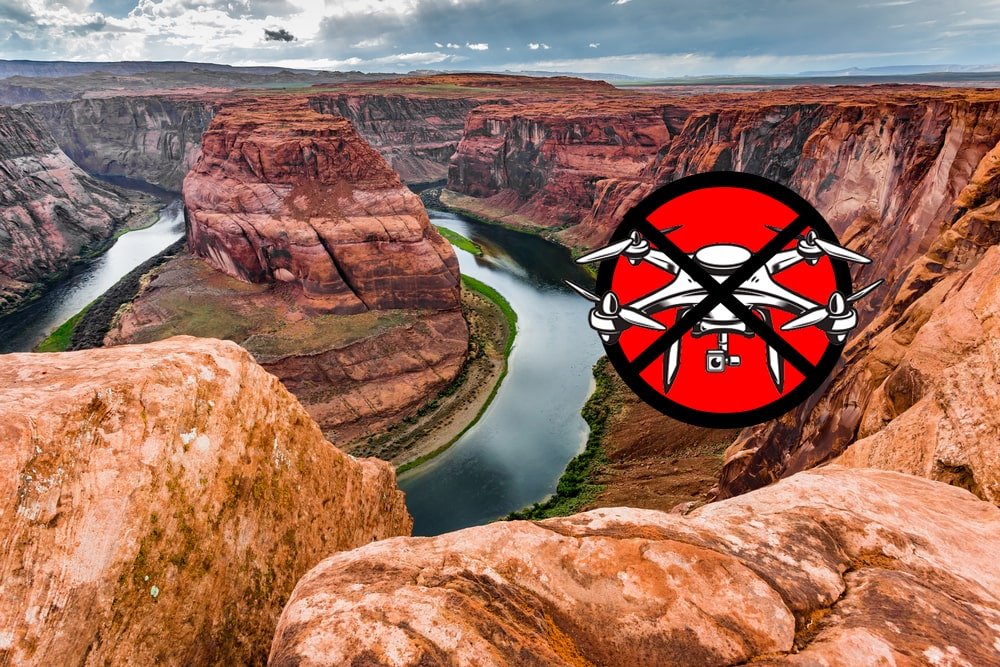 Drones are one of the most popular and fun ways to capture amazing photographs and view spectacular views. Your drone gives you access to high points of view that you would never be able to see. The breathtaking beauty of national parks make it one of the most sought after places to fly drones, however, this is no longer possible.
Can You Legally Fly Drones In National Parks?
Unfortunately, it is no longer legal to fly drones in national parks. Since June 2014 there has been a ban on using drones in all national parks across the United States. This ban was issued by the United States National Park Service as part of Policy Memorandum 14-05.
Why Was This Policy Created?
The National Park Service created this policy as a way to deal with all unmanned aircraft in one consistent manner. The National Park Service Rangers found that in the early 2010s there were increasing numbers of unmanned drones flying all through the national parks. To help ensure that all visitors, animals, and natural resources were protected the National Park Service created this policy memorandum to combat the use of drones before it reached unbearable levels.
The National Park Service originally monitored drone usage in the national parks before making this new policy. They noticed that there was a significant disturbance to the natural wildlife and other people who were enjoying nature. All drones have a loud sound that can damage the attention span and focus of the animals that naturally live in these areas. To prevent disruptions and to help the animals live in as natural a habit as possible the National Park Service implemented this new policy.
This is why today you will see many signs saying "No Drone Zone."
Many visitors to national parks are not experts about nature, even though they know the nature they visit. Since many visitors are not experts in the surrounding areas, including the animals or other natural aspects they do not notice the interference that their drones can have on the environment.
Who Has Authority over National Park Airspace?
The FAA has full authority over all of the airspace above national parks. While they have authority over the upper regions of the air, the National Park Service has authority over the direct area above the land. They are in charge of the low river water air as well as the high air above the mountain ranges. The area of who controls what airspace can be a little chaotic, but these two departments are used to working well together. They agreed that the National Park Service would be the ones to create the policies about drone management in national parks.
Can I Fly Drones Anywhere in National Parks?
Unfortunately, the ban that was created by the National Park Service does not allow the take off, landing, or operation of drones in any part of a national park. This includes all histories sites, trails for recreational use, beaches, historic monuments, civil battlefields, rivers, streams, lakes, and all other areas that are looked after by the park rangers. These areas are often sensitive, crowded, and can pose danger to all living things around them if a drone is not properly operated. Therefore, it is illegal to fly drones anywhere in national parks within the United States.
Who Can Fly Drones in Any National Parks?
No one is allowed to fly drones in any national parks, whether they are recreational users of drones or an FAA-certified drone pilot. Even though certified pilots have undergone extensive training about how to properly and safely operate their drones they are still not allowed to fly them in or on national park property. The only people who are able to fly drones in a national park are people who have received prior approval from the superintendent.
What Is the Penalty for Flying A Drone?
If you get caught flying a drone in a national park you can receive a hefty penalty. Oftentimes, you are subject to six months in prison and up to a five thousand dollars fine. This penalty is a huge consequence to pay for flying a drone.
While some people have been issued a fine and a warning, there have been very few, if any, people prosecuted to the maximum. Typically, getting warned or fired once is enough to stop using your drone in an area where you are not allowed to use it. This is just one of the main reasons why you should always know your drone rules and understand where you can and cannot fly your drone.
Have People Violated The Drone Laws In National Parks?
Yes, unfortunately, many people have violated the drone's laws in national parks. Many people do not understand the impact that their drones can have on the environment and even though they think they are just trying to have fun and capture breathtaking views this is not always what happens.
For example, there was a tourist who used their drone to get up close and personal with bighorn sheep at Zion National Park. The tourist was just trying to get closer to the animals to experience what no other people are able to experience, however they took it too far. The noise and distractions of the drone started to separate the young children from their mother and father. This caused a great deal of panic for the sheep and disrupted their natural environment. While this could have been a devastating and disastrous event it was not. This, however, is one of the main reasons why this policy was put in place.
Another very popular disturbance that was a result of drones flying in national parks was in 2014 at Yellowstone National Park. During this time a tourist accidentally crashed a drone into the Grand Prismatic Spring Geyser. The drone was never seen again after it splashed into the thermal waters at Yellowstone National Park. Since there have never been any mechanical foreign objects enter one of these geysers the ramifications of what could happen in the future are unknown. The tourist was fined for the crime. Since drones and their operations are unpredictable it is one of the main reasons why they are not banned in national parks.
Another incident that resulted in a fine for the drone operator was in 2017 at Yellowstone National Park. The presence of a drone forced a helicopter pilot to land unexpectedly to prevent a crash. This single drowning affected the path of the helicopter, the National Park Service, and other visitors to the park.
All visitors should have the right to enjoy a park, in the same manner, however the presence of drones can make this impossible. The drone ban in national parks helps to preserve the beauty and integrity of the national parks. It also helps keep the animals within the parks safe and the visitors able to enjoy their stay. While drones can be used for good to take beautiful pictures and to help in emergencies they are not always deemed necessary. This policy was created to help protect all things inside the park and the National Park Service still reserves the right to use drones in cases of emergency.
What Are The Exceptions To The Rule?
The National Park Service reserves the right to allow drones to fly over and in national parks if necessary. The only way that drones would be allowed to fly would be if they were issued a special permit.
Special permits can be issued for emergencies because they can provide a lot of good and help rangers cover larger areas in less time. Some of the main reasons why people can use drones in many national parks if issued a special permit, is to help in the aid of a search and rescue mission or to help with fire safety.
If a person goes missing in a national park it can be similar to finding a needle in a haystack. National parks are often highly dense and feature extreme environments. It can be hard to search and find any person in the area so drones are used to help in these missions.
When fires also break out in national parks it can pose a serious threat to people and animals. Drones can help in need of fire safety. They allow firefighters to plan ahead for possible dangers and help warn people of danger coming. They allow firefighters and others to research the upcoming area, wind, and environmental factors that could contribute to fire safety.
These special permits for drone usage are a necessity. They can be used for good and should be used to their maximum capacity during these trying times.
Making Drones Safer
While many people do not know the exact rules of where they can and cannot fly it is crucial for all drone operators to clearly understand the rules and know where the limits of flying are. Today, many of the highest quality drones are becoming safer because they feature a new technology called geo fencing. This technology tracks drones from satellites. They prohibit their flying in restricted areas, like airports, national parks, and other areas. Essentially, this technology acts as a fence. It puts a fence around these no drone zones and does not allow a drone to take off, land, or fly in these areas.
Even if you have a high quality drone you should be aware of the perimeters that you are allowed to fly on. Not all drones are made with this technology and due to technology glitches, you could end up in an area that you are not allowed to be in. You should always double check your location and verify that you are flying in a legal space. If you are not flying in a legal space you could be harming nature and risking time in prison, along with a hefty fine.
Changes To No Drone Zones
While the policy of not flying drones in all national parks has been implemented since 2014 the FAA made further changes to the law in 2017. In 2017, the FAA stated that drones could not be used around many historic landmarks. These landmarks include areas like Mount Rushmore, Hoover Dam, Glen Canyon Dam, Jefferson National Expansion Memorial, the Statue of Liberty, and many others. These areas are often very crowded and could lead to serious injury if a drone was not properly handled. These areas are also subject to high winds that could cause a tragic accident to occur if a drone operator lost control of their aircraft.
While the former rule used to state that drones could be flown within 400 feet from the ground this is no longer the case. Drones are not illegal to fly around these national sites and doing so could result in a large fine.
Where To Fly Legally?
If you enjoy nature and love all that nature has to offer you can still enjoy many breathtaking views using your drone. Drone operators who want impeccable views can still use their drones in many different areas around the county. You can use your drone in national forests, state parks, and local parks. These beautiful areas allow drone users to have fun in wide open areas and to capture stunning views while flying drones in state parks. Flying drones in state parks is a great way to enjoy nature.
Before flying in any specific area you should always investigate the rules and regulations of the particular area. Knowing the rules before you fly can help ensure that you fly safely and legally.
Drone Rules For Operators To Follow
If you are an avid drone operator you may likely already know and follow all of these rules, however, it is always good to refresh your memory. Understanding all of these rules can help ensure that you are flying legally and keeping all people around you safe.
Some of the most important rules to remember is that you must always fly your drone below 400 feet and keep your drone within sight. These things can help keep your drone under control. It can help prevent it from getting lost or crashing due to high winds and unpredictable weather conditions.
Other rules to follow include never flying a drone near other aircraft and never flying within five miles of an airport. This is extremely important because this has many safety concerns and could cause you to get in trouble with the federal government. You must also never fly a drone over large crowds of people or over large, crowded streets. This poses a serious threat to others if you were to lose control of your drone. Another important thing to remember is that you are never allowed to operate a drone under the influence of drugs or alcohol.
Even if you are flying a drone around parks that are not populated you only have certain hours that you are allowed to fly. Typical rules in almost every area state that you can fly a half hour before sunrise and a half hour after sunset. This ensures that you are only flying your drone during light hours so that you do not lose sight or control of your drone.
Following these rules can help ensure that your drone is properly handled. Flying a drone is a fun and exciting adventure however it must be operated carefully.
Why Do People Want To Fly Drones In National and State Parks?
While it is illegal to fly drones in all national parks they are still one of the most sought after places to fly them. National parks offer stunning views that many drone operators could only dream to take pictures of. From the water features and open fiends to historic monuments, drones give you a unique perspective on the world around you.
Another main reason why people want to use drones in these national parks is that these parks are full of wildlife. Drones allow you to sneak a little closer to animals and get into their natural habitats. While it would be amazing for all of us to see these animals up close it is not ideal for animals. These drones are foreign to them and they do not fully understand what they are. This can hurt the natural wildlife in the area and distract them from their main purposes in life.
Another reason why people dream of flying drones in any national park is to practice their skills in secluded areas. National parks are often thought to be less crowded than other areas, however, this is not true. National parks are very crowded with nature and sometimes other visitors. Even the best and most highly qualified persons are not able to fly their drones in any national park because of the dangers that it presents to all things in nature.
While flying drones in a national park is not allowed there are many other ways that you can enjoy flying a drone. You can find many different locations in your local area where you can fly drones for fun and for commercial purposes. No matter what your aspirations are you can find amazing places all over the country to fly your drone.