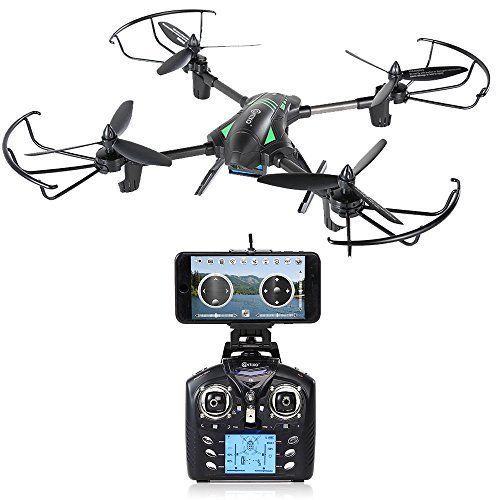 Introducing the Contixo F6 drone. This is one of the other popular stunt drones designed for beginners and recreational remote pilots. Before I talk about the Contixo F6 review, I want to briefly explain who is Contixo and what they do. Like many other brands, you will want to know what they are well known for.
Contixo is a U.S based company that is well known for its popular drones such as the F22 drone and most recently their latest released quadcopter, the F20 drone. As you noticed that they usually brand their drones with numbers and letters. Their drones are one of the fewest and best quality in the consumer market.
In our Contixo F6 review, we are going to dive into the details. I will talk about this drone's design quality, performance, features and of course transmitter. All of these are important factors in deciding whether you should buy a drone or not. While I try to keep the reviews short and sweet, you will find all the invaluable information that you need to know about the Contixo F6 drone.
Related Article: How to Buy A Drone: Guide for Beginners
Design and Build Quality
On the first impression, the Contixo F6 drone looks very stylish and unique. It comes in two popular colors: jet black coating with multiple green streaks across its body framework. If you have noticed that the Contixo F6 drone is equipped with three-pronged blades which makes it unique and different compared to standard toy-grade quadcopters. I thought it is a nice change from most of the drones, not only three-pronged blades are better performer compared to twin blades.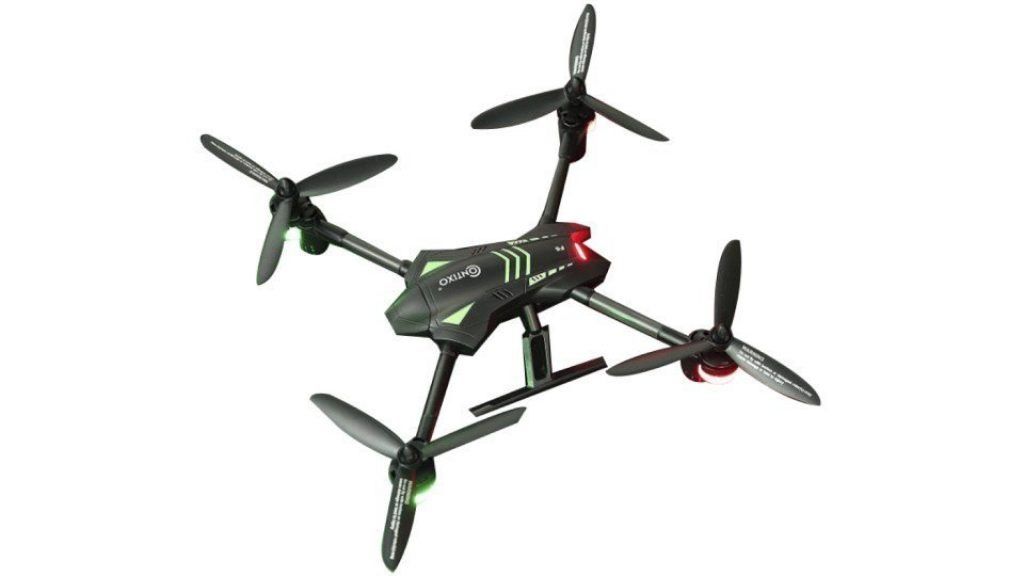 The Contixo F6 drone is crafted with durable ABS plastic that makes it durable. Not only it can withstand impact, but it also provides an amazing long service life that will keep beginners like you flying the drone around for as much as you can without having to worry about break the drone. Not to forget to mention that the Contixo F6 drone comes with propeller guards which are a nice add-on module for an extra layer of protection.
Furthermore, this stylish bird comes with landing pads that provide support for landing. It reduces the impact and ensures a safe distance between the camera and the ground. So that the little hazards such as dust and sand don't get stuck in the camera. Finally, the Contixo F6 drone comes with fancy LED lights that act as an important feature for spotting during the daytime and nighttime.
Related Article: Top 10 Important Tips That Drone Photographers Need To Know
Performance
In the next part of the Contixo F6 review, we are going to talk about its performance. Like other drones such as popular Bolt Bee and Ophelia quadcopter, performance is one of the biggest key factors in shopping decisions. This drone is built for simplicity yet with an incredible performance that boasts responsiveness and stability.
Thanks to a multitude of beginner-friendly features that encompasses stability and ease of use. Such as altitude hold function that automatically detects changes in the air pressure and adjusts accordingly. Another important feature is automatic landing and takeoff function which makes the whole flight simple. All you have to do is push the button to start flying as well as ending the flight session.
While the Contixo F6 drone is a better choice for beginners than other quadcopters under $50. This stylish bird can handle light to moderate winds with relative ease. Because it has built-in speed mode that provides the speed and agility that it needs to perform precision aerial maneuvers. Overall, this is a great performance drone that delivers quality flight experience for beginners. You can check out the Contixo F6 review video below to see the drone in action.
Related Article: Top 15 Best Foldable Drones for Beginners: The Ultimate Guide
Tons of Features
If you are looking for a great quality drone that is packed with a lot of features. You definitely will want to check the Contixo F6 drone out. Because unlike other drones, you can experience FPV flight mode with any of these popular VR headsets using the Contixo F6 drone. This little jet blackbird is capable of performing aerial flips tricks. It can flip in four different directions including barrel rolls like you would do in the Starfox games.
And did I forget to mention that the Contixo F6 drone features a rotatable camera? With a high-quality 720P HD camera, you can easily rotate the camera to point in the direction that you want to capture an aerial shot. It is the perfect choice for beginners who don't want to spend one of these expensive camera drones. This is nice for beginners who want to learn how to capture aerial shots but also to develop their piloting skills.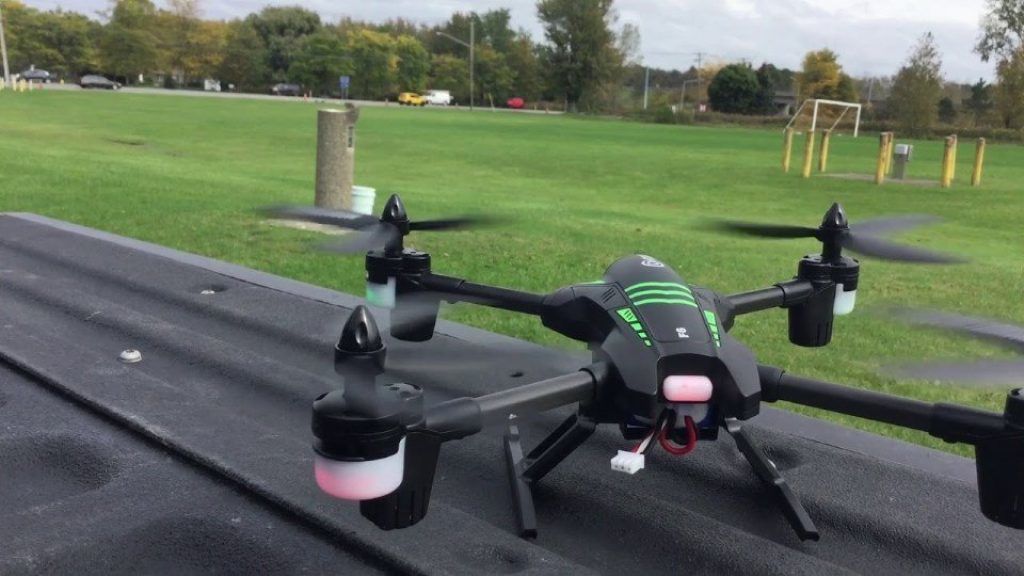 But that just doesn't stop right there. You can stream images and videos from the drone's camera to your smartphone. Simply download the mobile app for the drone and connect it to the quadcopter. Since the remote controller already comes with a built-in phone holder, you can conveniently insert your smartphone on the transmitter. Along with these features, the Contixo F6 drone can do another set of simple functions like a return to home and headless mode. Overall, a feature-packed drone for beginners.
Related Article: Top 8 Best Drones Like DJI Mavic Pro Under $100 for Beginners
Final Verdict of Contixo F6 Review
Before I conclude the Contixo F6 review, there are several remarks that I have to share with you. This is a high-quality drone packed with great durability that ensures its long service life. In addition to that, it is packed with a bunch of beginner-friendly features. Which makes the whole flight much easier and simple that beginner who has no prior flying experience will have an easy time picking up how to fly a drone.
In addition to that, the Contixo F6 drone is equipped with a high-quality camera. It easily can deliver images and videos at 720P HD quality. However, the quality isn't that stellar nor is it worse either! We think this is a great drone for beginners who wants to become an aerial photographer shortly. Not only it will help you develop your aerial photography skill, but it also teaches you piloting skills which is a must-have for all drones. You can check its price here.
Editor's Review
The Contixo F6 drone is a simple, yet packed with features and amazing durability for beginners. It is carefully crafted to ensure that the beginners gets the best quality out of a reasonable-priced drone. With a multitude of beginner-friendly features such as altitude hold, headless mode and speed mode, beginners will learn how to master their piloting as well aerial photography skills. A must have drone for starters.
PROS
Unique design style featuring in jet black coating with green streaks that makes it appealing.
Amazing battery life time up to 18 minutes of flying time.
Comes with two bonus batteries which gives you a total flying time of 54 minutes.
Crafted with durable ABS plastic which makes it resilience to impact and for longer service life time.
Integrated 720P HD camera that delivers quality images and videos.
Perfect training drone for beginners and entry-level aerial photographers.
CONS
Quality of camera isn't that stellar, but it is not that bad either.
Remote control distance is limited, however, it is still plenty of flying room for starters.
Add your review
|
Read reviews and comments