Today we are rolling out with the latest drone debut by Holy Stone. I received the Holy Stone HS210 Night Elf (See Price) for free in exchange for a complete, transparent review. Like most popular cheap drones for beginners, the HS210 Night Elf is the hottest product that is trending right now on Amazon.
If you have to eye to buy a drone for yourself or as a gift. You might want to hold on to that for just a moment. Because in my Holy Stone HS210 Night Elf review, I will talk about why this drone can be your next pick. Shopping for the perfect drone doesn't have to be that hard. So I decided to make it easy for you to make an informed decision before you buy.
There is a popular phrase that says a popular product spreads like a wildfire. Once it picks up the trend, it spreads and becomes very popular among beginners. To put these in simple words, the HS210 Night Elf has become beginners' favorite choice. Without further ado, I am going to talk about this little adorable red bird.
Initial Impressions
When I received the box, I was surprised by how professional the box appears to be. I inspected the box and there were no dents or anything. On the front of the box, Holy Stone has given it rather an interesting nickname called "Night Elf." Not to be confused with the HS170G Night Eleven. I also checked with a Holy Stone customer representative and it appears that the HS210 also goes by the nickname "Rogue".
When I opened the box, I thought it was a complete rehash of JJRC H36 (See Price). Upon closer inspection, it appears that the Holy Stone HS210 Night Elf resembles strikingly similar features. However, the little red bird comes with new upgrades and features that older models didn't have.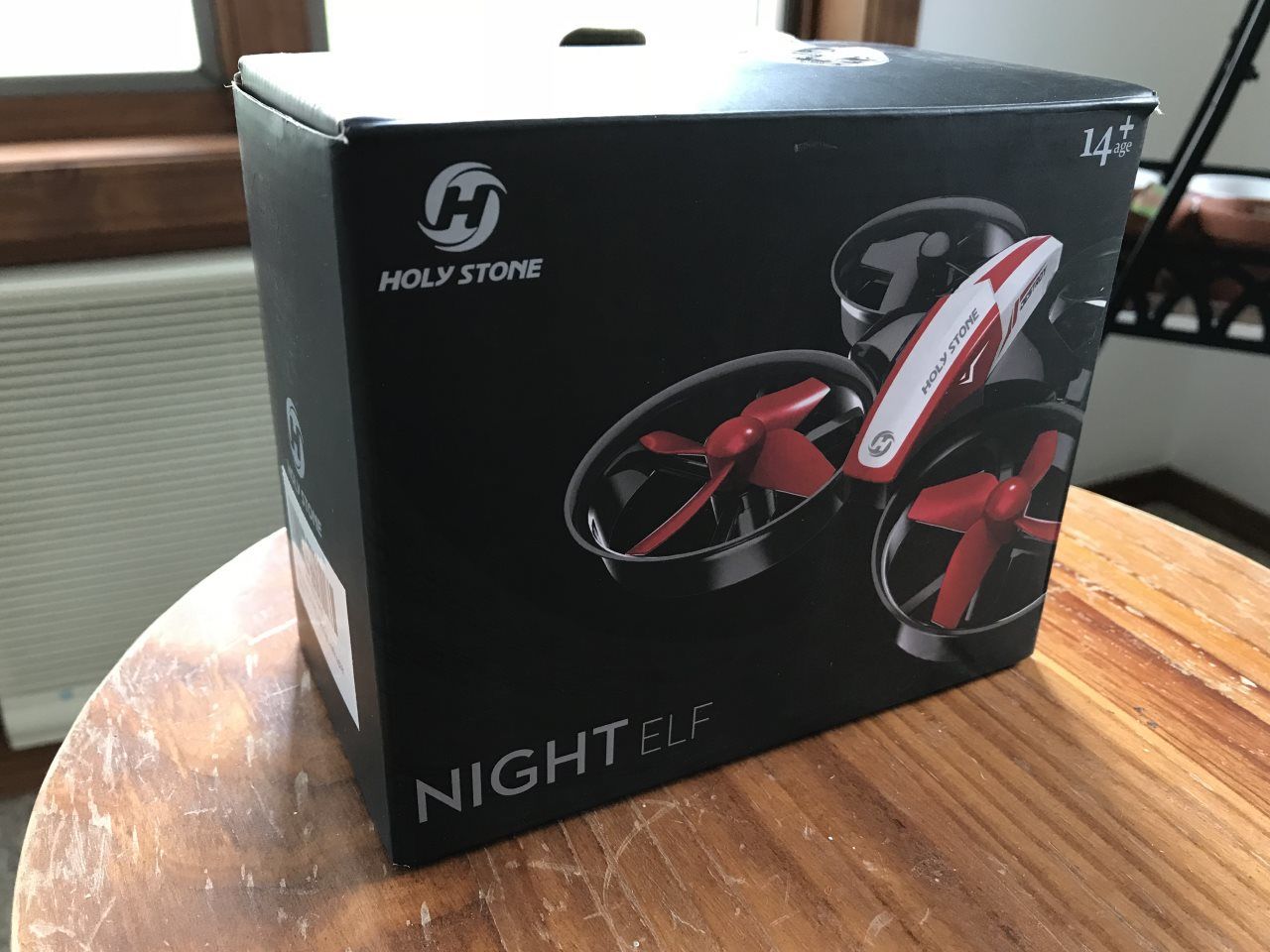 I liked how the accessories and parts are stored nicely in each respective place. The box itself does make a nice carrying case thanks to its small size. As you can see, the package includes a small, yet professional looking transmitter. Unlike most toy-grade drones like the X12 Drone and IN 1802 Drone, the HS210 Night Elf transmitter is nicer, cleaner, professional and simple. Plus, it doesn't have trimming buttons which makes flying the drone a breeze!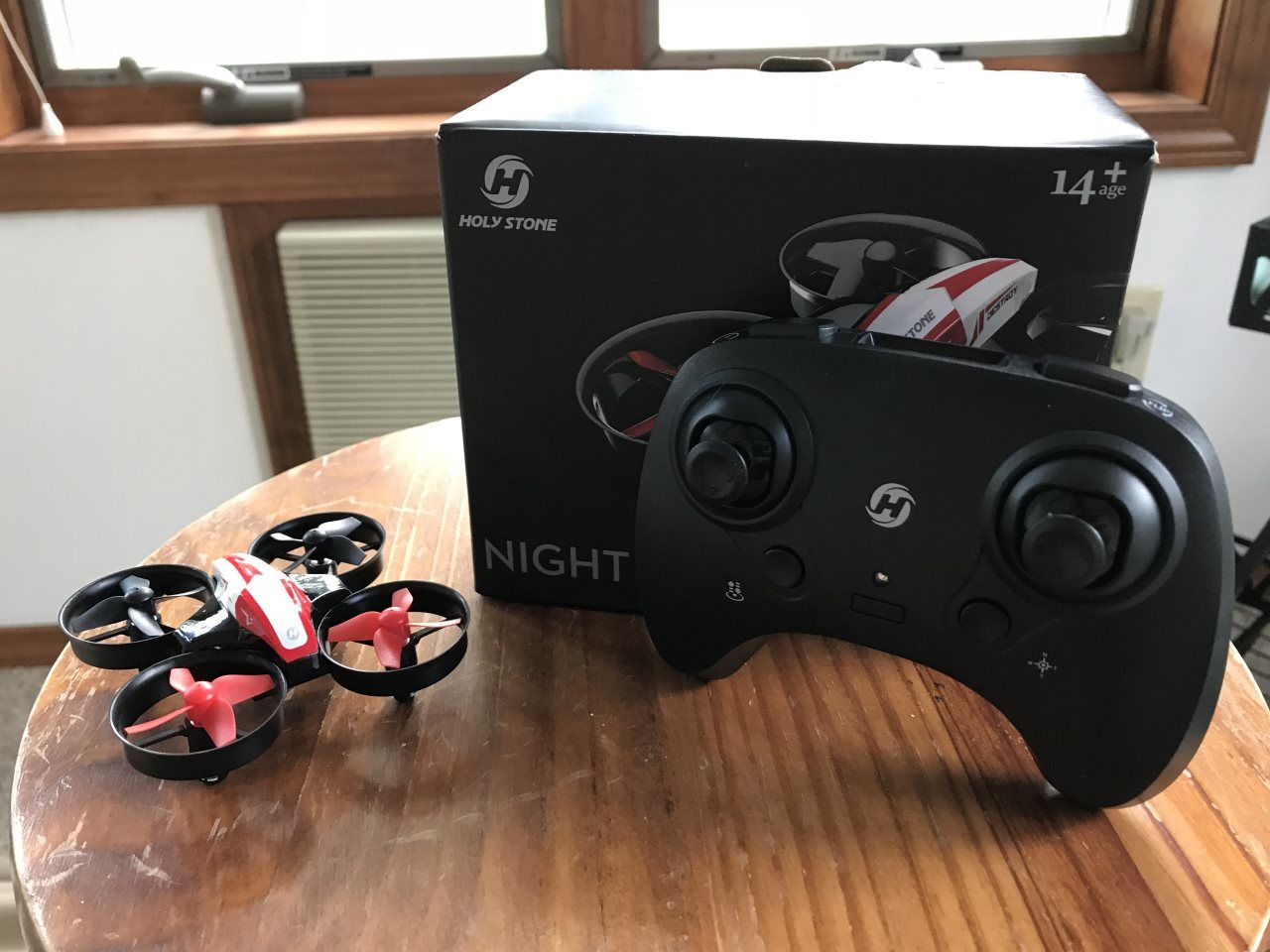 Holy Stone HS210 Night Elf Accessories
Upon further digging, I laid out all accessories on the stool for you to see what is included. The package comes with three batteries which are completely a steal! Each battery on average gives you around 6 to 7 minutes of flight time. With these three batteries, you can fly up between 18 to 21 minutes. Forget about waiting impatiently for the drone batteries to recharge. You can maximize your fun time with Holy Stone HS210 Night Elf.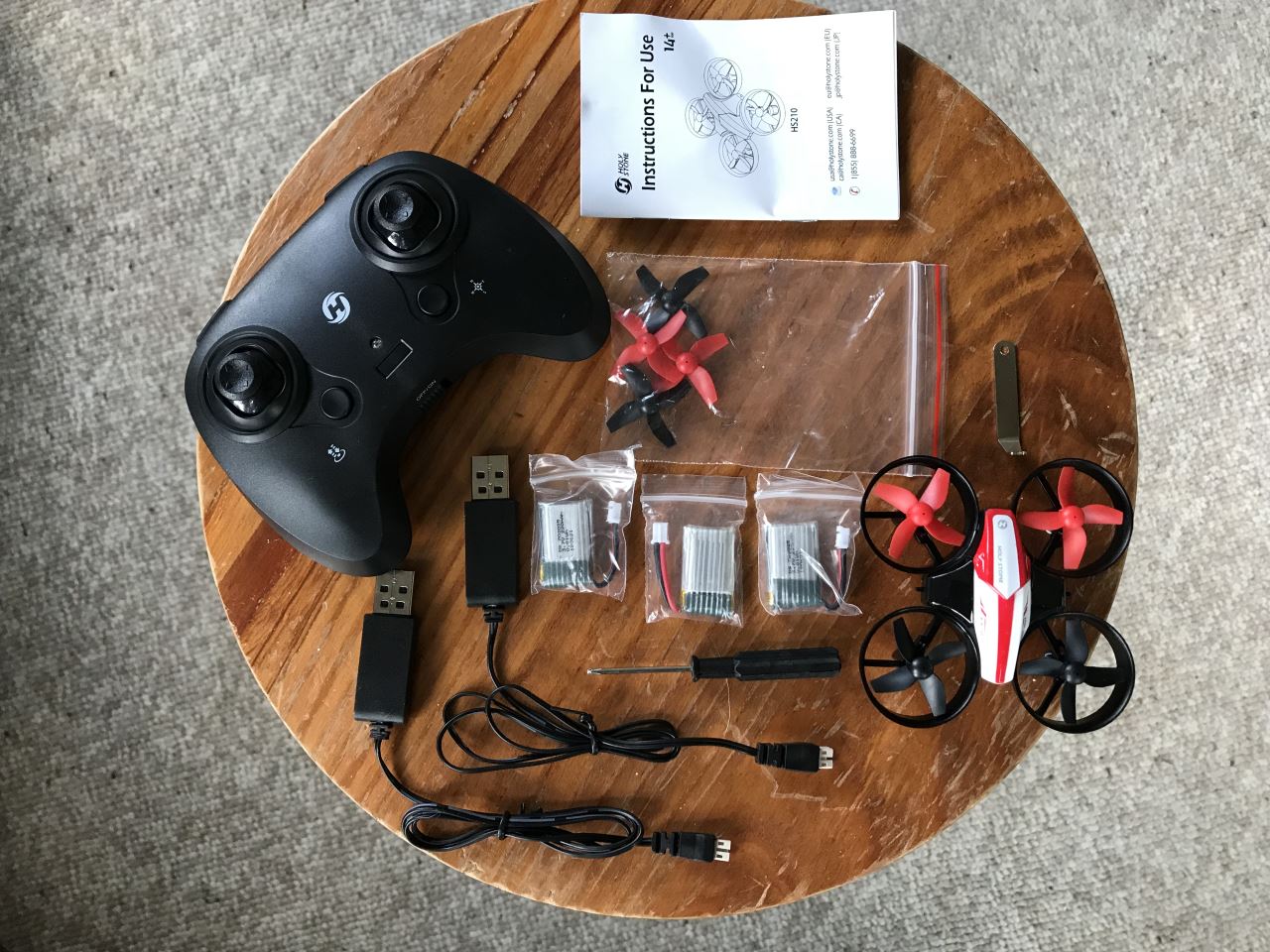 However, if you do want to extend your flight sessions, I recommend you to purchase these batteries for HS210 Night Elf drone. Along with the package, the drone comes with two USB charging cords. This allows you to speed up the charging time which is a big plus. Also, there are extra propellers, a screwdriver, and a spanner for propellers. Overall, I think the HS210 Night Elf is quite a steal for drones under $50.
Design & Build Quality
As I mentioned previously that the HS210 Night Elf drone looked like a rehash version of JJRC H38. This is especially true at some points but with a different color and professional style. It even has the same build layout as other model does. But what makes the HS210 Night Elf drone unique and different is its quality. You will be surprised to find out why.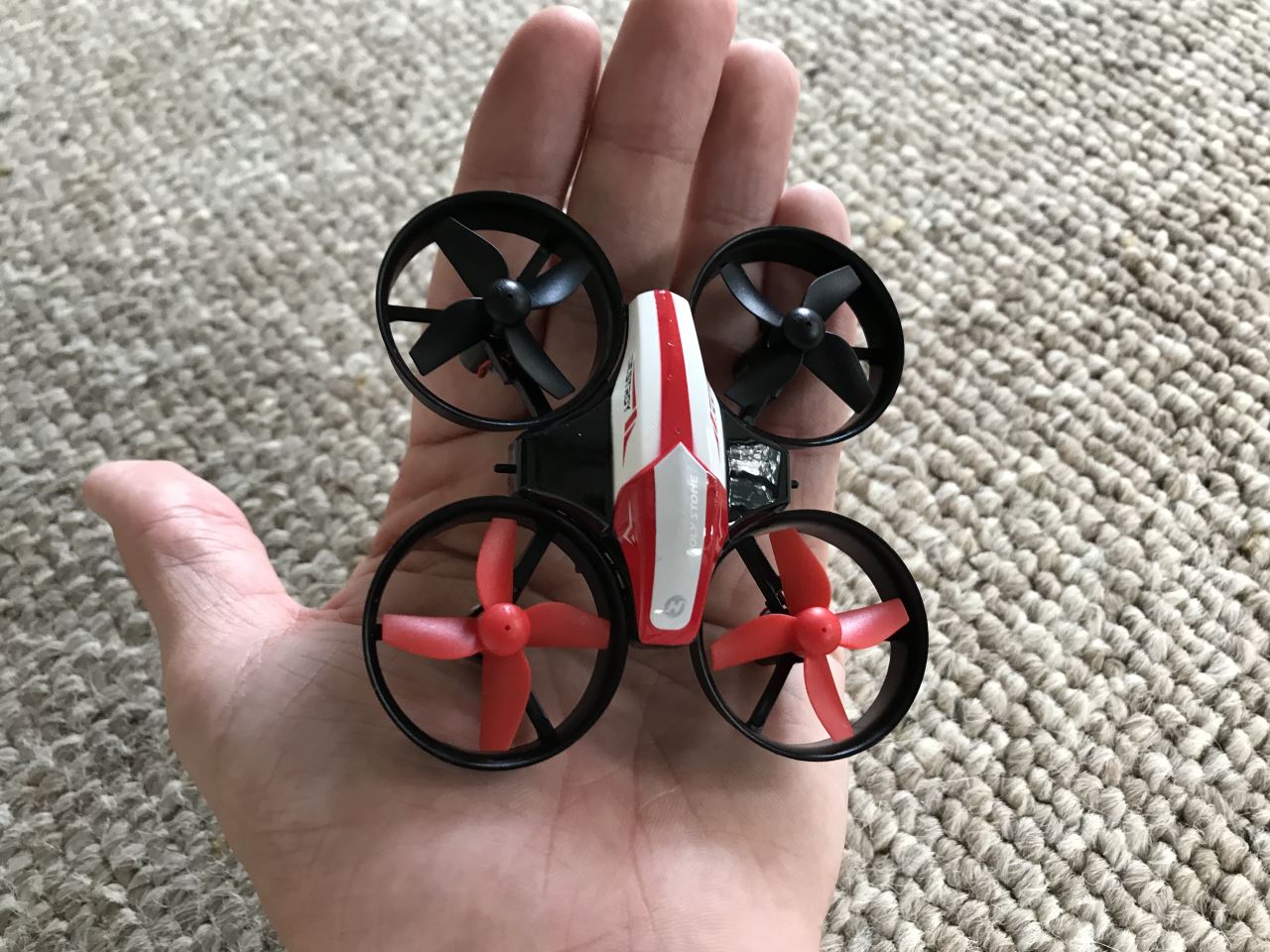 This little red quadcopter is small enough to fit in your palm. Underneath its body is empty storage of the battery. This is the place where you can insert your freshly charged battery and connect it to the drone's battery plug. The only minor drawback is that I didn't like how the battery wire is exposed. The wire hangs out a little bit loosely.
Flight Time & Durability
But I would recommend you to use electric tape to bundle the wire together so that it won't hit the propellers. Once I tweaked it around, it wasn't an issue. Once the drone powers on, two LED lights pop up that flashes in two different colors: red and green.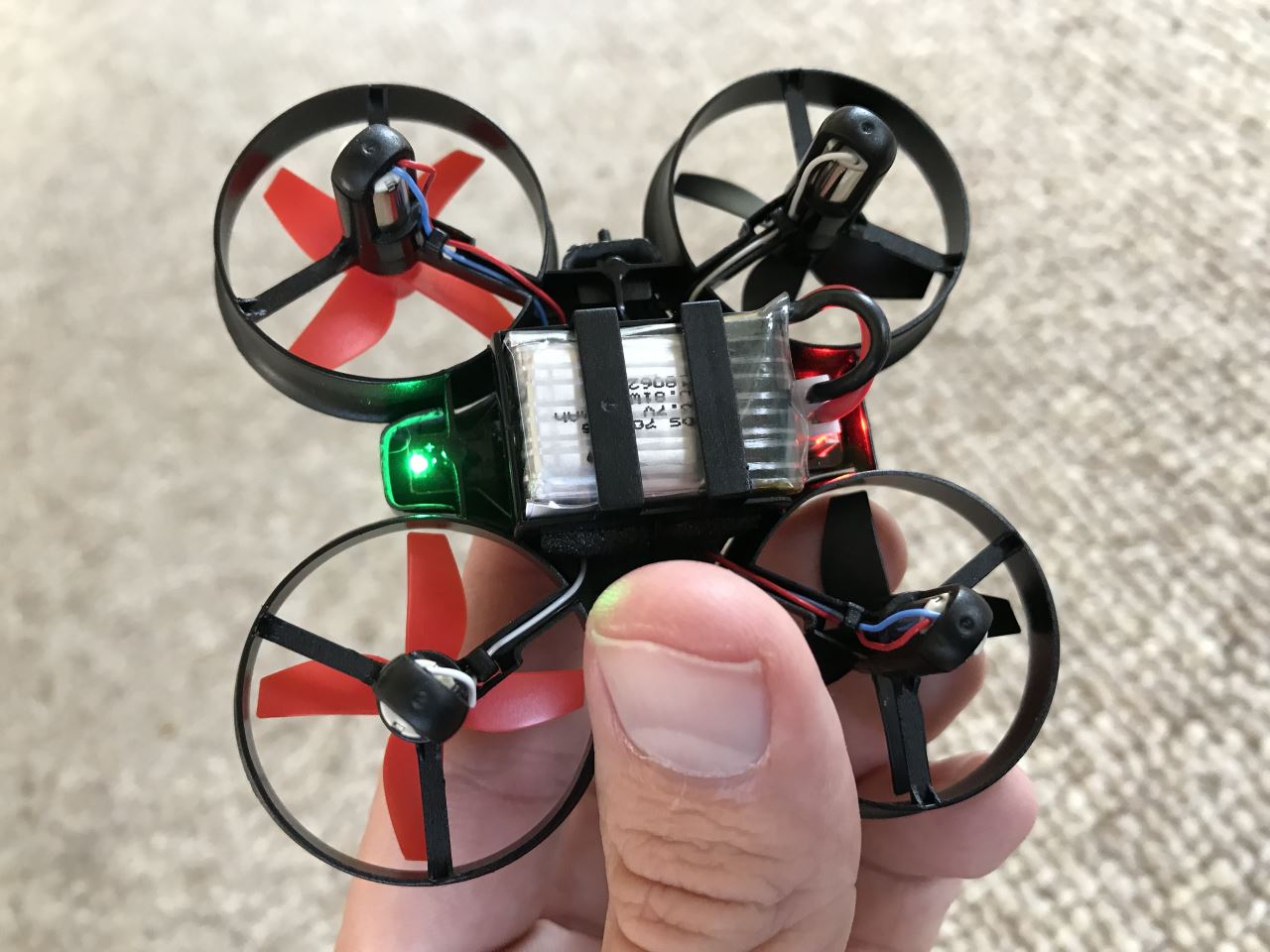 I thought it was a nice color combination pick by Holy Stone. These LED Lights are a feature used for visual positioning. This is particularly helpful when you are flying the drone outdoor or indoor. Especially when you are flying in the dark. On the final note, I liked how the Holy Stone HS210 Night Elf is equipped with built-in guards for the propellers.
It is a very important design that ensures the drone is protected. Because when you are flying the drone for the first time, it is likely you will crash a few times before you master it. Thus, the guards reduce the damage by absorbing shock on a crash. I have test crashed the drone at least four times on purpose and there wasn't any scratch on it. The fact that HS210 Night Elf drone (See Price) has shown its capability to withstand crashes have placed a good impression on me for its price range.
Performance
In the next part of the HS210 Night Elf review, I will talk about its performance. This is one of the key factors when it comes to shopping for the perfect drone. You will be surprised to learn why HS210 Night Elf (See Price) is quite a stellar drone to have in terms of performance. First and foremost, you don't have to trim to stabilize the drone. It is a big change from older models that still use it.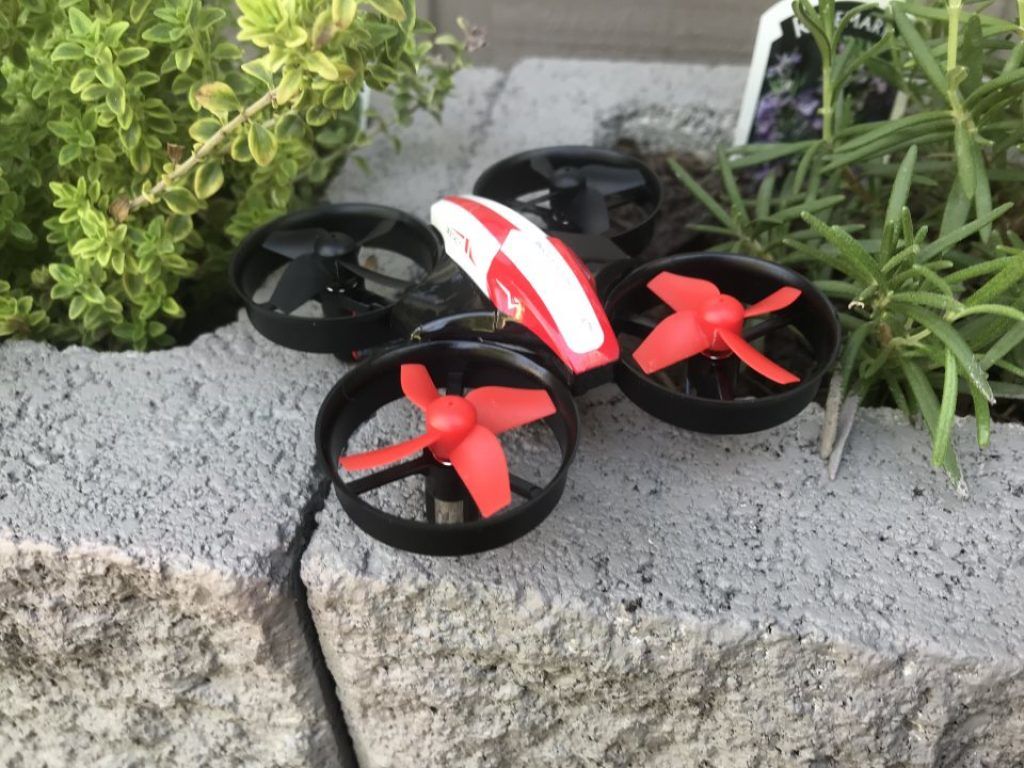 I had no problem flying Holy Stone HS210 Night elf drone right away out of the box. It didn't drift around that much and mostly stay in its position aside that I have to adjust its movement sometimes. A single battery keeps the drone running for 7 minutes at max. The same minutes as the product page advertised. There was a lot of fun flying this quirky little red copter around the room and through my custom-made obstacle course.
Features
Once I got hang of this drone, I took it outside to test how well it performs. Luckily the weather was nice, warm and calm. So it was the perfect opportunity to see it in action. I highly recommend that you turn on the highest speed setting to get the best performance when you fly outdoor. Because of two reasons: the air pressure is constantly changing unlike inside the room. Secondly, there are always winds happening regardless.
So it would make sense if you do that given the wide-open space you have to zip around. I must say that I am quite overall impressed with how it performs outdoor. The wind was going at 3 to 4 miles per hour and the drone handled it like a boss!
I performed a few 360-degree flips in different directions and noticed that as you continue to fly. The battery will get low which means the power effectiveness of the drone gets weaker. So don't worry if the 360-degree flips get weaker and stop working once the battery is low. That is completely normal with all drones. Just simply replace the depleted battery with a fresh one and it will perform at its maximum effectiveness.
Remote Controller
One of the most significant qualities that set the HS210 Night Elf (See Price) apart from its contender is a transmitter. When I looked at it, I was surprised by how clean and professional it is with a nice-looking Holy Stone logo in the middle. The first thing that I noticed was no trimming buttons. In older models, you would have to use trimmings to balance the drone. But, as I said in the performance section, this drone has a mind of its own. Upon holding the transmitter, it felt like a PS4 controller to me. If you have played gaming console before, it should come across to you like a natural.
The second thing that I noticed was the addition of inscription on the transmitter. I could tell what each button does instantly. They are straightforward and super easy to understand that I didn't even have to read the manual on how to fly a drone! Now, I am not saying you should not read the manual. Let alone you will need to keep it just in case if you have any issues and need technical support.
More Features
On the bottom of the transmitter is the power button. The left button is an automatic landing and takeoff. The right button is a headless mode. So, what is the headless mode you might be asking that question? This is a beginner-friendly feature that switches the control orientation from a drone to your levers. Instead of flying in the direction the drone faces at. The drone flies based on the direction you are pushing the levers at. This feature makes the flying process much easier for beginners to learn how to fly a drone. Pretty nifty, right!?
Alas, we have two more features shown in the pictures. On the left shoulder button is the speed mode. It consists of two-speed levels. On the lowest speed, the setting is known as beginner mode. It allows you to practice and learn the controls. Once you feel comfortable, you can switch to high speed to challenge yourself. I had no issue flying the drone outside in the light wind.
However, I wouldn't recommend flying it in windy conditions consider how small it is and doesn't wield enough power to withstand moderate wind speed. If you want to be able to fly a drone in windy condition, a drone that weighs more and is packed with stronger propulsion force is suited better such as the Ninja FPV drone and Eachine E58 quadcopter.
Yet, if you want to perform quick tricks. On the right shoulder, there is a 360-degree flip mode. Press it while you are flying the drone in any direction and it will perform the trick. However, keep it in your mind that the effectiveness of 360-degree tricks gets weaker as the battery is low. It is completely normal with all drones.
Customer Experience
With over 1500 customer ratings in Amazon, the Holy Stone HS210 garnered an average rating of 4.4 out of 5, with 85% of 4-5 star ratings. It's safe to say that a majority of its customer loved the drone. Most positive reviews say the drone was stable, rock-solid, and impressive. Those who bought other mini-drones could easily say that the HS210 is the best. The highlights of the HS210 are its unbelievable altitude hold, speed settings, and battery life. Not only is it a good outdoor drone, but it's suitable for indoor use as well. According to the reviewers, the HS210 as one of the best beginner drones at its price.
Final Thoughts on HS210 Night Elf Drone
Before I conclude the in-depth review on HS210 Night Elf (See Price). I want to make final comments on what I think of this little quirky red drone. Overall, I had a blast time flying the HS210 Night Elf and it has given me a completely different experience from other toy-grade drones like the Parrot Mambo. I was relatively impressed with how stable and easy it is to fly.
I didn't have to do all the guesswork or anything like that at all. So basically how it goes like this: take the drone out, insert the battery and start flying now to have fun. This should be the way the drones work for beginners. The drone itself did a little to surprise me except it was largely the same model of JJRC H36.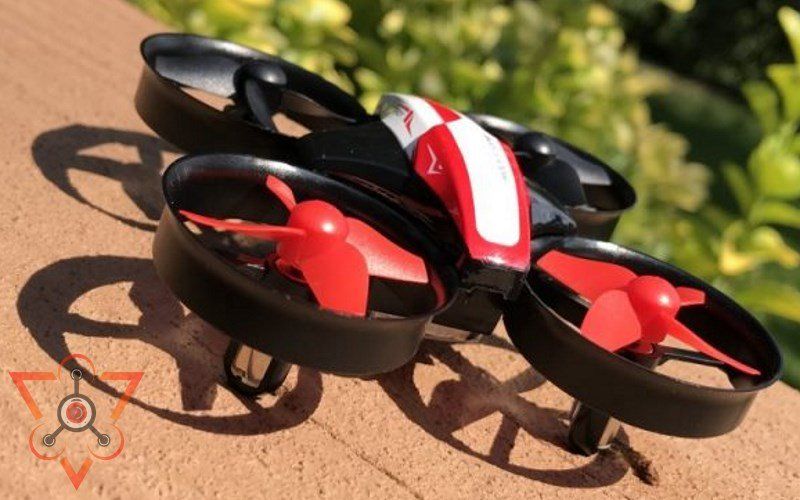 But it is the features and transmitter that did have a big impact on what I perceived HS210 Night Elf drone (See Price). The transmitter is well designed and professional appearance that does a great job fitting for all the beginners to experienced RC fans. This is a quality product crafted with exceptional craftsmanship.
It is a great drone for first-time flyers and a good surprise gift for beginners and hobbyists alike. If I were to rank cheap drones for beginners, I would add Holy Stone HS210 Night Elf to the list because of how easy it is to fly! You can buy HS210 Night Elf here.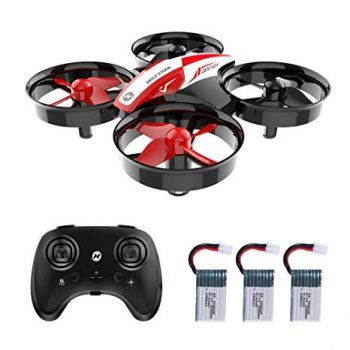 Set Lowest Price Alert
×
Notify me, when price drops
Set Alert for Product: Holy Stone HS210 Mini Drone RC Nano Quadcopter Best Drone for Kids and Beginners RC Helicopter Plane with Auto Hovering, 3D Flip, Headless Mode and Extra Batteries Toys for Boys and Girls - $25.19
Last Amazon price update was: November 20, 2023 3:17 am
×
Product prices and availability are accurate as of the date/time indicated and are subject to change. Any price and availability information displayed on Amazon.com (Amazon.in, Amazon.co.uk, Amazon.de, etc) at the time of purchase will apply to the purchase of this product.
Well Crafted
The HS210 Night Elf isn't your standard toy-grade drone in its price range. This drone is exceptional crafted with professional transmitter and a complete package set that is well above its price range. With high quality material, durability and a set of beginner-friendly features. The HS210 Night Elf has positioned itself as the next serious contender for beginners and hobbyists.
PROS
Quality Crafted
Durable
Affordable
Super Easy to Fly
Very Fun
Beginner Friendly
Long Flight Time
CONS
No Camera
Limited Features
Limited Control Range
Weak Wind Resistance
Add your review
|
Read reviews and comments