Meet the Potensic T25 GPS drone. It is among one of the intelligent RC drone outfitted with an advanced GPS which is engineered to locate and provide precise stability. If you've been looking for a smart camera drone packed with punches and amazing features, the Potensic T25 GPS drone could be the best choice for you. In our Potensic T25 GPS drone review, we are going through the details such as design, inside the box, performance, camera, and more.
The purpose of our Potensic T25 GPS drone review is to help you familiarize yourself with what this quadcopter has to offer for you. Many popular drones are sold under $200 as they feature GPS/ GLONASS positioning systems and independently operated camera. Furthermore, the Potensic T25 GPS drone makes it into the top 10 best HD camera drones for beginners. Stick with us to find out more information about this smart camera drone.
What's Inside The Box?
To begin the Potensic T25 GPS drone review, we are going to share what is inside the box with you. This is my favorite part of all reviews because you get to know what parts are included and what you need to buy to complete the drone gears set up. Fortunately, the Potensic T25 GPS drone comes with a complete accessory including a crash kit and remote controller. Because it is a ready-to-fly drone, you can start flying it right out of the box.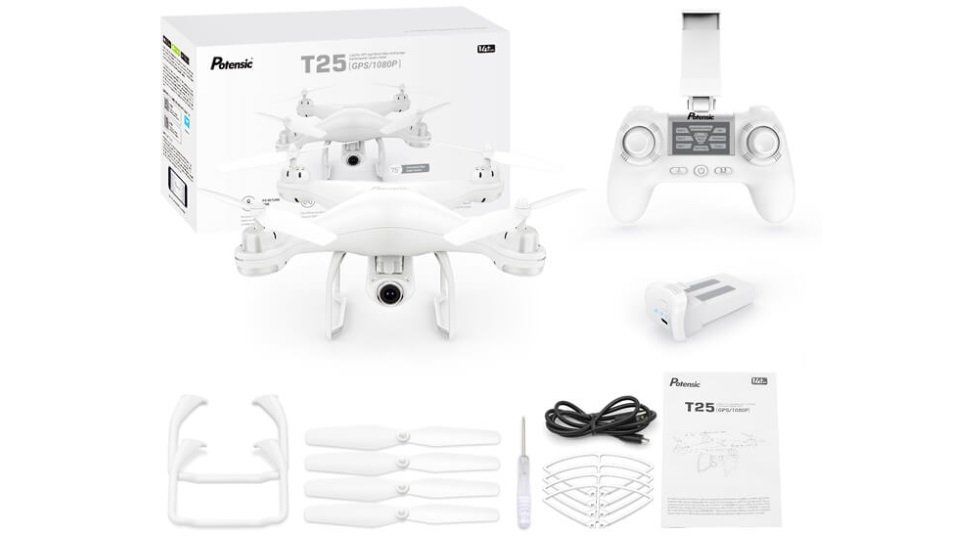 The image above shows you what is included in the box. As you can see it comes with an intelligent design battery that will be half-charged when you open it. A single battery charge on average provides the drone with 10 minutes of flight time. I highly recommend buying a few extra batteries if you want to extend your flight sessions. At least three to four additional batteries should be good enough. Below is a list of what parts are included in the box:
Package Content:
Potensic T25 GPS Drone
Remote Controller
Battery
USB Charger
Screwdriver
Extra Landing Gears (2)
Extra Propellers Blades (4)
Propeller Guards
User Manual
Sleek & Compact Design
On the first impression, the Potensic T25 GPS drone looks like a DJI Phantom 4 clone. But, it is smaller and features 1080P HD camera mounted underneath which is essentially a baby version. It is adorable though, the design is pretty much on the spot. With the company's brand located on the top, it's outfitted with brushless motors that are designed to provide the drone with powerful propulsion force.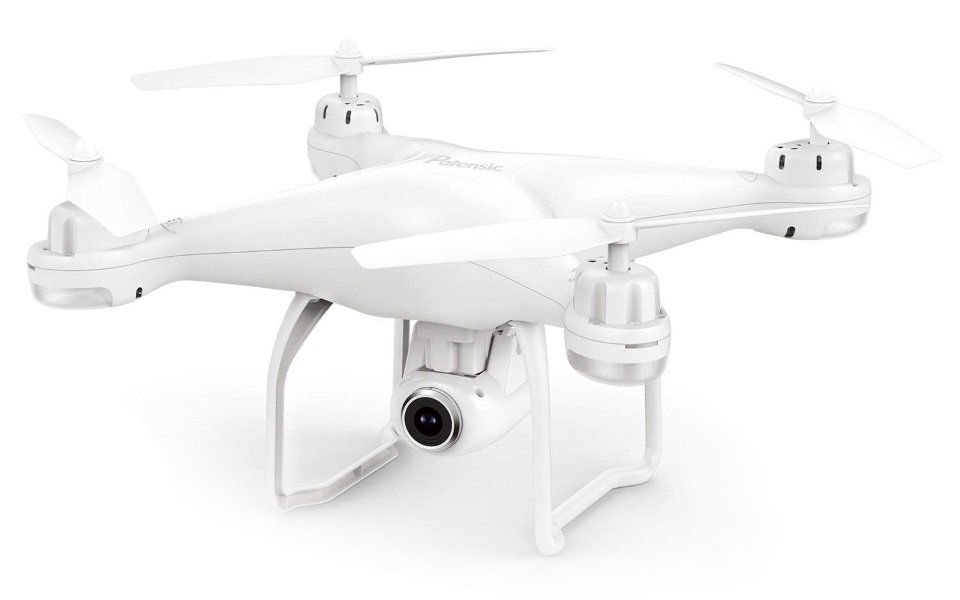 At the end of each motor arms, there are built-in LED lights that provide visual support during daytime and nighttime. The camera can be operated remotely which gives you a significant advantage to capture aerial shots in the direction you want to take. I liked how this drone comes with landing gears that act as a shock absorber. Not just only that, it provides a safe and clear landing zone that maintains distance from the camera to the ground.
Design-wise, the Potensic T25 GPS drone is somewhat tough and resistant to impact. It is an ideal choice for first-time drone users who have no prior flying experience. However, I highly recommend installing the propeller guards on your first few flights as you will be crashing often. The propeller guards will minimize the impact while extending the lifespan of the drone. Overall, this is a great looking drone for beginners.
Performance
When it comes to performance, the Potensic T25 GPS drone is surprisingly easy to command for beginners. Mainly because it has to do with the built-in GPS/GLONASS positioning feature. This enables a smooth and stabilized flight experience while beginners focus more on movement and capturing aerial shots. Most of the drones under $100 don't have that feature and are somewhat challenging to control manually.
That is not the case with this drone as you can fly it with precise controls. In addition to that, this quadcopter can handle light to moderate wind with ease. Thanks to built-in speed mode, you can easily adjust the speed to challenge yourself. By default, the speed mode will be on the lowest setting. This is so to present the opportunity for beginners to learn and grasp the basics of flight controls.
The video above is a short in-depth review of the Potensic T25 GPS drone. That should give you an idea of how this drone operates and looks like. It comes with a 1000mAh battery which runs for up to 10 minutes and has a maximum remote control distance up to 300 meters. Probably one of the best mid-range drone in its price range. A high-quality camera drone to start with if you are looking for a good one.
Camera That Delivers Quality Shots
One of the main features that the Potensic T25 GPS drone has is a built-in optimized 1080P HD camera. For some of you who are wondering what is the difference between a regular 1080P HD camera and an optimized 1080P HD camera. The difference is not that major, but an optimized camera delivers better imaging quality. In addition to that, it maintains a reliable signal connection that provides smoother live streaming of video in real-time.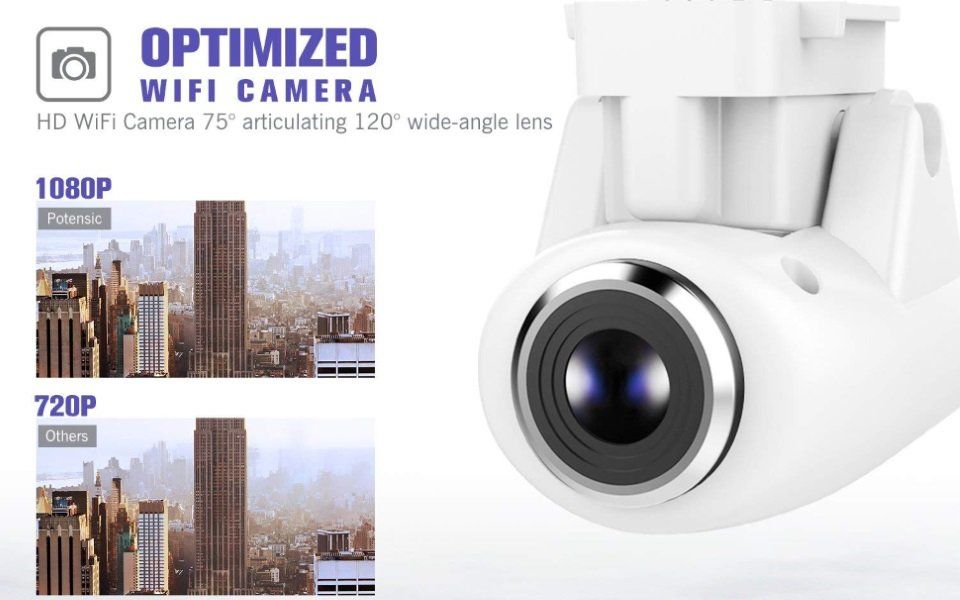 Since the camera uses Wi-Fi technology, it can be operated remotely. This means you can point the camera in any direction you want to and capture the shot. This gives you greater flexibility and makes the drone a perfect training quadcopter before you plan to buy one of these professional-grade camera drones. Plus, its camera has a 120-degree wide-angle lens that beautifully captures everything in a crystal clear 1080P HD resolution setting.
Plethora of Features
There are plenty of features that this smart camera drone has in the store. The first and foremost notable features are the brand new 9-axis gyroscope which encompasses improved stability and precise flight controls. It also hosts several beginner-friendly features like altitude hold function and headless mode. Probably some of you are curious about what the heck is the headless mode. You fly the drone based on the direction you are pushing the movement lever at.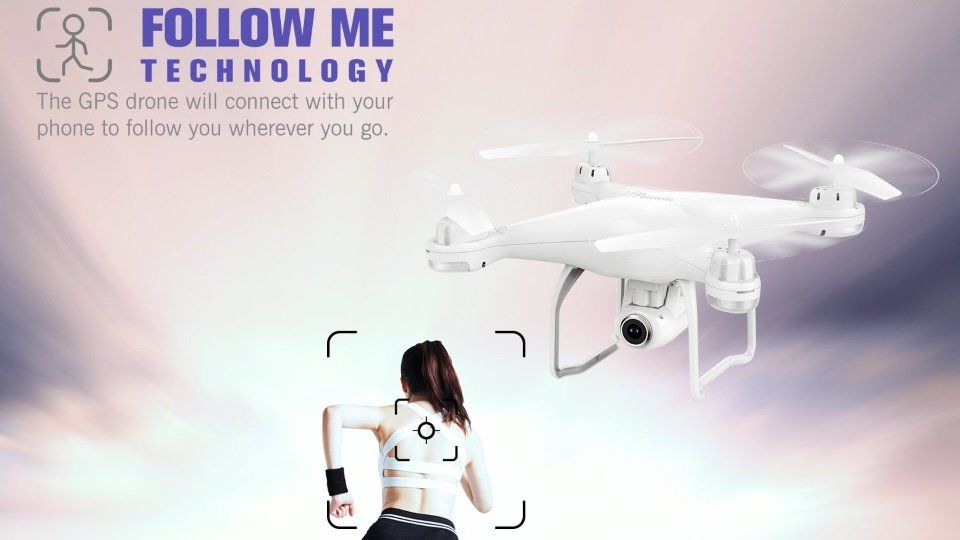 Also, the Potensic T25 GPS drone comes with intelligent flight modes. If you ever want a drone that follows everywhere you go. This drone is capable of doing so. Simply activate the intelligent flight modes and select follow me to automatically start tracking where you go. Furthermore, you can customize your flight path for the drone using Waypoint Mode. If you ever lose your drone, you can activate Smart Return to Home function.
Thanks to its integrated GPS / GLONASS module, it is a GPS-assisted drone that encompasses a lot of cool features. Mainly for the ease of use and also tools to create awesome content wherever you go. We highly recommend getting a 32GB microSD card to go with this drone so that you have plenty of room to store 1080P HD footage.
Customer Experience
Potensic T25 GPS has over a thousand customer ratings on Amazon and an average rating of 4.1 out of 5. Seventy-seven percent of those ratings are from four-star and five-star reviews. Those who bought the T25 are happy with their purchase, mainly because it was easy to assemble and fly. The video quality was excellent, and flying it needs only very little practice. The drone is very responsive to the controls and easy to operate. Some customers also love the remote pivoting camera. Overall, the T25 is a perfect choice, especially if you're just beginning in drone piloting.
Final Verdict of Potensic T25 GPS Drone Review
To conclude the Potensic T25 GPS drone review, we think this is one of the best camera drones for beginners. Mainly because it comes with a load of features and is super easy to control. Thanks to the integrated GPS / GLONASS module, you can rest at ease knowing that you only have to worry about flying and capturing beautiful aerial shots.
On top of that, the drone comes with 10 minutes of flight time and a maximum control distance of 300 meters. It is just about as good as you can find from a drone for less than $200. If you are looking to start with a beginner-friendly drone that teaches you how to fly and take good shots. We think the Potensic T25 GPS drone is a great camera drone, to begin with. You can buy a Potensic T25 GPS drone here.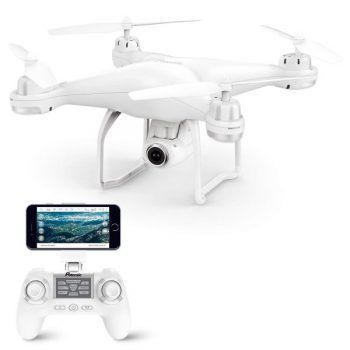 Last Amazon price update was: November 24, 2023 5:04 am
×
Product prices and availability are accurate as of the date/time indicated and are subject to change. Any price and availability information displayed on Amazon.com (Amazon.in, Amazon.co.uk, Amazon.de, etc) at the time of purchase will apply to the purchase of this product.
Editor's Review
The Potensic T25 GPS drone is a great camera quadcopter for beginners and recreational drone users. It is outfitted with an impressive optimized 1080P HD camera that delivers quality videos and stills. Plus, it is designed to be durable that can withstand impact with relative ease. Not to forget to mention that the Potensic T25 GPS drone is capable of handling light to moderate winds and provides smooth flight experience. Overall, it is an exceptional quadcopter for beginners. We highly recommend it.
PROS
Optimized 1080P HD Camera that delivers quality videos and stills.
Durable material that makes it impact resistance.
Brushless motors for powerful performance.
Flexible flight controls that offer beginners a smooth learning curve.
Integrated GPS/GLONASS feature for stabilization and precise flight controls.
Wi-Fi Camera that can be operated remotely.
CONS
Battery lifetime only lasts up to 10 minutes per charge. We recommend purchasing additional batteries.
The remote control distance is somewhat limited, but it is not that bad.
Must buy microSD card separately to store videos and stills.
Add your review