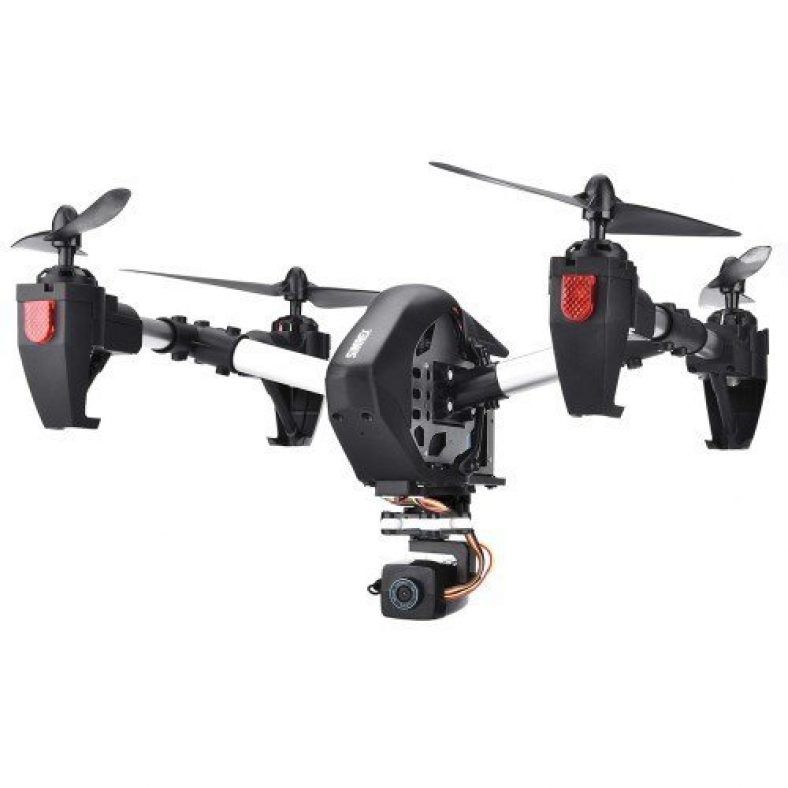 Update - 2019.12.14
This drone is no longer available on the market. We apologize for any inconvenience it may have caused.
This week we're doing another review of the best camera drone for beginners. Meet the SIMREX X600 review, a popular DJI Inspire 2 clone drone. If you're a fan of DJI drones such as the Inspire series, you might find yourself wanting to have your hands on this brand new camera drone. It doesn't come with advanced features that you normally would see on expensive drones. But it does make a great training drone for beginners who are starting. In the SIMREX X600 review, we are going through the details.
The purpose of this review is to help shoppers like you make an informed decision about this drone. The review will be divided into four categories: design quality, performance, features, and remote controller. Just like many popular drones such as the Bolt Bee and X4 Storm, we think the SIMREX X600 drone will become the next popular beginner drone. Without further ado, let's dive into the details!
Design Quality
On my first impression, the SIMREX X600 drone appears to be uniquely designed. I especially liked how it is crafted that mimics the popular DJI Inspire 2 closely. This drone features movable motor arms that lift off once you get it flying into the skies which does the same as its grand sibling. The SIMREX X600 drone features in the jet black coating that gives a nice professional appearance. Made with durable ABS plastic that provides durability and impact resistance.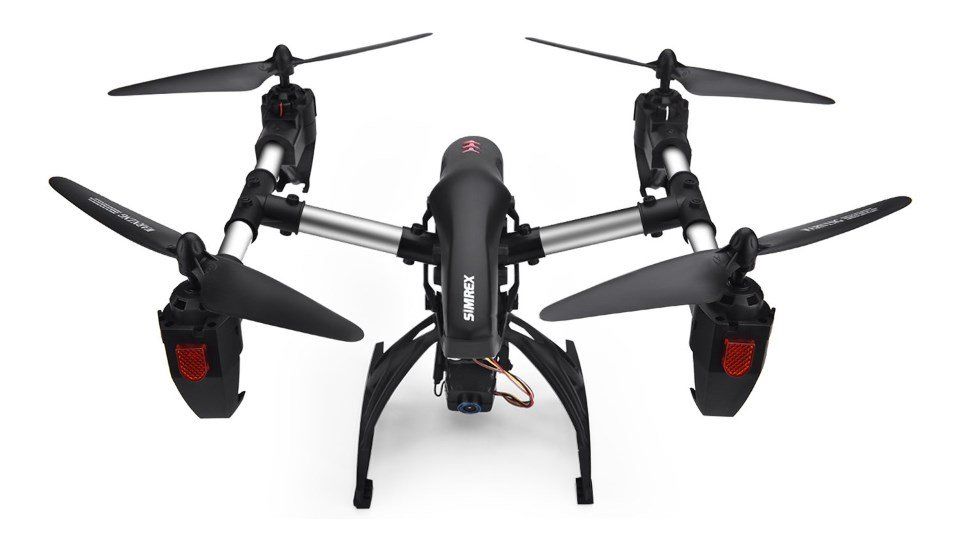 At the front of the drone, there's a SIMREX logo which fits nicely. Underneath the drone, it's mounted with a 360-degree 720P HD camera. Not to forget to mention that the camera can be adjusted remotely which is a huge game-changer. Currently, most drones that are sold for under $100 don't have that kind of feature. And quite frankly, it puts the SIMREX X600 drone into a shining light as the next best camera drone for beginners.
Furthermore, this quadcopter comes with a LED light battery that lets you know of its status. One of the key design features that SIMREX X600 has to offer is anti-stuck protection. It prevents the motor from damaging itself while extending the life of the machine. This is an important technology change to improve the overall quality of the drones. Finally, there are LED lights on each motor arms that provide visual assistance.
Related Article: Top 25 Best Reasons Why You Should Buy Drones for Beginners
Performance & Features
When it comes to performance, the SIMREX X600 drone excels at making it easy enough for beginners to fly right out of the box. Mainly because this drone is equipped with beginner-friendly features such as altitude hold function and headless mode. For those of you who are wondering what the heck is the headless mode. It switches the control orientation from the drone to your transmitter. This means the drone will fly based on the direction you are pushing the movement lever at.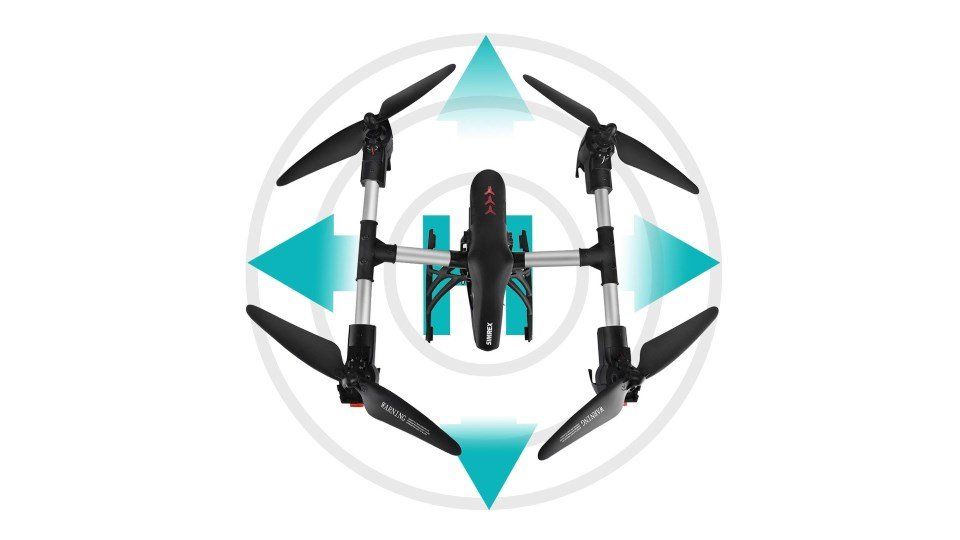 Furthermore, the SIMREX X600 is installed with the latest stabilization feature called the 6-Axis Gyro. This helps keeps the drone stable by detecting changes in the air pressure level and adjust accordingly. This provides a better and safer flight experience for beginners to enjoy while they learn how to fly the drone. In addition to that, the SIMREX X600 can perform simple flight functions like automatic takeoff and landing.
Not to mention that this drone is capable of taking pictures and videos with its 720P HD camera. With a remote controller and smartphone, you can stream video in real-time so that you can take stunning aerial shots. Thankfully, this gives you a complete phone direction control that works with both Apple and Android smartphones so it doesn't matter which one you are using. As long as you can maximize your use and the features that it has to offer.
Related Article: Top 10 Best Follow Me Drones for Beginners and Kids
Remote Controller
The SIMREX X600 review isn't completed without talking about the remote controller. On the first look, the transmitter appears to be professionally designed and clean. It doesn't look too complex or bulky at all. Plus, it's made to be simple enough for beginners to pilot the drone without any issues. I especially liked how the SIMREX X600 drone comes with an inscription on it for ease of use. Which means you don't have to figure out or memorize what each button does.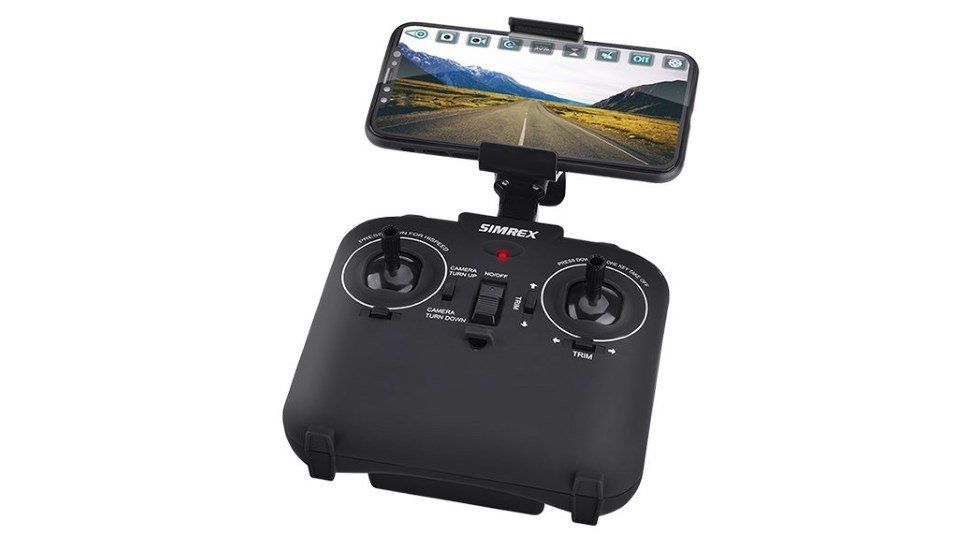 Additionally, the transmitter includes a phone mount holder that you can insert your favorite smartphone. This is especially nice because it will let you view the video in first-person view mode. Although, the drone uses a Wi-Fi connection which I don't recommend you to rely solely on FPV mode. All of its simple movement buttons and levers are located at the front. To capture and record aerial footage, the buttons are located at the shoulder. But that's pretty much everything about this remote controller.
Related Article: How to Buy A Drone: Guide for Beginners
Customer Experience
On Amazon, the SIMREX X600 drone has an average rating of 3.6 out of 5. Sixty-two percent of the reviews are from four-star and five-star reviews. The customer who was happy with the drone's performance thinks that it's a stable, efficient drone that's worth its price. Some also say that it's easy to control.
Final Verdict
In the conclusion of the SIMREX X600 review, we think this is a great quality quadcopter for beginners and kids. It's simple, small, and packed with a lot of cool stuff such as moving motor arms. Plus you can control the camera in a 360-degree direction which provides you an incredibly flexible tool to capture awesome aerial shots. Not to forget to mention that the SIMREX X600 drone has a maximum remote control distance of up to 100 meters.
Although, the product page says that it has a maximum flight time of 23 minutes. I'm a little susceptible to that which seems a little bit unreal to me. So my best guess is that it probably has a bonus battery or two. It stated that it has a charging time of 90 minutes so it is likely a 1000mAh battery which will provide you approximately 11 minutes at max. Therefore, you'll probably get a bonus battery that will push your total flight time to 22 minutes at most. You can check out its price here.
We hope you found our SIMREX X600 review helpful and insightful. If you have any questions about this drone. Or you aren't clear with some of what we said in the SIMREX X600 review. Please feel free to drop a comment in the comments section below. We'll answer you as soon as possible. Happy shopping and fly smart!
Editor's Review
The SIMREX X600 drone is a great quality for beginners and kids who wants to have their hands on a camera drone. Packed with a lot of features, nice design style and 360-degree camera. Not only it has a lot of things to offer, the SIMREX X600 is incredible durable that makes it easy enough for beginners to choose as their starter drone. With a flight time of 22 minutes at most and a maximum remote control distance up to 100 meters, its plenty of fun. We highly recommend this camera drone for beginners.
PROS
360-degree rotatable camera that offers you unlimited aerial view in the direction you want to capture beautiful shots.
Clear, built-in LED lights that provides easy to see visual assistance positioning.
Great flight time, plenty of flying time that keeps you busy.
Crafted with durable material that offers impact resistance.
Built-in barometer that detects changes in the air pressure level and adjusts accordingly for stable flight experience.
Affordable and super easy enough for beginners with no prior flying experience to fly right out of the box.
CONS
Limited remote control distance, but that's a minor drawback.
Add your review