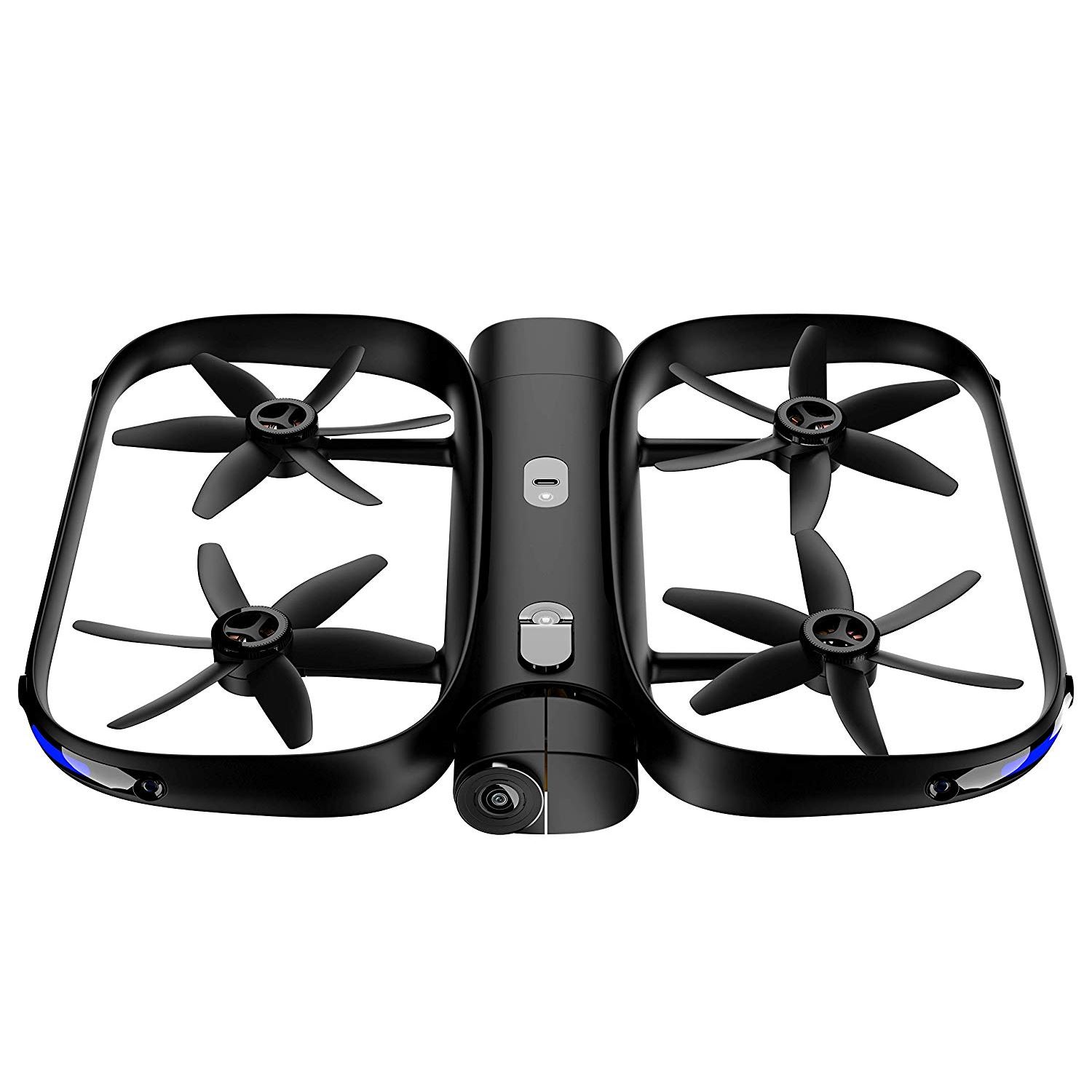 Update - 2019.12.14
This drone is no longer available on the market. We apologize for the inconvenience it may have caused.
Update May 11th, 2020: Due to COVID-19, Skydio has had to close it's manufacturing plant in California. This is a temporary measure and they should be available once again soon. On that note, I also wanted to mention that the Skydio R2 is launching and you can currently preorder it on the Skydio website for $100 down (retail will be $999).
Flying a drone is a very fun and entertaining way to get the most out of it. But what if you were to get a smart drone that can do everything on its while recording quality videos of your journey? Extreme sports, racing, biking, climbing and all of this crazy stuff you can think of. A drone that is intelligent enough to pilot autonomous and make cinematic videos like a very skilled drone operator. That's what the Skydio R1 drone is built and crafted for.
This recently released hover drone is the latest quadcopter marketed at professional drone pilots. But also people who are involved in extreme sports who need a self-flying drone that can make their own decision independently. Most importantly, the drone can avoid obstacles and follow the path while keeping the subject in the video at the highest speed setting. To meet these expectations and demands, you will need a smart drone that is built specifically for these events.
Fortunately, as the drone technology evolves. The drones like Skydio R1 are getting smarter, better and faster. Which means, they are continuously getting upgrades to enhance their performance through software updates. Beginners, professional drone pilots and people who are into extreme sports will find this important. Because having continued support from the company that is committed to keeping the drone up to date is a must-have. Especially when it comes to maintaining and keeping the smart drone's grease running smoothly.
In our Skydio R1 review, I will be going through the details. First, we will talk about design quality such as build and details. Secondly, we will discuss the performance and what you need to know about it. Coming up next after that is features, which I will elaborate on what each feature does and how it benefits you. Fourth, the quality of the camera. With the price of these advanced drones going on nowadays, we must talk about the quality of the camera. Finally, the remote controller and its details. So, without further ado, let's get the propellers spinning.
Related Article: Top 5 Best Virtual Reality Headset For Drones Guide
Design & Build Quality
First and foremost, the Skydio R1 drone features in the jet black coating around its main body framework and the propeller guards. With a nice stylish blue rim around its camera in the front. This advanced camera drone uses alloy metal that provides incredible durability. Which makes it overall quite a bit heavier than most smart drones that you typically will find such as the Phantom 4 or Mavic 2. With a weight of 2.2 lbs, it can handle moderate wind speed with relative ease that makes the Skydio R1 drone an optimal choice for extreme sports.
From my perspective, I think it is certainly nice that the Skydio R1 drone has built-in propeller guards that protect the propellers. However, because it doesn't come with built-in caged propellers as the Hover Passport camera drone does. It is a bit of disappointment. Although, that minor drawback is countered by an all-round obstacle avoidance feature that provides complete flight safety function. This means its sensors can detect objects from any direction and adjust accordingly. Not to mention that the Skydio R1 drone's sensors are much more advanced compared to DJI drones in terms of real-time data processing.
Related Article: Top 12 Foldable Drones for Beginners: The Ultimate Starters Guide
Durable, Stylish, But…
Don't get me wrong, I loved how the Skydio R1 drone looks. And I think it is quite stylish, definitely a unique appearance. But, if you are the type of person who enjoys traveling around the world. And, you want to have a portable drone that you can easily store inside your travel case or backpack. You might want to think again because the Skydio R1 drone doesn't use foldable technology. This is a bit disappointing especially with how incredibly powerful this drone is and imagine how crazy popular it would be if we could just fold it and put inside the travel case. Then, take with us wherever we go, right?
So… if you are going to travel around the world and attend a different extreme sports event. You will need to have a good travel case that can fit the drone and its accessories. Even though it will mean you need to be able to carry a bit extra weight on your back. My recommendations for travel backpacks that will fit the Skydio R1 drone is either the AmazonBasics Travel Case or Swiss Gear Travel Case. Either one will work fine, the bigger the backpack is, the better and you can store more accessories in it like extra batteries and such. With the right backpack, you will resolve your traveling concern and it will not be an issue.
Related Article: How to Become Part 107 Certified Drone Pilot: Guide for Beginners
Camera & Gimbal
Design-wise, the Skydio R1 drone comes with a built-in 4K camera mounted on 2-axis gimbal. This gives the drone the ability to look upward and downward, providing smooth and steady footage for the best cinematic experience. Unlike some drones that use a floppy gimbal, the Skydio R1 drone's camera is mounted onto the quadcopter which makes it quite durable and reliable. If that is something you are looking from a smart drone. Not only its camera ensures smooth footage, but it also can map and understand its environment simultaneously.
This means the Skydio R1 drone can position itself autonomously through self-awareness and understanding where the people are, up to 4 seconds into the future. What's not to like more than a smart drone that can read the future? This quadcopter is powered via NVIDIA Tegra that allows the drone to make smart decisions throughout a complex situation. Fly worry-free while this drone makes a cinematic and professional video of your solo trips and extreme sports.
Related Article: Top 8 Best Drones Like DJI Mavic Pro Clones Under $100 for Beginners
Performance
When it comes to performance, the Skydio R1 drone completely crushes it. Here is why: this drone is built for high performance while delivering quality videos and images at the same time avoiding objects. A true definition of a smart drone will be able to do all of these tasks at the same time. And, the Skydio R1 drone manages to succeed by demonstrating its real capabilities. With a hefty price tag, it will take a lot more to convince you why this smart drone is worth the price.
But, the real catch here is that Skydio R1 drone incorporates the latest technology that makes it one of the best choices for pilots who want to have a smart drone. This means it has built-in sensors, intelligent flight mode, integrated GPS/GLONASS mode for precise flight controls and more. As a drone pilot, you will never have to worry about its hovering positioning since it remembers its spot. If the wind pushes the drone away, it will return to its spot regardless which makes it overall a nice drone to have.
Battery-wise, the Skydio R1 drone has an average flight time of 16 minutes. For some pilots, it might be a bit too limiting since it is quite short. I strongly recommend that you purchase additional batteries to extend your flight sessions. Perhaps two to three bonus batteries will be sufficient. Especially if you plan to use it for more than an hour, multiple batteries are absolutely a must-have. With four batteries, you will have a total flight time of just a little over an hour.
In the next part, I will talk more about the obstacle avoidance feature.
Related Article: Top 10 Best Drones With Collision Avoidance Feature
Autonomous, Self-Flying, and Intelligent
One of the most important parts of the performance is that the drone comes with a 360-degree obstacle avoidance feature. As I mentioned previously in the introduction that this drone can see everywhere. But, this isn't like other drones you normally will see. Because the Skydio R1 is built with a supercomputer AI that can map out objects in real-time and project the environment on its own. This means the drone can process the data quickly and follow the subjects with relative ease.
Furthermore, the Skydio R1 drone can predict up to 4 seconds into the future. Using the algorithm that it picks up based on the movement for smoother movement and cinematic footage. It can sense what will happen next and adjust accordingly while avoiding objects such as trees, rocks, and walls as it appears that a skilled drone pilot is doing the job. But in reality, it is the Skydio R1 drone that does everything on its own.
Related Article: Top 4 Best Drones Like DJI Mavic Air Under $100 for Beginners
Features, Ton of Features
Believe it or not, but the Skydio R1 drone is chock-full of features. I am talking about intelligent flight modes, return to home function, automatic landing/takeoff, waypoint mode, orbit mode and more. These are just the tip of the iceberg, but I am going to talk about all the features that the Skydio brings to the table. If you are thinking of buying a smart drone for this Christmas or just to treat yourself… maybe you want to start your own drone business. Whatever it is your plan with a drone, you are going to want to have a good, quality and intelligent drone packed with a lot of features that can give you flexibility and creativity.
Intelligent Flight Modes
If you have never flown a drone before and you are wondering what the heck is intelligent flight modes. Typically the drones that are installed with GPS / GLONASS module and supercomputer AI module have intelligent flight modes. This means it can perform preset flight modes such as Orbit, Helix, Waypoint and even Follow Me functions. Select any of these flight modes and the drone will perform on its own without having you controlling the quadcopter.
Automatic Landing / Takeoff
With a press of a button, the drone can take off / land automatically. This helps simplifies the whole flight operation and creates a safe landing space for drone pilots. Not only it is important to feature, but it will also help the drone fly to a certain height before it is ready for flight missions.
Smart Return to Home
Unlike drones that are priced under $300, the Skydio R1 drone is integrated with a smart return to home function. Which means when you activate this feature. It will tell the drone to fly at several meters upward and return to the landing point in a straight path. This feature is especially useful in scenarios when you don't have a clear visual sight on your drone. Because the drone is incredibly capable of doing on its own, this function will get your drone home safely.
Hands-Free Activity
Don't have a remote controller? You can command the Skydio R1 drone with your Apple smartwatch. Just simply connect to your drone and choose how you want the drone to perform. With a push of a button will get the drone to follow you automatically. Creating the perfect opportunity for countless of hands-free activities from extreme sports to solo trips.
Share on The Fly
Finally, you can share the images and videos that you took on social media platforms. You don't even have to upload to your computer just to share. With a simple push of a button, select what you like and how you want your audience to see. This makes the best and ultimate experience for traveling around the world. If you captured a special moment that is worth a thousand words, don't let that go to waste. Because the Skydio R1 drone is here to make up most of your flying experience.
Related Article: How to Buy A Drone: The Ultimate Guide for Beginners
4K Camera
When it comes to producing cinematic videos with the Skydio R1 drone. This smart drone is incredibly capable of making 4K videos at 30 frames per second up to 1080P HD at 60 frames per second. Whether you are not sure if it is worth the price, you should check out the video below. It is what happens when you send a drone to perform this kind of job. It will record everything while avoiding the objects at the same time.
Imagine yourself doing something like that. Doing extreme sports or just walking into the meadow fields. The Skydio R1 drone is capable of doing these jobs thanks to built-in smart modules. Not just only that, you can customize the camera setting and choose what filters you want to use. As well as different types of flight modes like Orbit, Follow, Lead, etc. The sky is limited with Skydio R1 drone.
Bottom Line
Finally, we have reached the last part of the Skydio R1 review. Overall, we think this is an incredible piece of drone that boasts reliability, durability, and usefulness. If you saw the video of Skydio R1 drone's performance in the forest, you will be impressed with how well it managed to avoid all of the objects. Aside from several technical issues. In the open space, this drone can do everything you can imagine.
In comparison to popular DJI drones such as Mavic 2 or Phantom 4 Pro, the Skydio R1 drone is a better choice in terms of safety, autonomous and hands-free activity. Even though this drone has a flight time of 16 minutes which could have been at least half an hour or so if they were going to sell for around $2,000 a unit. But, if you take all of these features, modules, and performance into account. Not to forget to mention that the Skydio R1 drone is incorporated with a supercomputer AI which is the best of all. It makes sense why this drone is expensive but super safe and smart. You can check its price here.
Editor's Review
We think the Skydio R1 drone is a high-powered performance quadcopter that is built on the foundation of intelligent and autonomous, self-flying features. This smart camera drone demonstrated its incredible capabilities to perform all of flight modes on its own while maintain safety and producing cinematic footages. It is the ultimate 4K smart camera drone that will enhance your solo trips as well extreme sports to the spotlight.
PROS
360-degree Obstacle Avoidance Feature.
Built-in Supercomputer AI that makes smart autonomous decisions.
Protective alloy guards that keeps the propellers safe and ensure stability.
Integrated GPS / GLONASS module that gives amazing stability.
4K camera that can produce quality images and videos.
Share on the fly, choose and send footage to your friends and families.
CONS
Very pricey, but reasonable for the cost to assemble the drone.
Limited battery life, 16 minutes might not be enough for some drone pilots. Extra batteries is recommend.
Add your review
|
Read reviews and comments