Meet the Captain S5C drone, one of the fewest camera quadcopter that delivers clear images at an affordable price. It competes along with popular drones such as the Ninja FPV and Eachine E56 for the best camera drones spot. We have assembled the Snaptain S5C drone review to bring you all the information you need to know about this stylish camera drone under $100. In this review, I will talk about its build and design quality, performance and features. At the end of the article, you will be able to make an informed drone shopping decision. Without further ado, let's dive into the details!
Build & Design Quality
In the package, Snaptain S5C drone includes four extra propellers, a remote controller, propeller guards, landing pads, a USB charger, a screwdriver, and two batteries. These come with a stylish drone featuring black coating with blue coloring around its hull body frame. On my first impression, it certainly looks like it came from the future in the space. Either way, it does have a cool factor impact.
The Captain S5C drone uses durable ABS plastic material that gives the durability it needs. This is especially important for improving the drone's service life, which is superior to the toy-grade drones that use standard plastic such as that the SIMREX X400-V2 and DROCON Hacker uses. Beginners can soar the drone comfortable without having to worry about breaking it on crashes or accidents and that is a big plus.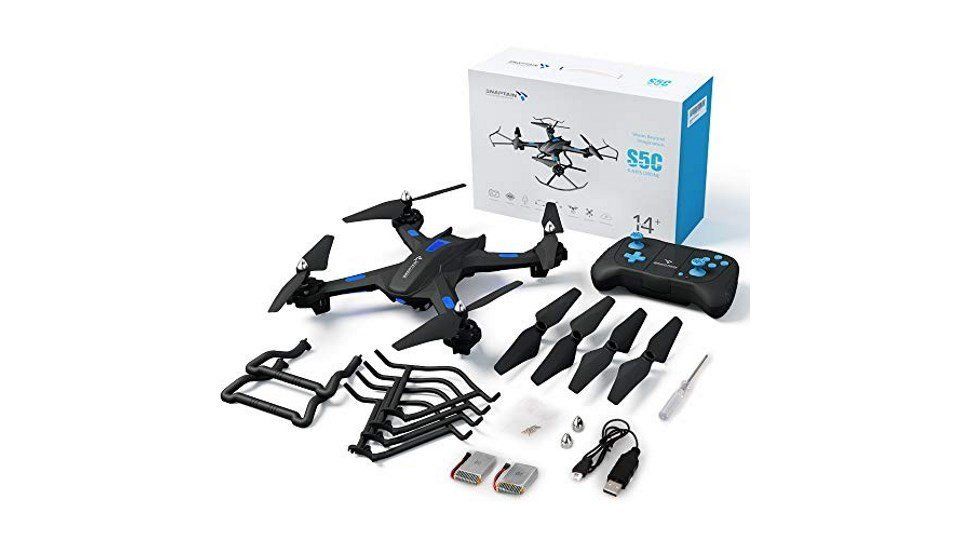 Furthermore, there is a built-in 720p HD camera located in the front. Based on what the people are saying, Captain S5C quadcopter is one of the fewest camera drones that deliver high-quality images. Although, it is not on the same level as you would expect from expensive drones such as the Xiaomi Mi Drone 4K. While it doesn't use a modularized battery that you would typically see on more modern drones such as the Ophelia or X12 foldable quadcopter, a single battery gives you a flight time of 9 minutes which is considered above the average.
Finally, these blue padding located throughout the drone's body framework is LED lights. They add bright lights to provide support for visual assist positioning. Not just only that it makes it easier for inexperienced pilots to see, they add a nice touch tonight flight mission. Your flight doesn't have to end when it gets dark outside. Overall, I have to say that I am impressed with the Captain S5C drone build quality.
Related Article: Scoot Drone Review
Performance
When it comes to shopping for the perfect camera drone, performance is the king. In this part of the Captain S5C drone review, I am going to discuss this performance. Thanks to modularized battery, most of the power is delivered efficiently so to improve the propulsion force for maximum speed. It provides additional stabilization and for smooth and easier flight controls, which is a must-have for beginners.
Additionally, the drone comes with three-speed modes. When you fly it for the first time, it will be on the lowest speed setting so that you can learn the basics of control. After you master the flight controls, you can increase the speed mode to challenge your piloting skill. Which makes the Captain S5C overall an incredibly useful and fun training drone to start with. Plus, its built-in camera gives a great opportunity for beginners to learn aerial photography which is a major plus.
Related Article: Zomma F15 Drone Review
Features
No drones are fun without having a bunch of features to keep yourself company! In the next section of Captain S5C drone review, I will talk about the features that this stylish and mean quadcopter has in the store for you. First of all, it encompasses a multitude of features such as altitude hold, headless mode, returns to home function, automatic landing/takeoff, and 360-degree flips. As you might be wondering what the heck is Headless Mode. This is a feature that switches the control orientation from the drone to your remote controller so that it flies in the direction you are pushing the movement lever at.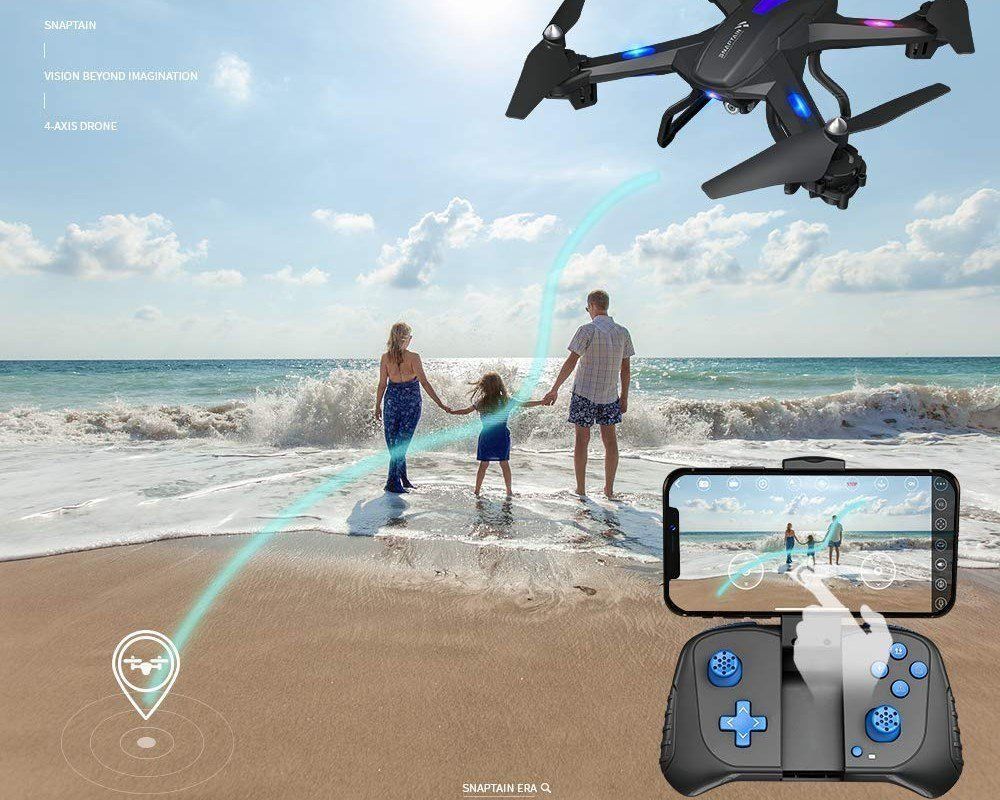 Voice and Gesture Control
The Snaptian S5C includes a voice and gesture control feature, which is surprising as the drone is under $100. You'll need to download and install the app to use voice control. You can take pictures just by moving your hand. Not super useful but very cool and something to impress friends and family with.
You'll need to be within 2-3 meters of the drone for this feature to work. I personally think this adds a lot of value, especially at such a low price point.
Altitude Hold
One of the features I like the most is the altitude hold. The S5C comes with a 6-axis gyroscope which allows it to hold the unit steady while hovering in place. This makes it so much easier to take better quality photos. It's especially nice if you're new to flying and still getting familiar with the controls.
Altitude hold mode as its name suggests is pretty much self-explanatory. Other features such as automatic takeoff and landing help simplify the flight operation and make it easy for beginners to master. Finally, the 360-degree flip lets you impress the audience who might be watching you piloting the drone. It is a feature that will certainly leave them in awe, wanting to fly a drone just like you.
Related Article: DBPOWER X400W Review
Final Verdict of Snaptain S5C Drone Review
Before I conclude the Snaptain S5C drone review, I am going to give final remarks about this lean and mean stylish drone. This is not the average camera drone that you normally will see in the consumer market. Because of the unique design style that makes it wholly different from the rest. In addition to that, it is made of durable ABS plastic which provides durability and resistance against crashes. A big advantage for beginners since the Captain S5C drone can easily fly indoors and outdoor thanks to its high performance.
Its built-in 720p HD camera offers crystal clear aerial photography for beginners. However, if you are looking for expensive camera drones to start your aerial photography, you are better off checking these professional camera drones for sale. Based on the research and sifting through the reviews, the Captain S5C drone is generally a highly rated quadcopter built and designed for beginners who want to have a good camera drone to start with. I highly recommend this drone for anyone, beginners, kids, and recreational pilots. You can check its price by visiting this link.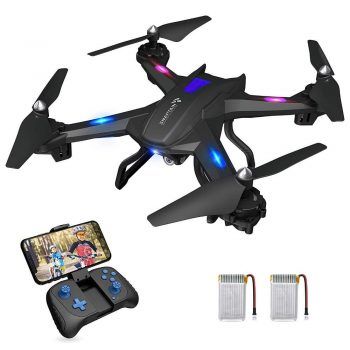 Set Lowest Price Alert
×
Notify me, when price drops
Set Alert for Product: SNAPTAIN S5C WiFi FPV Drone with 720P HD Camera, Voice Control, Gesture Control RC Quadcopter for Beginners with Altitude Hold, Gravity Sensor, RTF One Key Take Off/Landing, Compatible w/VR Headset - $69.99
Last Amazon price update was: September 8, 2023 3:12 pm
×
Product prices and availability are accurate as of the date/time indicated and are subject to change. Any price and availability information displayed on Amazon.com (Amazon.in, Amazon.co.uk, Amazon.de, etc) at the time of purchase will apply to the purchase of this product.
Editor's Review
The Snaptain S5C drone is a stylish and lean quadcopter packed with long flight time and built-in camera. Its blue and purple LED lights adds nice finishing touch to it when you are piloting the drone around. Additionally, it comes with beginner-friendly modules such as guards and landing pads which is a plus. Overall, we think the Snaptain S5C is a professionally crafted drone made for beginners, kids and recreational pilots.
PROS
Good Flight Time
Stylish
Built-in Camera
Durable
Easy to Use
Affordable
Beginner Friendly
CONS
Limited Control Distance
Average Camera Quality
No GPS Mode
Add your review
|
Read reviews and comments