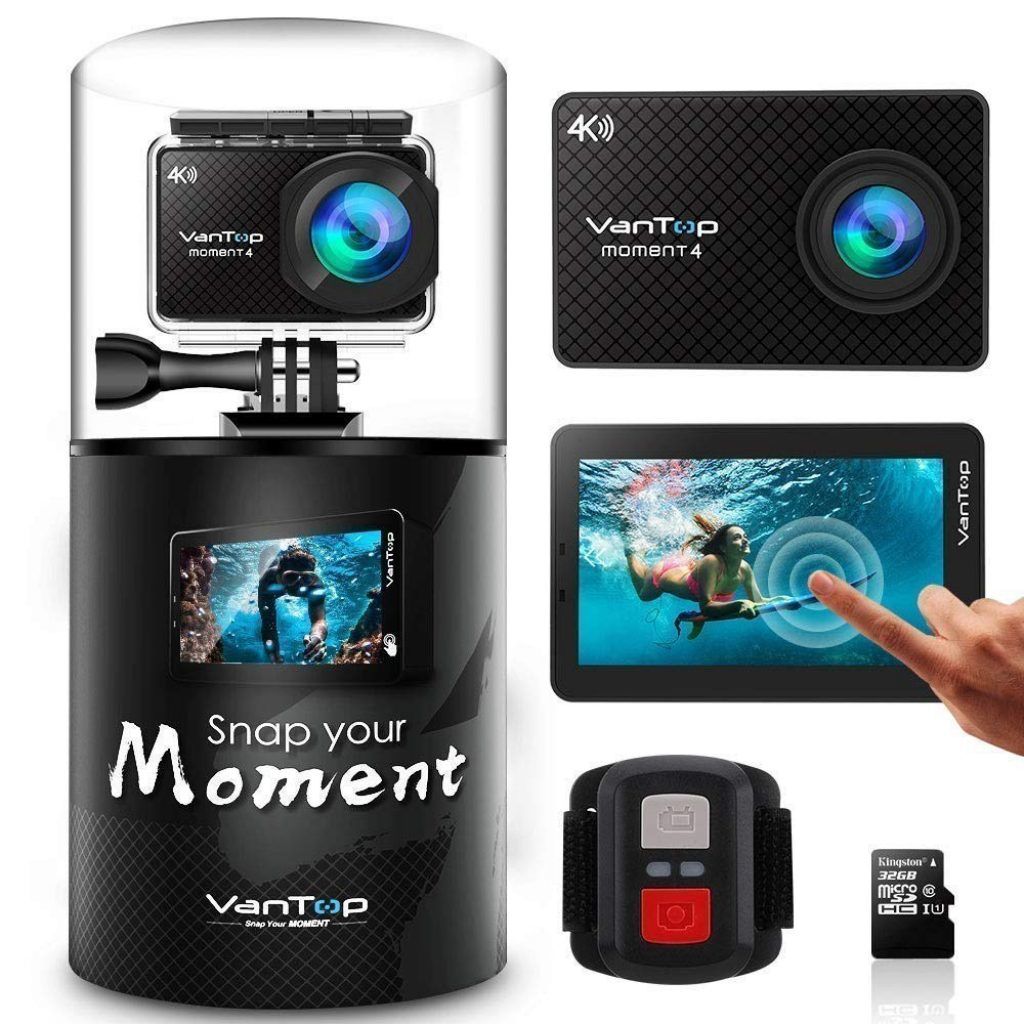 This action camera is no longer available in the market. We apologize for any inconvenience it might have caused. - 2019.12.04
A quality action camera is just right around the corner. Meet the VanTop Moment 4 action camera, another popular entry-level camera for beginners to experienced users. This action camera features a SONY sensor that provides true color depth as no other camera does. In addition to that, it is equipped with a mouthwatering 20 MP which beautifully captures all the lighting quality to provide top-notch stills.
Furthermore, it is compatible with action camera drones which this action camera can turn them into an aerial photography quadcopter. If you have been looking for an action camera without having to dent your bank account. The VanTop Moment 4 action camera could be your next best choice. That being said, we have assembled the VanTop 4 action camera review to help shoppers like you make the decision.
In our VanTop Moment 4 action camera review, we will talk about its design, features, performance and other tidbits that make this camera especially popular for entry-level users. These action cameras aren't just only used for traveling and transforming your drones into aerial photography. But also to act as a dashcam and several other awesome functions that is what makes them multi-functional. So, let's dive into the details now.
Design & Build Quality
From the design perspective, I liked how it looks. It comes in jet black coating all around its body framework. In the front, it is embossed with the brand logo and a 20MP true depth camera sensor. Furthermore, it comes with rugged texture around its sides which provides support for handling. Which is a plus that prevents yourself from accidentally slipping the action camera?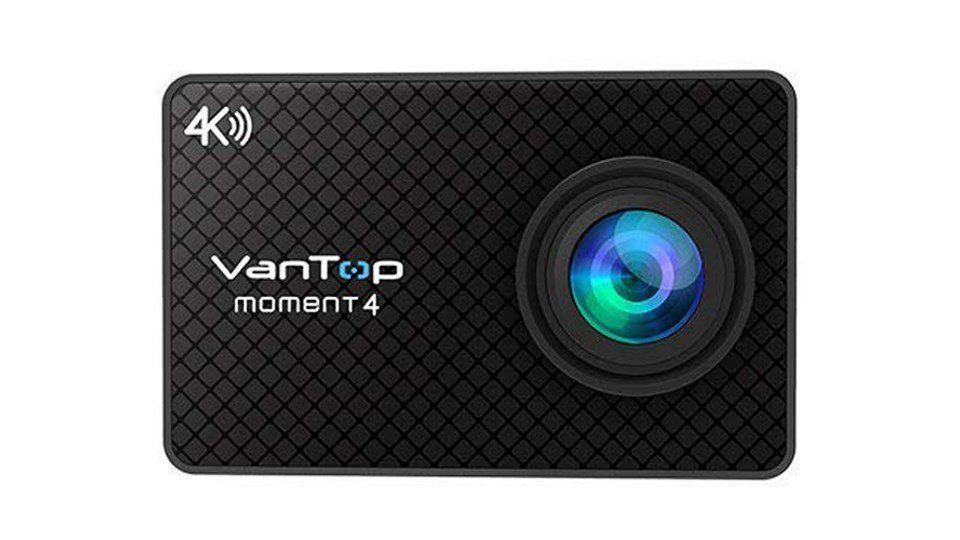 The action camera itself doesn't weigh too much and is incredibly portable. This means you can easily store it inside your pants pocket, jacket, or even a travel case! On the side note, the battery is located underneath. Every single battery provides approximately 90 minutes. You can find the ports for HDMI and USB charging on its side. The power button is located on the top, but it is separated from the capture picture/record videos.
When it comes to the quality of build, this action camera is impressively durable. It can withstand the impact which makes it one of the best action cameras. Furthermore, it comes with a waterproof housing that supports underwater exploration up to 30 meters deep. On the back, it is accompanied by a 2-inches touchscreen that is easy to navigate around. Overall, the design quality of VanTop Moment 4 is pretty good.
Performance
Most won't expect action cameras under $100 to feature true 4K resolution. Often of the time, they use the trick technique that interpolates the resolution which makes them look like they are using 4K resolution. But that's not always the case. The VanTop Moment 4 is one of the fewest action cameras that uses true 4K UHD resolution format. I mentioned previously in the introduction that this action camera uses true-color depth that adds vibrant and details to the stills and videos.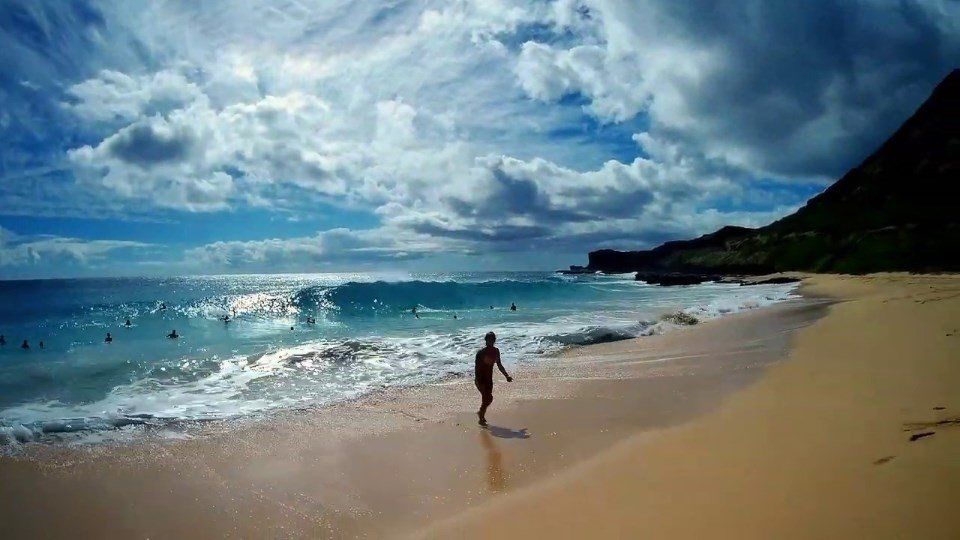 This is still that was captured during the beach. Which you can see all the details from crashing waves to the sandy beach almost like it is a paradise. Performance-wise, the VanTop Moment 4 can record videos up to 4K UHD at 24 frames per second. If you prefer to capture in lighting fast smooth, you can switch to 1080P HD at 60 FPS. We highly recommend that you give it at least 10 to 15 minutes of cooling down since it doesn't have built-in cooling systems.
Features
There are a lot of features that VanTop Moment 4 action camera has to offer. First and foremost, the VanTop Moment 4 action camera can adjust its field of view. If the field of view is too wide for your taste. You can change via setting to limit the field of view as it looks natural to the human eyes. The camera by default have a field of view up to 170-degrees but that can be toned down to 70-degrees.

Another major feature is the electronic image stabilization. It helps retain the quality of the image by eliminating the shakiness while delivering professional quality. It does a good job of bringing these pictures to real life. As I mentioned previously that the VanTop Moment 4 is advanced enough to be utilized as Dash Camera. If you need a dashcam, this camera has its dashcam mode that records videos and sounds while driving. It is particularly useful in case of accidents or parking lot offenses.
There are also internal features that enable Slow Motion, Photo Lapse, Burst Mode, and also Video Lapse. So there are always things that you can get creative with to enjoy your trips. Not to mention that this action camera works with GoPro Tripod, Arm, and Grip. Might as well say that the VanTop Moment 4 action camera is a budget action camera for those who are tight with money.
Customer Experience
It is no surprise to me that the VanTop Moment 4 has a high average rating in Amazon of 4.7. Seventy-seven percent of the reviewers gave it a five-star rating. Most of them love the camera's 20-megapixel image sensor that puts out 5120×3840 images as well as the touch screen, simple operating system, battery life, and it's lightweight. It also feels strong and sturdy when held. This camera definitely packs a punch at such an affordable price. Of course, there are still minor cons like if it's used in low-light environments, you might get some moderately grainy photos. It also doesn't have any external microphone input. Yet the pros still greatly outweigh the cons of the VanTop Moment 4.
Conclusion
Overall? We think the VanTop Moment 4 action camera is one of the best budget GoPro cameras for entry-level users and those who on tight money. It delivers quality stills and videos thanks to a built-in SONY sensor that encompasses true color depth. In addition to that, it comes with a powerful 20MP which beautifully captures the lighting that helps transform the image footage into one of the best you will ever see. You can check out the price here.
We hope you found our VanTop Moment 4 action camera review helpful and insightful. If you have any questions regarding this action camera. Please feel free to drop a comment in the comments section below. We also recommend you to check out one of these action camera drones if you want to mount this camera onto them. Happy filming!
Editor's Review
The VanTop Moment 4 action camera is incredible affordable packed with a lot of features and amazing quality. We think this is one of the best action camera that is budget friendly and will not make a dent in your bank account. We highly recommend this for beginners and entry-level user.
PROS
Incredible Budget-Friendly action camera for new and entry-level users.
Utilizes true 4K resolution that delivers amazing quality with true color depth.
Affordable, perfect for creating video content and stills.
Plenty of features that helps you get creative.
Portable and lightweight, perfect for traveling.
CONS
Minor shakiness, but that can be resolved with a 3-axis gimbal stabilizer.
Add your review
|
Read reviews and comments