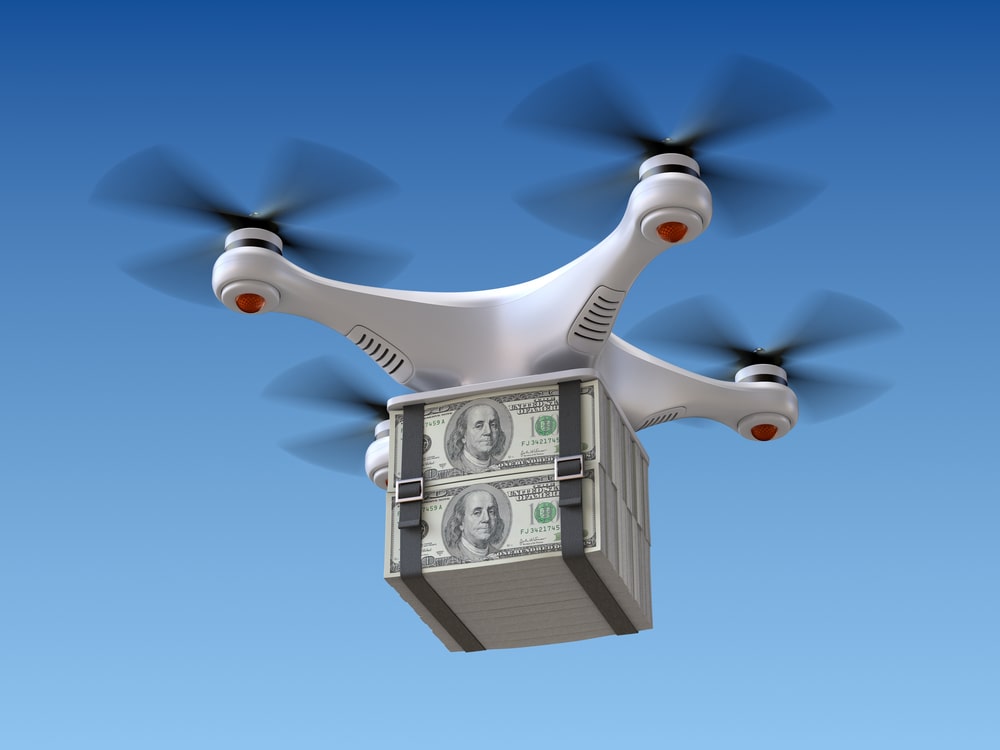 Technology keeps evolving day by day, blessing us with devices we did not even know we needed. It's for this reason that many people no longer find it satisfactory to shoot images and videos with their regular camera. They opt to go the UAV way hence why drones are becoming a norm.
Drones give you quality aerial views not otherwise possible with your phone camera. Also, aside from recreation, you can use them to your advantage and earn yourself some extra bucks. Shocked? Well, read on and find out how to make money with drones.
What Do You Need Before You Start Making Money Off a Drone?
First off, you don't need to be a professional photographer or a trained pilot to be able to make money off a drone. All you need is creativity and determination. Heck! I started as a hobby and look at me, now smiling to the bank.
License
Due to the intrusive nature that drones allow you, countries have very stringent rules on who and why they can use a drone. Find out what your country regulations are and obtain any necessary licenses. I bet you don't want to be put in jail before your business even takes off.
As per my research, almost all countries require you to have a federal aviation administration license ( FAA) or a license from a body of similar authority. The test is relatively easy and has a 93% pass rate, so don't fret.
Equipment
Well, you can't start a business without the necessary resources, right? You'll need a drone. If someone's going to pay for those photos, then they need to be of high quality. Buy drones capable of taking 4k images and videos.
Secondly, purchase at least three long-lasting batteries. You wouldn't want to pause work and recharge after every hour.
Insurance
Assuming by now you've done your research and have found out that drones are costly, you need to get the device insured. Scout your local internet to find out the best insurance for you, preferably one with friendly rates.
Additionally, Drone photography carries a high possibility of causing accidents to the people you are shooting. Take, for instance, the battery malfunctions, and the drone drops on someone's head. This is where your insurance terms need to be very flexible.
Armed with your necessary legal documents, insurance, and equipment, you're ready now to make money off drones' section.
How to Make Money with a Drone
1. Photography and Videography
As is the main point of owning a drone, you can profit massively from photography and videography. The best part about it is, unlike normal photography where competition is high, drone photography is a relatively new venture. Hence, customers are easy to find. I have outlined the possible avenues you can look at.
• Weddings
Weddings are a once in a lifetime affair or at least that's what the people getting married want to think. Anyway, people will always want the memory to be etched in their brains. What better way to do it than photography? The moment you mention that aside from the traditional shoots, you also offer drone aerial shoots, you're bound to get hired.
Weddings are a lucrative venture because they happen often, and the pay is hefty. If you're a newbie in the industry, you can approach the famous wedding photographers in your area who don't have a drone and ask them to subcontract you. Though it'll be of less pay, this will help you perfect your craft and build contacts in the industry.
• High-end Properties
The reason I specified high-end properties is that they're the ones with acreage and their realtors will be more than willing to cough up a considerable sum (investment) to sell it. For this line of work, you'll need to be somewhat of an expert with a vast portfolio to match. Throw in some extra hours of editing lessons and make sure to mention this to your potential customers to sweeten the deal.
Realtors favor drone footage because they show more of the property in both image and video as compared to other cameras. To back up this reasoning, Ad week recently reported that (mostly drone) are watched more with their subscribers as opposed to photos.
• News Reporting
Drones are slowly replacing helicopters in the newsgathering front. This is mainly because they are cheaper and safer. Take, for example, a community fighting or a building that has caught fire. It would otherwise be dangerous to risk the lives of the pilot in the helicopter, trying to gather acute mages and videos of the situation.
As a drone owner, you'll be stupid not to capitalize on this avenue. You can offer your services as a certified drone owner to fly your device and gather footage for news outlets. If out, you can go ahead and gather footage on your own accord then sell them to news reporters for a reasonable sum.
Hotel Resorts
• Concerts and Sports Event
Drones come in exceptionally handy when covering concerts and sports events. Take a swimming competition. For example, you can't get accurate shots standing on the edge of the pool or and running after the swimmers is a total no go.
Using a drone will not only give you accurate images, but you can also use the device to monitor the progress and note the worthy winner. This goes for other sports and concerts as well. Perfecting this craft can earn you the right amount. Imagine yourself being hired to cover Olympic games, prestigious, right.
2. Inspection
If you decide to look into this industry, you'll need to invest in a high-resolution drone that comes with a powerful video submitter.
Also, it's imperative to be perfect in the art of aerial surveillance if at all, someone is going to entrust you with such an important task. Companies such as construction, insurance, agriculture, power, telephone, etc. regularly need to inspect their sites and cable lines for any damages or security purposes.
Initially, they used to hire helicopters, but since this requires a considerable sum of money, they're always willing for an alternative. Approach the said companies and convince them you can do the job correctly on your drone for a fraction of the money. And just like that, you have cash in your pocket.
3. Stock Photography
Out of experience, I have to admit that getting customers for your drone images and videos is quite a challenge. This is because the charges are reasonably high, and people are always unwilling to part with their money. So to establish your name and build contacts, try selling your images as stock photos.
Do your research, and you'll realize that a variety of websites offer you a platform to sell your drone footage at a fee, of course. However, this is a great place to start before you grow your practice. Most of these sites even allow you to sell the same footage to a variety of clients, meaning more money for you.
4. Reselling Drones
Drones are increasingly becoming a necessity for many people either for their holiday shots or for work purposes. However, not enough people stock the device. And the ones who stock them like eBay have very long delivery periods.
To solve this problem for people, you could contact the drone manufacturers directly and purchase several drones at a wholesale discounted price. You can then open a shop on Etsy or wherever else and resell the drones at a profit.
If you choose a reliable platform to launch your eCommerce store, you won't need a lot of marketing as the demand for the product does the job for you. But like any other business, you'll need to research logistics, the customers, etc.
5. Drone Deliveries
Necessity is the mother of invention. Drones are now being used to make deliveries that could have otherwise meant the loss of life. After the John Hopkins hospital did a test and realized that drones could be designed to carry luggage, they now use them to ferry medical supplies to remote areas or people I urgent help.
Aside from medics, drone delivery is now being incorporated with giant online stores like Aliexpress and Amazon. It has proven to be a cheaper and safer way to get cargo to customers. Especially if you compare it to hiring vans and people to drive door to door. Given a little more time, drones will take over the delivery front.
Since eCommerce giants are more conversant with packaging and the business fronts, they're always on the lookout for people who can operate drones with precision. This is where your drone expertise comes in, with enough practice, you can secure a well-paying job delivering products to people in the comfort of your home.
In Conclusion
With the harsh economic times, securing a job is not the easiest of fetes. However, if you are creative enough and own a drone, there's no need to sit on such a gold mine. Use the drone to your advantage. All you need is a few months of practice, and you'll have a whole lot of avenues to earn money from. Hopefully, if you've read the entire article to completion, you'll now know how to make money with drones.