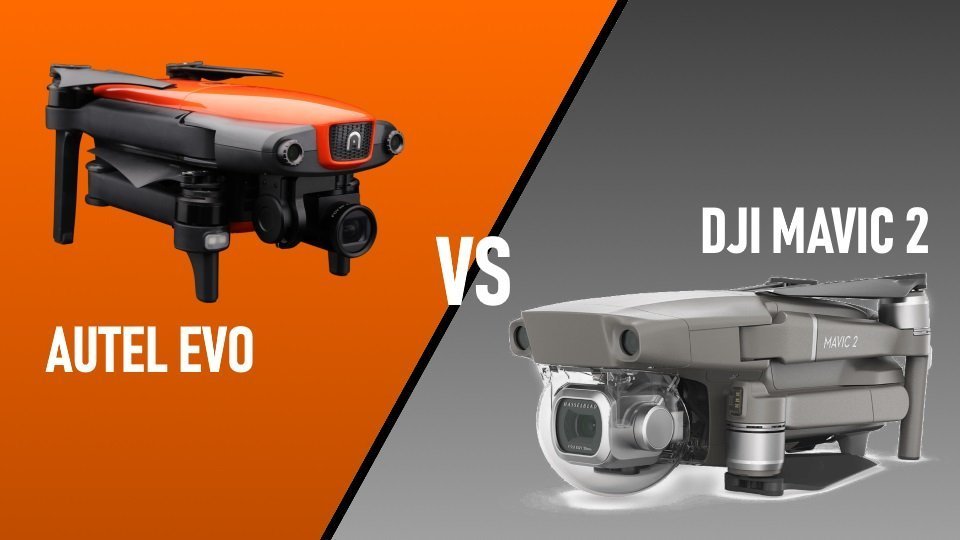 Since the recent release of brand new DJI Mavic 2 drone which comes in two different models: Pro and Zoom. You might wonder whether the Autel Evo is still a better option for beginners and professionals. Especially if you're an aerial photographer and you want to be able to produce high-quality footage while flying a drone with superior specifications. There are reasons why Autel Evo is a better choice than Mavic Pro.
But this time, we're going to compare Autel Evo vs Mavic 2 to analyze and see which smart camera drone is best for beginners and professionals. We created this in-depth compare guide to help out readers like you make an informed decision before shopping for either drone. Before we start, I want to point out that both camera drones are very good and professionally crafted for aerial photography purposes. In this case, both are listed as the top best professional and commercial drones.
However, if you're passionate about getting the best camera drone. Then this compare guide of Autel Evo vs Mavic 2 drones is for you. In this article, we're going to get to the details. We'll be covering the flight time, remote control distance, camera specifications, and quality, and all of these small details that you should keep it in mind. Without further ado, let's get the propellers spinning!
Flight Time
First of all, flight time is the most important aspect when it comes to flying a drone. Without a good battery lifetime, you pretty much can't get anywhere that far. A drone with a good flight time means more opportunities to find hidden spots and time to capture special moments. If you're an avid aerial photographer like me, you would find out that having a drone that can fly for a long time is essential to all drone operations.
The Autel Evo and Mavic 2 drones use intelligent flight battery which is designed to regulate the temperature and deliver optimal power that keeps them running for a long time. While both have exceptional flight time, there's a small difference. The Autel Evo drone has a flight time of 30 minutes as advertised. When you're flying it, you're going to be realistically looking at approximately 25 to 26 minutes of flight time. Which accounts for the take-off/landing and other factors like wind speed and how hard the drone has to work.
On the other hand, Mavic 2 drones have a flight time of 31 minutes. Without the Smart Controller, you're going to be looking at approximately 26 minutes which is pretty much the same as Autel Evo. Although, if you do decide to couple the Smart Controller with Mavic 2 Pro or Mavic 2 Zoom, you'll be able to fly the drone for up to 28 minutes at most. Being able to fly your drone for a long time is quite important and with the Smart Controller, Mavic 2 drone comes ahead which justifies its price tag.
Remote Control Distance
A drone that can fly at an incredible distance tells a lot about its signal quality. Both camera drones, Autel Evo and Mavic 2 comes with great remote control distance. However, if you're serious about getting the best camera drone like me. You would notice that there's a small difference between these two smart camera drones. The difference, just like flight time, isn't so significant. Although, for some remote pilots it does make a difference.
Starting with Autel Evo drone. It has a maximum remote control distance of up to 4.3 miles. This brings the camera drone in the line with popular quadcopters such as Phantom 4 Pro and Inspire 2. Furthermore, the Autel Evo drone comes with a perk: a remote controller with a built-in HUD screen. This allows you to view the video in real-time without worrying about signal interference. This makes the Autel Evo drone an incredibly popular option for beginners and professionals who don't want to spend too much money and get reliable remote control distance.
However, if you want to spend a little more and get a much bigger remote control distance. The Mavic 2 drones have a maximum remote control distance that goes up to 5 miles. This is quite impressive for a consumer-based drone since the five miles distance allows you to reach more places that are otherwise inaccessible or hard to reach. With the Smart Controller, you can easily command up to 5 miles without any issue thanks to a built-in dedicated transmission system.
Camera Specifications
In the next section of Autel Evo vs Mavic 2 drones, we're going to compare the camera specifications between these two popular quadcopters. This is the most important section for an aerial photographer, especially if you're looking to produce content commercially for real estates, photography, construction, inspection, and more. The quality of the image that these camera drones deliver has an impact on how they hold up on the end.
Because of the difference and technology that both major drone industries bring to the table. We'll be comparing both stills and video quality so that you can get further insight into these camera drones. You'd be surprised to learn the difference between the Autel Evo and Mavic 2 drones. And ultimately, that would be the deciding factor of which camera drone you want to shop for.
Photos
The Autel Evo drone comes with a 12MP camera mounted on a 3-axis gimbal stabilizer. This drone uses a camera that features a 1/2.3-inch CMOS sensor. Which makes it capable of delivering detailed and vibrant images at 4K resolution settings. In contrast to the Mavic 2 drones, the color quality of Autel Evo appears to be much more neutral. But for some aerial photographers, being able to create beautiful aerial shots is just about the next step in producing masterpieces that will certainly awe the audience.
The Mavic 2 Pro and Zoom come with a camera mounted on a 3-axis gimbal stabilizer. However, the Mavic 2 Pro uses a Hasselblad camera that features a 20MP 1-inch CMOS sensor which is capable of capturing aerial shots at a 5.4K resolution setting. Although, the Mavic 2 Zoom has the same specifications as Autel Evo does. It does have one advantage: the ability to zoom in while retaining the quality of the image. This is an invaluable tool that all aerial photographers will love to have it since there are many benefits for using this feature.
Videos
In this part, you would be surprised to learn that Autel Evo is still a better choice in terms of producing video content. One of the major reasons is because the Autel Evo drone can record 4K videos at 60 frames per second. While the Mavic 2 drones are a step in the right direction with improved flight time and control distance. Along with these fancy features, the Mavic 2 drones can't record videos at 60 frames per second.
Instead, they're stuck at 30 frames per second. But that shouldn't be a concern if you're mainly into producing cinematic videos or are completely fine with 30 frames per second. Major of social media platforms and popular YouTubers seem to opt for creating 30 frames per second. However, the quality that both drones deliver does speak for themselves. The Mavic 2 drones which use DJI signature technology have shown the beautiful capabilities of producing mouthwatering shots.
If you combine the PolarPro Filters for Mavic 2 drones, you can easily produce cinematic footage with an exceptionally vibrant and detail level. There are of course camera filters for Autel Evo, but they do rarely match the quality that Mavic 2 drones deliver. It's easy to see why the specifications of Mavic 2 drones justifies the high starting price tag. Although, the difference in terms of quality is quite small.
Customer Experience
In Amazon, the Autel Evo has an average rating of 4 out of 5, while DJI Mavic 2 is 4.7 out of 5. Though the gap isn't that big, the DJI Mavic 2 clearly has made its user happier than those who bought the Autel Evo.
Autel Evo vs Mavic 2 Drones: Which One Is Best?
This is somewhat a subjective question since the difference between these two camera drones is small. But I will get to the point. If you want to get the best camera drone, you should go for Mavic 2 drones. However, if you're on a tight budget or simply just want a camera drone that is good enough for starting a drone business. The Autel Evo comes with a price tag of $999 and has three batteries included. Which is a good deal in my opinion?
If you were to ask me which drone is best. I'd go for Mavic 2 drones since it has overall better specifications. But then again, I have a DJI Mavic Pro for a while now and love every little moment that I fly the drone. Don't get me wrong, Mavic 2 drones are great but they can be very expensive to get started with. For instance, the DJI Smart Controller costs around $649 and with the drone and fly more combo kit. You're easily looking to spend approximately $2,500 to fly a decked-out camera drone.
While the Autel Evo can be easily bought together for $1,500 less than DJI Mavic 2 drones. Again, this depends on your preferences and how much you're willing to spend. If you thought that the price tag of these two camera drones is too expensive. We have other guides designed for readers who are interested in getting their first drones but don't want to spend too much. Our best drones under $300 and best drones under $500 guides have curated a list of top 10 great quality quadcopters for beginners.
Which camera drone do you think is the best? Autel Evo or Mavic 2 drones? Let us know by commenting in the comments section below! Happy flying and fly smart!