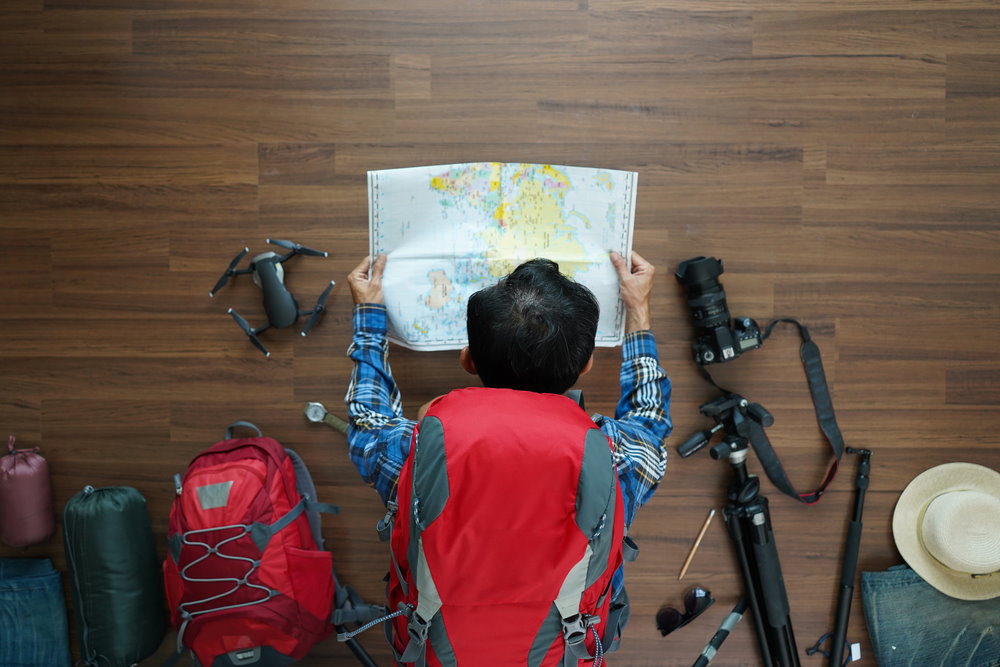 Bringing a drone along on trips can be a great way to discover new places from unique angles as well as document the trips in a fun way. Although not everyone travels with drones just for the fun of it. For many photographers and videographers, drones have become another essential item on their packing list.
But unlike cameras and most of the other expensive equipment that goes along with them, drones are a bit trickier to travel with. While handy, these gadgets are potentially dangerous in the wrong hands, and the place you're traveling to isn't exactly aware of your intentions with the equipment. Plus, every country has its own drone laws and local rules that you need to adhere to at all times when your there.
There are several things you should consider before packing your drone in that suitcase and heading off to your destination. Here's what you should do/keep in mind.
Please note; The advice on this page is not meant to replace legal counsel. Our aim is to provide comprehensive information that is as up-to-date as possible, but, if necessary, check with your local airline and travel advisors for more detailed guidance on your situation.
Is Traveling with Drones Allowed?
Yes! You absolutely can travel with your drone. In fact, many people travel across the world with their drones every year, resulting in some truly amazing content.
You're also welcome to travel with your drone on planes, with some caveats. Your drone has to fit in your luggage, of course, and you need to abide by some rules which we'll discuss in more detail below.
Drones on Planes: Airline Policies
The drone requirements differ for every airline, which doesn't make things any easier for drone enthusiasts. But until their use becomes more standardized (which might or might not happen) it can't be helped, sadly.
Some airlines require that drones be packed in the checked baggage while others prefer the drones be taken along in carry-on. In the US, the latter is usually linked to the DOT's ban on transporting lithium batteries via passenger aircraft.
First and foremost, when booking your flight, you'll want to check your airline's requirements for taking a drone on the plane. If you want to, you can also do some research beforehand and book an airline that matches your needs with regard to drones. For example, Delta Airlines doesn't have any specific rules regulating drones on its planes, leaving you free to choose the setup that suits you, whether that is checked or carry-on luggage.
Whatever the airline's rules, you'll still need to comply with the DOT's regulations with regard to drone batteries. In addition to that, it's important to take care with how you pack your drone; not just to keep the drone from being damaged but for safety reasons as well. Find some packing tips below.
Taking Drone Batteries on Planes
Most of today's consumer drones commonly use lithium-based batteries, either lithium polymer (LiPo) and lithium-ion for their great power density. The reason for the restrictions on batteries is because there's a chance that they can overheat and catch fire. Some airlines will regulate how many batteries you can take on a plane (it's usually no more than one inside the drone and 2 extra), and others will describe how they can be transported.
Drone batteries are allowed on planes, but you need to check with your specific airline about the specific rules they have regarding batteries. If they don't have any, then follow these best practices:
Remove the batteries from the drone and, if possible, pack them in a separate bag.
Ideally, don't pack more than 2 batteries together.
Place the batteries in separate sealed bags.
Optionally, place a piece of electrical tape over the battery terminals.
If you want to, you can drain the battery before packing as an extra precaution (though this is not usually required).
Rechargeable lithium-ion batteries usually must have a maximum Watt-Hour rating of 100 Wh to be allowed on a plane.
Packing LiPo Batteries
The requirements for LiPo batteries are a little different than lithium-ion. These can only be packed in a carry-on bag, so long as they're in the drone. Bringing spare LiPo batteries and packing them separately is generally not allowed* and you can't travel with LiPo batteries in your checked baggage.
*Some airlines do let you bring spare LiPo batteries in your carry-on, so long as they're packed in their original packaging or a secure battery case or equivalent and packed separately.
Drone Watt-Hour Ratings
For many airlines, the number of drone batteries you take along isn't as important as their Watt-Hour rating. The limit is usually a rating of 100 Wh. If the lithium-ion drone battery exceeds 100Wh but does not exceed 160 Wh, it has to be packed in carry-on, and airline pre-approval is required. Batteries that exceed 160 Wh are not allowed at all.
So how do you calculate that rating before hopping on the plane? A battery usually displays its power in volts, so you're going to have to do a bit of simple math to figure out your Wh. To get the Watt-Hour rating for a single battery, just multiply the volts displayed on the battery by the ampere-hours (Wh = V x Ah).
Luckily, most small consumer drones fall below the 100 Wh maximum, but it's best to check just in case.
TSA Requirements
Dealing with the TSA isn't usually a fun part of any trip, and it can get downright sour if the TSA agent decides you're not complying with the rules. As always, when dealing with the TSA, it's best to maintain a calm and cooperative demeanor. Giving them an attitude (even if you know you're not in the wrong) will only delay the process even more.
The TSA's famous list of prohibited items doesn't include drones, but it does have several requirements for batteries. Check out the TSA's website to see what's allowed, and the FAA website for more information on how the FAA regulates batteries on commercial planes.
Getting Your Drone Through Customs
In the US, you have to contend with the rules set out by the FAA and TSA, but every country has its own governing body/agency that sets the rules.
Even though we'd like to believe that people will respect personal property, you are at the mercy of the customs agents wherever you land. Customs in countries like Cuba and Nicaragua have very strict drone laws and they have been known to confiscate drones from travelers without any provocation or much explanation. Getting your drone back in that situation then becomes a whole new nightmare to deal with. So, pick your destination carefully, and sometimes, it's better to just leave the drone at home. If possible, research the customs experiences of others with that specific country/airport or reach out to other drone owners to see if they have any helpful advice.
Adhering to Drone Laws (In Both Destinations)
Some countries don't have any drone regulations yet, while others have very strict laws. Countries like Egypt have practically banned drones entirely, while in others it's very hard to get even a temporary permit to fly. So be sure to carefully read up on the laws of the country you're traveling to. For example, in Kenya, drones aren't allowed to fly over or along any public roads. It's obscure rules like these that could make you land in hot water.
Be sure to look out for foreigner-specific drone laws that only apply to visitors as well. Some countries require that travelers apply for foreign drone permits before they're allowed to fly there. Since this won't apply to locals, they won't necessarily be a good source to ask about that. Rather check on government websites and with other reputable sources. Although it doesn't happen often, foreigners are sometimes entirely banned from using any type of UAV aircraft in a country.
Finally, watch out for registration permits. Some countries require that all drone operators and/or pilots be registered before flying. You may need to take an aeronautics knowledge test and have to demonstrate your proficiency before you'll be allowed to fly. For example, in the UK, anyone responsible for operating a drone (not necessarily a pilot) have to register as an operator and all drone pilots have to take a pilot's test.
What Happens if the Country Doesn't Have Any Drone Laws?
Despite their popularity, drones are still a relatively new technology and some countries are still figuring out how they're going to regulate drones. Keep in mind that, even if the country doesn't have any drone laws, it isn't a license to do what you want. The authorities in charge can still object to your use of the drone and either confiscate or damage it – and it's very unlikely that you'll have a case for any form of restitution. And just because there aren't any drone laws doesn't mean they are in any way welcome. A lack of laws may also mean that the authorities are opposed to people using drones, especially visitors.
Also, even if the country you're traveling to currently doesn't have any drone laws in place, that doesn't mean they won't in the near future so always check before going.
Packing Your Drone: Tips & Best Practices
Logically, smaller drones are just easier to travel with, logistics-wise. They're more lightweight and can easily be stuffed in a suitcase or backpack within a cardboard box (like the one it came in) or in-between soft clothes. But it isn't impossible if your drone is a bit bigger – you'll just have to plan accordingly.
When packing a drone in your (either carry-on or in checked baggage) follow these steps:
Make sure the drone is turned off and cannot be accidentally turned on. Cover any switches that could turn something on.
Be sure to pack extra batteries separately in appropriate packaging like lipo-safe bags or camera bags with compartments for the batteries. Make sure they cannot bang up against each other.
Try to find a sturdy and padded bag to store the drone. There are plenty of drone bags on the market, but a solid camera backpack or any hard-shell luggage with enough space for the drone can work. Just make sure that the drone can't slide around inside.
Remove moving and loose parts like the rotators, if possible, before packing the drone and pack these separately.
Make sure the camera lens cover is securely attached so that it doesn't get loose and the camera becomes damaged during travel.
You can pack the controller and any other equipment. Controller batteries are generally fine as they're part of the controller and considered safe.
Traveling Locally? You'll Want to Read This
Traveling domestically might be less complicated when it comes to traveling with a drone, but it's not without its own stresses.
If you're planning to fly then you won't have to deal with customs, but you're still going to have to comply with airline rules, which would be the same as for international flights. Especially with regards to traveling with drone batteries.
Taking a road trip by car is much easier (if longer) but still requires that you check the state and local laws for your intended destination. And if you plan on stopping and taking some shots with your drone along the way, then you'll have to check the laws for each of those locations too.
In the US, every state, county, city and town have its own drone laws, so it's crucial to look these up as they can differ greatly from one another. Don't just assume because you're not filming in a residential neighborhood or business district that you should be off the hook. Many cities and towns even prohibit drones among historical sites, in parks and on the beach.
Even popular attractions like the Grand Canyon don't allow drones at this time as stated on their website. You could check the website of the destination/attraction you're visiting to see whether they have any drone policies. But even if they don't, it's best to contact them and ask before showing up with your drone.