Are you looking for something different and unique? Introducing the UFO 4000 mini drone, a small-sized quadcopter designed for beginners and kids. This drone is everybody's childhood dream of being able to soar in the sky with strobing lights on and maybe abducting cows on the way. The UFO 4000 mini drone currently can be bought here for less than $50. In our UFO 4000 mini drone review, we are going to dive into the details such as performance, features, design, etc.
If you are curious to check out what are the other best drones under $50 and trending popular drones going around the consumer market, you can visit our guides & tips which consists of a curated list of the best shopping guides. Not to forget to mention that we also have flying tips and tutorials for beginners who are new to drones. Without further ado, let's dive into the UFO 4000 mini drone review and find out if it is the best quadcopter for you.
Inside The Box:
To kickstart the UFO 4000 mini drone review, we are going to start with what is inside the box. This is my favorite part of all reviews because you get to learn what parts are included and what parts you need to buy to get the best flight experience. Fortunately, this drone is pretty much simple and doesn't come with a lot of accessories which is a plus. Additional batteries can be bought here which comes in four-packs.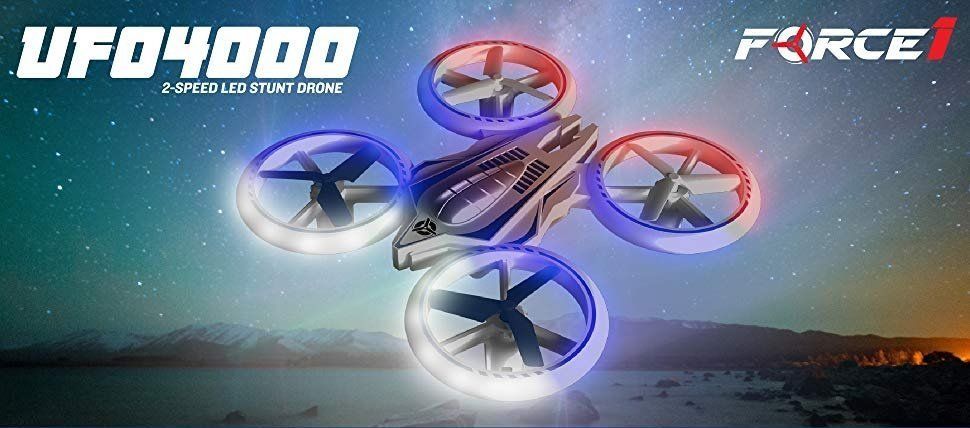 Package Content:
UFO 4000 Mini Drone
Remote Controller
Li-Po Batteries (2)
USB Charging Cable
Extra Propellers (4)
User Manual
Design & Build Quality
One of the most noticeable designs and build a feature that makes the UFO 4000 mini drone unique is its built-in LED lights. It comes in three different colors: red, blue and white which is pretty awesome combination choices. Aside from it, the drone is crafted with standard ABS plastic that is durable enough to withstand impact. In addition to that, the propellers are protected by built-in guards that act as a shock absorber.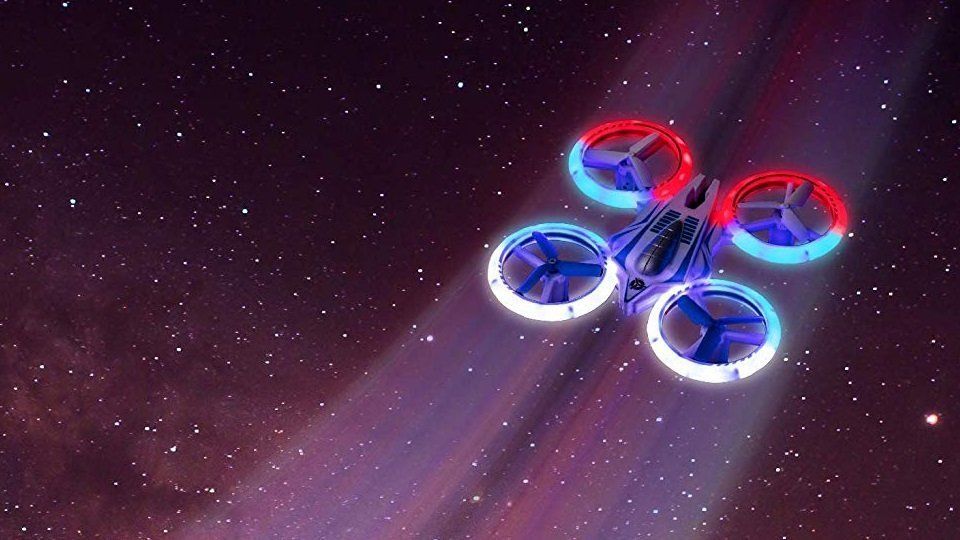 Underneath the drone, the landing pads are covered with rubber that provides a soft and safe landing zone to reduce the impact. The size of the UFO 4000 mini drone is small enough to comfortably fit inside your hand. Design-wise, this is a pretty nifty toy-grade drone for beginners. It is simple, unique and creative that definitely will bring a lot of endless fun.
Performance
The UFO 4000 mini drone comes with some powerful performance designed for beginners. It has built-in two-speed factors which by default the drone will be flying at low speed. This allows beginners to learn the ins and outs of flying a beginner-friendly drone. Once you mastered the flight controls, you can switch to high speed to challenge yourself for an ultimate flying experience.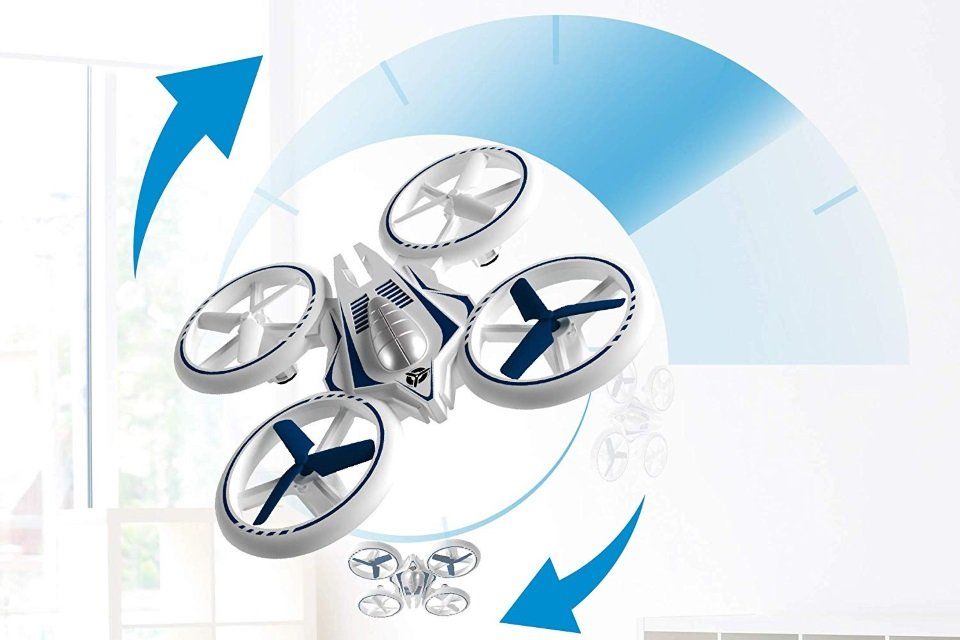 The UFO 4000 mini drone also comes with several features that makes flying easier. Namely the altitude hold function and headless mode. While altitude hold is pretty much self-explanatory. Some of you might be scratching your head what the heck is a headless mode. It switches the orientation control from the drone to the remote controller. This means the drone will fly based in the direction you are pushing the remote controller movement lever at.
Final Verdict of UFO 4000 Mini Drone
To conclude the UFO 4000 Mini Drone review, we think this is one of the best LED-light quadcopters under $50. Sure, it doesn't come with a bunch of fancy features that you normally would see on professional-grade camera drones such as the Phantom 4 Pro. But, its affordable price tag, colorful LED lights, and amazing features easily making it one of the popular choices for beginners. It is super easy to fly thanks to simplified flight controls.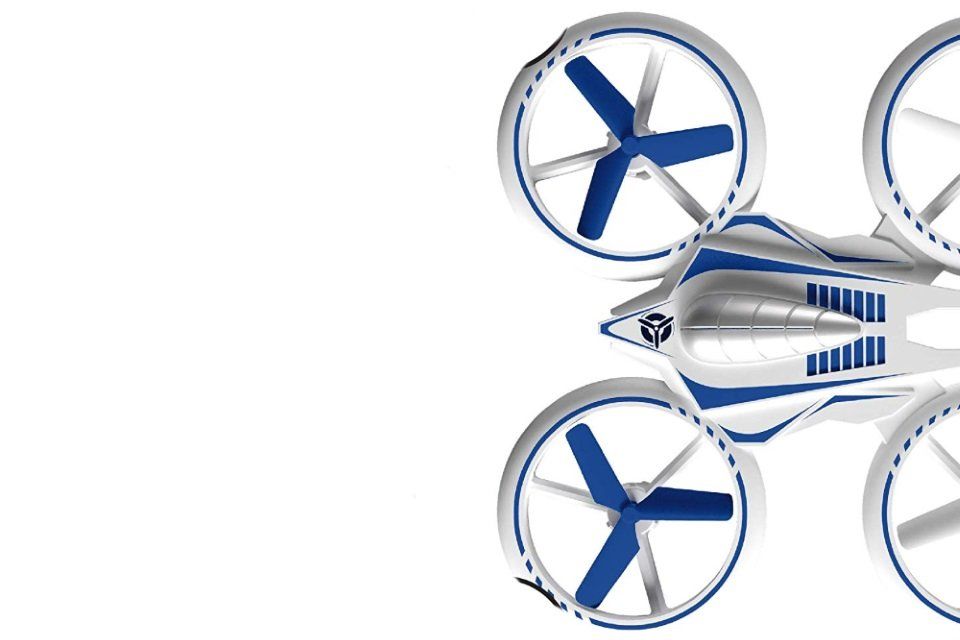 If you are looking for a great mini-sized drone to learn how to fly. You can buy UFO 4000 Mini Drone here for less than $50. Don't forget to buy additional batteries pack if you want to extend your flight session by four-fold. I hope you find our review helpful and insightful. If you have any questions regarding this drone, please feel free to drop a comment in the comments section below. Happy flying and fly smart!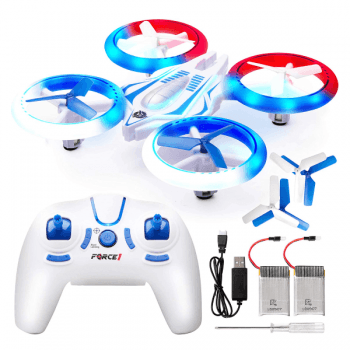 Set Lowest Price Alert
×
Notify me, when price drops
Set Alert for Product: Force1 UFO 4000 LED Mini Drones for Kids - Small RC Drones for Beginners w/ 2 Quadcopter Batteries - $29.99
Last Amazon price update was: September 13, 2023 8:55 am
×
Product prices and availability are accurate as of the date/time indicated and are subject to change. Any price and availability information displayed on Amazon.com (Amazon.in, Amazon.co.uk, Amazon.de, etc) at the time of purchase will apply to the purchase of this product.
Editor's Review
UFO 4000 Mini Drone is a simple, yet innovative crafted quadcopter built with LED lights for night flights. Thanks to its built-in propeller guards and durable material, it is capable of withstanding impact with relative ease. Each battery provides 7 minutes of flight time and the drone has a maximum remote control distance up to 50 meters that gives plenty of fun flight time.
PROS
Integrated LED lights for fun flying during night time.
Durable material that makes the drone tough to break apart.
Double battery that provides a total flight time of 14 minutes.
Affordable price tag, readily accessible for beginners and first time drone users.
Super easy to fly remote controller.
CONS
Limited remote control distance.
Doesn't handle wind too well.
Add your review