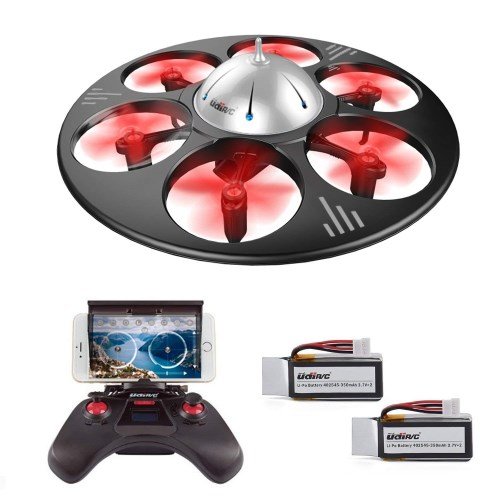 This drone is no longer available on the market. We apologize for any inconvenience it may have caused. - 2019.12.06
This week, we are looking at something different and unique that sets this drone apart from standard quadcopters. Introducing the DBPOWER U845 UFO drone which features an alien design with six propellers. This quadcopter has taken a different approach geared toward beginners and recreational remote pilots who simply want something more interesting. With how incredibly popular the drones are, we decided to assemble a DBPOWER U845 UFO drone review to help shoppers like you make a more informed decision.
The purpose of this guide is to provide in-depth details. In the DBPOWER U845 UFO drone review, we will go through design quality, performance, features, and other tidbits. Before I start talking about this quadcopter. I want to briefly explain about DBPOWER first. That brand is a U.S based company who is well known for manufacturing well-known drones such as the X400W FPV and Predator U842. DBPOWER is also known for its great customer service. So, without further ado, let's dive into the details and find out if this drone is right for you.
Related Article: Top 10 Best Drones Under 100 for Beginners: The Ultimate Buyers' Guide
Design Quality
On the first impression, the design quality of the U845 UFO drone is certainly unique and different. I liked how its main body framework comes in jet black coating with sliver lining around the edge. This drone is equipped with six two-pronged propellers which makes it a hexacopter (a type of drone that has six motor arms). Along with a nice, stylish, shiny silver cap in the middle of the body framework.
Furthermore, I liked how the cockpit comes with an antenna in the middle. Design-wise, I think the DBPOWER U845 UFO drone is one of the stylish quadcopters I have come across. When it comes to simple functions like battery and other design features. This quadcopter has six built-in landing legs that provide amazing support and reduces the impact when it lands. Additionally, the drone features easy to replace the battery. Each battery lasts approximately 7 minutes.
But there's catch to that, the drone comes with an extra battery which gives you a total flight time of 14 minutes. One of the main advantages that the U845 UFO drone has over other toy-grade quadcopters is protection. This drone is crafted with quality ABS plastic which makes it tough and impacts resistance. Thanks to built-in propeller guards, beginners do not have to worry about crashing the drone by accidents. Overall, this is a top-notch design.
Related Article: Top 25 Best Mavic Air Skins: The Ultimate Guide to Customize Your Drone
Performance
Like every other popular drone such as the Bolt Bee and WiMiUS DR10 quadcopter, performance is an integral part of flying the drones. As I mentioned previously in the design quality section that this drone is a hexacopter. This gives the U845 UFO drone a major advantage over quadcopters due to reliability and stability. First of all, if a motor breaks down, the drone will still fly regardless. This makes the U845 UFO an incredible reliable quadcopter that will run for a long time.
Additionally, having six motor arms provides stability that helps maintain the drone for ease of controls. However, even though the U845 UFO drone is quite stable and easy quadcopter for beginners. It comes with a multitude of beginner-friendly features that enhances the drone's performance. Mainly the improved 6-axis gyroscope that balances the drone, providing precise flight controls that beginners can fly with peace of mind.
Plus, the DBPOWER U845 UFO drone is equipped with a built-in barometer that detects changes in the air pressure level. Then adjusts accordingly to keep its height level so that beginners can focus more on movement instead of height. Because this drone is a six-motor arm, it requires large battery capacity to support the power usage. But that comes at the cost of an incredible stable, fast, responsive and easy to control the drone. Truly a perfect choice for beginners.
Related Article: Top 10 Best Drones Under 200: The Ultimate Buying Guide for Beginners
Features
In the next part of the DBPOWER U845 UFO drone review, we are going to talk about its features. This is a drone that is chock-full of features made for beginners and recreational remote pilots. It features FPV mode that allows you to fly the drone, take pictures and videos by live-streaming video to your mobile device in real-time. Not just only that, you can easily share pictures and videos on social media, providing a new angle of view.
Along with that feature, the U845 UFO drone comes with two important functions: Headless Mode and Altitude Hold function. While the altitude hold function is pretty much self-explanatory. The headless mode switches the control orientation from the drone to your transmitter. Which lets you pilot the drone based on the direction you are pushing the movement lever at. This makes the whole flight operation much easier.
In addition to that, the DBPOWER U845 UFO drone is integrated with several flight safety features such as low power alarm and out of range warning. These are sound-based and will let you know if the drone battery is low. Which will provide you at least some time to land the drone and replace the battery with a fresh one. Not just only that, if you fly the drone too far you will be prompted to know that it has reached maximum control distance.
Related Article: 10 Best Follow Me Drones for Beginners and Kids Guide
Bottom Line
To get to the point of DBPOWER U845 UFO drone review, I think this is easily one of the best drones for beginners and kids. It is completely, unique, different and super easy to fly. To recap what we talked about throughout the review, this drone encompasses durability that provides a long-lasting service life. In addition to that, it features six motor arms that offer stability and precise flight controls for a smooth flying experience.
Furthermore, the DBPOWER U845 UFO drone is made with a lot of cool features that make flying easier as well as simple tricks. Thanks to the bonus battery, you will have a total flight time of 14 minutes. However, if you do enjoy this drone a lot, you can grab additional batteries to extend your flight sessions. Based on what we researched, the DBPOWER U845 UFO drone is the ultimate starter quadcopter for beginners. You can check out its price here.
Editor's Review
The DBPOWER U845 UFO drone is one of the most simple, easiest and incredible stable quadcopter to start with for beginners and kids. It encompasses durability, reliability, ease of controls along with a bunch of features that enhances its flight performance. Not just only that, it is built for hours of fun. In addition to that, it comes with a bonus battery and a remote controller that has built-in mount holder that lets you view video on your favorite mobile device. Overall, we think this is a top-notch drone for beginners. We highly recommend the DBPOWER U845 UFO drone.
PROS
Unique design that makes this drone different apart standard drones in the stores.
Six motor arms that focuses on stability and reliability for precise flight controls.
Bonus battery that provides you a total flight time of 14 minutes.
Durable, made to last a long service life for best quality.
Ease of controls, perfect for beginners and kids with no prior flying experience.
Integrated with a 720P HD camera that delivers quality images and videos.
CONS
Limited remote control distance, but that's a minor drawback.
The battery life only lasts 7 minutes per charge, but that's counted by an extra battery.
Camera quality is average, not the best or worst.
Add your review