Holy Stone HS100 FPV vs HS700 Ophelia: In-Depth Comparison Guide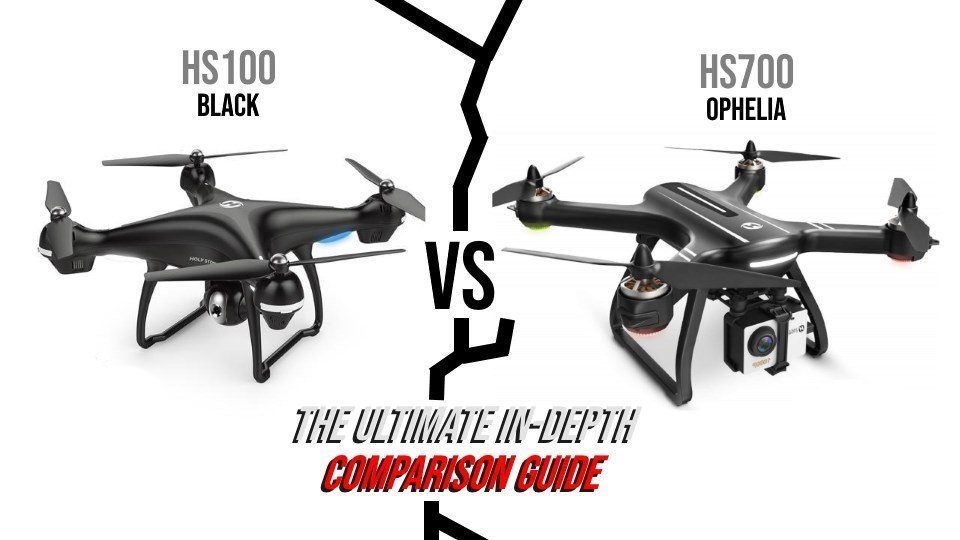 Welcome to the showdown between the two most popular Holy Stone drones: HS100 FPV vs HS700 Ophelia. These two drones are recently launched and only has been around short enough to get a lot of praise and attention among beginners. If you are thinking of buying a Holy Stone drone but you are not sure which one you want to. You might want to check out our HS100 FPV vs HS700 Ophelia comparison guide.
Before we jump ahead to the in-depth detailed guide, I want to briefly explain these two drones. First, the HS100 FPV (See Price) is crafted specifically for beginners and recreational remote pilots. It is equipped with a mounted 1080P HD camera that delivers quality images and video to your smartphone. Granted, it is just like every other camera drones. However, the HS700 Ophelia (See Price) is a little bit different. You see, it uses an action camera that can be remotely controlled. Even more so, you can switch to a more expensive action camera with better image quality like the HERO6 for example.
In the showdown between the HS100 FPV vs HS700 Ophelia comparison guide. We are going to talk about flight time, range, quality of images and many other important things like intelligent flight modes. Because both Holy Stone drones are incredibly popular, it can be a tough choice to make. So, we want to make it easy and simple enough for you to pick the best drone based on your preferences and needs. Without further ado, let's dive into the battle between HS100 FPV vs HS700 Ophelia!
Related Article: Top 10 Best Drones Under 100 for Beginners and Kids: The Ultimate Guide
HS100 FPV vs HS700 Ophelia Comparison Guide
HS100 FPV vs HS700 Ophelia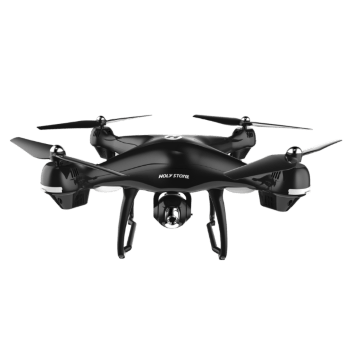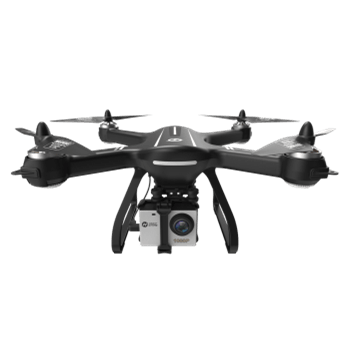 Flight Time
Flying time in minutes
Control Distance
Remote distance in meters
Speed Supported
Flying Speed in K/PH
Video Quality
Maximum Video Resolution
1080HD @ 30 FPS
1080HD @ 30 FPS
Camera Quality
Quality of Image
Sensor Size
Size of the CMOS Sensor
Intelligent Flight Modes
Ability to fly intelligently
Obstacle Avoidance Detection
Ability to avoid objects
Related Article: Mavic Air vs Mavic Pro: Simple and Easy In-Depth Comparison Guide
Flight Time
The flight time is an important factor that determines how long a drone will be able to stay airborne. The HS100 FPV drone comes with an incredibly powerful battery capacity up to 7.4V 2500mAh Li-Po. It easily can stay in the skies for up to 15 minutes but that's about the longest you will be able to pilot the HS100 FPV drone.
The HS700 Ophelia, on the other hand, uses a super-powerful 7.4V 2800mAh Li-Po battery. Granted, it is considerably heavier than the battery that HS100 FPV drone uses. But it gives the Ophelia an average flight time of 20 minutes. That makes this drone superior in terms of flight time. An easy choice for those drone pilots who wants a long flying quadcopter.
Winner: HS700 Ophelia
Remote Control Distance
If being able to fly the drone far matters the most to you. The HS100 FPV has a maximum remote control distance of up to 500 meters. When it comes to piloting the drone using Wi-Fi signals. It has a maximum Wi-Fi control distance up to 150 meters which is quite good for a drone at its price range.
For those aerial photographers and beginners who prefer to have a reliable drone with long remote control distance. The HS700 Ophelia is one of the best choices due to its superior remote control distance. That being said, it can switch channels between 2.4GHz to 5GHz to maintain a stable connection. On the side note, it has a Wi-Fi control distance of up to 400 meters.
Winner: HS700 Ophelia
Related Article: Top 15 Best Foldable Drones For Beginners: The Ultimate Guide
Maximum Flying Speed
Both Holy Stone drones have a maximum flying speed of 40 kilometers per hour. So, there is not much difference between the HS100 FPV and HS700 Ophelia in terms of speed. However, what we do know is that the HS700 Ophelia has significantly better resistance to weather conditions. Especially in windy weather where speed and weight play an important factor. In this case, we are calling it a tie.
Winner: Tied
Camera Quality
This is one of the most hotly debated and popular subjects. What we know is that the HS100 FPV drone uses an optimized 1080P HD camera. For some of you who aren't sure what an optimized camera means. It has been upgraded to deliver the images and videos at the best quality using enhanced Wi-Fi signals. The drone still can store images and videos on its micro SD card slot, however. It is great if you want to share the aerial footage with your friends and families immediately.
On the other hand, if you have an action camera or you prefer to have a drone that uses it. The HS700 Ophelia is the perfect choice for you. Originally, it comes with a 1080P HD action camera that easily produces nice aerial shots. But you can switch to even better one like the HERO6 or something more expensive that can capture stills and videos at 4K UHD resolution setting. Of course, it will require a slightly higher budget but the cost is worth paying for. In our opinion, the Ophelia drone wins mainly because of its flexibility.
Winner: HS700 Ophelia
Related Article: How to Buy A Drone: Guide for Beginners and Kids
Intelligent Flight Modes
Since both Holy Stone drones are equipped with a GPS module which is the key feature in enabling intelligent flight modes. The HS700 Ophelia drone has a minor advantage over the HS100 FPV drone. When it comes to comparing both drones, the HS100 FPV quadcopter only can perform Follow Me and Waypoint Mode. The HS700 Ophelia is capable of performing these flight modes in addition to Orbit Mode (or Point of Interest). Because of that, the HS700 Ophelia wins this round.
Winner: HS700 Ophelia
Ease of Use
It is no surprise that drones are becoming easier to fly for beginners. Especially when it comes to flying drones that are expensive. Beginners will find themselves having an easier time flying the HS100 FPV drone for a simple reason: It is simple and already ready to fly. If you do plan to buy HS700 Ophelia, you will have to be willing to invest at least some time learning how to assemble. As well as adjusting the camera and have at least some knowledge to mount an action camera.
Fortunately, they are easy to do than said because there are great and helpful video tutorial that covers these subjects. However, for beginners we know that you want to fly the drone right out of the box. Especially if you are the first time and all you want to do is fly. So, we are going to hand this round to HS100 FPV drone as one of the readiest to fly quadcopters for beginners and kids.
Winner: HS100 FPV
Related Article: Top 7 Best Travel Drones for Travelers, Tourists, and Bloggers
Customer Experience
With over 2300 customer ratings, the Holy Stone HS700 Ophelia drone got an average rating of 4.4 out of 5 in Amazon. From over 2300 reviews from customers, 69% percent of it is five-star ratings. One reviewer said that the packaging has excellent images and handy information regarding the drone. It is also well packaged. Even though it required minor assemblies, they were okay with it. Once the HS700 flew, customers were amazed by how easy it was to fly and pilot, especially the starter drone pilots. They recommend it highly to other prospective buyers for the drone's price, saying they won't be disappointed with purchase at all.
On the other hand, the Holy Stone HS100 also has an average rating of 4.4 out of 5 out of over 2700 reviews. Sixty-eight percent of the reviews are 5-star ratings from undeniably happy customers. Many of the reviewers commend the drone's easy yet intelligent features. They say that the HS100 is stable in flight, and the remote control is powerful enough that it reconnects on its own once the drone is back in range. Though many also consider it an advanced drone, it can still be beginner-friendly, especially if the headless flying mode is used.
Amazingly, in this aspect, the two drones are tied.
HS100 FPV vs HS700 Ophelia: Which One Is Winner?
The winner is HS700 Ophelia. In almost every category, that drone dominates the HS100 FPV except in ease of use and price. Depending on what type of drone you are looking for and how much money you want to spend on. For those beginners who are on a tight budget but want to have a durable and reliable quadcopter, the HS100 FPV drone would be an easy choice. However, if you do want to invest in a drone for long term upgrades. The HS700 Ophelia is the best option.
Regardless of what drone you choose, the HS700 Ophelia uses an action camera to take aerial shots. But if you do decide to upgrade with a GoPro action camera that can capture and record videos at 4K UHD. That drone will easily become one of the best entry-level aerial photography quadcopters for beginners. Even though, it will require a slightly higher budget. But for what it has to offer, it is worth investing in the HS700 Ophelia drone.
Related Article: Top 10 Best Drones With Collision Avoidance Feature
Drone Guides & Tips
For those beginners who are new to drones and have no prior flying experience. I want to share my best drone guides and tips with you. This information is free and helpful, so I hope you will learn something new from them. Don't make the same mistakes that other drone pilots are doing and learn tricks that you probably didn't know that it was possible to do so. Therefore, I am sharing my guides with you, feel free to check them out!
I hope you found my in-depth comparison guide about HS100 FPV vs HS700 Ophelia insightful and helpful. If you have any questions about these two popular Holy Stone drones. Please feel free to comment in the comments section below. Happy flying and fly smart!