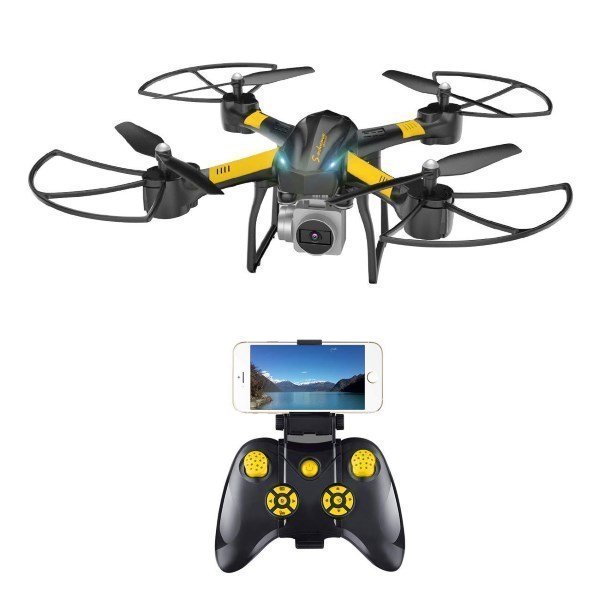 This drone is no longer available on the market. We apologize for any inconvenience it may have caused. - 2019.12.06
There are many camera drones out on the market such as the HS160 Shadow and FuriBee H818. However, if you are just starting and you want to find the best cheap camera drone for beginners without denting your bank. Meet the Viflykoo Q20 drone, one of the most affordable camera drones for beginners. This action-packed quadcopter has a lot to offer for beginners and kids who are interested in flying the drones as well as taking pictures from the skies.
We decided to assemble the Viflykoo Q20 review to help shoppers like you make an informed decision. By sifting the customers' feedback and researching the product. We thought it is appropriate to write a Viflykoo Q20 review so that you can learn more about this brand new drone. Even though this drone isn't on our top 10 best HD camera drones guide, we still encourage beginners to check this quadcopter out. So, without further ado, let's dive into the details.
Related Article: WiMiUS DR10 Review: Best Professional Camera Drone for Beginners
Design Quality
On the first impression, the Viflykoo Q20 drone features jet black coating around its main body frame including the motor arms and landing pads. I like how it comes with a stylish yellow layer around its motor arms with a few details right there. In front of the drone, it has two blue LED lights that are built-in. It provides a nice finishing touch to the appearance and acts as visual positioning support during the flight operation.
One of the design key features is that the Viflykoo Q20 drone is made with high-quality ABS plastic. This is important because it makes the drone more durable and impacts resistance. Not just only that beginners can easily fly the drone worry-free. The Viflykoo Q20 drone comes with propeller guards included for an additional layer of protection. I highly recommend you to fly with guards on your first few flight sessions as you definitely will crash before you master the controls.
Furthermore, this little bird is equipped with landing legs that act as support to reduce the shock when landing. I liked it because it creates a safe distance between the camera and the ground. That way, the particles don't get stuck onto the camera which is a smart design. Aside from that, the Viflykoo Q20 drone uses a gobsmacking 1800mAh battery that provides approximately 15 minutes of flight time. At the price that this drone is going for, it is a deal-breaker!
Related Article: Top 15 Best Foldable Drones for Beginners: The Ultimate Starters' Guide
Performance
Knowing how well a drone performs is the most important part of the Viflykoo Q20 review. Like every other drone under $100 such as the Ninja FPV quadcopter or Visuo XS812 drone, performance is the key feature. Fortunately for beginners who want to have their hands on a smart camera drone like the Viflykoo Q20 quadcopter. This drone is equipped with a multitude of beginner-friendly flight navigation systems.
The most important performance function is a built-in barometer which adjusts the drone's height level to remain stable by detecting changes in the air pressure level. Furthermore, the Viflykoo Q20 drone is equipped with an improved 6-axis gyroscope that maintains the drone's stability, thus making the overall control much easier for beginners. Even beginners who never flown a drone before will be able to pilot with relative ease.
In addition to that. the controls are simple and very responsive. Beginners and kids will have an easy time flying Viflykoo Q20 drone thanks to its amazing long flight time up to 15 minutes. Not just only that you can fly the drone for a long time, it has a reasonable good remote control distance up to 100 meters. At the price tag that the Viflykoo Q20 drone is going for, I would say that this is a winner.
Related Article: Top 10 Best Follow Me Drones for Beginners and Kids: The Ultimate Guide
Features
If you have been wanting to own a camera drone packed with a lot of features, but you are not sure which. At an affordable price tag, the Viflykoo Q20 drone certainly has a lot of features to offer. But if you are looking for smart camera drones that can do intelligent flight modes, you are better off checking these professional camera drones or popular quadcopters such as the Ophelia and Contixo F22. For less than $100, the Viflykoo brings you several features including safety flight functions.
First of all, this drone comes with two important features: altitude hold and headless mode. While the first one is pretty much self-explanatory. The headless mode switches the control orientation from drone to a remote controller. Which means you pilot the drone based on the direction you are pushing the movement lever at. As a result, it simplifies the whole flight operation. Also, the Viflykoo Q20 drone can perform automatic takeoff and landing that makes flying even easier for beginners.
But there is more to that than simple functions. This drone can perform aerial 360-degree flip to impress bystanders and audience. It is also capable of recording videos and capturing stills at high-definition 720P resolution settings. Using the app control feature, you can select the camera setting as well as fly the drone in FPV mode. Based on what the Viflykoo Q20 drone has to offer, I think the features easily makes it one of the best quadcopter for beginners and kids.
Related Article: Top 10 Best Holy Stone Drones for Beginners: The Buyers' Guide
Bottom Line
The final verdict of the Viflykoo Q20 review, I think this is a great quality drone for beginners. To recap what we talked about throughout the Viflykoo Q20 review, this is a drone crafted with durable ABS plastic which provides impact resistance. Not only it is tough to break, it comes with propeller guards which is what beginners definitely will need and extends the drone's service life duration. Plus, it has an amazing battery life of up to 15 minutes. No other drone at the price tag that the Viflykoo Q20 drone is going for has the same aerial capabilities.
Furthermore, this drone is mounted with a nice and stylish action camera. However, the camera can't be switched to a better action camera. We recommend that you still stick to the camera which Viflykoo Q20 drone is equipped with to ensure the best flight experience. Design-wise, I liked how it looks with built-in LED light eyes for added effects. In addition to that, the drone is chock-full of beginner-friendly features that make it easy for anyone to fly. You can check out its price here.
Editor's Review
Based on the design quality, performance and features, the Viflykoo Q20 drone is easily one of the best quadcopter for beginners. It is made to be tough, durable and packed with incredible long flight time. Not just only that, the Viflykoo Q20 drone is amazing easy enough to control thanks to simple and intuitive remote controller. In addition to that, the drone can livestream video from its camera to your smartphone in real time. We highly recommend the Viflykoo Q20 drone for beginners and kids.
PROS
Integrated 720P HD camera that delivers quality images and videos from camera to your mobile devices in real-time.
Crafted with durable ABS plastic which provides tough shell and impact resistance.
Propeller guards included that gives beginners optional layer of protection.
Stylish and unique design appearance that lets the drone fly with style.
Chock-full of beginner-friendly features which makes it simple and easy enough for beginners to fly.
Remote controller comes with mount holder that you can insert your favorite mobile device onto.
Ease of use, incredible simple enough for beginners and kids.
Amazing battery life up to 15 minutes at maximum.
CONS
The quality of camera is alright, not the best nor worst.
Limited remote control distance, but that's reasonable within its price range.
Add your review