This drone is no longer available on the market. We apologize for any inconvenience it may have caused. - 2019.12.05
The smart drones are becoming more popular as they bring a lot of awesome features like ease of flight controls and useful intelligent modes. We want to introduce a brand new drone that was launched a few weeks ago. Meet the Enther GPS 5G FPV drone, the most affordable and compact smart drone. We assembled the Enther GPS 5G FPV drone review to help shoppers as you become informed about this product.
In our Enther GPS 5G FPV drone review, we'll talk about its build design quality, features, performance, camera quality, and such. Whether you're looking for a smart drone or not, we think you'll find this smart foldable camera drone interesting. So, without further ado, we're going to dive into the details. Stick with us to find out if the Enther GPS 5G FPV drone is the perfect match for you.
In The Box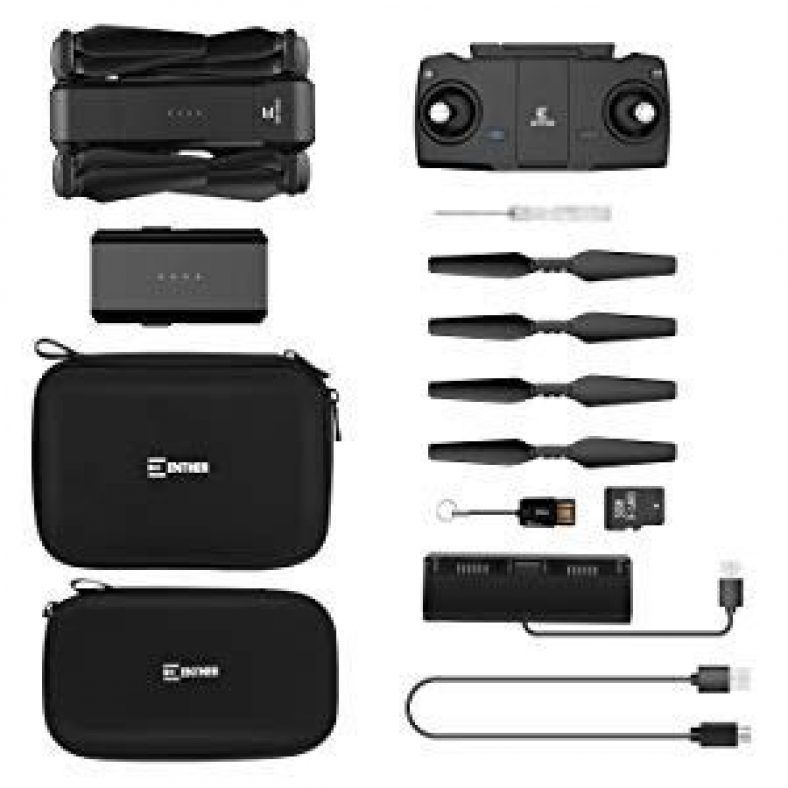 Before we delve into the Enther GPS 5G FPV drone review, I want to talk about what's inside the box first. Like every other product including professional-grade camera drones and the best drones under $500 for sale. You want to know what comes in the box first before you buy it. Since this drone is a ready-to-fly quadcopter, it doesn't require assembling. Which means it's beginner-friendly for first-time drone users.
All the drones package usually comes with a remote controller, extra propellers, batteries, charging cable, and charger. But for the Enther GPS 5G FPV drone, they come with a bonus battery and two carrying cases. Which is a steal if you're looking for a truly complete drone package. Inside the package, the drone comes with the following list:
Inside The Box:
Enther GPS 5G FPV drone
Remote Controller
Batteries (2)
Carrying Cases (2)
16 Micro SD Card + Card Reader
Battery Charger + Charging Cable
Screwdriver + Extra Screws (8)
Extra Propellers (4)
User Manual
Design & Build Quality
To kickstart the Enther GPS 5G FPV drone review, we're going to start with the design and build quality of the drone. First of all, I liked how it features in a jet black coating. It encompasses a sense of professionalism. Not only that, but it's also much easier to spot the drone in the sky which is critical for piloting during your flight session. As you can see that the Enther GPS 5G FPV drone incorporates a foldability design style.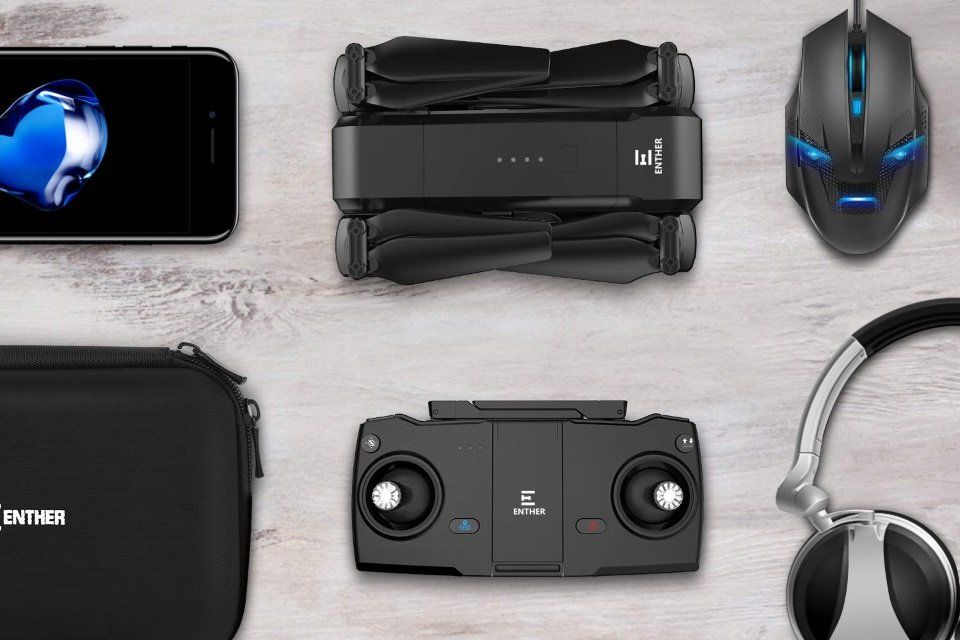 This unique feature first stemmed from a popular professional-grade camera drone, the Mavic Pro. The foldable motor arms allow you to easily fold the drone into a compact size. From that point, you can easily store it into your backpack or a travel case. This feature gives you the advantage of being able to travel around anywhere you want to and captures a special moment.
Design-wise, it gives the drone advantage of improved durability. This means the drone is harder to break on impact. It's especially beneficial for beginners and first-time drone users who have no prior flying experience. Finally, I liked how they brand their logo on the drone. I think it's one of the most professional designs I've ever seen. In this part, we give this drone a big thumbs up for excellent design and build quality.
Performance
In the next part of the Enther GPS 5G FPV drone review, we're going to discuss its performance. Like every other drone, you want to know how well it performs. Fortunately, the Enther FPV drone falls into the smart quadcopter category. This means it already has a built-in GPS and GLONASS feature that automatically stabilizes the flight controls for a smoother flying experience.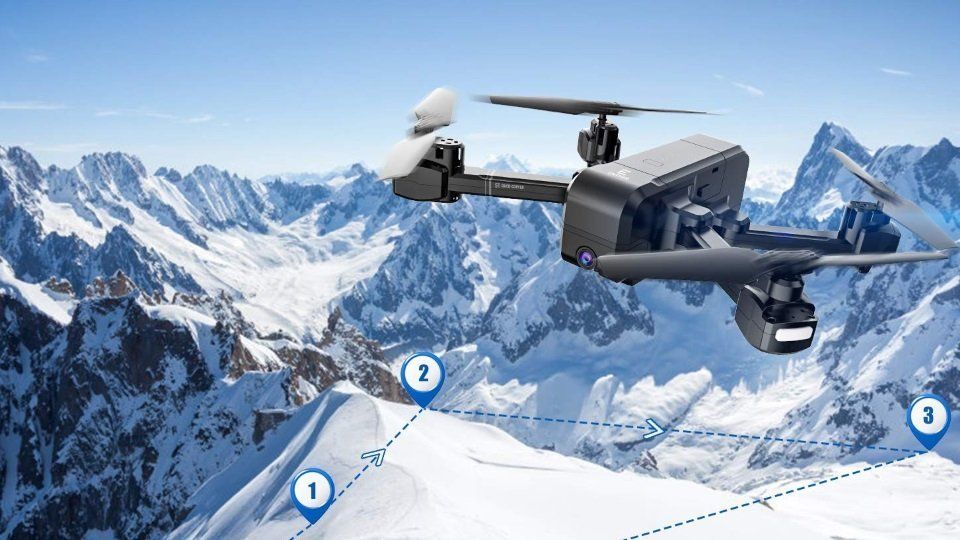 The Enther FPV drone has a maximum flying speed of 31 miles per hour which is quite fast for an affordable smart camera quadcopter. To add to the top of this, it features two-speed modes. When you fly this drone for the first time, it'll be at the slowest speed by default. This is to help new drone users learn the basics of flight controls first. Once you have a good understanding of how to operate the drone, you can increase speed mode for more thrilling and challenging flight experience.
Also, the Enther FPV drone comes with several features that help out with critical performance functions. For instance, it has a built-in altitude hold that automatically detects changes in the air pressures and allows stabilizing it to maintain its height level. In addition to that, the drone has a headless mode function. This means you can fly the drone based on the direction you're pushing the movement lever at instead of flying based on what direction the drone is facing.
Camera Quality
Having a good camera quality is another important factor when it comes to shopping for a smart drone. If you're hoping to get a 4K camera drone at an affordable price, you won't find any for less than $300. You'd have better luck finding that specification in high-end models like the Phantom 4 Pro and Mavic Pro.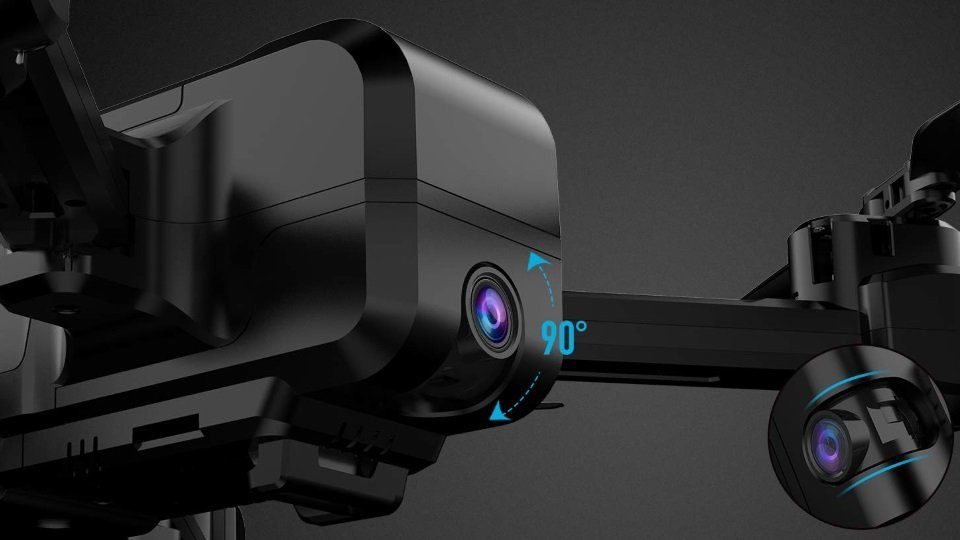 But, here's the reason why you'll want to buy Enther GPS 5G FPV drone. It has a built-in 1080P HD camera that delivers amazing image quality at a high detail level. Furthermore, the camera can be operated remotely in a 90-degree direction which gives you a wide aerial perspective. Most camera drones under $200 don't have that kind of feature which makes the Enther GPS 5G FPV drone a very hot competitor.
In the box, it comes with a 16GB Micro SD card included. That means you automatically can start flying and capture footage right out of the box. There's even no need to purchase a better microSD card separately which is a nice perk. Because of the Enther GPS 5G FPV drone captures at 1080P HD resolution setting, it's more than enough to support up to 3 hours of footage. Overall, the quality of the camera is pretty good for an affordable smart camera drone.
Intelligent Battery
In the next part of the Enther GPS 5G FPV drone review, we're going to talk about the battery. By default, the package comes with a bonus battery which gives you approximately 30 minutes of flight time. This is quite a nice perk to have. However, the main reason why the intelligent battery that this drone uses is so good and high quality compared to other drones has to do it the way it is designed.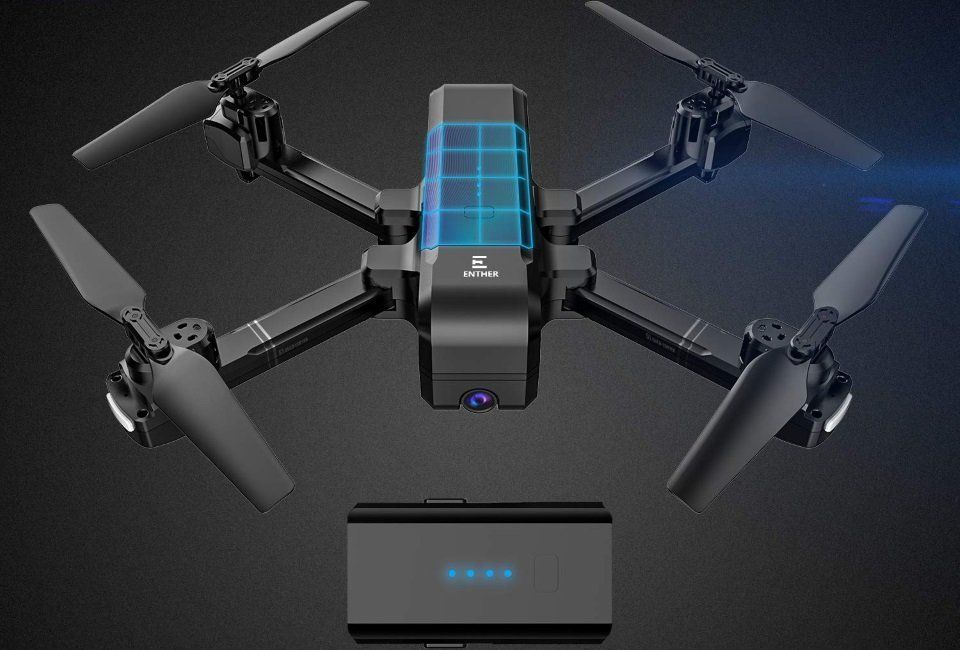 As you can see, the battery is designed to be modularized with built-in LED lights. On a single charge, it provides 15 minutes of flight time which is reasonable for a smart camera drone at this price tag. For some experienced drone users, you might want to buy a few extra batteries. If you want to extend your flight session up to an hour or so, you can order extra batteries here.
Customer Experience
The Enther GPS 5G FPV Drone has an average rating of 3.3 out of 5 in Amazon. Fifty-two percent of the reviews are from four-star and five-star reviews. Those who were happy with the drone say that it has a stable flight and the camera's quality is really nice. They also say that the drone is easy to fly and that the follow-me feature works just fine. Many happy users of this drone recommend the Enther GPS as a good drone, and it's perfect to use if you want to learn to fly one.
Final Verdict
To wrap up the review of the Enther FPV drone, we think this is truly a professional smart camera drone at an affordable price tag. Whether you're a first-time user and have no prior flying experience or looking to upgrade to a better one. The Enther FPV drone encompasses intelligent flight modes, advanced systems that offer precise and stable hover positioning.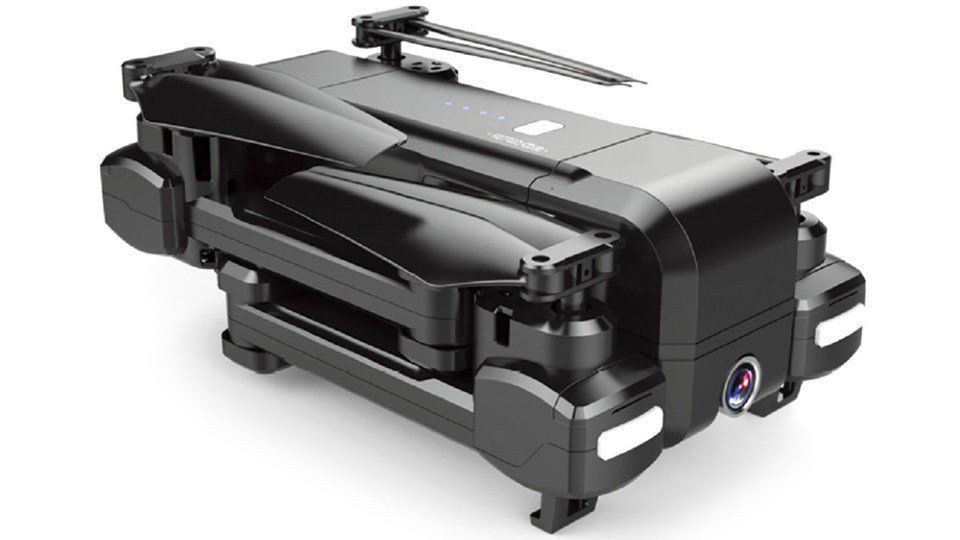 Not only that, but this drone is incredibly smart and capable of handling weather conditions surprisingly well due to its brushless motors. It offers the drone users the tool to beautifully capture aerial footage with its built-in 1080P HD camera. Most of the drones that are sold for under $200 don't achieve these kinds of image quality. Let's alone makes the Enther FPV drone one of the best camera drones for beginners and experience remote pilots.
If you're looking for a great quality drone that's packed with punches. This smart foldable camera drone is a perfect choice, to begin with. You can order Enther FPV drone by visiting here. We hope you found our Enther GPS 5G FPV drone review helpful and insightful. If you've any questions regarding this drone, feel free to drop a comment in the comments section below. Thanks for reading our review!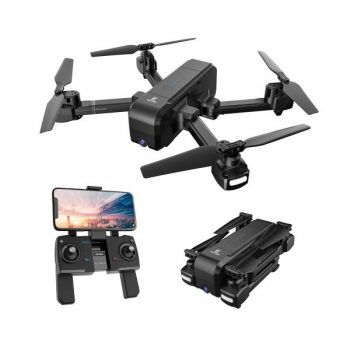 Last Amazon price update was: November 13, 2023 5:48 am
×
Product prices and availability are accurate as of the date/time indicated and are subject to change. Any price and availability information displayed on Amazon.com (Amazon.in, Amazon.co.uk, Amazon.de, etc) at the time of purchase will apply to the purchase of this product.
Editor's Review
The Enther FPV drone is a professionally crafted quadcopter packed with amazing features. It is the perfect choice for all levels, whether you are a beginner, traveler, or looking to upgrade to a better drone quality. This quadcopter features foldable motor arms that makes it easy to travel around the world. Not just only that, it is incredibly tough and resilient against impact. Coupled with 1080P HD camera, the Enther FPV drone delivers crystal clear images from the sky that will capture your audience attention. We think this is one of the best smart camera drones for beginners to experience drone users thanks to its advanced functions.
PROS
Integrated GPS/GLONASS systems for precise and stable flight controls.
Built-in 1080PD HD camera that beautifully delivers quality aerial shots.
Foldable motor arms that make it easy to store inside a travel case.
A professionally designed battery that lets you know how much juice it has left inside.
Long flying session and the cost to buy new batteries isn't that expensive.
Super easy to control even beginners can learn how to fly right out of the box.
Advanced intelligent flight modes that let you capture footage on preset flight paths.
Foldable remote controller with built-in mount holder for your favorite mobile device.
CONS
Doesn't comes with built-in obstacle avoidance sensors.
No 4K resolution option.
The geofencing feature isn't included.
Add your review