Today, we are going to talk about one of the best alpine white drones for beginners. Le-Idea is a growing drone manufacturer located in Guangzhou, China that is well known for its popular foldable camera drone, IDEA7 GPS quadcopter. Although the recent release of IDEA10 FPV drone appears to be poised as an alternative option to the more expensive DJI Spark. Beginners who are on a tight budget or simply just don't want to spend too much money on their first camera drone will find Le-Idea IDEA10 FPV drone appealing.
We decided to assemble an in-depth review covering the Le-Idea IDEA10 FPV drone after sifting the reviews and researching the product. The purpose of this review is to help shoppers like you make an informed decision. Throughout the review, we will be covering an important area of topics: inside the box, design, performance, features, remote controller, camera quality, and several other tidbits. If you have been vying to get your hands on one of these best smart camera drones, then stick with us to find out more about this foldable quadcopter.
What's Inside The Box: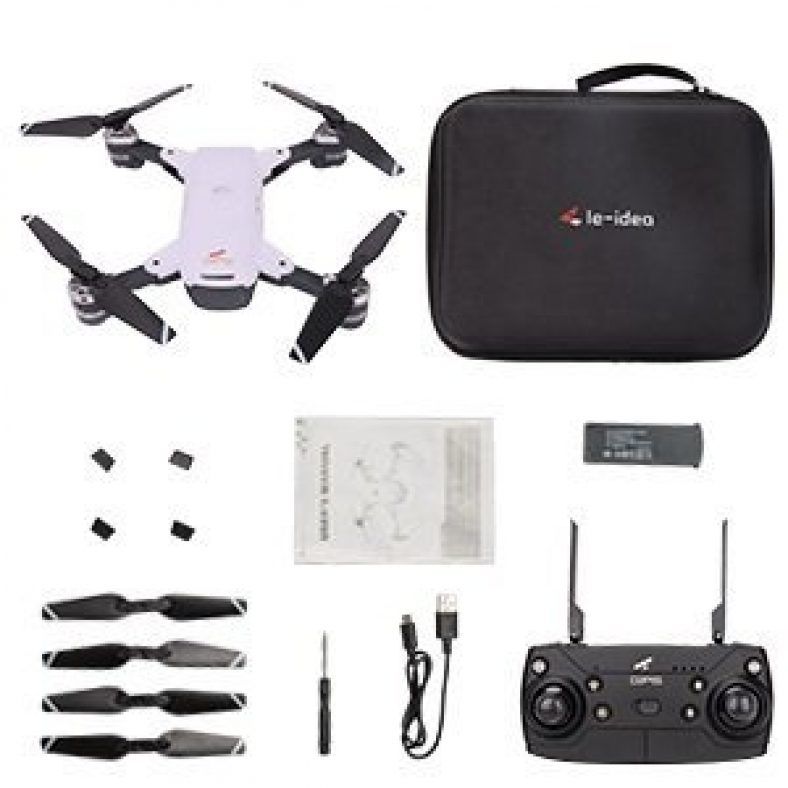 To kickstart the Le-Idea IDEA10 FPV drone review, we think it is important to talk about what's inside the box. Because you will be able to know what is included and what you need to purchase to complete the package. Fortunately, the Le-Idea IDEA10 FPV drone is a complete ready-to-fly quadcopter. Which means you can start flying the drone right away upon opening the package. However, the battery will be 50% charged, therefore we recommend charging the battery first. If you need to purchase additional batteries, you can easily do so along with the drone. One of the biggest perks that this quadcopter has to offer is carrying case. This means you can pack all of the accessories inside the bag and take it with you on the trip. This makes the IDEA10 FPV drone the easiest pick for beginners. Inside the package, you should expect the following accessories:
Package Accessories:
Le-Idea IDEA10 FPV Drone
Remote Controller with a Mount Holder
USB Charging Cable
Li-Po Battery 3.7V 1800mAh
Extra Set of Propellers
Screwdriver
Extra Set of Corner Pads
Two User Manuals
Carry Case
Design & Build Quality
At first glance, the Le-Idea IDEA10 FPV drone features jet white coating around its main body framework. With the lower half in gray which is made of thick and durable ABS plastic that encompasses sturdy for improved resistance against impact. Beginners who have never flown a drone before would be surprised to learn that this foldable quadcopter is incredibly durable of handling crashes and impacts with relative ease, which is something that the majority of drones under $100 don't offer the same ability.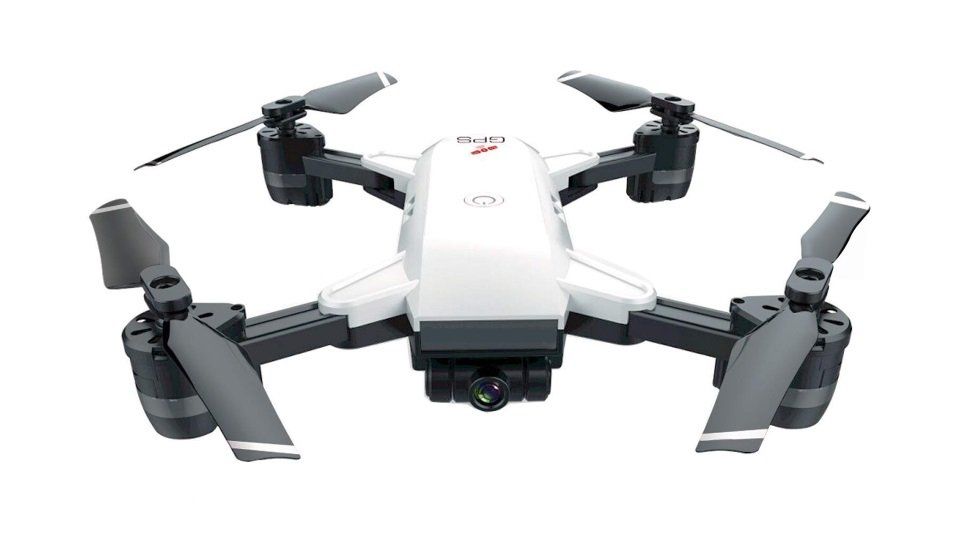 I especially like the fact that the propellers are designed with aerofoil technology. Which means the propellers can be folded to create additional space. Not just only that, it makes much easier to store the drone inside the carry case. Design-wise, it is a smart move from Le-Idea who focuses on two key features: portability and compatibility. The IDEA10 FPV drone clearly shows it is highly capable of doing so and that's what beginners are looking for: a perfect travel drone to start with.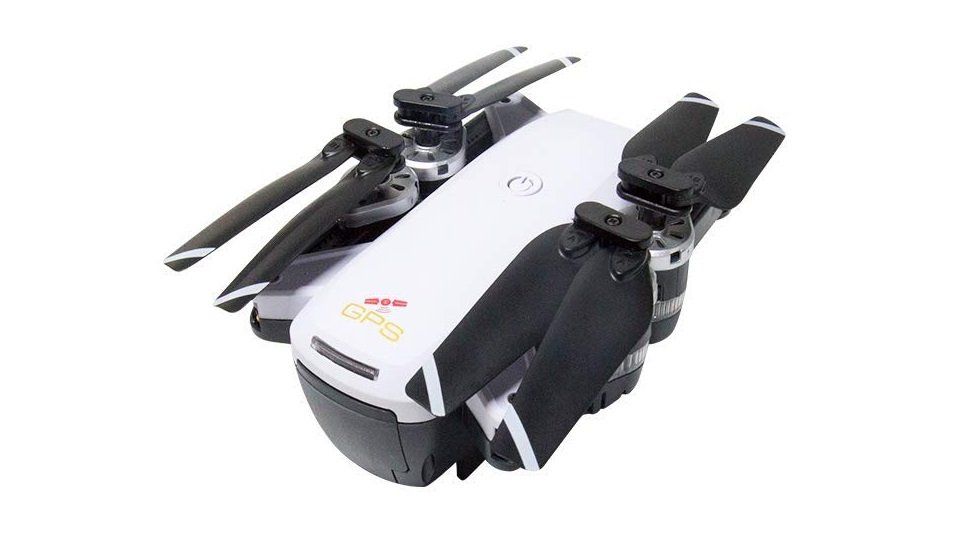 When the drone is folded, it does look a lot like DJI Spark from a certain perspective. But, I like the fact that IDEA10 FPV drone is a lot cheaper compared to some of these professional-grade camera drones whereas you can easily grab this copter with a built-in 1080P HD camera and an intelligent flight battery. At the price tag that IDEA10 FPV drone is going for, it is absolutely a steal for beginners and first-time flyers.
Flight Performance
I think everyone can agree that flight performance is the most important part of any drone reviews. Most of the time before we decide to shop, we want to know how well these drones perform. Fortunately, the IDEA10 FPV GPS drone is a high-performing quadcopter packed with awesome features. If it wasn't for its stellar design and carefully crafted components, it probably wouldn't provide the same capabilities as these high-end drones.
The fact that this drone has built-in GPS / GLONASS module means it can maintain precise and stable flight modes. This means you will be spending less time maintaining the drone's position, which is an issue for the drones under $50 that don't have a GPS module. Instead, you can rest at ease knowing that IDEA10 FPV drone will stay in one spot thanks to its built-in GPS module. In addition to that, it comes with a barometric hold that helps maintain its height level.
Since this drone uses brushed motors, we recommend that you give the drone approximately 10 minutes to cool off after every flight session. This is important so that you don't overheat the motors, thus extending its duration for longer use. As you can see in the video review, IDEA10 FPV drone is an incredible gadget that has a lot to offer for beginners. Performance-wise, this is one of the easiest entry-level camera drones.
Remote Controller
The remote controller that this drone uses isn't that advanced. It is similar to the ones that Eachine E58, X12 Drone and Eachine E511S use. Aside from the fact that the remote controller is the same. IDEA10 FPV drone offers a complete and simple remote controller that is easy to learn for beginners. In the middle, there is a power button that you simply slide to activate. The levers are used to command the drone movement.
Along with these basic functions to fly the drone, some features are located on the upper part of the remote controller. To capture pictures and videos, just push the buttons on the shoulders of the remote controller. Finally, you can insert your favorite personal mobile device on the mount holder. It can easily hold up to iPhone Max or any smartphones, but not tablets. The antennas, however, don't serve any purposes and are there mainly for appearance.
Camera Quality
When it comes to the quality of the camera, the IDEA10 FPV drone boasts a 1080P HD camera. Keep it in your mind that the quality of cameras in the best drones under $200 usually aren't that stellar. But the footage is manageable and still provides a crisp clear video for your audience. But, if you are serious about producing high-quality footage that beautifully captures the landscape, buildings, and all of this little stuff to grow your drone business. You would be better off buying either Mavic 2 or Inspire 2.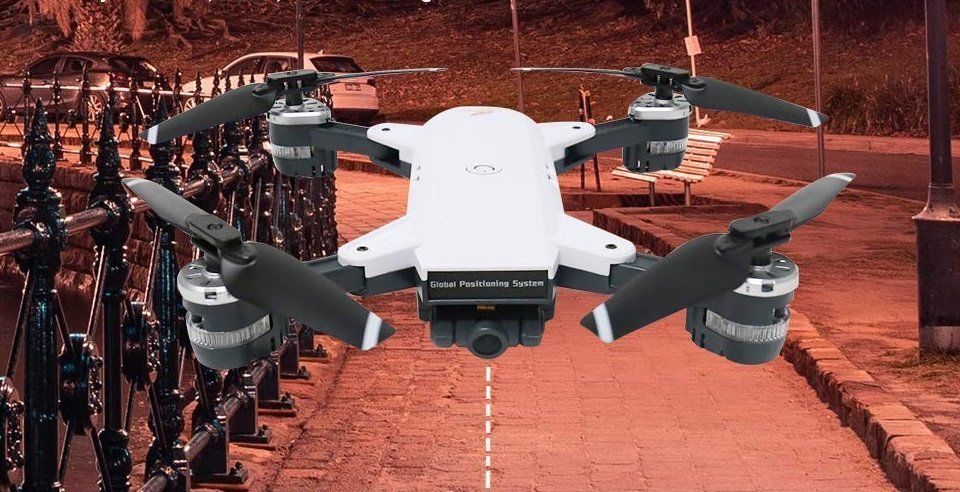 One of the main advantages is that the camera is mounted on a 2-axis gimbal stabilizer. Which means it can maintain relative smooth footage with minor vibration. Furthermore, the camera can be adjusted remotely so you always will have the opportunity to capture a perfect aerial shot from a certain angle. It also has a micro SD card slot that you can insert in the drone. For this foldable camera drone, we recommend purchasing a 64GB micro SD card to go with it.
Features
Often of the time, we think that the smaller and compact these drones are. The fewer features they have. But that's not always true. The drones are evolving at breakneck speed as they get smaller and provide more features. Which makes this one of the awesome gadgets to shop around the world. You would be surprised to learn the fact that the IDEA10 FPV drone has a lot of interesting features in store for beginners. Largely because of its GPS / GLONASS capabilities.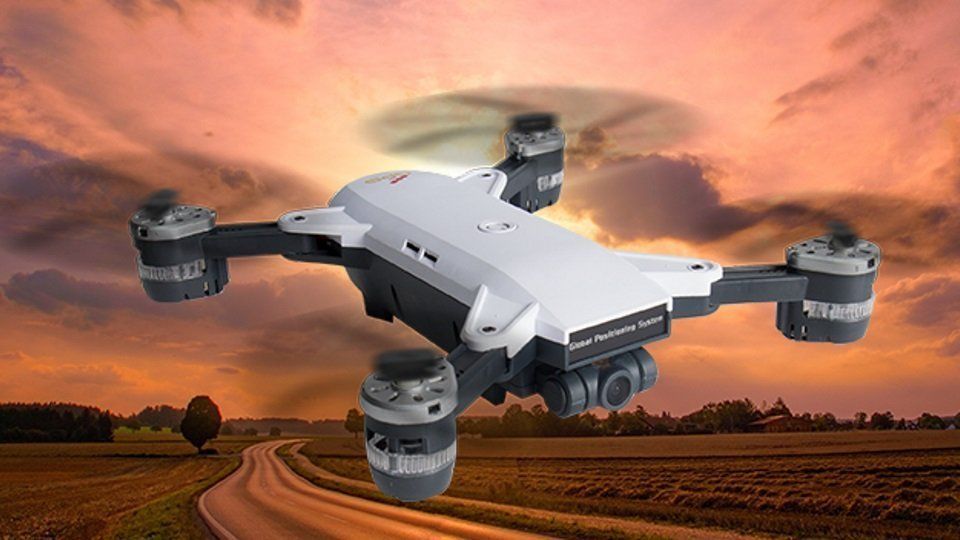 This smart camera drone can perform Follow Me and Custom Waypoint Mode. To use these features, just connect to the mobile device and activate these modes to record footage while quadcopter performs these duties autonomously. In addition to that, IDEA10 FPV drone can perform automatic takeoff/landing, smart return to home, low power alarm, out of range alarm, and more. Not to forget to mention that foldable is one of its biggest features that makes it a very portable quadcopter for beginners.
Customer Experience
With an average rating of 4.1 out of 5 in Amazon, 77% percent of the reviewers gave the Le-Idea IDEA10 4-5 star ratings. Customers are astounded and impressed by the drone's performance. The drone is easy to assemble and easy to fly. Drone operations are easy and straightforward, as well. Some even mentioned that photos are clear even in low light environments. Perhaps the only flaw they point out is the feedback noise. Other than that, they consider the Le-Idea IDEA10 as one of the best beginner drones out there in the market.
Final Verdict
As we conclude, we have several remarks to share with you about this quadcopter. So, let's recap what we talked about. This is a durable camera drone that comes with a good battery which provides up to 17 minutes of flight time. That makes it one of the best beginner drones for anyone who wants to be able to fly longer without the need to land and replace frequently. In addition to that, the IDEA10 FPV GPS drone has a maximum remote control distance of up to 300 meters.
We liked how compact and portable this camera drone is. It even comes with a travel carrying case that you can store all of the accessories and drones inside it for a simple road trip. The fact that the IDEA10 FPV drone is a ready-to-fly model with all the necessary accessories means maximum fun and enjoyment. This quadcopter went above our expectations and we are thrilled to say that we highly recommend IDEA10 FPV GPS drone. You can purchase the IDEA10 FPV drone here.
If you're looking for the next step up or even something less expensive, you could consider the Le-Idea IDEA 8 or the Le-Idea IDEA 20. One costs more and has additional features and the other has fewer features but is more affordable. All are fine choices, but this selection will enable you to pick the right drone for your current budget. Happy flying!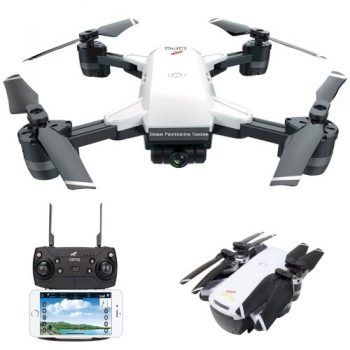 Last Amazon price update was: September 19, 2023 11:29 pm
×
Product prices and availability are accurate as of the date/time indicated and are subject to change. Any price and availability information displayed on Amazon.com (Amazon.in, Amazon.co.uk, Amazon.de, etc) at the time of purchase will apply to the purchase of this product.
Editor's Review
Innovative, compact, portable and super easy for beginners to learn how to fly. This smart camera drone features built-in GPS module that provides incredible aerial capabilities and awesome performance. Thanks to a number of features such as Follow Me and Custom Waypoint, you can easily command the drone to perform autonomous tasks delivering quality footage with its 1080P HD camera. Along with these advanced functions, its price tag is surprisingly reasonable for an entry-level camera drone.
PROS
Built-in foldable motor arms that focuses on compact and portability design.
Aerofoil technology on the propellers that makes it easier to take up less space.
1080P HD camera that does a great job at delivering quality aerial footage.
Impressive battery capacity which provides up to 17 minutes of flight time.
Simple remote controller with built-in foldable arms for holding mobile devices.
Affordable price tag, perfect for beginners who wants an easy camera quadcopter to start with.
Good remote control distance up to 300 meters.
CONS
The quality of camera is average.
Add your review
|
Read reviews and comments