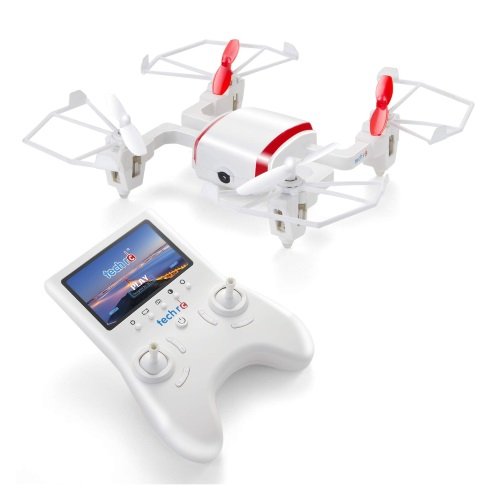 This drone is no longer available on the market. We apologize for any inconvenience it might have caused. - 2019.12.04
Did you know that there's another popular drone equipped with a camera for beginners? Introducing the Tech RC Mini drone. This brand new aerodynamically designed drone is filled with nifty tricks and aerial capabilities. If you're vying to become an aerial photographer, perhaps to grow your own drone business with one of these popular professional-grade camera drones but you just don't have enough capital yet. Or you just want to check out the best drones under $200 first before you become comfortable flying popular drones under $1000.
All of these are perfectly valid reasons and that's fine. However, if you're new to the world of drones and don't have any prior flying experience. There are plenty of reasons why you definitely would want to check out the Tech RC mini drone first. These drones under $100 make an excellent training quadcopter for beginners. First of all, they're inexpensive, and if they somehow break, you don't lose that much. Secondly, they provide you a complete hands-on flight experience that you'll develop piloting skills over multiple flight sessions.
This is why we assembled an in-depth review of the Tech RC Mini drone to help shoppers as you become informed of this brand new popular quadcopter. In our Tech RC mini drone review, we're going to talk about the details such as camera quality, features, design and specifications, performance, and the like. At the end of the review, you'll be able to decide whether this drone is a perfect match for you. So, without further ado let's get the propellers chopping!
Inside The Box
Getting to know what parts come inside the box is probably one of the most important buying factors when it comes to checking out which drone you want to shop for. Fortunately, the Tech RC mini drone is an RTF (ready-to-fly) model. Which means you can fly the drone right out of the box upon opening the package. Although, the battery would be half charged. If you truly want to maximize your flight experience, I highly recommend charging the battery first before you fly the drone.
Inside the box, you'll get a drone, an extra set of propellers, a remote controller, double batteries for the drone, a rechargeable battery for the remote controller, two USB chargers, a memory card reader, and finally a user instruction manual. These are the accessories that you should expect upon receiving the package.
Squarely Designed
First of all, the Tech RC mini drone comes with a different design appearance that makes it unique apart from its competitors. It doesn't look like any standard toy-grade drones such as the Eachine E61H or HS150 Bolt Bee. This makes it a potential popular drone among beginners. This quadcopter is crafted of durable ABS plastic that makes it tough to break. Thanks to a thick shell, the Tech RC mini drone is capable of handling crashes with relative ease. This makes it a perfect entry-level camera drone for beginners.
Along with the fact that this drone is durable enough, it comes with built-in propeller guards. These guards act as a shock absorber that provides an additional layer of protection. Which means beginners don't have to worry about damaging the propellers on impact. This is because the guards will absorb the majority of the shock before it even impacts the propellers. In the front, the Tech RC mini drone is outfitted with a 720P HD camera. It's capable of live streaming video directly to your mobile device.
Although, a minor design drawback is that the Tech RC mini drone doesn't come with soft rubber pads like other well-known quadcopters does such as the X12 drone and MJX Bugs 6. Which is rather a little bit disappointing. On the positive side note, this mini-sized drone is equipped with LED lights that provide support for visual assist positioning.
Performance
As I mentioned previously, the Tech RC TR002 mini drone is an incredibly sturdy quadcopter packed with features. Performance is another important thing that you should also consider before buying. The drones under $50 generally have limited performance such as short flight time and control remote control distance. If you're looking for smart camera drones that possess amazing performance, you'd be better off checking out Potensic Mirage D50, HS700 Ophelia, and Contixo F24.
The Tech RC TR002 Mini Drone features a built-in speed mode that offers a smooth and gradual learning curve for beginners to master their piloting skills. When you fly this drone for the first time, it'll be at the slowest speed setting. Therefore, I highly recommend that you start flying this drone indoor as it won't be impacted by external weather factors. Once you understand the basics of flight controls, you can increase the speed mode and fly outdoor with relative ease as it can handle light to moderate wind easily.
Check out the video above to see the Tech RC TR002 mini drone performance in action. As it will give you an idea of how well it performs and its aerial capabilities. In the next part of the Tech RC TR002 mini drone review, we're going to talk about its camera quality and FPV feature mode.
Camera Quality & FPV Mode
One of the most notable features that this Tech RC mini drone brings to the table is a remote controller with a built-in LCD screen. It uses 5.8G frequency transmission systems which is much faster compared to these drones that use a 2.4G system. Because of that, it ensures the framerate is smooth as possible while delivering footage in a clear 720P high-definition resolution setting. This means it's possible to fly the drone in First Person View mode easily.
This makes the Tech RC TR002 mini drone a serious competitor against other drones that don't use the upgraded 5.8G frequency transmission systems. Usually, that feature can be found on racing drones since they're widely popular for lighting fast quadcopters. The controls for using the camera feature is super easy to learn that a beginner wouldn't have any issue capturing footage. Thanks to the simple and intuitive controls that the remote controller has to offer.
Remote Controller, Crafted for Beginners
The Tech RC TR002 mini drone review isn't completed without talking about the remote controller. First of all, this might look bulky and intimidate some of you. But don't be afraid, this remote controller is straightforward and simple. It doesn't have complex buttons or anything like that. These buttons come with the inscription on it that makes it easy for beginners to understand what each button does.
To operate the remote controller, all you need to do is insert a rechargeable battery that is included in the package. The battery is good for up to 30 – 35 minutes per charge depending on how long you use it. The levers are clearly visual and to adjust the drone's stability, simply press the trimming buttons to stabilize it. To capture footage, just press the capture button and you're pretty much set on becoming an experienced aerial photographer.
Final Verdict of Tech RC Mini Drone Review
To wrap up the review of Tech RC TR002 mini drone. I gotta say that this is one of the best entry-level camera drones for beginners. It is simple and doesn't come with complex functions or anything like that. One of the main advantages has to be the fact that it uses 5.8G frequency transmission systems for an incredibly smooth first-person view experience.
Furthermore, this mini drone can perform a wide range of aerial maneuverability to impress your audience such as 3D flips and making sharp turns around close quarters. Despite its small size, this drone is built with durable material that makes it a very sturdy quadcopter for beginners that will last a good time. You can shop for Tech TR002 Mini Drone on Amazon.
Editor's Review
The Tech TR002 mini drone is one of the best smart camera drone with an affordable price tag crafted by the manufacturer themselves. It features many awesome functions as well beginner-friendly buttons that makes flying experience much more enjoyable and funnier. With a good flight time and remote controller distance, this a drone that definitely would bring joy for beginners and kids.
PROS
Comes with double batteries, each gives approximately 8 minutes of flight time up to 16 flight minutes per session.
The remote controller features built-in LCD screen for incredible responsive livestreaming video.
Professionally crafted with durable ABS plastic that makes it tough to break, a perfect choice for beginners.
Has built-in 720P HD camera that beautifully captures footage from aerial perspective.
Propeller guards are built-in that provides additional layer of protection against impact.
CONS
Remote control distance is limited up to 100 meters.
The quality of camera is average, it is not that bad, but not excellent in either way.
Add your review