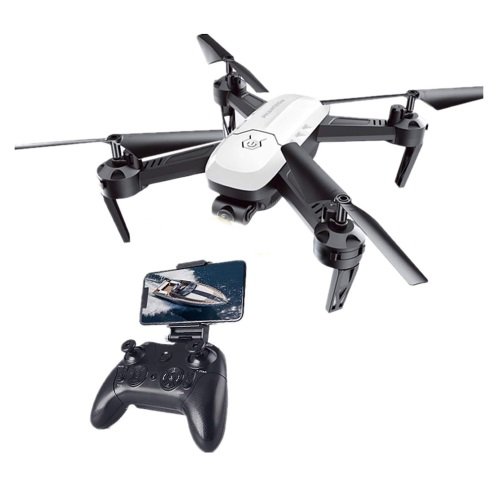 This drone is no longer on the market. We apologize for any inconvenience it might have caused. - 2019.12.04
If you thought that the Potensic Mirage Pro D50 is an excellent drone but its price tag isn't what you would have hoped for. We recently found another drone that exactly looks like a clone of Potensic Mirage D50 quadcopter basically at one-third of its original price tag. Although, it comes with fewer features at the price of being one of the best training drones for beginners under $100.
Through researching and sifting the customer reviews, we decided to assemble an in-depth review of WomToy RC drone. This is a brand new quadcopter featuring professional appearance and design that is worth checking out. Whether this drone is the perfect pick for you or not, read our review to find out. During our WomToy RC drone review, we will go through all the important details that you need to know.
If that is anything you should know about the drone product reviews, you should know what is included in the box, performance, design quality, features, camera quality, and features too. Be sure you are sitting comfortably because I am going to share why WomToy RC drone is an amazing quadcopter for beginners. Stick with us and learn more!
Revealing The Package Content
Before we get to the gritty nitty details about this drone. I think it is important that we talk about the parts and accessories that are included in the package. The WomToy RC drone is a completed and Ready-To-Fly (RTF) model. For some of you who don't have any prior flying experience with drones, RTF means it is already ready to fly right out of the box. Although, the battery would be half-charged. If you want to ensure an optimal flight experience, I highly recommend charging the battery first.
Inside the package, you should get a drone with a battery and a remote controller. Along with these main parts you need to start flying the drone, you should also get a USB charging cable, extra propeller blades, a screwdriver, and an instruction manual. Not to forget to mention that the WomToy RC drone also includes a brack designed to hold your mobile phone such as iPhone 7 Plus.
Design & Build Quality
Now we are going to dive into the details. First of all, this quadcopter certainly looks like it is professionally crafted. Which is a major plus when it comes to shopping for the best drones under $100. I liked how WomToy RC drone is built and designed with a chrome white cover on the top. It also has a visible power button that makes it easy to power on the drone whenever you want to start flying.
Furthermore, this drone uses durable ABS plastic that makes it incredibly tough to break. Thanks to its thick hull framework, it can withstand several beatings with relative ease. Underneath the motor arms, it has built-in LED lights that act as an important feature for assisting with visual positioning. In the front, the WomToy RC drone is outfitted with a 720P HD camera which allows beginners to practice and hone their aerial photography skills.
In the rear of the drone, this quadcopter uses an incredible 1200mAh battery that provides a maximum flight time of 15 minutes. Which is pretty much the longest a drone can fly in its price range. Most of the drones under $50 usually have a maximum flight time of 7 minutes. But WomToy RC drone doubles the flight time that makes it a popular competitor among beginners and recreational pilots.
Performance
In the next section of WomToy RC drone review, we are going to talk about is performance. This quadcopter is packed with a powerful propulsion force that helps it fly outdoor with minimum difficulty. As I mentioned previously that WomToy RC drone is uniquely designed that makes it simple and easy enough for beginners to learn how to fly. A most notable feature is an adjustable speed setting that allows beginners to learn the basics of flight controls.
Thanks to built-in upgraded 9-axis gyroscope stabilizer, the drone is both incredibly responsive to flight controls and can fly with precision. If you are looking for a camera drone that is easy to fly. The WomToy RC drone encompasses these beginner-friendly functions to ensure a smooth flight experience. Furthermore, it comes with important features such as altitude hold function and headless mode for a much simpler flight mode.
Remote Controller
On the first look, the remote controller does look like an Xbox One controller. If you have experience playing video games, then these controllers should come across to you naturally. Flying the drones is similar to playing video games, except you are flying a real drone for recreational. Out of all these drones like the Eachine E61H and SS41 Beetle, the WomToy RC drone has one of the best designed remote controllers. Seriously.
The levers are located on the upper top that allows beginners to command the drone. The trimmers are located on the bottom which you can use to adjust the drone's stability. That feature is should the drone start flying unsteadily. Simply apply to trim to help balance its gyroscope out. Furthermore, its advanced functions such as the ability to perform a 360-degree flip, automatic landing/takeoff, altitude hold, headless mode, and capture footage are located on the sides. To power on the remote controller, simply push the middle button to activate it.
Final Verdict of WomToy RC Drone Review
Now that we have covered all the points for WomToy RC drone. I have several remarks to share with you what I think of this brand new popular drone. I think the WomToy RC drone is uniquely designed packed with features at the same time, it has incredible characteristics such as amazing durability and superior flight time. You normally don't find these specifications in these drones under $100.
Let's alone why it makes the WomToy RC drone a very popular drone for beginners at its affordable price tag. It also comes with a 720P HD camera that beautifully captures aerial footage. Not to forget to mention that this quadcopter also makes a great training drone for beginners who are vying to become an aerial photographer. Which is a great way to get started before you plan to buy one of these professional-grade camera drones?
WomToy RC drone can be bought on Amazon for ($59.99). If you have any questions about this drone. Please feel free to drop a comment in the comments section below. I hope you find our WomToy RC drone review helpful and insightful. Also, if you are new to flying drones. Be sure to check out our guides & tips which contains a curated list of the best guides for beginners. Happy flying and fly smart!
Editor's Review
Out of all these camera drones, the WomToy RC drone is an incredible popular and easy to use quadcopter for beginners. Thanks to its packed features, amazing battery flight time and good flight controls. Beginners and kids can rejoice with how easy it is to fly WomToy RC drone. A battery on single charge provides 15 minutes of flight time which is amazing consider the price tag that this quadcopter goes for. Furthermore, it has built-in 720P HD camera that beautifully delivers aerial footage. A perfect drone for beginners and training you to become an aerial photographer.
PROS
Incredible powerful flight battery that provides up to 15 minutes per charge.
Crafted with durable ABS plastic that makes it tough to break, suitable for beginners who wants a sturdy quadcopter.
Built-in Camera that delivers aerial footage to your smartphone.
Affordable price tag that makes it easily accessible for beginners.
Packed with ton of fun action features that makes it enjoyable, yet simple for beginners.
A great drone that looks like a clone version of Potensic Mirage D50 Pro
CONS
The remote controller might look complex due to many functions, but after practicing it will become easy.
Add your review