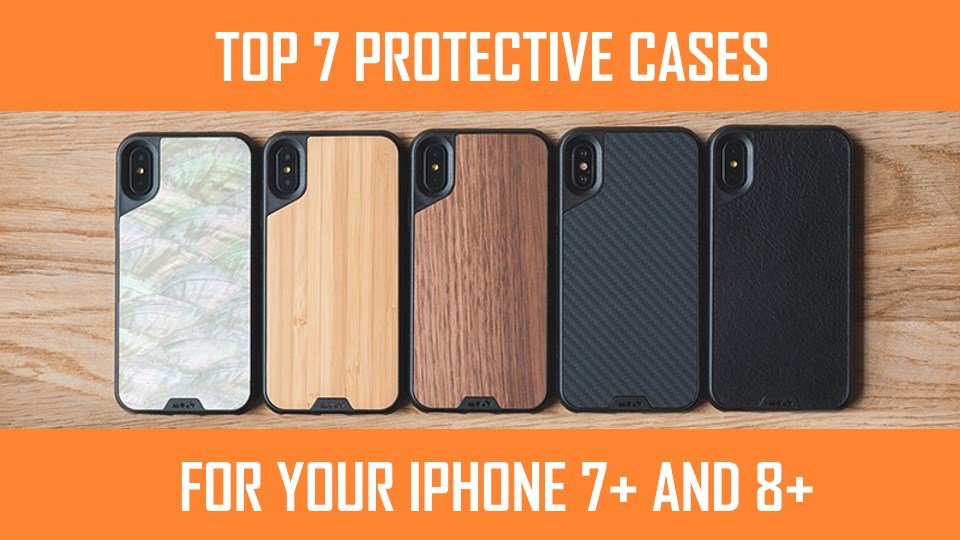 The Apple's iPhone is the most beautiful device. However, beauty can be quite fragile. If you work outside for most of the time such as adventuring or dropping your phone often. Then, you should think of investing in a durable, tough and rugged protective cases that can take beatings. We have gathered some of the best and toughest protective cases just for your iPhone 7 Plus and 8 Plus. These are the best protective cases you can find around here. Some of them feature drop protection as well weatherproof, and some comes with both. If you want to protect your iPhone in any of these situations, these cases can do the job.
The links below will take you to the best rugged phone cases for iPhone 7 Plus and 8 Plus. Read and learn how stringent some phone case manufacturers can be with the rugged case testing. Furthermore, you might want to check out our best smartphones case just for iPhone 7 Plus only. Currently, I recommend list of the best phone cases for iPhone 7 and 8 that you can explore. Without further ado, let's dive into the details.
1. Armorbox
You can easily tell this Armorbox case is tough by just looking at it. The Armorbox features protective and rugged layout that provides stable and firm grip. While it is not that bulky as the Defender, it is lightweight and professional crafted to ensure that all function works right. Plus, there are rubber enhancement on each corner that helps absorb the shock on impact and to prevent your iPhone from slipping off the surface. This dual-layer phone case is ideal choice for all-round protection.
2. Otter
This highly protective and rugged phone case features built-in screen protection layer and external handle. It is designed for users who work in environment that involves a lot of physical movement where it is likely you will drop or accidentally smash. The Otter is a waterproof, dustproof and shockproof phone case that does an incredible job at providing full protection for iPhone 7 Plus and 8 Plus. While it is ideal for users who work physical environment, it is still a great choice for those who wants extra protection.
3. Aegis
Looking for the best waterproof case that fits your iPhone 7 Plus and 8 Plus? Fear not, the Aegis is here to protect your smartphone from water. It is built to be water-resistant and splash-proof with a IP67-Certified rating. Which means you can dip it 1 meter deep in the water for up to 30 minutes. Not only it protects your smartphone from water, you can take pictures underwater which makes it an impressive case to have for underwater photography. Along with these feature, it is durable and scratch-resistant thanks to built-in protective screen layer.
4. Unity
You will not find any high-quality smartphone case like this for your iPhone 7 Plus and 8 Plus. The Unity features a rechargeable battery back cover for your smartphones. It can hold up to a battery capacity of 4000mAh so that you can use your mobile device for a longer time. This case was designed to address the shortcoming of phone cases not featuring rechargeable battery pack. So it was created to meet certain users who needs a case that fits the size. Plus to protect their smartphone with dual-layer protection. It also comes with a built-in protective screen and raised edges that stops it from slipping off the surface.
5. Transformer
Don't go outside without walking in style. The Transformer is a stylish case for your iPhone 7 Plus and 8 Plus. What makes this case so unique is retractable clip holster. It can be unfolded and clipped onto your belt for easy to carry instead of stuffing in your pants. This case is professional made with high precision that ensures all the ports and buttons are accessible. Like most cases, it comes with rubber pads on the corners that provides shock-proof and raised edges that prevents the screen from getting scratch. And oh, did I mentioned that the Transformer case comes in five different colors? Go stylish with the Transformer case today.
6. Hera
One thing that captures my attention with the Hera is its unique lattice design. It comes in 6 different colors and is designed with an all-round protective armor suit. The port is protected, but they made sure it can be easily accessed and the buttons functions as normal. The case's edges are raised slightly to provide protection for the screen. Plus, to prevent the case from slipping off the table. On final note, the case itself is incredible lightweight and portable that makes it easy to carry around with you. The Hera is an ideal smartphone case for people who wants to walk in style.
7. Unicorn Beetle
The Unicorn Beetle is a great protective case for your iPhone. Featuring a holster that you can attach onto your belt. This protective case comes with an all-round bumpers that acts as shock absorber, keeping your smartphone intact after accident drops or hitting against hard objects. Furthermore, its edges are raised to provide additional layer of protection for the screen. This is a nice feature to have that prevents the screen from getting scratched on the surface. I use this for my iPhone 7 Plus and really loved how it does a great job at protecting my smartphone. If I were you, this is the protective case I would recommend.
Why do you need protective cases for your smartphones?
Believe it or not, it is easy to break your iPhone by accident if you are not careful. I dropped my iPhone 7 Plus countless of times, from the couch, tables and slipping off my pocket. Yet, I am still using it and I am thankful because I use the protective case on it. Nobody wants to spent hundreds on a smartphone then get nicked within the same week. You certainly won't be happy with it. So, if you want to protect your investment. Then, you should buy a protective case for your smartphone.
This is the most smart and safest way to secure your smartphone and stretch your money over a long period. Based on the recommendations, we think these smartphone cases we listed are the best choices. You will have plenty of options to choose from a waterproof case to shock-proof case. Best of all, these cases comes in variety of colors so that you don't go out of style!
Will these protective cases fit the remote controller?
If you are planning to use your iPhone with protective case for DJI Mavic 2 or Spark remote controller. It depends on how thick the case is. If your phone case is really thin, then it won't be an issue. But for thicker phone case such as Unity or Unicorn Beetle, you will have to remove the case in order to mount the smartphone on remote controller. Alternatively, you can purchase mount holder extension for these drone remote controller and keep the case on it.