A few days ago, my X12 drone arrived in a small package for testing. The X12 drone made their first debut a few months ago and quickly picked up the steam. Since the release of the X12 drone (Check Price), it has become widely available in many different stores and is wildly popular among beginners. In a certain sense, the X12 drone does look like a DJI Mavic Air clone. But, it is smaller and much adorable. It doesn't have the same performance and capabilities its grand sibling does. However, the main reason why I assembled the X12 drone review is to help shoppers become informed about this product and whether you should buy one.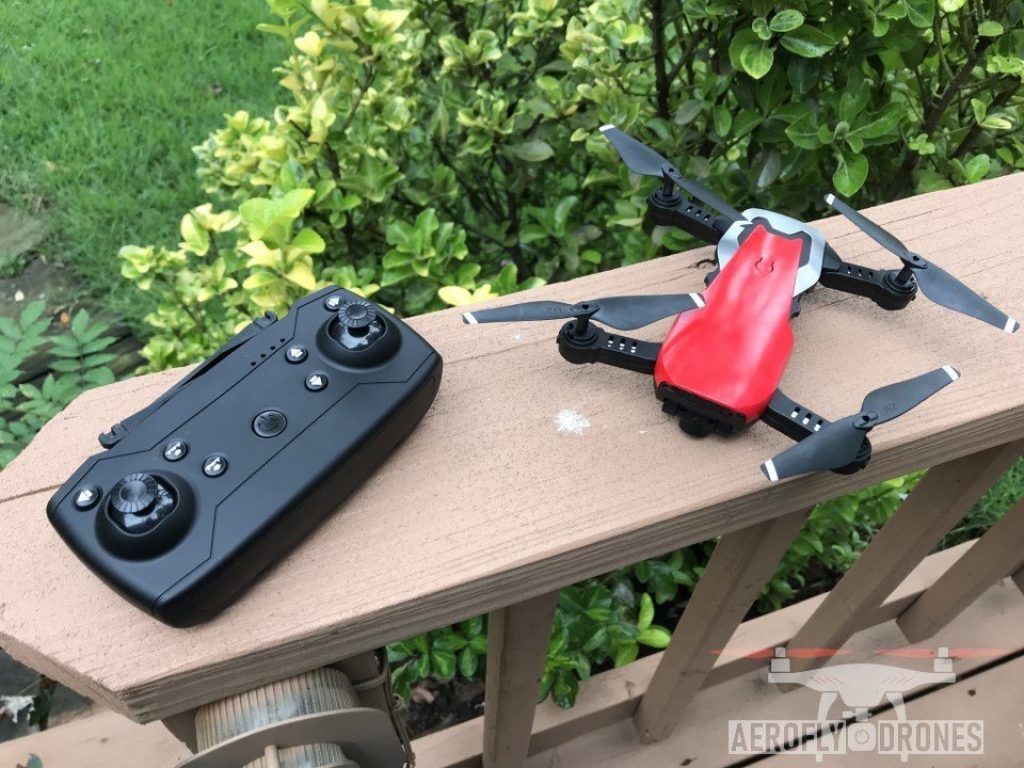 ⯅ X12 Drone with Remote Controller ⯅
On the front porch are an X12 drone and a remote controller. The drone comes in four color choices: red, blue, black, and white. As you can see, I got a red version since it is my favorite color. The four-color choices give beginners and experienced remote pilots plenty of customization. It is nice if you have a preferred color and want to choose it. The remote controller is commonly used by more popular drones such as the Eachine E58 and JDRC JD-20S RC. Overall, the design appearance of the X12 drone is impressive considering how it is only half the size of DJI Mavic Air.
Related Article: Best Drones Like DJI Mavic Air Clones Under $100 for Beginners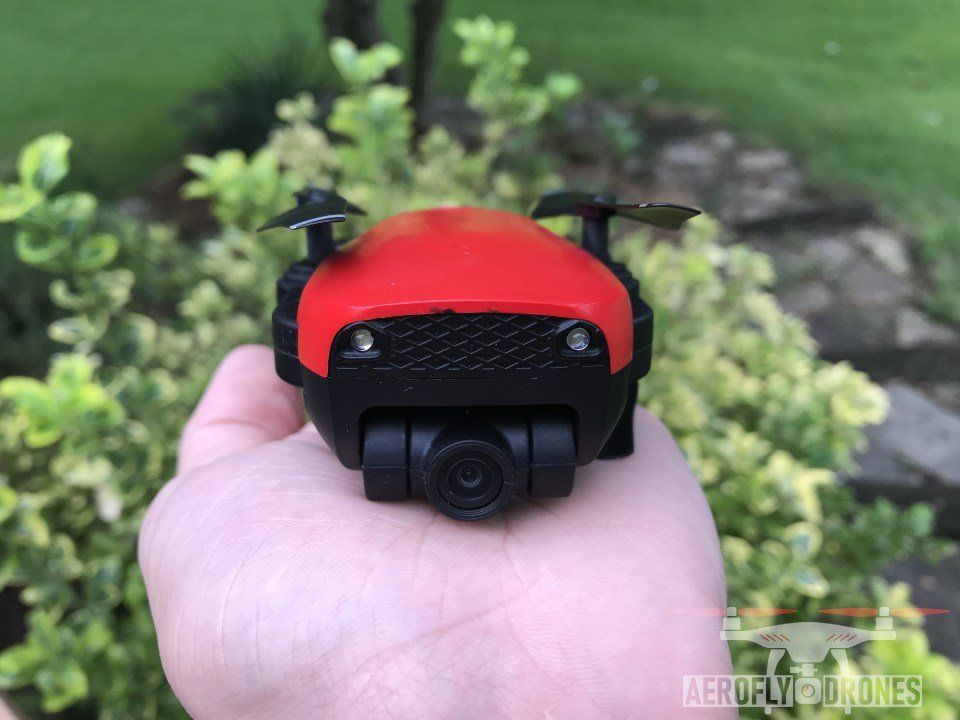 ⯅ X12 Drone Front Showcase with Camera ⯅
Although the X12 drone does appear to mimic its grand sibling, DJI Mavic Air, it doesn't have sensors at all. The LED lights are located on the front and back. In the front, they flash white that makes it a nice impression, especially when flying the X12 drone at night! On the back of the drone, the LED light flashes red that provides you status on the battery as well out of range and low power alarm.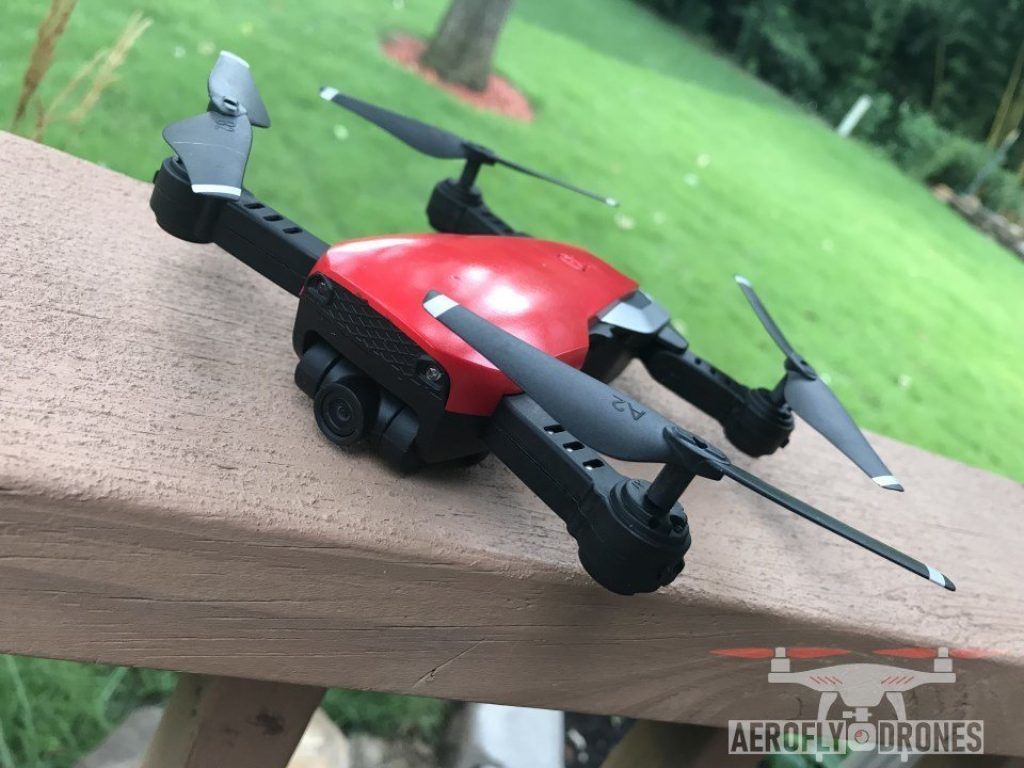 ⯅ X12 Drone Size and Durability ⯅
When the X12 Drone is unfolded, it can easily extend up to approximately two times its size. The propellers are well made with durable material. On my first few flights, I accidentally crashed the X12 drone into a tree. Thinking that the propellers have bent or broken into pieces. I picked up the drone and was surprised to see it hasn't sustained any serious damage. Aside from a minor white scratch on one of its propeller. Overall, I must say that I am impressed with its durability and quality. Professional craftsmanship right there.
Related Article: How to Buy A Drone: The Ultimate Beginners' Guide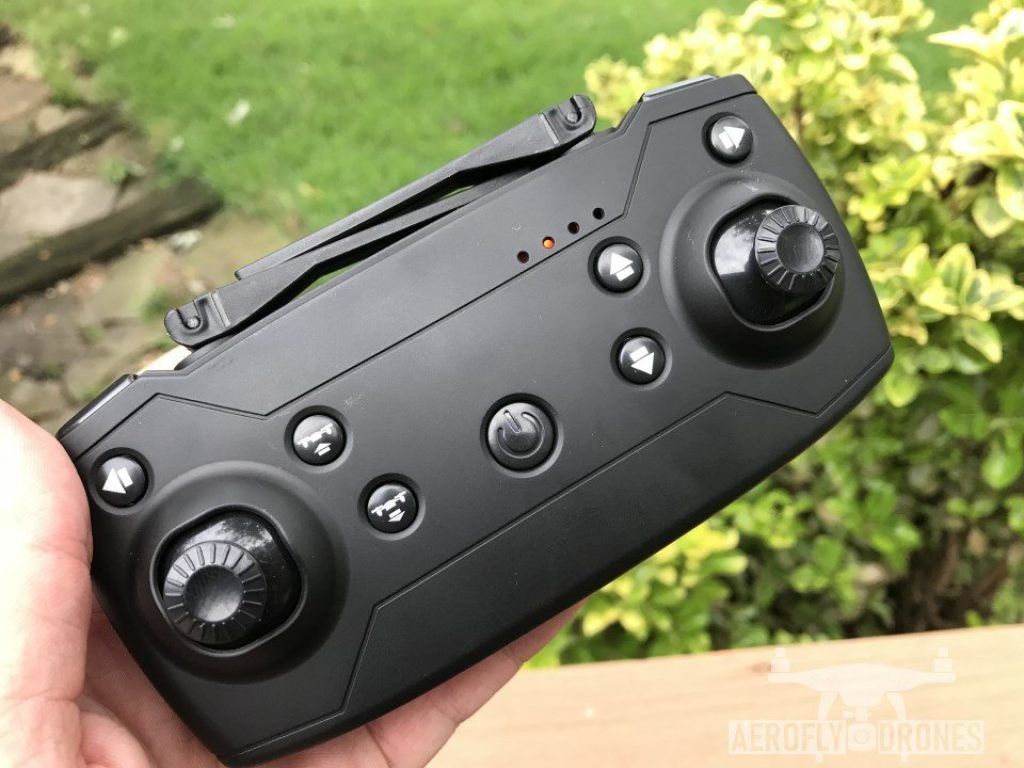 ⯅ X12 Drone Close-up of Remote Controller ⯅
The X12 Drone uses a remote controller that displays professional design and style layout. It has an inscription on the buttons which makes it very easy for beginners to understand what each button does. Still, I recommend that you read the instruction manual as it contains important information like where to download the app for video and such. In addition to that, the remote controller is comfortable and compact enough to bring with you anywhere you go.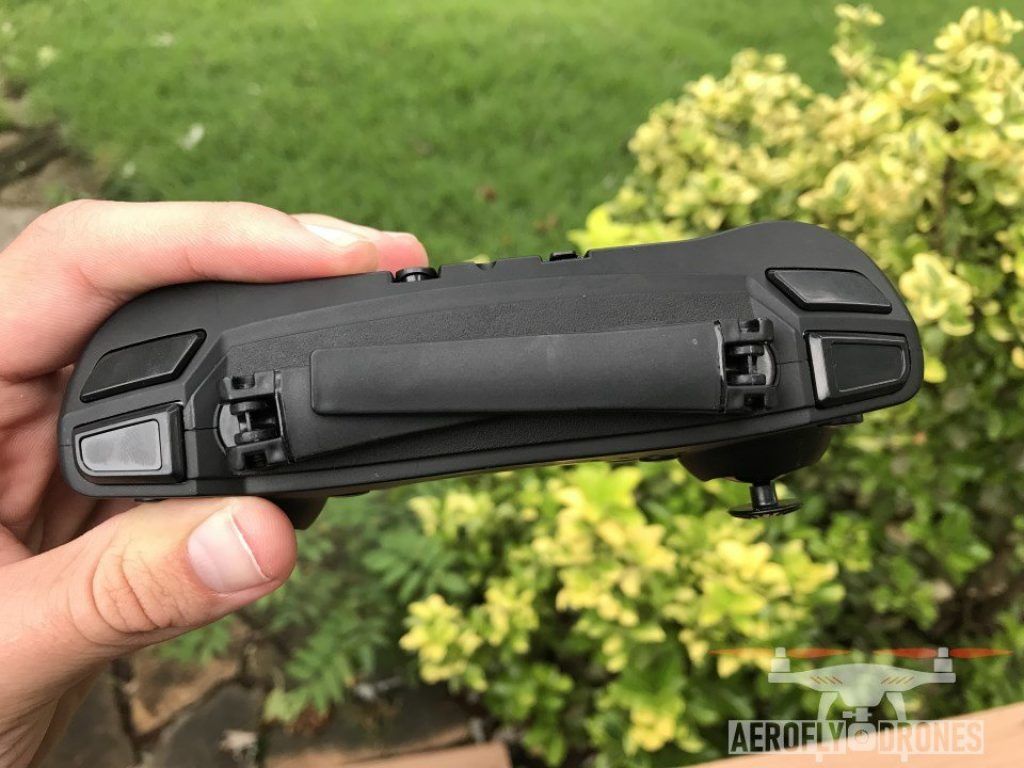 ⯅ X12 Drone Buttons on Shoulders of Remote Controller ⯅
Upon a closer look, the buttons on the shoulder of a remote controller don't come with the inscription which is a bit disappointing. But I will tell you what these buttons do. On the left shoulder, it is the speed mode. The speed mode provides a smooth and gradual learning curve for beginners to master their flight controls. On the right side of the remote controller is the 360-degree flip. Push the button to activate flip mode to impress your audience and get them coming to talk to you about the drone.
Related Article: How to Interact With Curious People While Flying Drones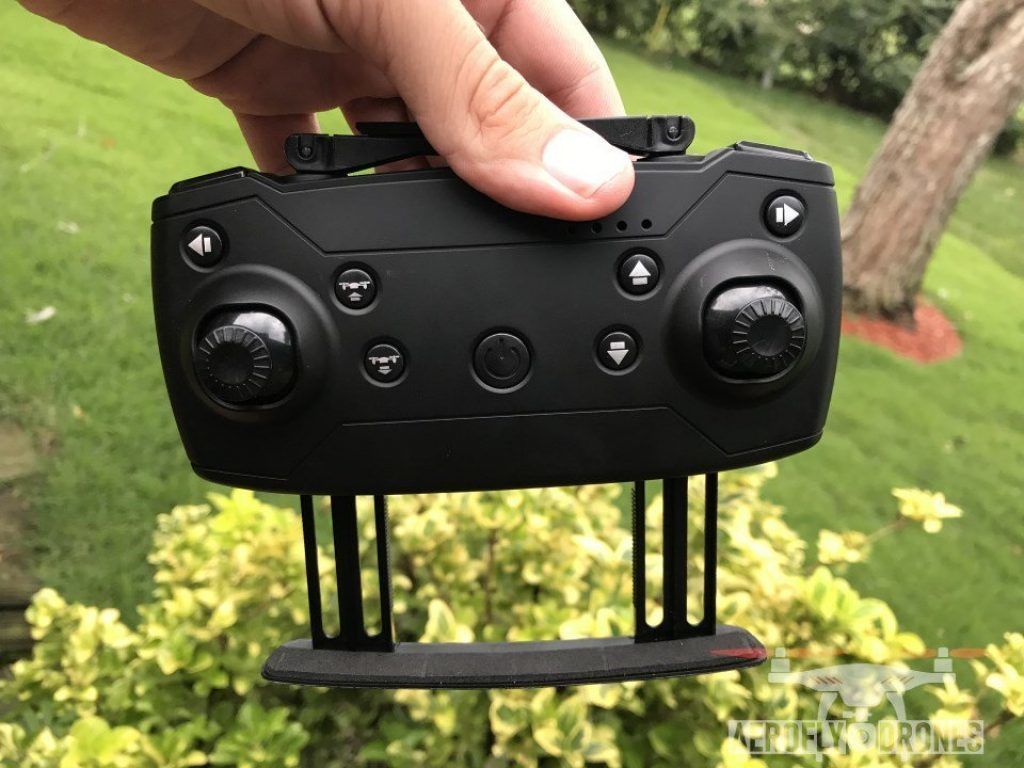 ⯅ X12 Drone Remote Controller with Mount Holder ⯅
Finally, the remote controller comes with a foldable mount holder. It is big enough to support smartphones with cases such as iPhone 7 Plus without any issues. I especially like it because you can insert your smartphone and connect to the X12 drone's camera to see a video in real-time. However, since it uses Wi-Fi connection to stream video, I don't recommend you to fly the drone in FPV mode since it is not reliable. So, I would suggest you keep a close eye on the drone and only check the video if you want to capture a picture or footage to share on your social media platforms.
⯅ X12 Drone Flight Performance Test ⯅
I enjoy flying drones, especially when it comes to taking it out for a spin. If you are shopping for a drone, you definitely will want to know how well a drone performs in terms of quality and performance. The X12 drone is one of several drones that is very capable of performing outside with relative ease. This can be done by cranking up the speed mode on the highest setting to maximize its performance. Of course, you can do it on the lowest setting, but the drone won't fare well in windy conditions. I also was impressed with how responsive and fast the X12 drone is. From a certain perspective, it looks like you are flying a high-grade drone that is probably worth at least a few hundreds.
Related Article: Drone Pilot Ground School Offers $50 Coupon Discount Off FAA Training Course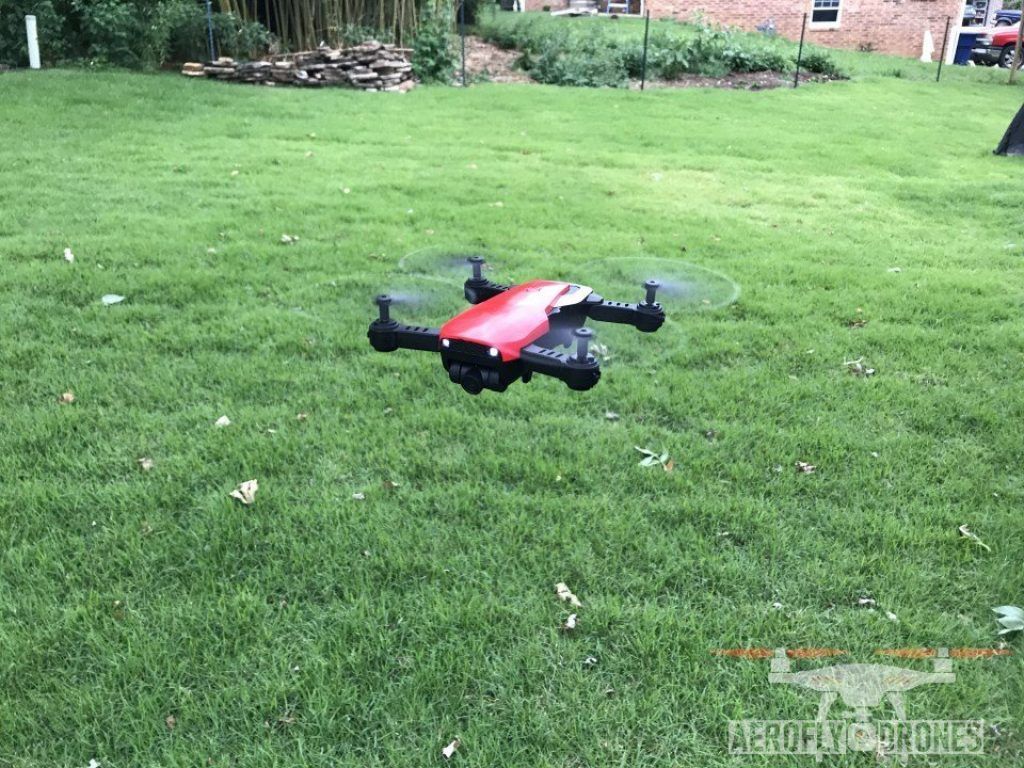 ⯅ X12 Drone Second Flight Performance Test ⯅
Performance-wise, the X12 drone comes with a wide set of features. The 360-degree flips worked like a charm. But, keep it in your mind as the battery gets lower. The effectiveness of a 360-degree flip gets weaker until the battery can't sustain enough power to perform the trick. That is perfectly normal and it is true for all the drones. These features aren't the only thing you will have available at your arsenal. With an app built for the X12 drone, you can easily gain more features like Waypoint Mode.
I had a ton of fun flying this drone (See Price) and watching it fly in the skies was the best thing ever. It gives you a different experience compared to other toy-grade drones. Because this quadcopter is designed with a modern style that sets it as a different contender. On the product page, it said that the X12 Drone can fly around up to 12 minutes. From my flight logs, I was able to fly up to 10 minutes depending on the aggressiveness and weather conditions. At this price tag, a 10 minutes flight time is quite darn good.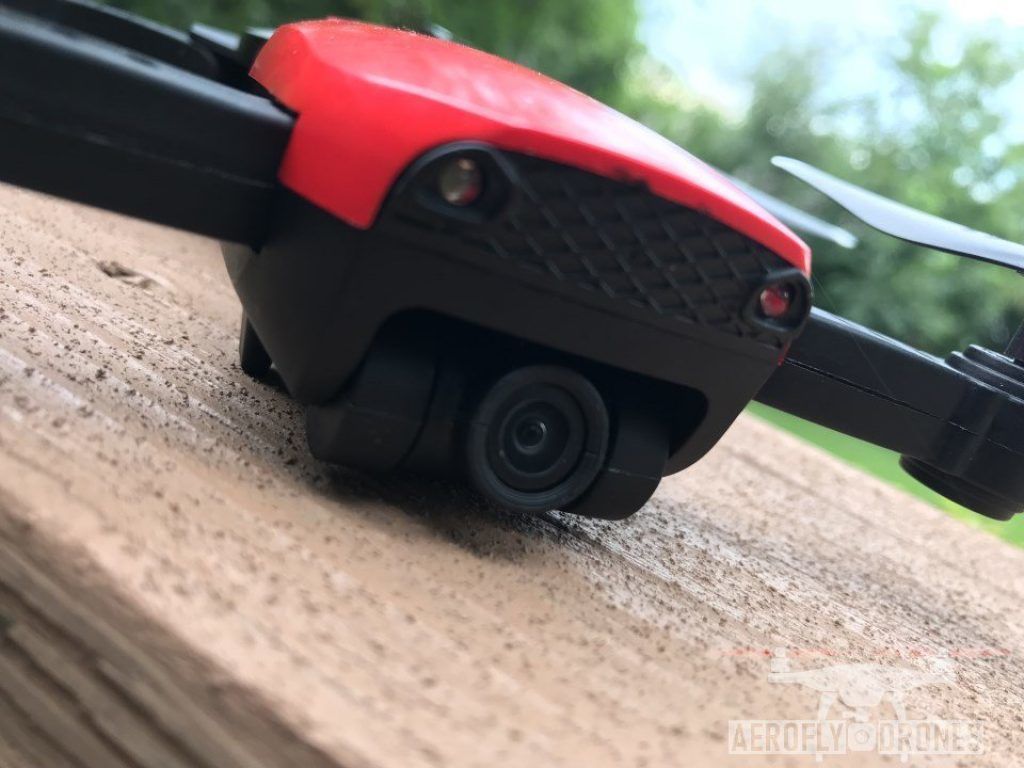 ⯅ X12 Drone Camera Quality ⯅
Let's not forget the fact that the X12 drone comes with a rotatable camera. Yes, you read it right. A complete 120-degree rotatable camera. It can be pushed either upward or downward to provide a full aerial overview. The only downside to this is that the camera can't be rotated automatically. You will have to adjust it manually. It is expected at this price tag. But for a flexible and rotatable camera, it does say a lot about this adorable foldable drone.
Furthermore, the camera is capable of capturing stills and videos. It features 2 million pixels (2 MP) that captures the images on a 720p HD. Also, the drone is featured on our top best drones with HD cameras. The quality of images and videos are quite nice for starters who want to learn how to develop and grow their aerial photography skill. It is not the best and won't catapult you into the professional field. But at the quality that the camera has to offer, it is a serious contender against the drones under $100.
Related Article: Best Professional and Commercial Drones That Makes You Money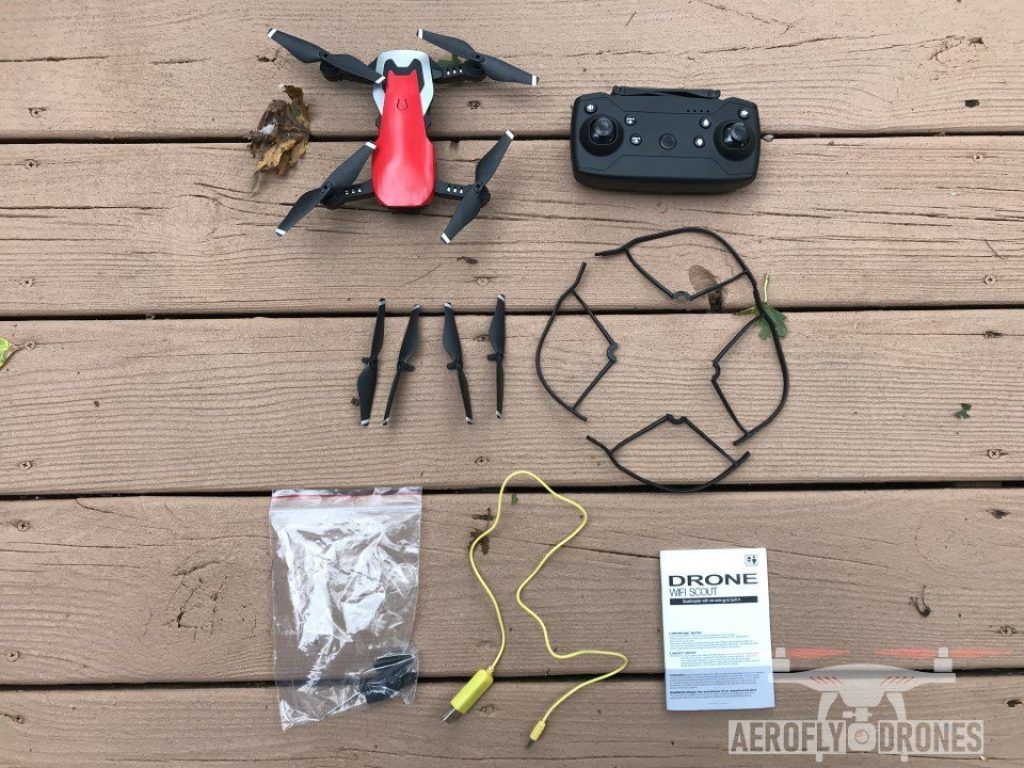 ⯅ X12 Drone Accessories and Parts ⯅
The X12 drone comes with a complete package. There are propeller guards that provide the drone additional layer of protection. It has nice add-on modules if you are flying for the first time and don't want to accidentally damage the propellers. Even though the material quality of the drone is well made, I would still encourage you to use these guards.
Along with these are spare propellers and leg caps. If a piece of leg cap comes out and you can't recover it. That is what they are for. Furthermore, they come with a USB charging plug for the battery. It uses a unique charging plug that can be found on its sideways instead of a traditional method. Of course, there is an instruction manual. Keep it in case you need help with troubleshooting issues or to order extra parts.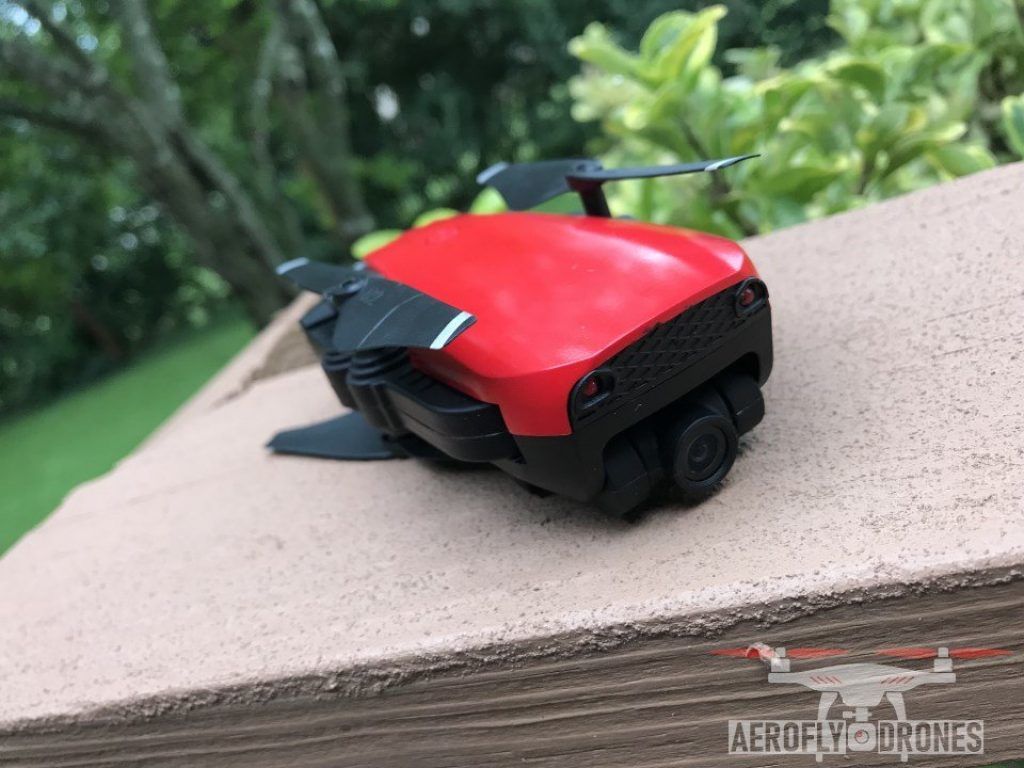 ⯅ X12 Drone In-depth Review and Takeaways ⯅
Before I conclude my X12 drone review, I have final remarks about this foldable drone. Overall, my impression and flight experience with the X12 drone has been very pleasant. Especially with how modern and stylish this drone is. You certainly won't find any drones that are stylish, elegant, and unique like this. Aside from its direct contender the IN 1802 drone. I liked how compact, portable, and flexible the drone is.
On its side, it is a bit heavier than a standard toy-grade drone. Because of the battery that carries a big capacity. But, it is good because it gives the drone natural resistance in windy conditions. You will not have a problem flying the drone both indoor and outdoor which is a big advantage. Furthermore, the design of X12 drones strikes a balance of friendly and professional appearance which is a big plus. Overall, I enjoyed this drone and highly recommend it to you as a starter choice for beginners and first-time flyers. You can check its price by visiting its official page below.
Set Lowest Price Alert
×
Notify me, when price drops
Set Alert for Product: Wifi Drone Quadcopter FPV X12 2.4Ghz RC 4K with 1080P HD Optical Flow Dual Camera Foldable for Adults, Remote Control Headless Live Video Wide-angle Live Video One-key Return, Altitude Hold (BLACK) - $49.99
Last Amazon price update was: May 13, 2022 7:37 am
×
Product prices and availability are accurate as of the date/time indicated and are subject to change. Any price and availability information displayed on Amazon.com (Amazon.in, Amazon.co.uk, Amazon.de, etc) at the time of purchase will apply to the purchase of this product.
Editor's Review
The X12 Drone is an incredible modern foldable quadcopter built for speed and durability. With mounted camera and flexibility, it can soar through the sky with ease. The perfect foldable drone for starters!
PROS
Compact
Easy to Use
Excellent Price Value
Good Wind Resistance
Beginner Friendly Features
Portable, Easy for Travel
Long Battery Life
CONS
Average Camera Quality
No Built-in GPS Module
Limited Control Distance
Add your review
|
Read reviews and comments