Ever since the popular DJI Mavic Pro was released, DJI introduced Mavic Pro Platinum which is supposed to be an improvement over the original one featuring quieter noise and longer flight time. We're very excited to get our hands on one of the Mavic Pro Platinum reviews. After a few weeks of testing out the drone, we're thrilled to share our in-depth DJI Mavic Pro Platinum review with you.
If you've been wondering whether the Mavic Pro Platinum is worth the upgrade over the original Mavic Pro. We think you'll find our in-depth DJI Mavic Pro Platinum review helpful and insightful. After all, it's safe to say that the Mavic Pro Platinum is crafted specifically for the filmmakers and professionals. This incredibly durable and lightweight drone features a foldable and compact design with impressive specifications.
Not to forget to mention that it comes with one of the best camera quality ever seen on a consumer drone. We can't help but fall in love with the DJI Mavic Pro Platinum drone. Stick with us and find out if this drone is worth the upgrade over the original Mavic Pro. Let's find out why you should be getting the Platinum version.
---
Inside The Box
To start our DJI Mavic Pro Platinum review, let's take a look at what is inside the box. There are different buying options to choose from when it comes to DJI Mavic Pro Platinum. In this case, we brought the Mavic Pro Platinum on its own, not the bundle version. But we'll go through the bundle options later on in this article.
The following components that came in the box of our DJI Mavic Pro Platinum: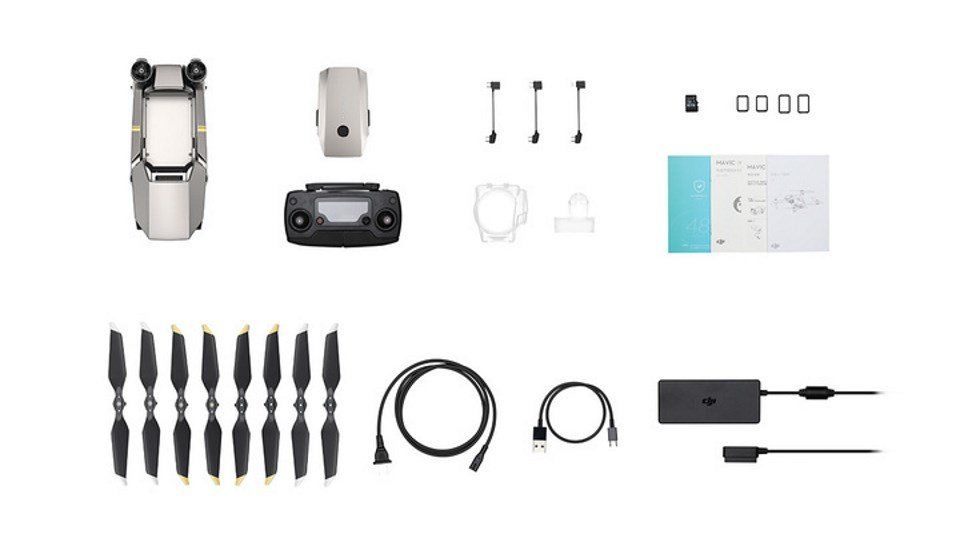 DJI Mavic Pro Platinum Drone
Remote Controller
16 Gigabytes Micro SD Card
Intelligent Flight Battery
Battery Charger
6 Propellers
User Manual
Support Documents
These are what you need to get the drone started and flying. It's the bare minimum to ensure a successful flight and we always recommend that you buy at least two or three extra batteries. We'll delve into the accessories later on in this article.
If it's your first time flying a drone. The user manual is quite simple enough to follow. Not to mention that there are a lot of tutorials on our site for several popular drones like the DJI Mavic Pro. If you're a visual learner, there are a lot of cool free tutorials on YouTube that'll help you get started with your brand new DJI Mavic Pro Platinum.
---
DJI Mavic Pro Platinum Review
Without further ado, we're going to dive into the fun details and stuff… the review itself!
Design
The DJI Mavic Pro Platinum features an impressive design that focuses on compact and portability. Its motor arms are built to be foldable that can be collapsed into the main body to reduce its dimension size almost like a lightweight brick. I'm impressed with how sturdy the motor arms are. Initially, I did feel a little worried because of how they looked a little flimsy but that's not the case at all.
However, there's a specific design that I'm not quite keen on. The drone's body and camera lay a little too close to the ground level for my taste. I'd recommend either landing pad or landing gear extenders if I plan to take off or land the drone onto beaches and snow. It isn't a surprise because of the DJI Mavic Pro Platinum's compact design that requires the drone to have a low profile.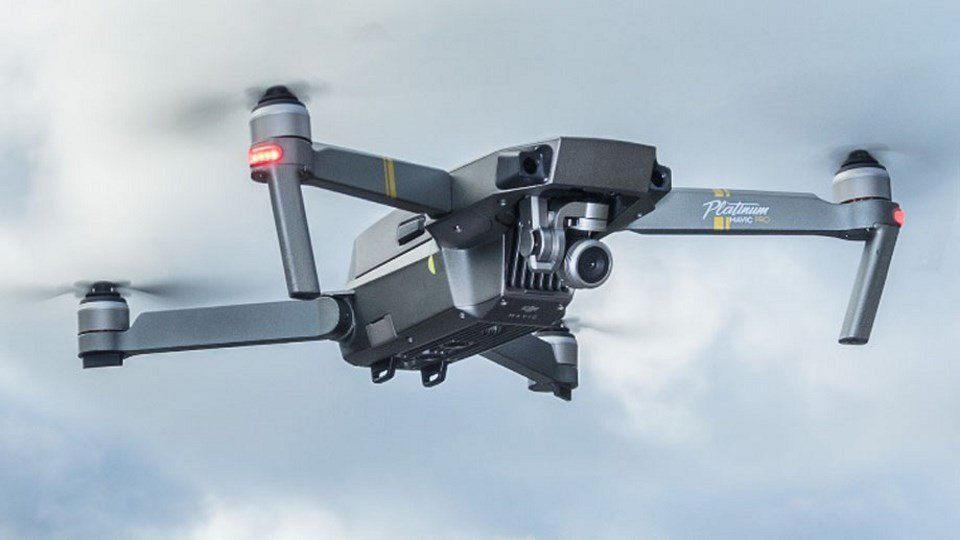 Aesthetically, the main difference between the original Mavic Pro and the Platinum version is the color. The Mavic Pro Platinum unsurprisingly changed to a more Platinum color, in contrast, the grey matter that the original model featured. But, I have to say that, aesthetically, it's one of my favorite drone so far crafted by DJI. It can be a little hard to get your head around how compact and portable this foldable drone is.
As a friendly reminder, the Mavic Pro Platinum only has a body dimension of 8.3 * 8.3 * 19.8 centimeters (height * width * length). This size of the drone makes it an incredible and popular choice for remote pilots who travel often. Not to forget to mention that it has a weight of 1.62 lbs which makes it amazingly lightweight and suitable for traveling on the ground.
Usability
When I first got my own DJI Phantom 3 Professional drone a few years ago. I was blown away by how incredibly easy and simple it is to fly the drone. The ease of use is definitely what DJI has continued working hard on and implemented on the DJI Mavic Pro Platinum. A drone that I dare to say, that can everyone can truly fly no matter their flight experience.
Hold on to that thought for a moment, maybe not for everyone. But this drone basically can fly on its own. It comes with beginner mode that's already set by default. It reduces the drone's remote control distance and slows down its maximum flying speed. This is a nice feature that lets you learn how to pilot the drone before you open it up.
With a push of a button, the DJI Mavic Pro Platinum can launch take-off and land automatically. This feature is especially useful for beginners who aren't fully comfortable doing it themselves. Not just only that, it simplifies the whole flight operation. When the drone takes off, it automatically records its position which is known as the "Home Point."
It's great because when you are flying the drone and need to recall it. You can activate Smart Return to Home button that will tell the drone to come back autonomously to the Home Point. This feature is extremely useful if you all of the sudden experience fly away or lost vision sight of your drone.
VPS & GPS
Like every other intelligent drone, the DJI Mavic Pro Platinum is equipped with both GPS and VPS positioning systems. The GPS utilizes satellites to pinpoint the drone's position and allow it to hover autonomously without having to sway. If you ever bought a cheap drone under $100 or even something in a mid-range around $200, without a GPS module, you probably know that keeping the drone steady is a challenge.
However, the most important feature is the Vision Positioning Systems or VPS. These are the little greenish-black sensors located on the bottom. They can detect the objects and maintain their position. But, you should be aware that the VPS only works when there is an object within 42 feet in its flight path.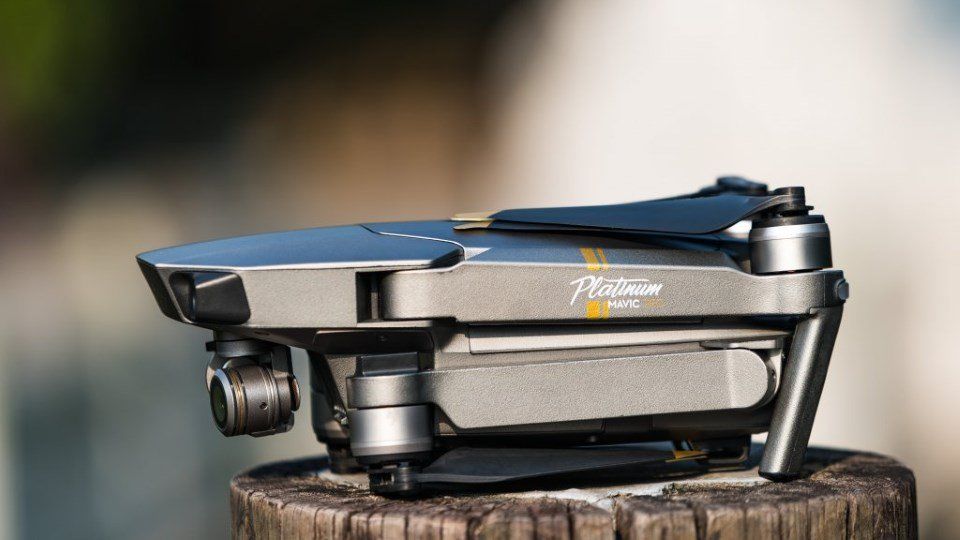 Intelligent Flight Modes
The intelligent flight modes are the main backbone where the Mavic Pro Platinum performs these beautiful, cinematic videos autonomously. This feature lets you command the drone to perform a preset flight path without the need for a second drone operator. They do make the shooting look awesome and completely professional. Luckily, the Mavic Pro Platinum is included with a ton of awesome intelligent flight modes.
So, I'll go over some of these useful intelligent flight modes that I tried out:
Point of Interest (POI) / Orbit Mode:
This is one of the first intelligent flight modes that was released by DJI and is still one of my favorite choices whenever I want to capture cinematic shots. The Point of Interest (POI) or Orbit Mode tells the drone to fly a 360-degree circle around an object while keeping them in the center of the frame.
To use this intelligent flight mode, you need to hover the drone over the object that you want to capture cinematic shots of. Then you fly the drone away to the desired radius. Once you're happy with the radius, select the direction that you want the drone to go (Clockwise or Counterclockwise). Next, you enter the speed you want the drone to fly at.
Once you activate the flight mode, the drone will automatically start circling the object. From that point, you can adjust the drone's altitude and even tilt the camera while it performs orbits. This feature performs incredibly well and is the best way for new drone pilots to start taking cinematic shots.
However, I did find that if the weather conditions are too windy. The drone will not fly at a consistent speed which can be quite a challenge. So to combat that, I let the drone fly around an object for few times while recording and found few good sections where the shots looked fluid and nice to work with.
Follow Me Mode:
To use this mode, you need to have a smartphone or tablet that has GPS enabled. If you're not sure whether your mobile device has that feature, please check out our master guide list of smartphones and tablets that works with the DJI Go 4 App. The Follow Me mode lets the drone follow the direction of the remote controller.
I liked this feature because the Mavic Pro Platinum can remain at the same distance as you activate the mode. It's a nice intelligent flight mode that lets me take beautiful selfie shots as well as capturing awesome aerial footage to use in the films.
Waypoint Mode:
Another favorite intelligent flight mode of mine. This mode lets you create your custom flight path where you want the drone to fly. It is one of the best intelligent flight modes for beginners as it lets them fly the drone without having to control manually. This feature works extremely well and travels each waypoint with precise. While it's a nice feature to have, it doesn't produce cinematic shots as the other two modes I just talked about.
As I mentioned before, I can talk about these intelligent flight modes all I want to. But, I found a great video on YouTube that explains each intelligent flight mode perfectly. You can check out below to see different modes to understand how to use them and how they perform. Thanks to Dronefly for the awesome video, check out their channel more useful and detailed tutorials.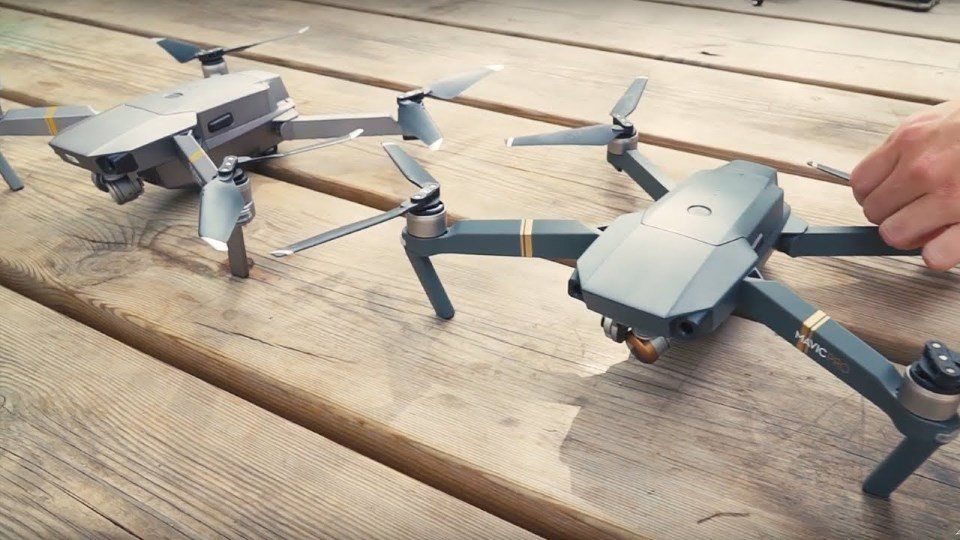 Obstacle Avoidance Sensors
The obstacle avoidance sensors are the signature feature of DJI Mavic Pro Platinum. This allows the drone to detect objects up to 49 feet away. What it does if you fly the drone too close to an object is that the drone will detect and slows down the flying speed. Until the sensors turn red, it'll come to a full stop.
Even though these obstacle avoidance sensors are incredibly handy, I don't encourage you to rely them on too much. I found that if you're flying the drone towards a solid object like the wall, the sensors works incredible well. But if you're flying outdoor where there are thin objects like a tree branch or mesh fence, the sensors probably won't pick it up.
This is a great feature to have and worth mention. Just be sure that you remain alert while flying and don't do anything crazy that might end up having your drone stuck onto a tree or chipped off propellers.
Camera
In the next part of DJI Mavic Pro Platinum, we're going to talk about its camera. This is probably one of the main reasons why you came here. At least, I'm happy to tell you that the quality of the camera isn't that disappointing. The Mavic Pro Platinum is equipped with the same, amazing quality camera as seen in the original Mavic Pro, and still delivers awesome aerial shots.
The Mavic Pro Platinum camera comes with a built-in 1/2.3″ CMOS sensor and a 28mm lens with a 78.8-degree field of view. However, the field of view is a little smaller than I'm used to given the fact that I'm used to the Phantom 4 Pro wide-angle. That being said, the Mavic Pro Platinum still provides plenty of room to produce landscape shots for framing.
Being able to shoot at 4K is a great way to future proof your work. This means you can use that footage for years to come when the high-definition becomes a thing of the past. Not just only that, the 4K videos lets you create cool stuff in post-production like the Vertigo effect. These video clips are stored as MP4 and MOV formats.
Even though so, the Mavic Pro Platinum drone still takes awesome photographs with its 12-megapixel cameras. The stills are stored as JPEG and DNG formats. The camera is mounted on a 3-axis gimbal system that helps keep it stable while you are flying the drone for smooth aerial shots.
Furthermore, I found that the automatic white balance isn't the best feature. In certain lighting situations, I got some blue tint on my footage. So to avoid this, I manually set the white balance myself.
Remote Control Distance & Flight Time
We don't see any improvement to the range of DJI Mavic Pro Platinum which still has a maximum remote control distance of up to 7,000 meters. This foldable drone still uses the DJI's latest technology called OcuSync video transmission systems. It's the feature that lets the drone fly at a vast distance. You also can use a signal range extender to enhance the connection for stable and smoother feedback from the drone's camera to your mobile device.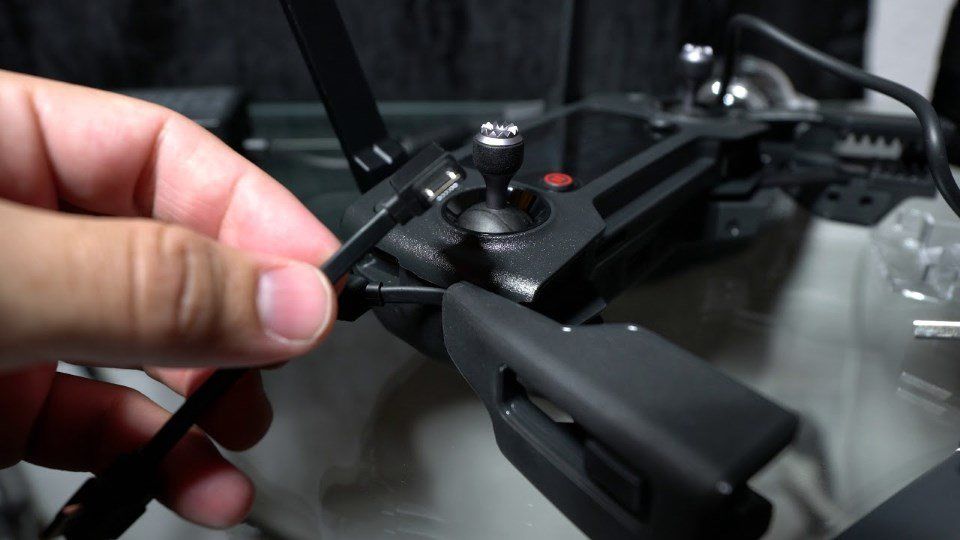 However, we're excited to tell you that the Mavic Pro Platinum will be getting a flight time improvement. On the product page, it says that the drone can fly for up to 30 minutes. But on our flight tests, it flies for up to 27 – 28 minutes depending on how aggressive you are flying and the conditions of weather. We noticed that the drones rarely fly that long as the manufacturers stated.
Before You Fly
There are few things you need to know before you fly your DJI Mavic Pro Platinum. Make sure that you remove the gimbal clamp that comes on the drone. I hate to say this, but I almost forget to remove the clamp before I powered on the drone. Fortunately, I have a pre-flight checklist which prompted me to do a thorough inspection of the camera, gimbal, and drone in general.
Plus, you need to register your Mavic Pro Platinum with DJI before you can fly the drone. This is a new feature that DJI introduced back in May 2017. If you don't register your drone with them. You won't be able to take off the drone. This is done for a good number of reasons: safety, accountability and to address your concerns such as repair, warranty, etc.
Remote Controller
The DJI Mavic Pro Platinum drone comes with the same remote controller as seen with the original model. I liked how the remote controller maintains a portable and compact design that fits the concept of a foldable drone. It's built to fit inside the travel backpack easily. If you were to ask me which drone I prefer, it has to be the Mavic Pro compared to Phantom 4. It is lightweight, compact, portable, and best of all, suitable for traveling.
If you're planning to use your tablet with the foldable remote controller. You'll need to order a third-party mount holder for your tablet that can support mobile devices longer than 6.8 inches and thicker than 0.34 inches. For your information, I use this mount holder which is an amazing add-on to have.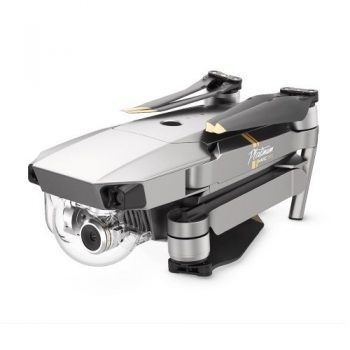 Set Lowest Price Alert
×
Notify me, when price drops
Set Alert for Product: DJI Mavic Pro Platinum 4K Drone Electronics, Gray (CP.PT.00000071.01) - $1,299.00
Last Amazon price update was: May 1, 2022 4:32 am
×
Product prices and availability are accurate as of the date/time indicated and are subject to change. Any price and availability information displayed on Amazon.com (Amazon.in, Amazon.co.uk, Amazon.de, etc) at the time of purchase will apply to the purchase of this product.
Editor's Review
We think the DJI Mavic Pro Platinum is worth the upgrade. Given how it features noise-reduction propellers for quieter flight sessions. In addition to that, it comes with improved flight time that lets you fly the drone for longer time compared to the original mode. It still have the same great and fun features, including useful intelligent flight modes. This is one of the possible best foldable drone that is worth the upgrade and we recommend it to all remote pilots, including beginners.
PROS
Upgraded with low-noise reduction propellers for quieter flight sessions.
Longer flight time up to 30 minutes, a major improvement over its original model.
Still feature the same great and fun features that provides you useful tool for cinematic shots.
Compact and portable design that makes it easy enough to take with you anywhere you travel.
Built with 12MP Camera on 3-axis stabilizer for smooth and flawless aerial shots.
Integrated with GPS / GLONASS positioning systems that provides stability for precise flight controls.
Add your review
|
Read reviews and comments