10 Best DJI Spark Accessories You Need To Buy For Beginners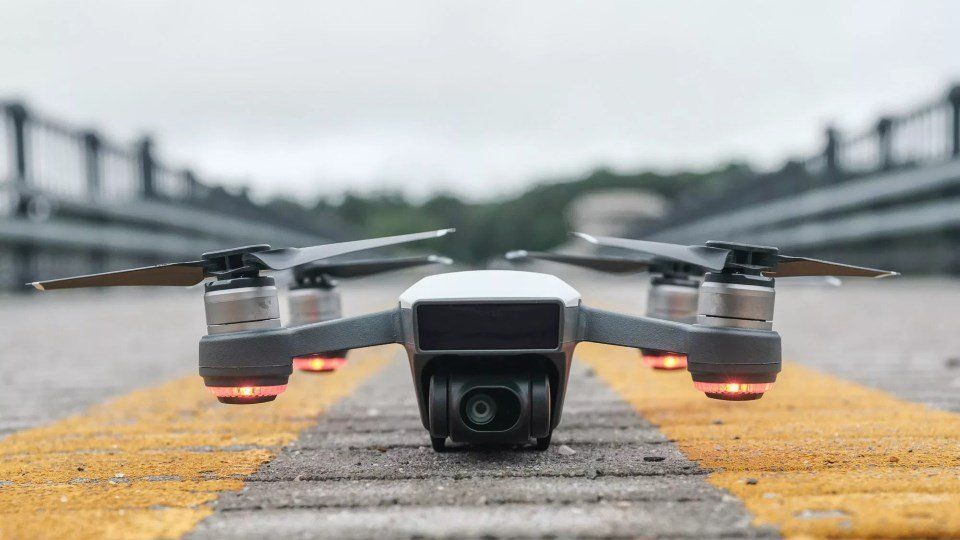 The DJI Spark is an affordable consumer selfie drone that can take decent pictures and videos. It is a ready-to-fly drone and performs very well out of the box. However, it is lacking a few items that make the setup much more awesome. This is why I have assembled the best DJI Spark accessories guide so that you can complete your drone setup.
For some reason, DJI decided to leave quite a few accessories that we would consider mandatory out of the base kit and fly more combo package. Must-have items such as the camera lens cover, mount sunshade, and portable charging hub are what any DJI Spark owner will truly appreciate having it. Without further ado, here is our list of 10 best DJI Spark accessories that you should consider getting.
Camera Lens Cover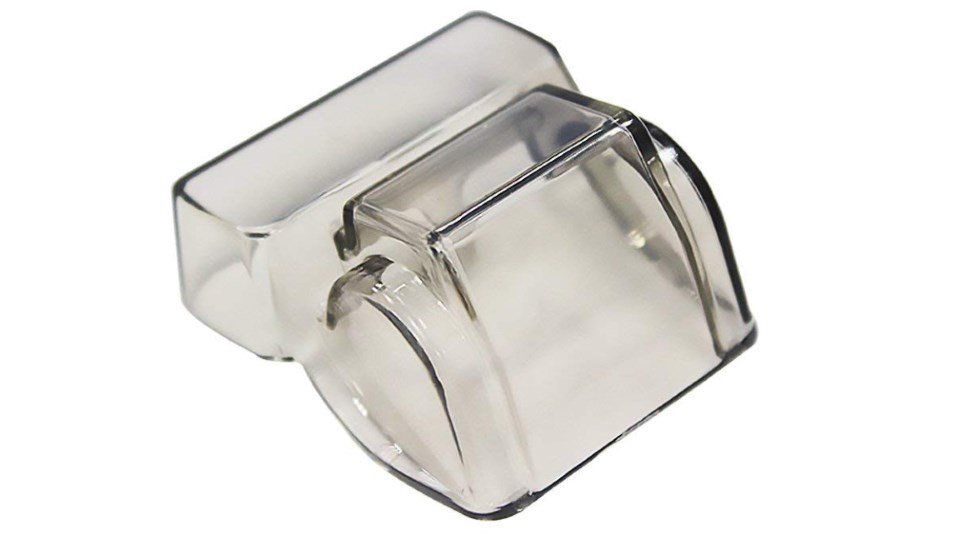 The DJI Spark's 2-axis gimbal system is a class-leading camera. Oddly enough, DJI decided not to include a protective lens cover for its camera which leaves it vulnerable to getting damaged by hard or sharp objects when it isn't flying. Even weirder is the fact that DJI doesn't sell a protective cover for the camera to keep it protected when the drone is in storage. However, the good news is that there is a third party that covers a camera like the one shown above that you can buy just for less than $10.
Purchase Link: Amazon, GearBest
Range Extend Booster
The DJI Spark's remote controller already provides good signal reception in its original form. But there's no harm in boosting its reception power. That's why the signal amplifiers like the one shown above are an awesome and inexpensive way to improve radio performance. It can increase the remote controller's range, allowing you to fly much further. Best of all, it doesn't cost that much, less than $15.
Purchase Link: Amazon, GearBest
Portable Charging Hub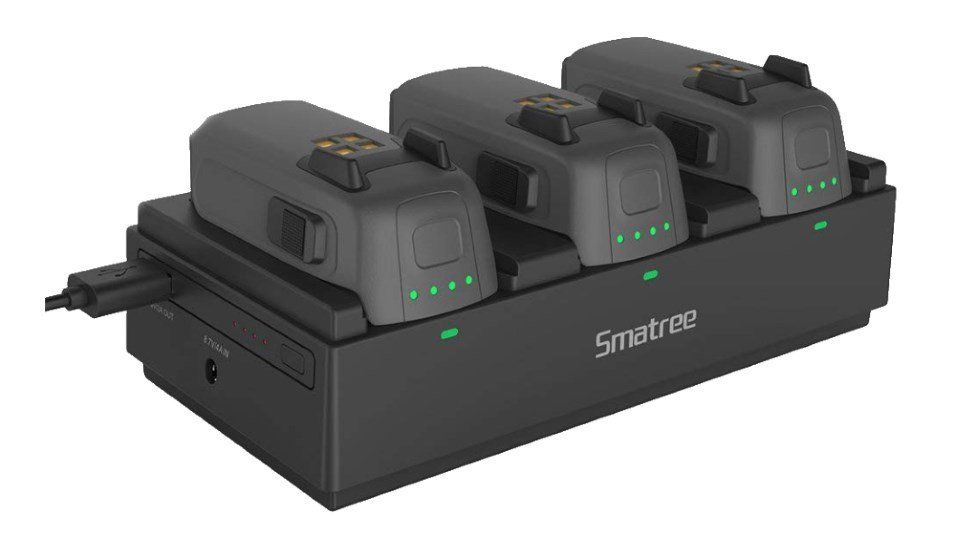 Anyone who is a DJI Spark owner and flown it before knows how short its battery life is. If you are thinking of becoming a serious aerial photographer, you will need no less than 3 batteries or approximately 60 minutes of flight time. With a portable charging hub, you can easily recharge depleted batteries on the ground as you fly your DJI Spark. The hub can charge up to 3 batteries and has enough charge for 6 batteries. The charging process is done sequentially which means they aren't charged at the same time. Plus, it has built-in 5V 2A USB output that can be used to charge other devices like your smartphone or remote controller.
Purchase Link: Amazon,
Sunshade for Smartphone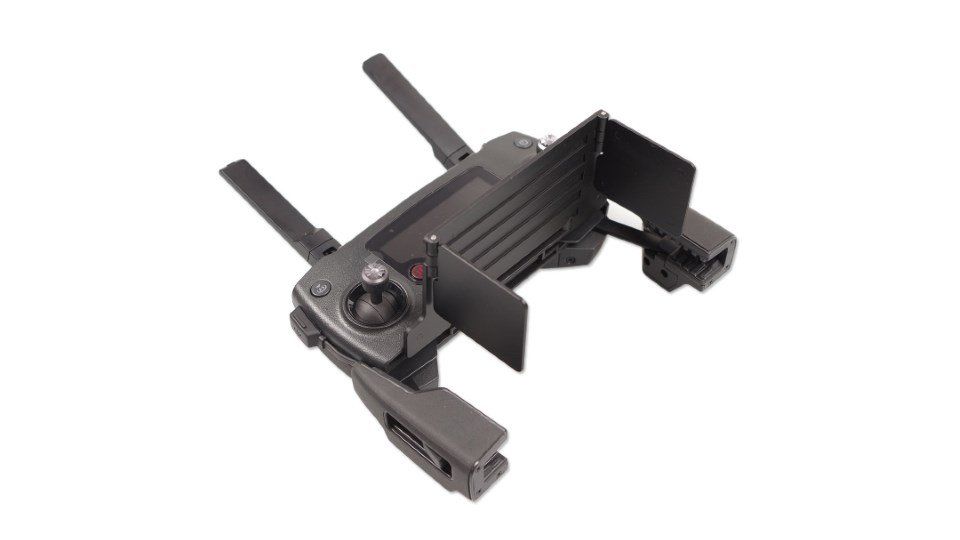 If you fly outside and stand directly under the Sun, seeing your smartphone screen can be very hard. That is why you need a sunshade for your smartphone installed on the remote controller if you are going to operate under bright lighting conditions. The smartphone sunshades come in a variety of sizes and shapes. The one shown above is compact, portable and inexpensive for less than $15.
Purchase Link: Amazon, GearBest
Landing Pad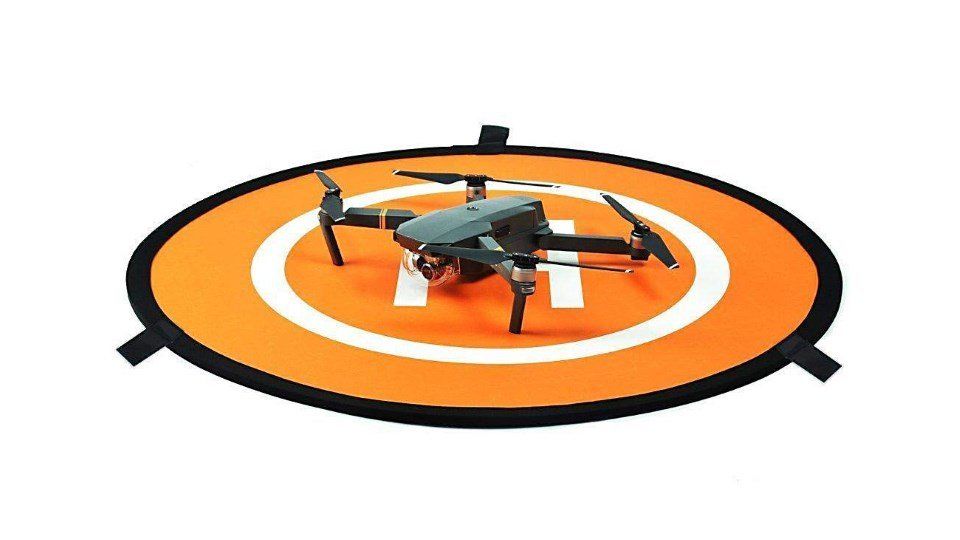 The DJI Spark doesn't have landing legs like Phantom 4 and Mavic 2 does. However, it does rest on four rubber studs underneath its fuselage. Sometimes you won't have the best surface to land or takeoff. For instance, if you are taking off on a wet grassy field, there is a chance that the drone's propellers will get wrapped by wet grass or stir up moisture. It is why the landing pad will solve a lot of issues and ensures that your drone will not get in direct contact with nasty stuff like sand, dust or moisture.
Purchase Link: Amazon, GearBest
Waterproof Travel Case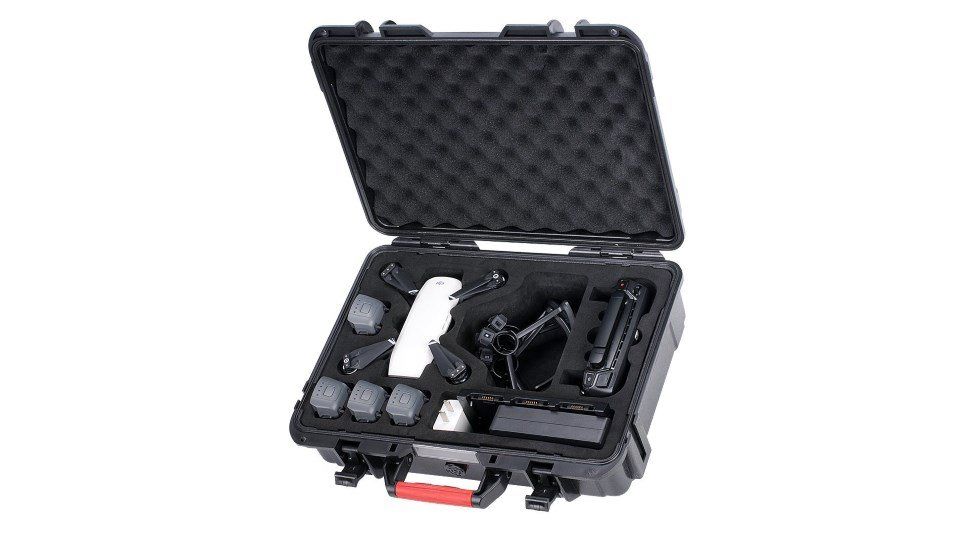 The DJI Spark fly more combo includes its foam storage case that does a good job at storing the drone, two batteries, and extra propellers. However, if you want to store more than just these and bring your entire setup of DJI Spark accessories with you on a journey. The foam case won't cut at all. Instead, you should get the waterproof hard travel case shown above that is amazing for storing the drone and its parts with a remote controller, 5 batteries, charging hub and more. Besides, it is lightweight and has a carrying handle that makes it very easy to bring with you.
Purchase Link: Amazon
Transmitter Stick Protector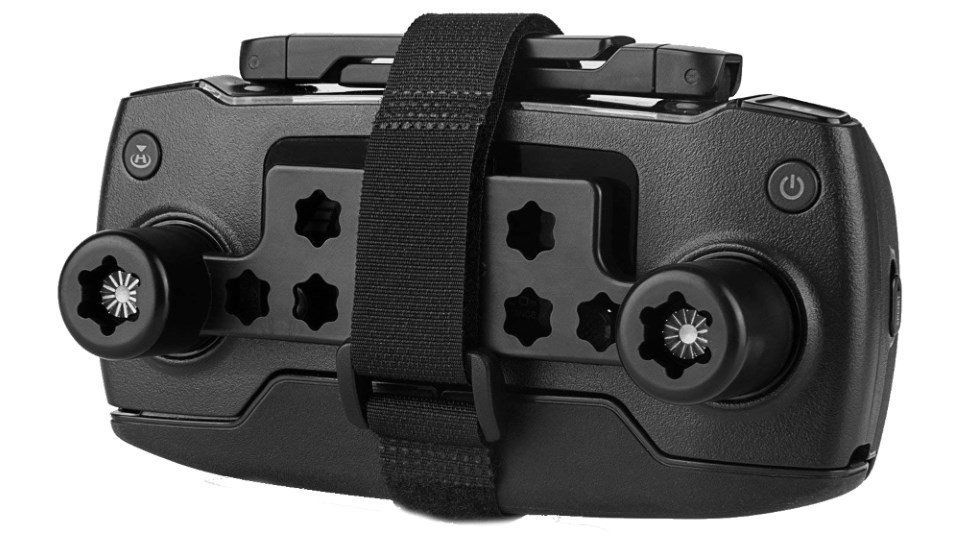 To store your remote controller in a tight compartment can be quite tricky. You wouldn't want to damage the sticks, however, without proper protection for the remote sticks, they will slowly get pressed and become not centered over a long period. These can cause the gimbal springs to wear off prematurely which isn't good. Thus, I recommend that you purchase a remote controller stick protector to keep them protected and extend durability.
Purchase Link: Amazon
Camera Lens Filter
This neutral density (ND) filters are placed in front of the DJI Spark's camera to reduce the amount of light going through the lens. They are extremely useful in situations when you need to reduce your shutter speed to achieve certain effects like motion blur. The ND filters shown above have a variety of grades such as CPL and MCUV. The whole set can be bought for just less than $40 shipped by Amazon and GearBest.
Purchase Link: Amazon, GearBest
Tablet Mount Holder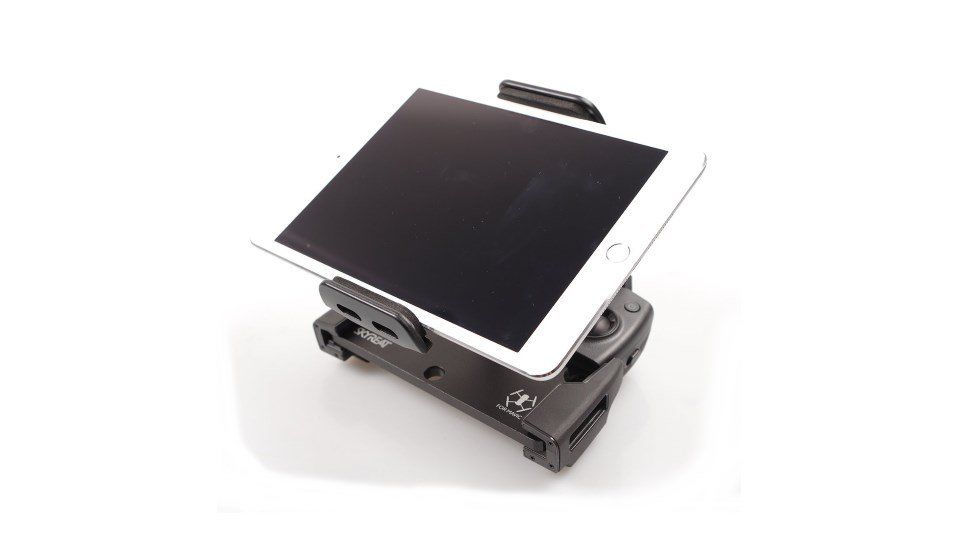 The DJI Go 4 App has a nice, intuitive user interface but they can be quite small on a 5.5″ smartphone. If you have a hard time reading this small text, it is a good idea to run on a bigger tablet since it will help you a lot. However, DJI Spark's remote controller can't take anything larger than today's average smartphone. So, you will have to buy a mount holder for the tablet. Luckily, they are very affordable and do make a difference when you are looking at the app on a much bigger screen. The tablet mount holder shown above costs less than $25 and can hold a mobile device size up to 12 inches.
Purchase Link: Amazon, GearBest
Handheld Mount Stabilizer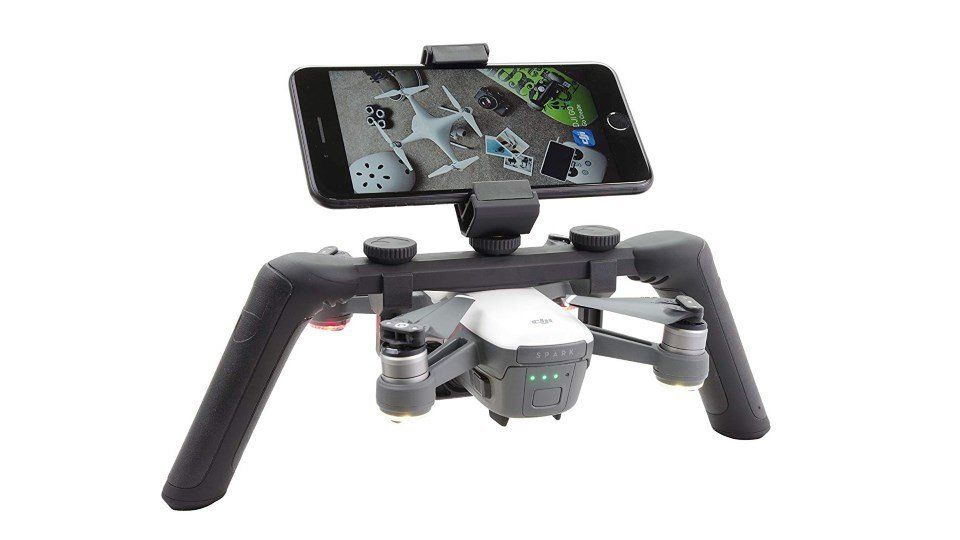 If you want to transform your DJI Spark into a handheld video stabilizer. This tool will allow the drone to perform like another handheld stabilizer such as DJI Osmo Mobile. It might look a little awkward to use your drone like this and it will attract few curious onlookers for sure. But, just for less than $50, you already saved yourself over $100 since you don't need to buy a separate gimbal stabilizer to shoot video on the ground.
Purchase Link: Amazon
Top 10 Best DJI Spark Accessories Wrap-up
Complete your DJI Spark set up with these 10 must-have accessories. With these accessories, you basically can transform your drone into an all-round immersive experience that lets you record videos both on the ground and in the air. Plus, with the right travel case and protective modules, you will not only protect the drone from damage and adversary effects. But, extends the DJI Spark's lifespan that will last you for more years to come. You can buy DJI Spark drone either on the official store or on Amazon.
Purchase Link for DJI Spark: DJI Store, Amazon
Editor's Pick: