Did you know that foldable drones are quickly becoming the most popular category for beginners and kids? Everyone loves foldable drones because they are easy to take with anywhere they go. Plus, these drones usually are packed with a lot of amazing features as seen in popular foldable drones such as the Mavic Air. Throughout scouring the consumer market, we stumbled upon Cooling S169 foldable drone.
This is a brand new drone that has recently generated positive attention for its features, design, and innovative technology. We decided to do product research on this drone to help you make an informed decision. In the Cooling S169 drone review, we're going to talk about what this quadcopter has to offer. If you're looking to spend on a training drone that is easy to fly around and doesn't break that easily. Then stick with us because we think you will like the Cooling S169 drone.
Compact, Durable, and Portable Design
One of the cornerstones features that the Cooling S169 drone has to offer is a compact and portable design. This quadcopter comes with foldable motor arms that can be easily folded up to half of its size. This makes it simple enough for you to store inside a travel case to hold during the road trip. Furthermore, I liked how this drone is designed. It comes in a jet black coating that gives a nice appearance. In addition to that, each propeller comes with golden stripes that add a nice finishing touch.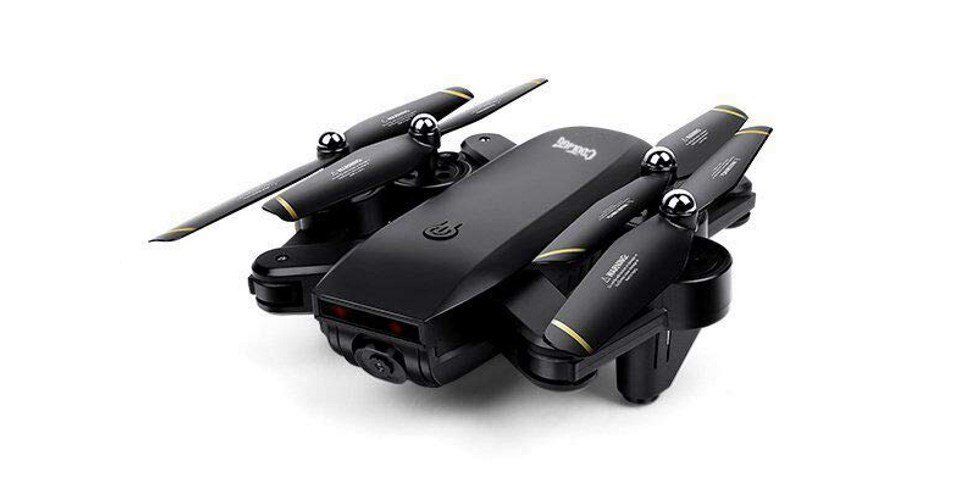 Plus, the Cooling S169 drone comes with a glass-like vision on the front that resembles the famed DJI Spark. However, you must know it doesn't do anything aside for visual purposes. Underneath the body, the framework is the dual camera. At first, it might be a little confusing as to why a drone would have a dual camera. It gives you a wide aerial perspective by switching the camera when you need to from front to downward. Which is amazing at providing flexibility and plenty of aerial tools.
High-Powered Performance
Beginners and kids will be happy to know that the Cooling S169 drone is a strong performer. This drone uses a modularized battery which helps deliver the power more effectively. In exchange, it reduces power consumption and improves the propulsion force to maximize flying speed. Plus, the Cooling S169 drone comes with a lot of beginner-friendly features such as a built-in barometer that helps keep the drone's height stable.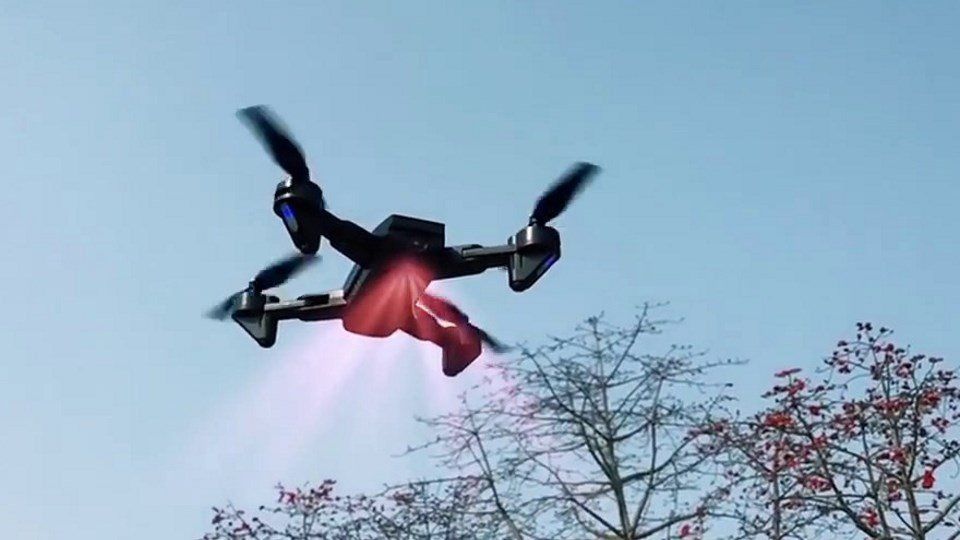 For your information, a single battery charge provides approximately 10 minutes of flight time. I would say it is pretty good for a toy-grade drone under $100. With a maximum remote control distance of 100 meters, there is plenty of flying space for you to soar around. Not to mention that the Cooling S169 foldable drone features a speed mode that makes the learning curve much smoother for beginners to master their piloting skills.
Dual High-Quality Cameras
As I mentioned previously in the Cooling S169 drone review that this foldable quadcopter comes with a dual camera. It has the amazing capabilities to deliver images and videos at 720P HD resolution setting. While it gives you the chance to capture special moments, it can record videos at 30 frames per second. Because the Cooling S169 drone is equipped with dual cameras, you can switch them anytime you want to take a unique perspective.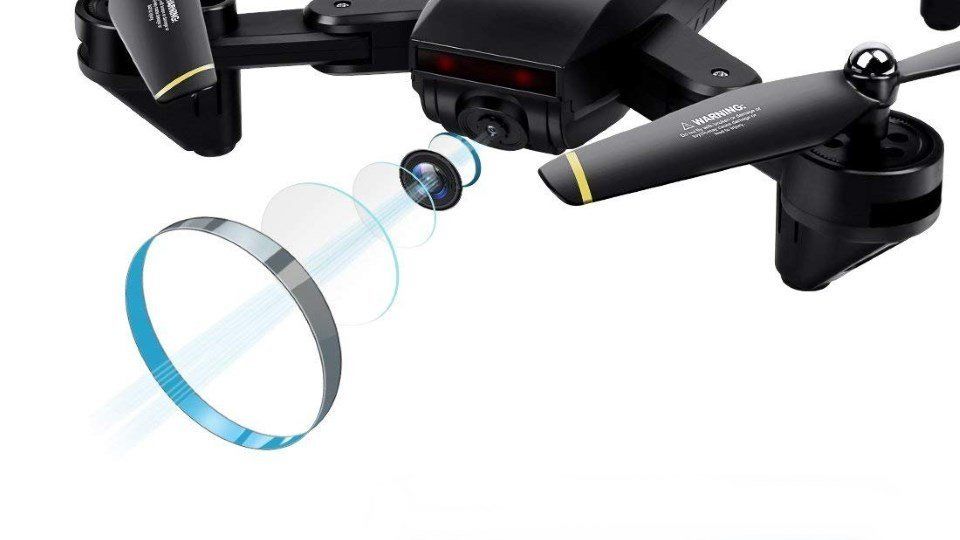 This feature is completely new and isn't used commonly in toy-grade drones. Which is a great start to address limitations for drones under $100? While these cameras can't be adjusted remotely or manually as you normally would with one of these professional-grade camera drones. It still provides beginners and kids plenty of options to take advantage of aerial perspective in completely new ways.
Foldable Remote Controller
Fortunately, we didn't forget to talk about the remote controller that the Cooling S169 drone includes with. On the first impression, I liked how this remote controller matches the concept of portability and foldable along with the drone. It's kind of a nice combination that goes with the style. Plus, the remote controller looks completely professional, simple, and easy to use. There aren't a lot of buttons which are perfect for beginners and kids.
That being said, the transmitter features foldable arms that allow you to insert your favorite smartphone. It even works with smartphones on cases, so you don't have to remove it just to use. A big plus on the design feature. Most of its features are located on the front. For advanced features like speed and 360-degree flips, they're located on the shoulders. This has to be easily one of the best remote controller designs I ever saw.
Final Verdict of Cooling S169 Drone Review
Before I wrap up the Cooling S169 drone review, I have a few final remarks to share with you. I think this is one of the best foldable quadcopters for beginners and kids. It's built to be easy enough to fly around. Combined with an amazingly long battery life up to 10 minutes and a maximum remote control distance up to 100 meters. It gives beginners and kids plenty of flying space to learn how to fly and capture aerial photography from a unique perspective.
Best of all, the Cooling S169 drone is easy to repair. If you accidentally break its motor arms or need a brand new propeller. There is strong aftermarket support that provides you with the necessary parts to get your drone back into the air. Finally, the drone's fuselage offers the best performance that gives you the ultimate flying experience. Therefore, we highly recommend the Cooling S169 drone for beginners. You can check out its price here.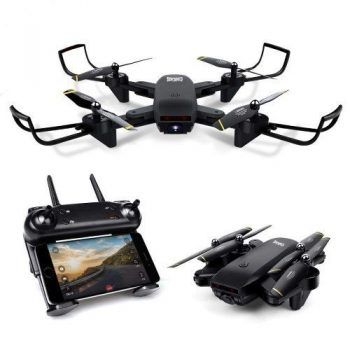 Last Amazon price update was: November 14, 2023 4:51 pm
×
Product prices and availability are accurate as of the date/time indicated and are subject to change. Any price and availability information displayed on Amazon.com (Amazon.in, Amazon.co.uk, Amazon.de, etc) at the time of purchase will apply to the purchase of this product.
Editor's Review
The Cooligg S169 drone is a highly recommended foldable quadcopter packed with a lot of awesome features, high-powered performance and of course high quality cameras. This foldable drone is the perfect choice for training beginners how to fly around, capturing special aerial shots and to have fun. We think beginners and kids will love this foldable drone easily.
PROS
Foldable motor arms that gives layer of protection, compact, and portability.
Remote controller comes with foldable arms that allows you to insert your favorite smartphone.
Dual cameras which lets you capture unique aerial perspective.
Stylish design that makes it fun to fly around outdoor and indoor.
Durable design that makes this drone hard to break on impact.
Modularized battery for better power efficient and performance.
CONS
Limited remote control distance, but that's normal.
Add your review
|
Read reviews and comments