DJI Holidays Buying Guide Gifts for Families, Kids and Friends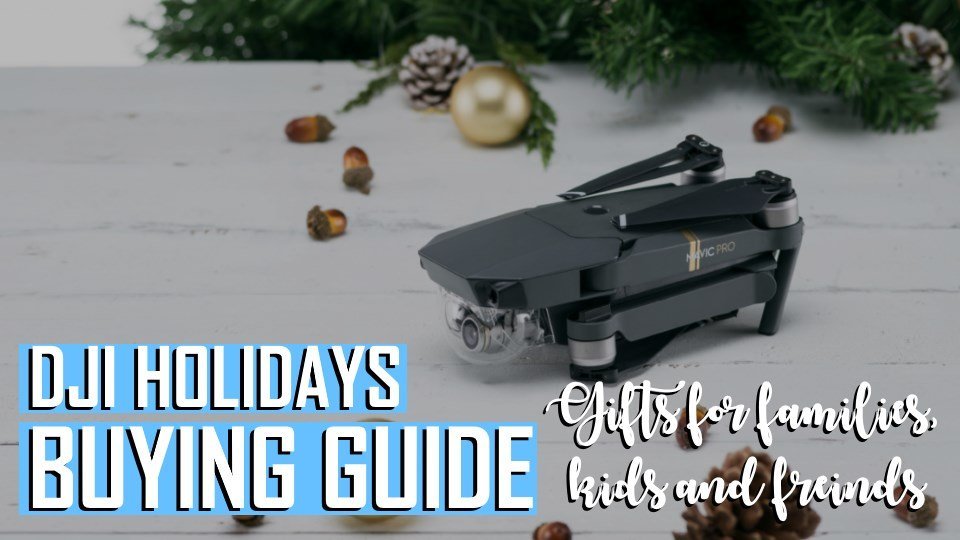 The holidays are just around the corner and everyone is gearing up for this special season. As it gets closer, you might be wondering what makes the best gifts for the holidays. We know how painful this task can be, especially with so many popular gadgets floating around on the internet and even on the store shelves. It can be quite challenging to know what you should buy for Christmas presents. So, I am asking you to do a favor for me and shop one of these DJI drones for your whole family. Read our DJI holiday buying guide to find out more information.
There is no other good time than now because the annual Winter Holiday deals only last from December 9th to December 31st, 11:59 pm PST. With so many drones price poised to get slashed, it is all about saving more while getting the bang out of these fancy gadgets you have been eyeing to get your hands on. Especially if you are a first time and have no idea what you should buy for Christmas gift, I have assembled the DJI holidays buying guide to help you out.
In our buying guide, there are five amazing drones from DJI that you definitely should get for your family, friends and even children. From professional photographers to recreational to learning how to program a drone. The options are endless and just about these five drones will make the best Christmas gift. No matter what, these drones are bounded to bring the inner excitement outside of them! Without further ado, let's dive into the details and help you make the best drone choice.
Related Article: How to Buy A Drone: The Ultimate Guide for Beginners
Phantom 4 Pro
The first drone on the top five best drones for DJI holidays deal is the Phantom 4 Pro. Originally, it has a price tag of $1,499 but it has been massive slashed by $350 off. You can get it just for only $1,149! That's 23% off and the special deal is going to run for a limited time only. Here is why Phantom 4 Pro would make a great Christmas gift. Dads, photographers and basically everyone loves this drone. It is beginner-friendly and has a nice appearance that gives a sense of professionalism. If the price tag is a bit of a shock, check out these Phantom 4 Clones.
Equipped with an incredible and powerful 20MP camera on 3-axis gimbal systems. It is built for flexibility to provide you the ultimate aerial photography experience on the edge of your fingertips. If you have been thinking of flying your drones for money, Phantom 4 Pro is your best chance. Thanks to its amazing camera quality, 30 minutes of flight time and a gobsmacking remote control distance up to 4.3 miles. This is the drone that everyone will love to have their hands on.
Normally, Phantom 4 Pro is sold at $1,499 but this year they are going for $1,149. That's a new low price record. Because this drone has been out for almost two years and is still one of the best yet. There is a lot of cool stuff you can do with this drone. Its exquisite and chrome appearance will instantly make them love this drone. And didn't I mentioned that Phantom 4 Pro is an incredibly easy drone to fly for beginners? There you go, a professional camera drone makes the best gift.
Check Price: Phantom 4 Pro ($1,499 | $1,149)
Related Article: Top 4 Best DJI Phantom 4 Travel Cases for All Drone Pilots
Mavic Pro
Are you looking for a foldable drone that is easy enough to carry around with anywhere you go? Meet the Mavic Pro. This is a compact and portable drone featuring 12MP camera on a 3-axis gimbal system. It is capable of recording videos up to 4K resolution at 30 frames per second. Normally, the Mavic Pro Fly More Combo goes for $1,349, but it has its price reduced to $999. That is $350 off the original price tag.
Not only you get the complete combo package, but you also get bonus items such as 32GB micro SD cards, landing gears, and stabilizers. It is the ultimate package deal for those who want to gift one of their family member the best present. People who love to travel around the world will truly appreciate this drone. The drone itself only weighs around 1.6 lbs which is incredibly lightweight for a foldable drone. With a travel case, you can easily wrap it around your shoulder and walk wherever you want to go.
Packed with intelligent flight batteries which gives you a flying minute of 27 on average per charge. Because the Mavic Pro is built with the OcuSync transmission system, it gives the drone an incredible control distance of up to 4.3 miles or 7,000 meters. That means you can easily cover a large swath of land and capture special places with relative ease. Professional photographers, travelers, and beginners will love this gift, a lot.
Check Price: Mavic Pro ($1,349 | $999)
Related Article: Top 6 Best Travel Cases for Mavic Pro That Protects Your Drone
Mavic Air
What is better than Mavic Pro? A smaller drone, yet packed with ton of features and new technology upgrades. The Mavic Air is a hybrid of Mavic Pro and Spark that features upgrades such as FlightAutonomy 2.0 and additional obstacle avoidance features. Normally it is priced at $795 but it had its price tag dropped to $685 occasionally. You should check it out frequently to snatch in the best price deal.
However, you might be wondering why we recommend the DJI Mavic Air as one of the best drones for holidays. It weighs half of what the Mavic Pro is and is smaller. Yet, this ultraportable is packed with a 12MP camera on a stabilized 3-axis gimbal systems. Unlike most of the DJI drones, the Mavic Air is the only quadcopter that is capable of performing 32MP panoramic sphere shots. It takes multiple pictures from 360-degree including upward and downward.
Then it automatically stitches the pictures together to create a panoramic sphere. Mavic Air is truly a drone that will immerse your journey experience. With a flying time of 21 minutes per charge and a remote control distance up to 4,000 meters. This quadcopter definitely will capture your family members' and friends' heart where its quality, performance, and portability beats everything above.
Check Price: Mavic Air ($795 | $685)
Related Article: Top 5 Best Mavic Air Travel Cases That Keeps Your Drone Safe
Spark
On a tight budget? But you still want a smart drone that can take pretty stills? No problem! I want to introduce the DJI Spark drone to you. Normally, it has a price tag of $399, but you can get it just only for $298! That's 25% off its original price and a real good deal. This drone is geared toward beginners, so it makes perfectly sense if you want to buy a quality drone for family members and friends who has no prior flying experience.
Here is why you should consider buying the DJI Spark drone. This is a mini-sized quadcopter that is around the size of your palm hand. It is portable, compact and features a friendly appearance. Plus, the Spark drone introduces intelligent flight modes as well as the ability to avoid hitting objects thanks to built-in collision detection systems. Like I mentioned previously, the Spark drone is capable of producing quality photos.
Because it is integrated with a 12MP camera on 2-axis gimbal systems. It can capture stills at 4K resolution on JPEG format only. In video mode, it can record up to 1080P HD at 30 frames per second with a maximum bitrate of 24 Mbps. While the DJI Spark drone doesn't have state of the art features that more expensive drones have. It is incredibly friendly, easy to use and a perfect match for beginners. Hence, it makes a great gift for everybody.
Check Price: Spark ($399 | $298)
Related Article: Top 8 Best Drones Like DJI Mavic Pro Clones Under $100 for Beginners
Ryze Tello
If the idea of buying expensive drones isn't what you have in your mind. Perhaps you want to shop a simple quadcopter that is still packed with a lot of cool features. Such as the ability to program your own custom flight paths while learning how to code. Perfect for your children or friends who are interested in STEM. But it doesn't have to be limited to those only, adults who are interested in learning how to code will love this drone.
The Ryze Tello is an advanced quadcopter and is the only drone that is capable of performing omnidirectional flips. This means it can flip in eight different directions compared to standard drones which can flip in four different ways. Normally sold at $99, but as the Christmas sale comes around the corner. Its price tag will drop to $79 for a limited time only. You should check its price tag frequently to snatch on its special price deal.
This coding drone is built with proximity sensors that work similarly to obstacle avoidance detection. Plus, it has a maximum flying time of 12 minutes in addition to a remote control distance of up to 100 meters. If you think the quality of images on the Ryze Tello is going to be poor. Think again because this smart drone is packed with one of the best camera quality you will find under $100. You won't find a drone with the same quality anywhere that close to the Tello quadcopter.
Check Price: Ryze Tello ($99 | $79)
Related Article: Top 10 Important Tips That All Drone Photographers Needs To Know
DJI Holidays Buying Guide: Recommendations & Tips
Before you plan to shop one of these drones for your families and friends. I have several flying guides that will help you get started with your drone journey. According to the Federal Aviation Administration, the number of drones in the skies is expected to grow by fourfold in 2022. That's quite stunning considering how incredibly popular the drones are compared to their first launch almost five years ago.
Drones are incredibly adaptable and can be used to do almost everything. From flying around for fun to teaching your students how the components work to running a drone business. If you are set in stone to buy one of these best DJI drones for holidays, you should check out my guides. Use these guides as a resource tool to help your family member or friends become proficient in drone piloting.
I hope you found our DJI holiday buying guide helpful and insightful. If you have any questions regarding our DJI holidays buying guide. Please feel free to drop a comment in the comments section below. We will get back to you as soon as possible. Happy flying and fly smart!