If you are on a drone hunt, Holy Stone recently upgraded one of their quadcopter with a brand new 2K HD camera. Introducing the Holy Stone HS700D Ophelia review, a smart drone with an upgraded camera. This quadcopter continues the brand's popular flagship with extended flight time, more features, and better camera quality. While the original HS700 Ophelia is being discontinued, it will be available as a limited deal from time to time.
The latest move from Holy Stone's effort to modernize their quality of drones with integrated GPS module seems to be making the move to take a portion of DJI's share in the consumer drone market. As you can see that a lot of Holy Stone brand new drones are outfitted with GPS modules such as HS160 Shadow Pro and HS165 Quadcopter nowadays. This indicates that the quality of drones is improving as the price tags continue to be affordable for beginners and recreational remote pilots.
Unlike other beginner drones, the Holy Stone HS700D comes with easy-to-functionality. You only need a couple of minutes to set up the drone before you're good to go. There's no need for hours of assembling the parts or the need to configure your remote controller. You won't need a technician friend nearby to get this drone ready.
That being said, we assembled an in-depth review of Holy Stone HS700D Ophelia to help shoppers who are planning to buy one of these smart camera drones. In our Holy Stone HS700D Ophelia review, you will learn ins and outs about this drone. We will cover basics such as build and design quality, features, performance, remote controller, quality of the camera, and more. Without ado, let's get the propellers spinning.
What's Inside The Box
This is one of my favorite parts about doing a product review. You will get to learn more about what is included in the box. Not only you will become familiar with the accessories and whatnot, but you will be also prepared to make additional orders to go with the drone if needed to like batteries and crash kit for instance. Below is the diagram of what items to expect when you receive the package.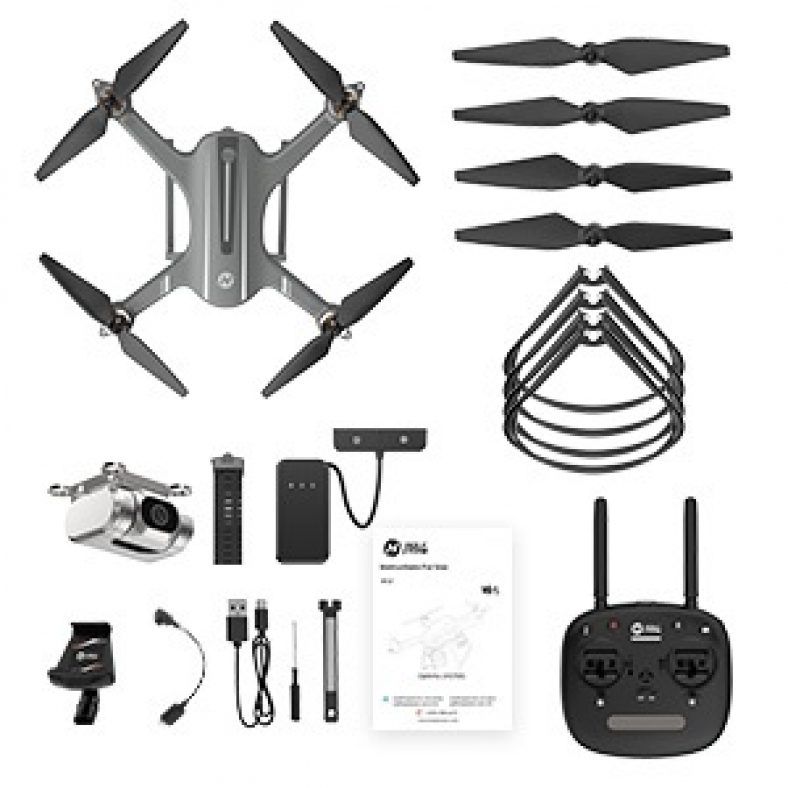 Inside the box, you should get these following items: Holy Stone HS700D Ophelia, a remote controller, a 2K HD camera, a battery with USB charger and balance charger, two sets of propellers, a set of propeller guards, landing gears, propeller spanner, and of course, an instruction manual. Do keep it in your mind that this drone weighs 630 grams. Which is more than 0.55 Lbs, meaning you will have to register this drone with the FAA. Registering your drone with the aviation agency is a relatively painless and quick process which you only will have to pay an extremely small fee just to mark your drone with the provided number. Holy Stone HS700D Ophelia is a Ready-to-Fly Model, which means you can start flying the drone right away once you get the box. The battery will be half-charged, we recommend charging it first to deliver optimal flight performance.
Build and Design Quality
In the next section of the Holy Stone HS700D Ophelia drone review, we are going to focus on the build and design quality of this quadcopter. On the first impression, this is a heavy-sized bird that boasts impressive durability and elegant design. It uses a combination of high-quality ABS plastic with aluminum that provides the drone rigid structure framework. I also liked how it comes with propeller guards because it improves the drone's protection against impact.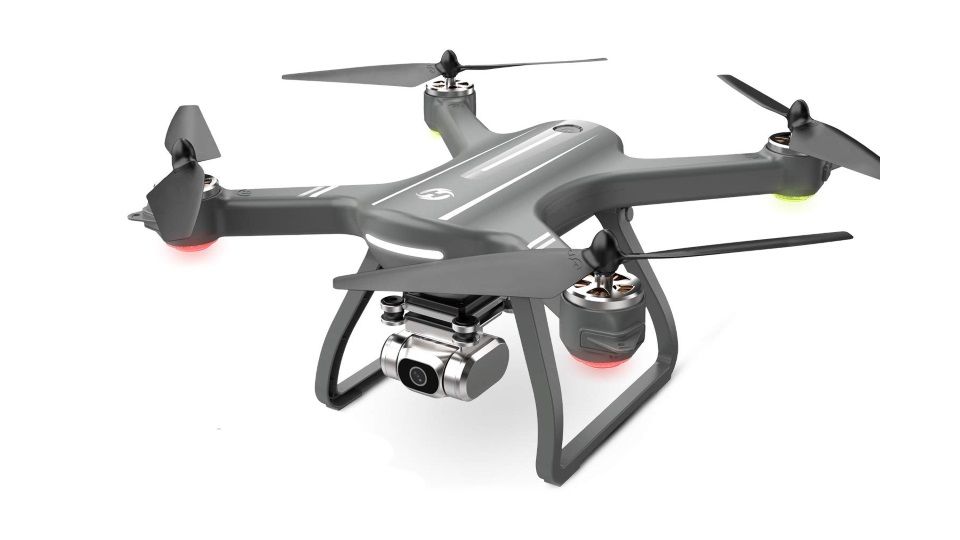 In the front of the drone is where the 2K HD camera is located at. One of the design advantages that HS700D Ophelia brings to the table is that it comes with a built-in 1-axis gimbal stabilizer. Which helps keep the footage stabilized during the flight mode. Although, it isn't exactly that good as the DJI Spark 2-axis gimbal stabilizer or DJI Mavic Air 3-axis gimbal stabilizer. It is a good design start from Holy Stone.
I also liked how the drone comes with landing pads that help minimize the impact of landing. Not just only that, it creates a safe distance between the camera and the ground. So that little particles don't get stuck onto the camera. The HS700D Ophelia drone is outfitted with a powerful brushless motor on each motor arm. Which are supported by built-in LED lights that provide visual assistance during the day and night? In addition to that, the drone carries an upgraded flight battery that supports up to 22 minutes per charge.
Flight Performance
The new HS700D Ophelia is no different from its predecessor in terms of flight performance. However, beginners and recreational remote pilots will love the fact that this quadcopter comes with an improved battery capacity that results in two extra minutes.
A 2800 mAh battery powers the HS700D, providing a total flight time of up to 22 minutes. If you'll be using this mostly indoors or during calm weather conditions, expect a good battery life. It doesn't take too long to charge either. Just wait for 20 minutes for it to be fully charged. Compared to other drones similar to the HS700D, this drone offers double the flight time. However, the battery's life might be reduced to 15 minutes if flown in windy skies.
With its brushless motors, it generates incredible aerial performance that makes it one of the fastest flying drones. Thanks to a maximum flight speed of 40 miles per hour. You can easily traverse HS700D Ophelia anywhere in the sky up to one mile away. The connection between the drone and a remote controller is reliable. Beginners will be able to pilot this drone with precise controls that make the whole flight experience simple.
Furthermore, the HS700D Ophelia is outfitted with GPS / GLONASS module that provides drone stability. This is done automatically by enabling the drone to communicate with satellites which in exchange gets the data to deliver precise positioning. The integration of the GPS / GLONASS module can be found on more expensive drones and professional-grade quadcopters such as Mavic 2 Pro / Mavic 2 Zoom.
Overall, the performance of HS700D Ophelia is good. It is simple, easy to learn and very engaging for beginners who have never flown a drone before. Not to forget to mention that it also comes with beginner-friendly mode. Which dumb down the speed and controls so that you can learn and understands the basics of flight controls first. In this particular, Holy Stone does a good job of designing a quadcopter that teaches beginners how to fly while boasting strong performance.
Intelligent Flight Modes
In the next part of the HS700D Ophelia drone review, we are going to cover the intelligent flight modes that this drone comes with. One of the major features that all GPS drones have to offer is intelligent flight modes. For some of you who never experienced flying drones before. An intelligent flight mode simply means the drone can perform a certain task on its own. There are a lot of intelligent flight modes to choose from. But since we are talking about HS700D Ophelia, there are only four intelligent flight modes to choose from: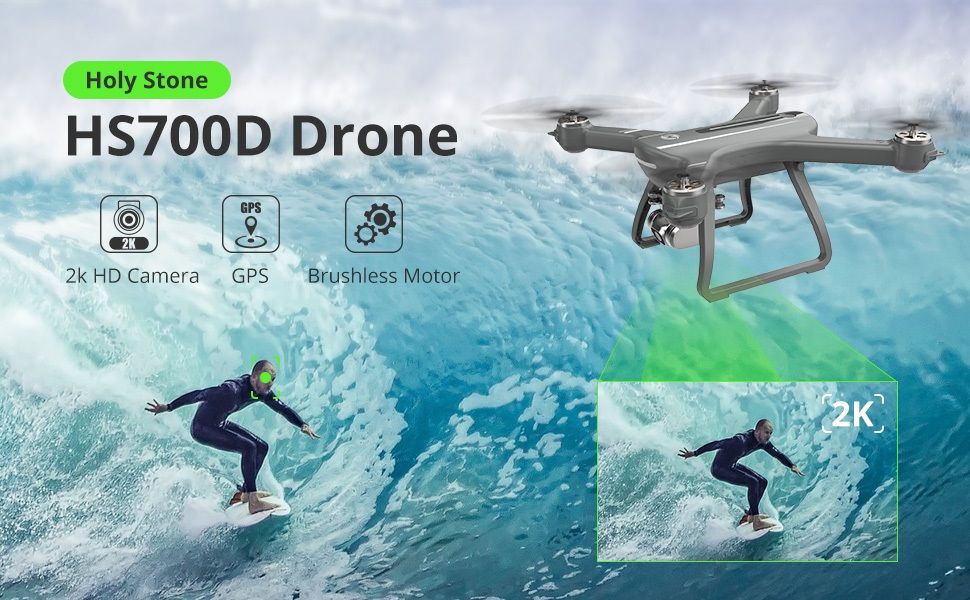 Follow Me Mode: In this mode, the drone follows anywhere you go. This feature is incredibly useful for creating a solo journey without the need for a second drone operator. To use this mode, simply select yourself as the subject and the drone will automatically follow you.
Orbit Mode: This is one of my favorite modes. This intelligent flight mode sets an object as a point of interest and creates a 360-degree video. You can use this flight mode to create awesome videos of a cruise ship or interesting building. Best of all? This intelligent flight mode makes it very easy to create 360-degree videos as smoothly as possible instead of doing it manually.
Custom Waypoint Mode: Another intelligent flight mode you can do with HS700D Ophelia is customizing your flight path. In this mode, you create waypoints over the map. Once you are happy with the flight path that you created. Select begin flight to start flying and the drone will automatically record video as it flies from the start point to endpoint.
Gesture Mode: Another useful intelligent flight mode is called Gesture Mode. Ultimately, this intelligent flight mode allows you to command the drone using your hand motions. Beckon at the drone and it will fly back several meters away. Wave at it and it will fly closer to you. Form a V-handshape to take a selfie shot. The Gesture Mode is perfect for beginners and recreational remote pilots who want to break the traditional remote controller.
Camera Quality
The quality of the camera is also very important if you want to fly a smart camera drone. Fortunately, the HS700D Ophelia comes with an upgraded 2K HD camera. This means it can produce up to 2048 * 1152 high-definition resolution stills and videos with ease. With a powerful built-in 5MP CMOS sensor, it does a good job of capturing the lighting quality. It is also capable of producing the videos up to 30 FPS.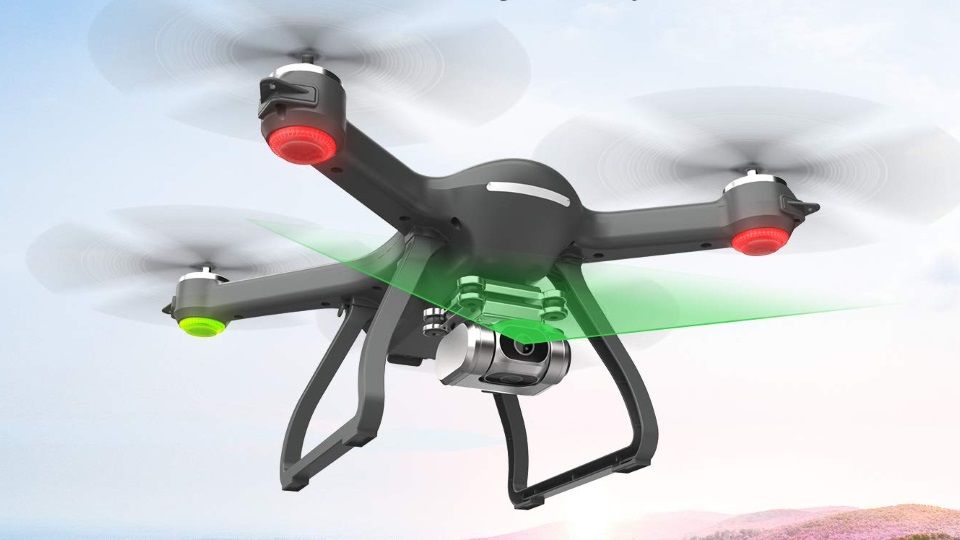 The upgraded camera that HS700D Ophelia brings to the table is so significant and way superior compared to the action camera that the original model has. Although, the HS700 Ophelia features the ability to change action camera to a better one such as GoPro HERO 7 Black or Osmo Action which has 4K UHD resolution capabilities. But if you prefer to focus on quality and stability, you will be much happier with the HS700D Ophelia drone.
Because this quadcopter is outfitted with a 1-axis gimbal stabilizer. Which does its job to help keep the footage steady throughout the flight. While the quality of the 1-axis gimbal stabilizer isn't that great, it does eliminates most of the vibration which is especially important if you want to share the content with your audience. Compared to other popular drones such as Potensic D88 and Contixo F22, HS700D Ophelia comes ahead in terms of camera quality.
Remote Controller
The Holy Stone HS700D Ophelia drone review isn't done without talking about the remote controller. On the first impression, this is certainly a professionally designed remote controller. I liked how simple and elegant this remote controller is. This device comes in a jet black coating that emboldens the professional appearance. Unlike some toy-grade drones like SS41 The Beetle and Eachine E511 that has a remote controller with antennas for aesthetics purpose. The antennas on this remote controller are authentic and play a significant role in providing HS700D Ophelia incredible remote control distance.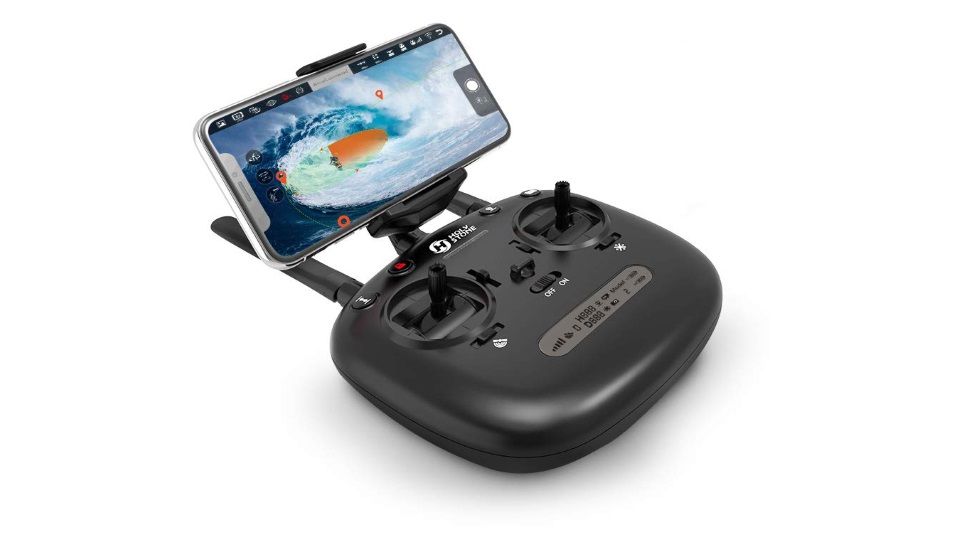 Each button comes with an inscription that makes it very simple for beginners with no prior flight experience to learn how to fly. On the front, the remote controller is equipped with a built-in LCD screen. This tells you how much battery juice it has left inside as well as the strength of the Wi-Fi signal and more. I liked how simple and compact the remote controller is. In addition to that, it comes with a mount holder that you can insert your mobile device onto it.
Final Verdict of Holy Stone HS700D Ophelia Drone
As we wrap up the review of Holy Stone HS700D Ophelia, we think this is one of the best camera drones. Here's why: it has a maximum flight time up to 22 minutes. Furthermore, it can be commanded up to 1 mile away and is outfitted with a 2K HD camera that delivers stellar quality using a 5G Wi-Fi transmission signal. The HS700D Ophelia also boasts several intelligent flight modes that make the whole flight experience simple and easy for beginners.
If you are looking for a good quadcopter to start with. The Holy Stone HS700D Ophelia is one of the best options that combines durability, performance, and features into an incredible powerful quadcopter. While there are alternative options such as Eachine EX3 and the like. They don't offer the same level of performance that HS700D Ophelia has. Best of all? When Holy Stone released HS700D Ophelia drone, it has the same price as the original model does.
You can learn more about the differences between HS700 Ophelia vs HS700D Ophelia to help you make the final shopping decision. We hope you found our in-depth review of HS700D Ophelia drone helpful and insightful. If you have any questions about this drone, feel free to drop a comment in the comments section below. Happy flying and fly smart!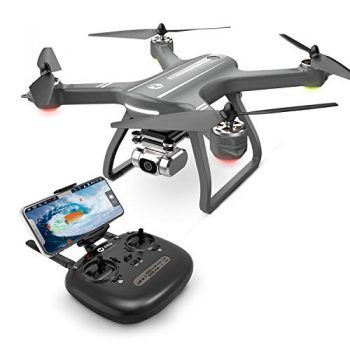 Last Amazon price update was: September 11, 2023 3:47 am
×
Product prices and availability are accurate as of the date/time indicated and are subject to change. Any price and availability information displayed on Amazon.com (Amazon.in, Amazon.co.uk, Amazon.de, etc) at the time of purchase will apply to the purchase of this product.
Editor's Review
Holy Stone HS700D Ophelia is an impressive high-quality camera drone packed with superior flight time and super easy flight controls. Thanks to integration of GPS module, this camera drone is capable of performing advanced and independent flight modes from Orbit Mode to Follow Me to Gesture Mode. In addition to that, Holy Stone HS700D Ophelia can perform remote camera operation that gives beginners and experienced remote pilots a wide flexibility when it comes to aerial perspective.
PROS
Integrated GPS Module.
Crafted with high-quality material.
Stellar flight time.
Good remote control distance.
Reliable connection.
Impressive camera resolution quality.
Powerful performance.
Easy for beginners to learn how to fly.
Add your review
|
Read reviews and comments