Holy Stone recently released a brand new smart foldable drone outfitted with an impressive 2K HD camera. Introducing Holy Stone HS720 foldable GPS camera drone. This is the latest series of Holy Stone's growing popularity among some of its best drones such as HS150 Bolt Bee, HS160 Shadow Pro and more recently its flagship drone HS700D Ophelia. If you are on a drone hunt for the best quadcopter, then look no further because you have come to the right spot.
In our in-depth Holy Stone HS720 review, we are going to cover the basics like design and build quality, features, flight performance, camera quality, remote controller and more. Before we go into details, I do want to point out that this heavy bird does look a little bit like DJI Mavic 2 Pro / DJI Mavic 2 Zoom. Although, Holy Stone did a good job of making it unique thanks to completely different design aspects.
Through shifting the customer's reviews and researching a product, we are thrilled to share our in-depth Holy Stone HS720 drone review with you. The purpose of this review is to help shoppers like you avoid making a buyer's regret. So, stick with us to learn more about this brand new flying gadget and why you should buy the Holy Stone HS720 drone. Let's get to buzzing now!
Design and Build Quality
On the first impression, the Holy Stone HS720 drone appears to feature some resemblance to the popular DJI Mavic 2 series. But as mentioned previously that Holy Stone did a great job of designing this drone so that it looks different. I liked how the Holy Stone HS720 drone features a power button located at the front. When you activate the drone, it will lit up and shows the status of the battery that keeps you in touch with how much flight time you have.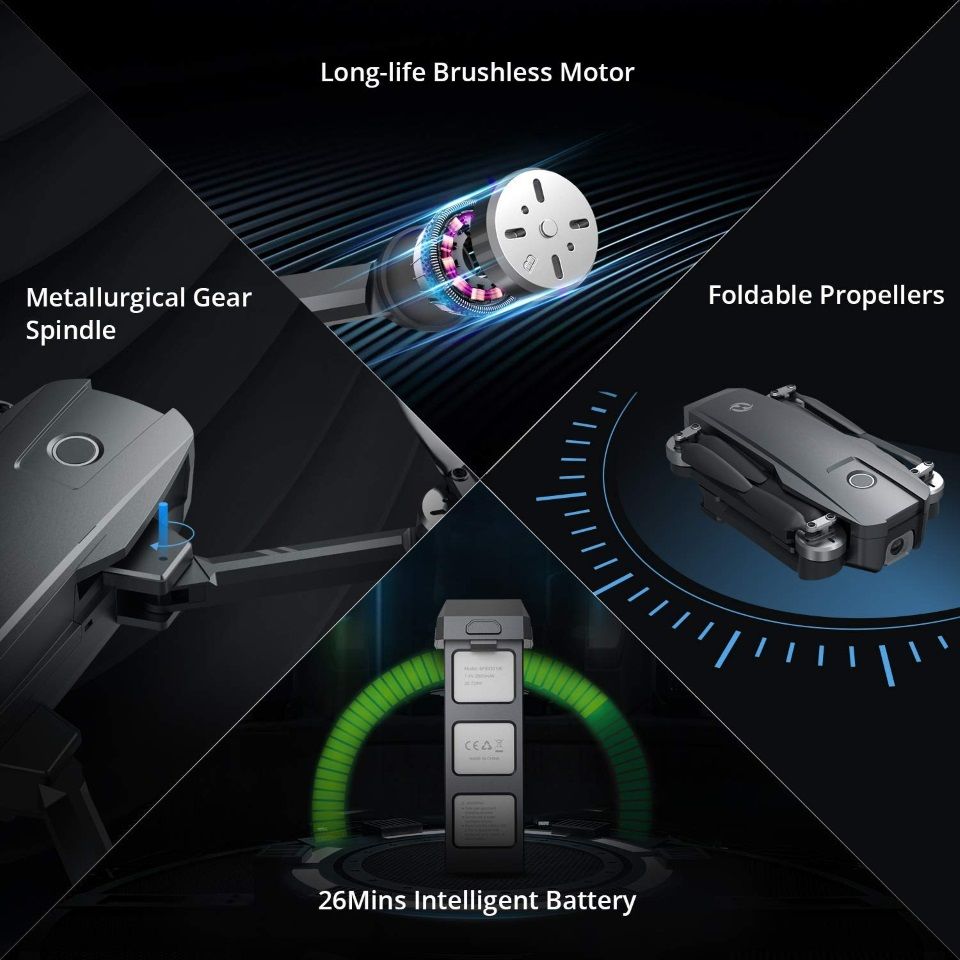 Additionally, this drone focuses on portability and compact that makes it very easy to take with you anywhere around the world. In the front, it comes with a built-in 2K HD camera which is mounted on a shock absorption that reduces vibration. The battery can be founded on the back. Because it has a large capacity, it can deliver up to a whopping 26 minutes of flight time. Which does put DJI Spark's 16 minutes of flight time to shame?
Each drone that Holy Stone releases, the quality of their products gets better and better. Which means longer flight time, better performance, and of course, better design. This holds for Holy Stone's latest drone releases: Holy Stone HS720 and Holy Stone HS370. Design-wise, this quadcopter is a little bit heavy compared to toy drones. However, the quality of material used to craft the HS720 is far superior. It is crafted with alloy metal that provides exceptional durability which lasts for a long time.
Flight Performance
Of course, if you are going to fly a drone, you will want to know how well they perform before you get your hands on the latest Holy Stone HS720 drone. Fortunately, if you are looking for the best GPS drones, you will be relieved to know that they usually have the best flight performance due to GPS capabilities. One of the major factors is due to stability and precise flight controls. A GPS-based drone can maintain its position steadily without the need of a remote pilot
Furthermore, you can command the Holy Stone HS720 drone to perform several advanced intelligent flight modes. I will talk more about each intelligent flight mode in the next section of the review. However, when you compare the Holy Stone HS720 drone's flight performance, it is nothing compared to other quadcopters. The fact that this drone has a superior flight time of up to 26 minutes. Plus, a maximum remote control distance up to 1 mile away makes it a frighteningly strong competitor at an affordable price tag.
Another major performance factor that further improves the Holy Stone HS720 drone aerial capabilities is due to the brushless motors. It comes with the advantage of delivering higher RPM to push out more propulsion force and achieve higher top flying speed. Plus, it doesn't wear out that quickly and causes fewer problems in contrast to cheap drones that use brushed motors. Overall, the flight performance of the Holy Stone HS720 drone is one of the best we have seen so far.
Intelligent Flight Modes
In the next part of the Holy Stone HS720 drone review, we are going to talk about its intelligent flight modes. For some of you who might be new to smart camera drones, the Holy Stone HS720 comes with intelligent flight modes thanks to the integration of the GPS / GLONASS module. An intelligent flight mode automatically commands the drone to perform a specific set of the flight path.
There are four intelligent flight modes to choose from: Orbit Mode, Follow Me Mode, Waypoint Mode and Smart Return to Home. I will further explain what each intelligent mode does and how you can use them to achieve professional-level videos:
Orbit Mode
This is one of my favorite intelligent flight modes. What you do is select a target that you want to create 360-degree videos. Once you position the height and distance, simply press start and the drone will create a complete 360-degree video. This intelligent flight mode is incredibly useful for making videos of cruise ships or tall buildings or points of interest areas.
Follow Me Mode
If you are avid of the solo journey and want something to record videos of your trip. But you don't want someone else to do for you? Then you are in luck because the Holy Stone HS720 drone is capable of doing this. To activate this intelligent flight mode, you need to select yourself as the subject and the drone will automatically start following you.
Waypoint Mode
Unleash your creativity with waypoint mode. This intelligent flight mode allows you to create and customize your flight path by setting the points that you want the drone to fly. Once you are happy with the flight path. Simply press start, and the drone will automatically start flying on the flight path. It is a nice additional feature for creating customized video and to showcase your piloting skills.
Smart Return to Home
Finally, this is another intelligent flight mode that makes recalling the drone as simple as possible. To use this mode, simply press Return to Home and Holy Stone HS720 drone will fly upwards several feet. This is done to help avoid hitting trees and any other objects that might be interfering in its flight path. The drone will start flying back to its home point and land intelligently.
Remote Controller
In the next section of the Holy Stone HS720 drone review, we are going to talk about the remote controller that comes in the package. On the first impression, this is by far one of the most advanced and nice-looking remote controllers. It features two arm grips that provide great handling of the remote controller. Furthermore, it is clutter-free of buttons which makes it incredibly simple enough for beginners who are new to drones learn how to fly one with relative ease.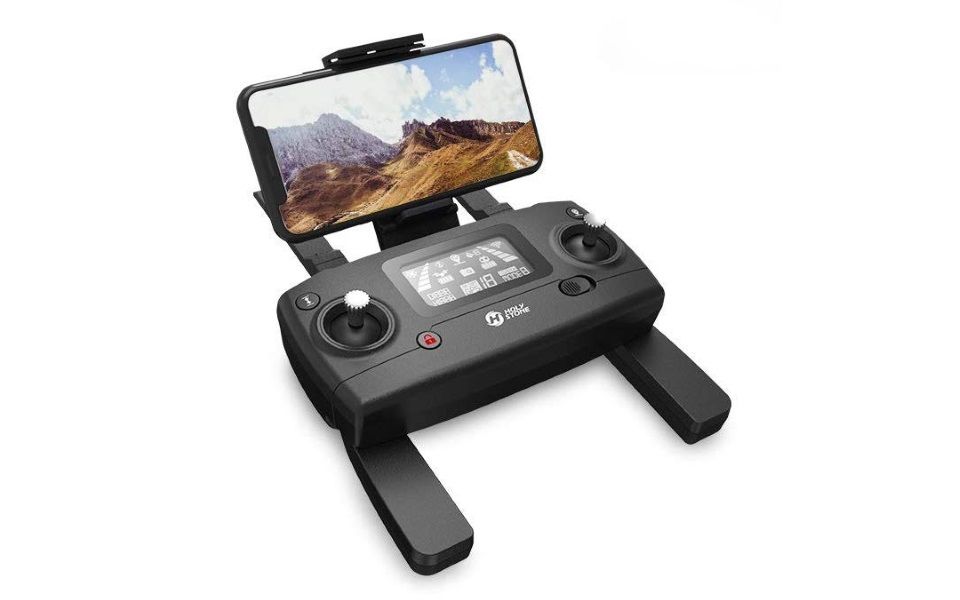 One of my favorite thing about this remote controller for the Holy Stone HS720 drone is that it has a built-in LCD screen. This is a great design feature because it helps keep you in the loop of the drone's battery status, altitude level, speed, and more. It is a smart remote control that does everything to ensure you have the best flight experience. Unlike some toy-grade drones such as SS41 Beetle and Eachine E511S, this remote controller uses authentic antennas to deliver a reliable connection.
This is why the Holy Stone HS720 drone can fly up to a mile away while offering beginners and recreational remote pilots an authentic aerial view. This remote controller comes with a rechargeable battery that provides up to two-three hours of running time. To recharge, it takes approximately an hour which is relatively quick compared to the battery for a drone that takes up to 4 – 5 hours depending on the room temperature.
Camera Quality
The Holy Stone HS720 drone review isn't completed without talking about the quality of its built-in camera. As I mentioned previously in the beginning that quality of drones is gradually getting better. Fortunately, the Holy Stone HS720 is the latest example that features a built-in 2K camera mounted on a gimbal stabilizer. If you are looking for an affordable drone that doesn't dent your bank account like a DJI Mavic Pro or Phantom 4 would. The Holy Stone HS720 drone is probably your best option. Here's why: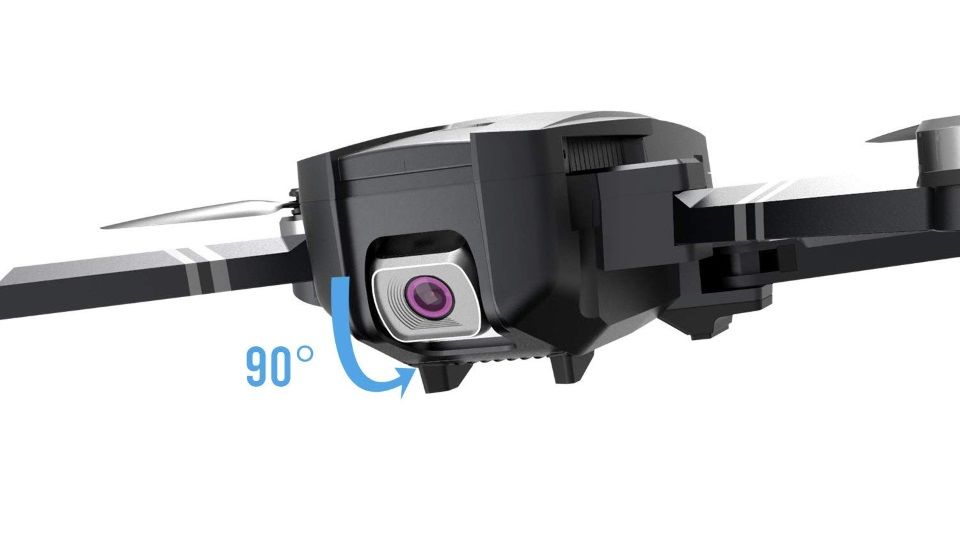 The camera is mounted on a 2-axis gimbal stabilizer that reduces the vibration to deliver smoother footage. It automatically levels the footage so that it will always appear even-level while you pilot the drone. In addition to that, you can adjust the camera remotely. Largely thanks to the integration of GPS / GLONASS module. Performance-wise, the camera mounted on Holy Stone HS720 drone is one of the best that you can buy for less than $300.
However, when it comes to imaging quality. The Holy Stone HS720 drone can only deliver up to 2048 x 1152 pixels for both stills and videos. Footage-wise, this drone can record videos at 30 frames per second which is quite an impressive feat for a foldable camera drone with a price tag under $300. Certainly, you are likely to start a video career with Holy Stone HS720 drones above the average imaging capabilities. Hence, it makes a great choice to learn the basics before you are serious about getting your hands on DJI Mavic Pro.
Customer Experience
The Positive
Customers have no regrets with the HS720 drone. Some have used it for more than six months and still prefer it more than other drones. For them, it is the perfect drone as they're happy with the solid yet compact build of the HS720. They don't have to worry about windy conditions as well. Most users like how the remote control runs on 2 AA batteries, and it doesn't need to be charged. The remote control is comfortable in their hands, with an easy to read display. The joysticks are also responsive and sturdy.
The Negative
Some users report connection problems, the need for repeated calibrations, and manual camera adjustment. One customer mentioned that their only minor dislike is that you can see a small portion of the propellers in some angles of video recordings.
Verdict: Should You Buy Holy Stone HS720 Drone?
If you were going to ask me whether you should buy Holy Stone HS720 Drone or not, I would say yes because you can't get the same level of flight performance and specifications that this quadcopter offers in another unit at the same price. The second best option is Holy Stone HS700D Ophelia with its 2K camera and relatively good flight time up to 22 minutes with the same remote control distance. But for some of you who want to be able to bring a drone with you on a trip, this is your best option following up to DJI Mavic Air / DJI Mavic Pro.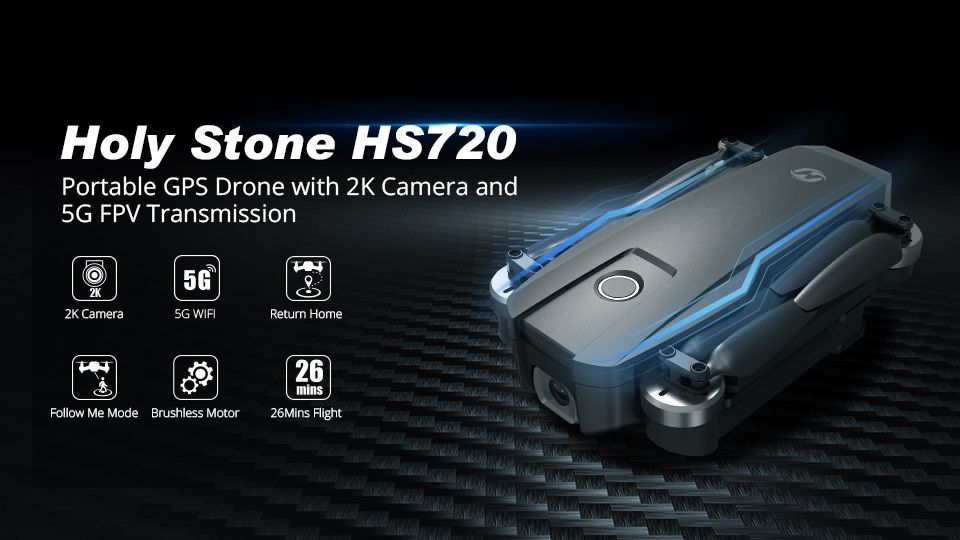 I would buy this drone because it has good specifications at an affordable price. Generally, it's hard to get a drone with a good flight time under $300 because the features are limited, compared to professional-grade camera drones. However, the technology is changing and Holy Stone is quickly becoming the biggest competitor that will shake up the market. Potentially forcing DJI to play their hand into pushing their quality of drones further to retain their market share.
So, in conclusion, the Holy Stone HS720 drone is a high-quality camera drone that will exceed your expectations. You can get your hands on this drone via here. We hope you find our in-depth Holy Stone HS720 drone review helpful and insightful. If you have any questions about this smart camera drone, feel free to drop a comment in the comments section below. Happy flying and fly smart!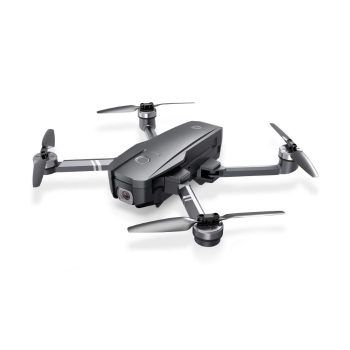 Set Lowest Price Alert
×
Notify me, when price drops
Set Alert for Product: Holy Stone HS720 Foldable GPS Drone with 4K UHD Camera for Adults, Quadcopter with Brushless Motor, Auto Return Home, Follow Me, 26 Minutes Flight Time, Long Control Range, Includes Carrying Bag - $249.99
Last Amazon price update was: December 1, 2023 3:55 am
×
Product prices and availability are accurate as of the date/time indicated and are subject to change. Any price and availability information displayed on Amazon.com (Amazon.in, Amazon.co.uk, Amazon.de, etc) at the time of purchase will apply to the purchase of this product.
A Superior Foldable Camera Drone Under $300
The Holy Stone HS720 is the latest iteration drone from a widely recognized brand that offers an impressive flight time up to 26 minutes and a maximum remote control distance up to 1 mile. This foldable quadcopter is packed with a 2K HD camera that boasts nice imaging quality. Not to forget to mention that its flight controls are incredible simple enough for beginners. Overall, a very great smart foldable camera drones for everyone.
PROS
Simple and easy enough for beginners to learn how to fly.
Integrated with GPS module that provides stability and precise flight controls.
Packs an awesome 26 minutes of flight time.
Strong remote control distance up to 1 mile away.
2K HD camera mounted on a gimbal stabilizer for smoother footage.
Foldable motor arms that makes it easy to travel.
Unique design that makes it appealing.
Smart remote controller that keeps you in loop of the drone's status.
CONS
4K HD camera would be a nice design feature.
Add your review
|
Read reviews and comments