Flying drones is a lot of fun. If you are going to fly cheap toy-grade drones under $50, it is common for these drones to have a battery life between 5 to 10 minutes. For some drone users, having to land to recharge it can be annoying. Fortunately, those days are over. Meet the JJRC H68 Bellwether drone, one of the most longest flying quadcopters with an incredible battery capacity up to 20 flight minutes.
The JJRC H68 Bellwether drone is a brand new quadcopter that was released a few months ago and already gained attention for its incredible flight time. One thing I love most about the drones is that they are constantly evolving. So, there are always new things such as breakthrough technology, better flight time, remote control distance, and new features. If you are looking for a camera drone with great flight time, stick with us and read the JJRC H68 Bellwether review.
---
JJRC H68 Bellwether Review
Before we dive into the JJRC H68 Bellwether review, we want to kickstart it and show what is inside the box. Knowing what is included in the box is the most important thing you need to know before buying. Just like every other drones and product, knowing what is inside the box will help you adequately prepare if you need to make extra orders like more batteries and such. Check out what the package contents are: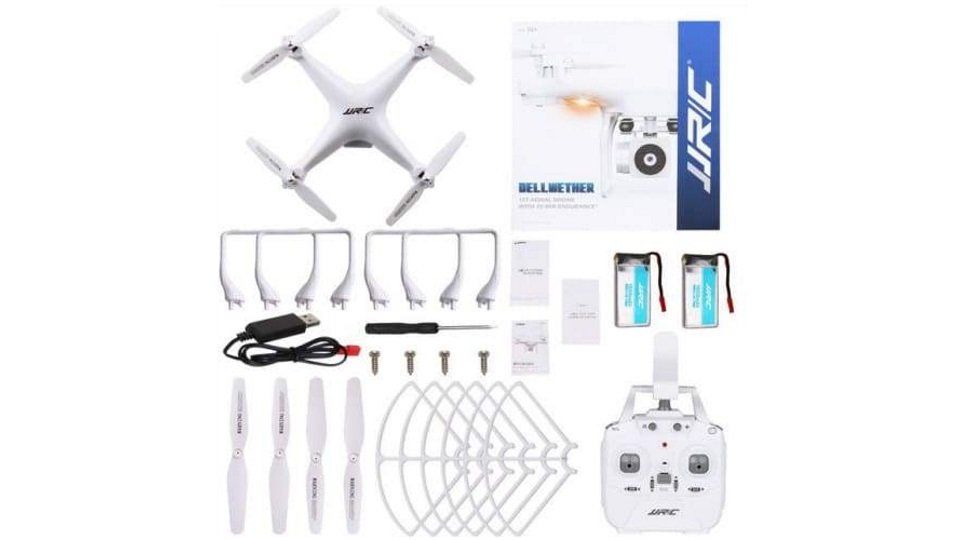 Package Contents:
JJRC H68 Bellwether Drone

Remote Control

720P Camera

Camera Anti-Shake Table

3.7V 1800mAh Battery x 2

Propellers x 4

Propeller Guards x 4

Landing Legs x 4

Phone Holder

USB Charging Cable
---
Durable Design & Build
On the first impression, the build and design quality of JJRC H68 Bellwether drone is compact with a sleek white coating. Personally, it is one of my favorite looking and also one of the best appearances. It resembles the appearance of the Phantom 4 Pro. On the top, it is embossed with the company's brand which signifies its popularity. The propeller guards and legs are included in the box. However, you will have the option to install them.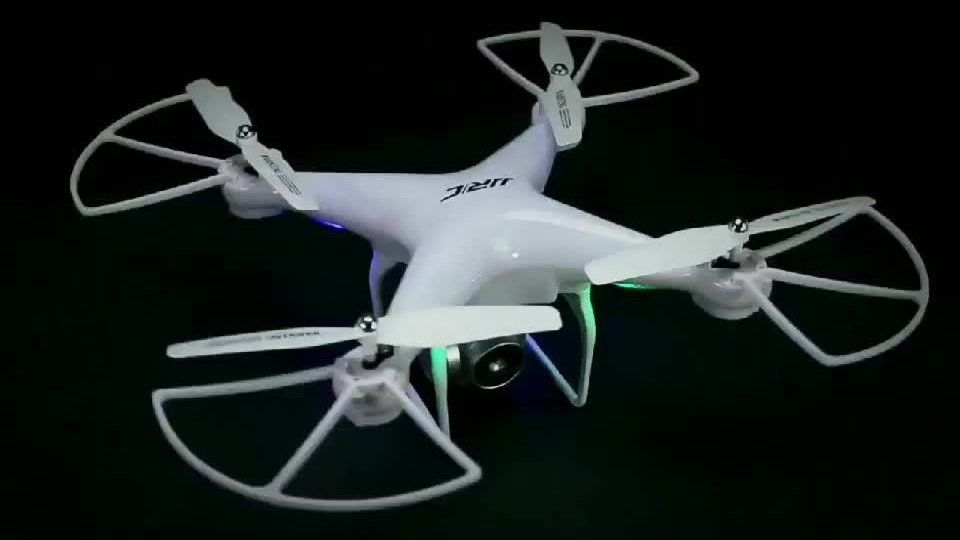 I always recommend that new drone users and beginners to install these modules during your first few flight sessions. That is because it is likely you will crash the drone. These guards and legs will help protect your drone and extends its lifespan. Of course, you can remove them once you become more experienced and feel comfortable flying without them. The drone is equipped with a 720P HD camera as well.
Colorful LED lights provide visual assistance during the daytime and nighttime flight operations. One of the most important design features this drone has is its amazingly large battery capacity. It uses a 3.7V 1800mAh Li-Po battery that provides a mouthwatering 20 minutes of flight time. This makes it one of the longest flying quadcopters in its price range.
Performance
With the price tag that JJRC H68 Bellwether is going for, it has a lot of performance advantages. As I mentioned previously, this drone is packed with a high powered battery that brings you 20 minutes of flight time per charge. Not to forget to mention that the package comes with a bonus battery. This gives you a total flight time of 40 minutes. In addition to that, these batteries are modularized design to deliver power more effectively.
Along with these great designs geared toward enhancing the performance. The JJRC H68 Bellwether includes a multitude of beginner-friendly features, such as altitude hold function, headless mode and speed mode. On default, the drone's speed will be reduced. This is done so that beginners can learn the basics of flight controls first. Once you are comfortable with the controls, you can increase the speed mode.
Overall, the performance of JJRC H68 Bellwether is an exceptional drone. It is such a shame that this drone doesn't have a built-in GPS module or proximity sensors like the Xiaomi MITU drone or DJI Tello does because they would have been awesome additional features to have! Regardless, the JJRC H68 Bellwether has a maximum remote control distance of up to 100 meters. It is a real sweet quadcopter. Check out its performance in action below.
Remote Controller
In the next part of the JJRC H68 Bellwether review, we are going to talk about the remote controller. On the first impression, it might look bulky and complex to some drone users. But, it is not that hard aside from the fact it is going to be slightly bigger than what these cheap toy-grade drones use. The controls are straightforward and simple. It has a phone mount holder that you can insert your smartphone on it.
This remote controller consists of two levers that are used to command the drone around. The buttons below these levers are used to adjust the drone's stability. You will need to use these sparingly if the drone starts to fly unsteadily. Above the levers are buttons to activate features such as speed mode, capture pictures, record videos, altitude hold, headless mode and such.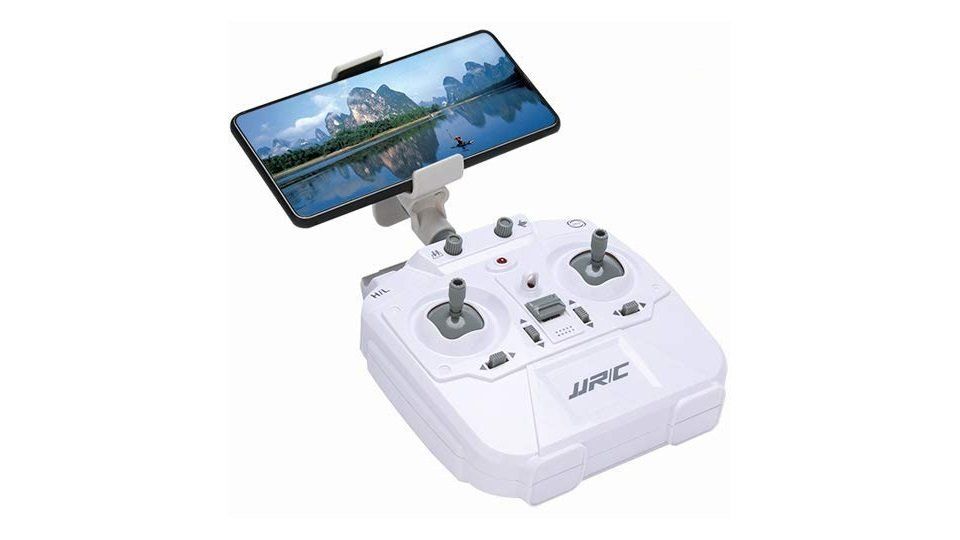 Plus, the remote controller features a mount holder that you can attach to it. If you aren't planning to use your smartphone, then you don't need to use the mount holder. Because the drone has amazingly long flight time and somewhat great camera quality. You probably will find yourself flying the drone around with a smartphone more often than you would think. Overall, the quality of this remote controller is great.
Optimized Camera
One of the main advantages that JJRC H68 Bellwether drone has to offer is an optimized camera. An optimized camera has been upgraded that delivers better image quality. It also helps out with ensuring you get a steady and reliable live video without any delays.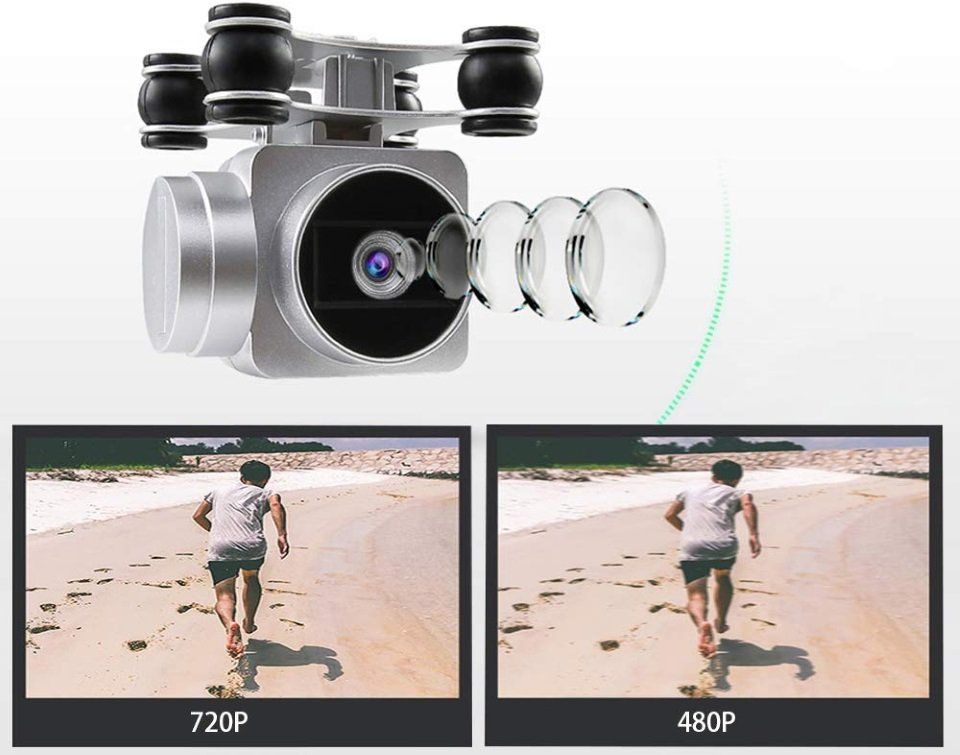 The camera that JJRC H68 Bellwether drone uses can be mounted or dismounted. If you want to extend your flight session, you can dismount the camera to gain a few more minutes. The quality of the image this drone has to offer is pretty good for starters. It can be adjusted to provide you with a wider aerial perspective in any direction you want to point at.
Customer Experience
Users of the JJRC H68 Bellwether drone are generally happy with it. With 296 customer ratings in Amazon, it has an average rating of 3.8 out of 5. Those who love it are gushing how smooth it is to fly than other drones they've tried. It was easy to set up as well, and the instructions were straightforward and easy to understand. Though it is lightweight and has a plastic make, the drone seems to have a durable quality. As far as the drone's users are concerned, the H68 Bellwether is one of the easiest to fly and durable beginner drones at the same price.
Final Conclusion
To wrap up the JJRC H68 Bellwether review, we think this is easily one of the best. A drone with a long flying time will have no problem beating some of the most popular drones like the HS150 Bolt Bee or even the Eachine E58. The JJRC H68 drone is made of thick and high-quality ABS plastic that gives it an impressive durable. But that doesn't make it impact-proof, it still can withstand falls without breaking apart.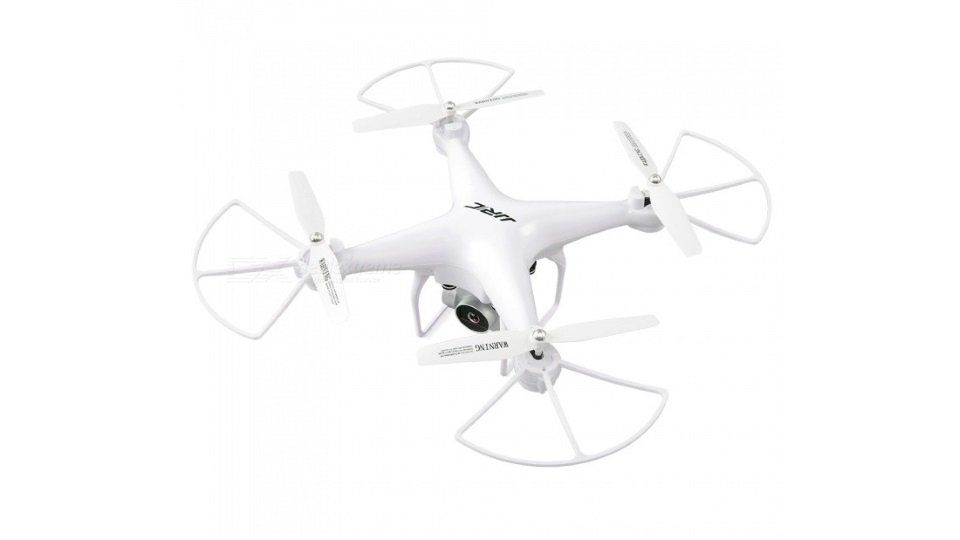 Plus, this drone comes with a lot of modules that you can easily assemble. If you are a first time user, you can assemble everything to maximize your protection. If you are an experienced user or just want to fly the drone for fun. Just remove the camera, landing legs, guards and you get a fast-flying drone. Adaptability and flexibility are one of the JJRC H68 Bellwether strongest suits, which is why we think it is the best.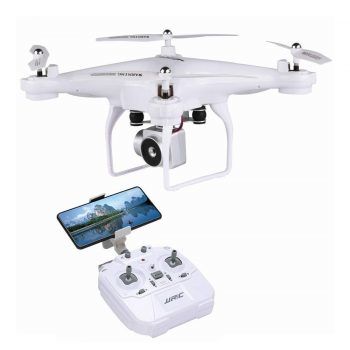 Set Lowest Price Alert
×
Notify me, when price drops
Set Alert for Product: 40Mins Flight Time Drone, JJRC H68 RC Drone with 720P HD Camera Live Video FPV Quadcopter with Headless Mode, Altitude Hold Helicopter with 2 Batteries(20Mins + 20Mins)-White - $79.99
Last Amazon price update was: November 18, 2023 6:27 pm
×
Product prices and availability are accurate as of the date/time indicated and are subject to change. Any price and availability information displayed on Amazon.com (Amazon.in, Amazon.co.uk, Amazon.de, etc) at the time of purchase will apply to the purchase of this product.
Editor's Review
The JJRC H68 Bellwether drone is one of the most longest flying drone packed with impressive features and somewhat great quality camera. With a flight time of 20 minutes and maximum remote control distance up to 100 meters. Beginners and hobbyists can truly enjoy flying this drone around and capture every aerial perspective thanks to adjustable camera. We think this is one of the best camera drone that will definitely win you over.
PROS
Insanely long flight time up to 20 minutes per charge.
Integrated with optimized 720P HD camera that delivers quality images and videos.
Easy to use remote controller, offering drone users simple and convenient flight controls.
Addon modules that makes it easy to install guards, legs and camera.
Plenty of customize options that makes it adaptable and flexible drone.
CONS
Limited control distance.
No built-in GPS module and proximity sensors, although that would be a great feature to have!
Add your review