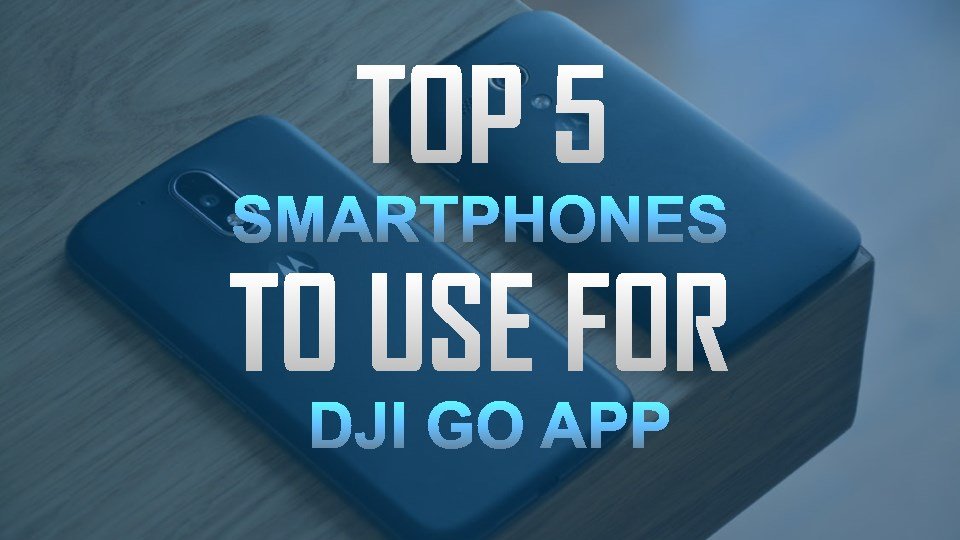 Having the best smartphones to use for DJI Go App is equally important as it is to be able to process the image footage smoothly as possible. Today, many professional and hobby remote pilots are using smartphones as their to-go mobile devices to capture pictures and record videos. Not only it lets them see the images, but the smartphones can also do a lot more such as turning your camera drones into an advanced tool for analyzing the crop health and such. In our guide, we will share the top 5 best smartphones to use for DJI Go App as of Winter 2018.
Keep in mind that the best smartphones I am going to list are the latest gadget you can use for DJI GO App. However, if you do want to know which smartphones (or in this case, tablets) that works with the app. Please refer to our smartphones and tablets list that is compatible with DJI Go App. You will find all the mobile devices that work with the app before the iPhone 6. Without further ado, let's get the ball rolling to find out what is the best smartphones to use for DJI Go App right now.
Top 5 Best Smartphones To Use For DJI Go App
iPhone X
The most obvious and popular choice among DJI Go App users for their camera drones is Apple iPhone X. This latest encompasses all the features and upgrades from its predecessor that makes it one of the most powerful mobile devices available. However, it comes at a slightly higher price tag for several good reasons.
The iPhone X uses A11 CPU and has a 3GB RAM. Because its CPU is so good, it won't have any issue running the DJI GO App at all. Which means, you can view the video without having to experience any choppy frames or lag. Plus, the iPhone X has a signal frequency of 210 milliseconds, which is 30 milliseconds higher than the dedicated video monitor designed for the app.
Even more so, you can download drone apps to turn your quadcopter into advanced flying machine to do all the work for you. The latest iPhone X gives you the benefit of compatibility with majority of the drone apps that are available in the store. My recommendation is that if you do plan to buy iPhone X, get Airmap and Precision Flight along with DJI GO app.
back to menu ↑
iPhone 8
This iPhone model is one of the top 5 best smartphones to use for DJI Go App. It is slightly expensive than iPhone 7 and its plus version. However, it features an upgraded CPU: A11. Plus it has a RAM of 2GB for the iPhone 8 and 3GB for plus version. Most importantly, the brightness has been improved slightly compared to its predecessor which is important if you want to be able to see the screen in direct sunlight.
The iPhone 8 models usually has a price range between $500 to $750, depending on the market value. But for what it has to offer, including upgrades over its predecessor and faster processors. You can easily load other drone apps in addition to DJI Go App. This is the best iPhone model in the family line for people who have the money to spend on and to use for their DJI drones. If you plan to use it for drones alone, you are looking at maybe three to five years of using it. So, it is quite a great investment to have.
back to menu ↑
iPhone 7
If you are tight on budget, but you want to know what is the best smartphone to buy for your DJI drones. I recommend the Apple iPhone 7 and Plus version. Sometimes the features and specifications of a smartphone is so good that it is still a serious contender few years later. That's why Apple iPhone 7 and Plus version is still a popular choice among beginners and professional drone pilots.
The CPU that this smartphone uses is A10, which is slightly inferior to the processing power that iPhone 8 and X uses. Regardless, it is still powerful than most of the Android smartphones use. The iPhone 7 has a RAM of 2GB while the plus version features a 3GB RAM.
These iPhone 7 models can easily dip around $400 to $500, depending on the market value. I use this smartphone sometimes for my drone and it runs like a boss. My only suggestion is that you will need to buy a sun shade if you want to be able to see the screen in direct sunlight.
back to menu ↑
Galaxy S9
Not an Apple fan? Do you prefer to use Android instead? Fortunately, there are two great android-based smartphones that you can buy for DJI Go App. The Galaxy S9 and S9+ version features several upgrades such as super-slow motion video, variable aperture, dual-lens camera, intelligent scan, augmented reality emoji and stereo speakers. This marks a major leap toward a powerful android smartphone.
The Galaxy S9 and S9+ version has a CPU rating of 2.8GHz and uses four cores which is actually way beyond the DJI Go App requirement according to this reference guide list. Plus, it is packed with a 6GB RAM that makes loading speed fast. It is very useful for pulling up drone apps and processing large image data such as live streaming videos and producing high-definition image quality. I think the android-based users will love what The Galaxy S9 and S9+ version has to offer.
back to menu ↑
Google Pixel 2
Finally, we have reached the top 5 best smartphones to use for DJI Go App. The Google Pixel 2 and XL version is another great alternative mobile device that you can buy for all of your drone needs. While it is obviously not that equally good as the iPhone 8 or 8 Plus. They are powered by 1.9GHz octa-core processors while the XL version uses 2.35GHz.  Both comes with 64GB internal storage that can't be expanded.
As far as installing the drone apps and features are concerned. Both Google Pixel 2 and XL versions are equipped with a powerful 12.2 MP camera on the rear and 8 MP for selfies. The price range for these android smartphones, however, is quite affordable. If you are using an outdated smartphone or in some cases, a flip phone. Then you might be looking at a major upgrade that introduces all the latest features and the ability to see through the eyes of your drone.
Unlike the iPhone models, I do highly recommend that you buy a Sun Shade to use with these smartphones. Because their brightness isn't that powerful enough to counter direct sunlight. Not only you will be able to see the screen easier, you will be able to position your drone for perfect shots and the like. Be sure to check out these Google Pixel 2 models.
Other Recommendations
While the purpose of this guide is to provide you the top 5 best smartphones to use for DJI Go App. I also have used several other mobile devices that works exceptionally well with the app. In fact, I am a DJI CrystalSky user and it is my favorite to go mobile device for all flight missions. It is one of the best mobile device in the market that you can buy due to its incredible low latency and super fast processors.
However, the only downside to that is you can't install apps on it because there is no Google Store on it. Which makes it quite an inconvenience for some professional drone pilots who want to turn their quadcopter in an advanced tool. Of course, these top 5 best smartphones to use for DJI Go App that I listed isn't the only one you should check out. I created a reference guide to the best smartphones and tablets that work for DJI Go App. Feel free to head over and check out which mobile devices you should think of getting.
Which is Better? Android or Apple?
It depends on how you see it. Some people prefer Android over Apple. And some pick Apple over Android. However, from what I have experienced, it depends on what type of smartphones or tablets you are using. In my case, iPhone smartphones are the best pick because it has a powerful CPU and stronger RAM. So, it can process more memory in a short time frame compared to the majority of Android smartphones and tablets. Undoubtedly, Apple products are much more expensive compared to Android models.
DJI CrystalSky, for example, is an Android-based mobile device (Surprise! I know right?). But it is the top and best tool you can use for all of your aerial photography. It even comes with expandable memory storage that allows you to store image-intensive films and photos. Which can be especially very useful if you are a Phantom 4 Pro or Inspire 2 users. Depending on what you need such as: how much money do you want to spend. Does having a smooth, lag-free video is important to you? Are you a professional drone pilot and need a lot of memory to store images and films?
Over to you!
Now that I have listed the top 5 best smartphones to use for DJI Go App. I want to remind you to bookmark this guide because I will update it every season to let you know what is the best smartphone to buy for your drone needs. If you are using a smartphone that works exceptionally well with the app, feel free to drop a comment below and we will get back to you. Let's share with the drone community so that we can find the top best smartphones to use for DJI Go App. Happy shopping and fly safe!