Best Seller
Top 10 Best Mavic Pro Skins to Turbocharge Your Drone With Style!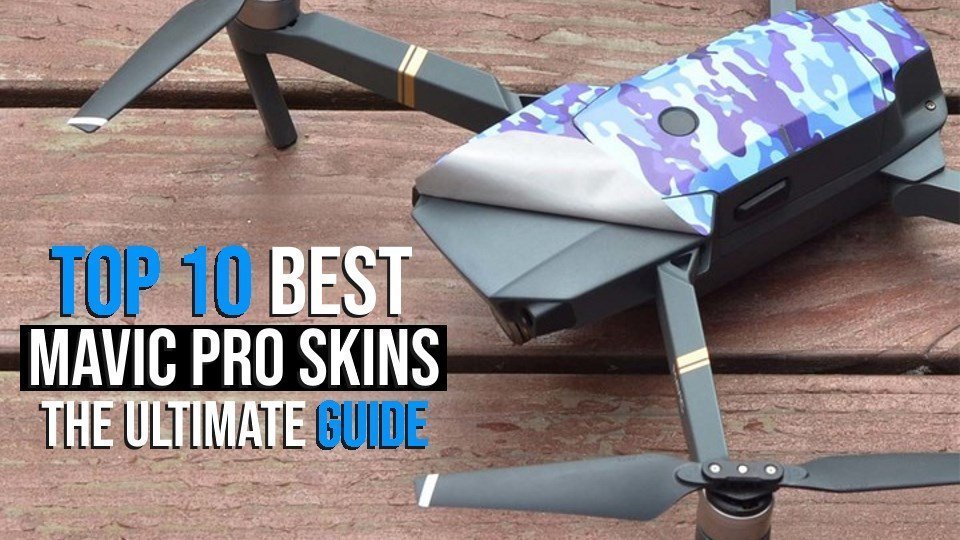 With plenty of great and custom-made skin options are available for your precious Mavic Pro drone. The custom skins are a great way to express your personality by sticking them onto the drone. Instead of flying your Mavic Pro and stare at the same, old, grey boring colors. You now can spice it up with our top 10 best Mavic Pro skins to choose from. Through researching the products and sifting the feedback, we have assembled the top 10 best Mavic Pro skins.
Before we start, some of you might be wondering why you should buy a skin for your drone. First of all, these custom-made skins are entirely optional and aren't required. They serve merely for added effect and to embolden your personality over it. These skins are crafted to be ultra-thin with high quality and durable material that won't interfere with the radio signal in any capacity. Furthermore, if your Mavic Pro has battle scars on its hull body, these skins are a great way to cover up as it looks brand new.
Best of all, you can choose any skin you want to. They are easy to install onto the drone. If you get bored of seeing the same color, you can switch to a different skin to match your tone and mood. The fact that these skins are flexible enough to let you customize your drone in any way you want it to look. So, without further ado, let's dive into the details and find out our top 10 best Mavic Pro skins to turbocharge your drone with style!
Related Article: How to Buy A Drone: The Ultimate Guide for Beginners
Top 10 Best Mavic Pro Skins
Bleep Bloop
The Bleep Bloop makes to the top 10 best Mavic Pro skin. I really like this skin a lot and have used it on my Mavic Pro. If you ever watched Star Wars with R2 Robot going bleep bloop, you'll understand why this skin is so popular. Everyone adores R1 Robot, its funny and stylish. The color is really fitting on the Mavic Pro, great for those who wants to turn their Mavic Pro drone into a Star War aircraft.
back to menu ↑
Charmed
Personally, I think this skin for Mavic Pro drone is nice and stylish. It might not be that popular, but its color and pattern are tailored together nicely. As it does seems to geared toward those who are female drone pilots. Design-wise, the style of Charmed for Mavic Pro is certainly top-notch. So you might want to check this one out too.
back to menu ↑
Dystopia
For those who like weird stuff, fiction stuff about messed-up world. The Dystopia skin for your Mavic Pro drone is a great fit. It's grindy, steel and comes with nice warning sign. Certainly feels like futuristic to me and definitely a great quality skin worthy enough to check out.
back to menu ↑
Exo Neptune
The Exo Neptune is one of the top 10 best Mavic Pro skins that you need to check out. It incorporates futuristic style with jet black color around its body framework. In addition to that, a light shades of blue pluses on the top of it, creating unique hexagonal pattern. This is one my personal favorite skin for Mavic Pro.
back to menu ↑
Hot Rod
Juice up your drone with this bad-ass hot rod skin! If you have the feel for these flashy, sharp and crisp style, the Hot Rod skin for your Mavic Pro might be the perfect choice. After all, this drone can fly at an impressive speed of 42 miles per hour. Great choice for everybody.
Related Article: Top 25 Best Mavic Air Skins: The Ultimate Guide to Customize Your Drone
back to menu ↑
Mark XLIII
Do you like Marvel? How about Iron Man? If you answered yes to that question, then meet the Mark XLIII skin for your Mavic Pro. It features solid red coating in the middle along with edges of yellow. The battery are encased with glowing sky blue orb in the middle which is a nice representation of where the power is located at. This skin is certainly worth checking out.
back to menu ↑
Solar Storm
This is another quality skin that makes into the top 10 best Mavic Pro skins. The Solar Storm skin for your Mavic Pro is a great design that features layers of orange. When it flies across the skies, it does look like a solar storm which makes it definitely a fitting name for the color that the skin encompasses.
back to menu ↑
Starkiller
The Starkiller is another personal favorite of mine with its range of dark color from black to grey. If you don't like these flashy colors, the Starkiller might be a better fit for you. It is color-netural and doesn't comes with fancy style except for the nice pattern that this skin has. Check it out.
back to menu ↑
The Baron
Take your drone back to the early 1916 – 1918 by mounting The Baron skin. This skin mimics a German-made airplane with Germany historic country symbol on it. If you are a buff of history and like Germany a lot, the Baron skin is a great choice to use on your Mavic Pro drone.
back to menu ↑
War Tiger
Finally, we have reached to the last piece of top 10 best Mavic Pro skins. Introducing the War Tiger skin for your Mavic Pro. This skin comes with intimidating mouth and fierce eyes that shows off its prowess and dominance. It transforms your Mavic Pro drone into a force to be reckon with. A great skin that is worth checking out!
Related Article: Mavic Air vs Mavic Pro: Simple and Easy In-Depth Comparison Guide
Mavic Pro Guides, Tips and Recommendations
If you found our top 10 best Mavic Pro skins helpful and insightful, feel free to drop a comment or ask a question about other skins that you are considering. But, if you are new to drones and don't own a Mavic Pro (See Price) yet, you might want to check out our guides and tips about the Mavic Pro drone. Perhaps I can help convince you why you should get a Mavic Pro drone. I encourage you to check out these guides and see for yourself.
Below are flying tips that you should know, check them out too:
That's all. Thank you and we hope to start a conversation with you about these top 10 best Mavic Pro skins. What is your favorite skin so far and let us know?