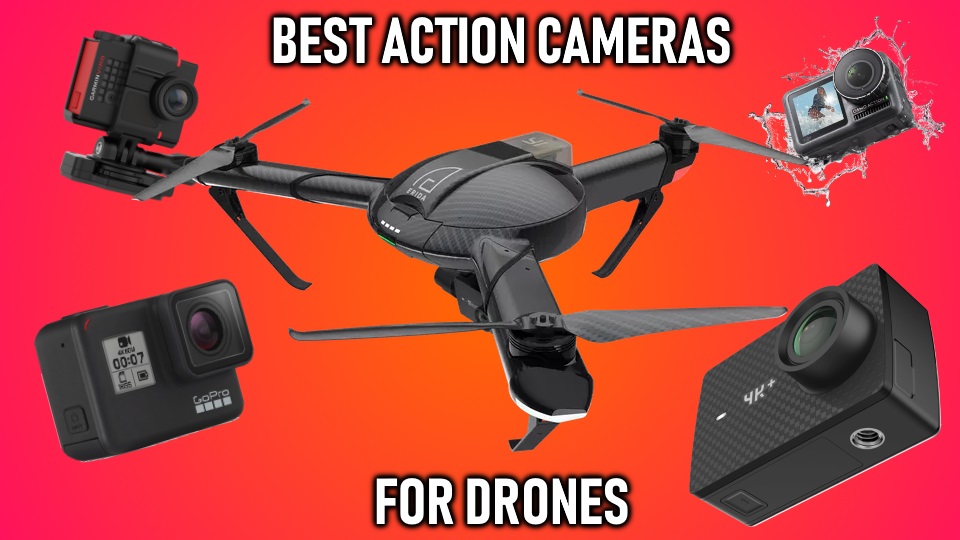 In this guide, we are going to share the top 4 best action cameras for drones. If you are looking for the best action cameras so that you can upgrade your drones into a professional aerial photography quadcopter. Then you will find out what the top 4 best action cameras are. Keep it in your mind that these action cameras don't feature the same capabilities that these professional-grade camera drones have.
However, a drone with an action camera mount and one of these best action camera is the cheapest option going forward to capture good shots in the sky. Several popular brands like GoPro and DJI are the best options for transforming your drones into a powerful aerial photography quadcopter. Mainly because these action cameras feature stabilization technology that ensures smooth and fluid footage for the best content experience that you can deliver to your audience.
You also can find out what the top best action camera drones to shop for so that you can combine with these action cameras in this guide. If you are still reading this, you are hooked to it and we aren't going to waste any time showing you off the best action cameras to buy right now. Without further ado, let's dive into the details and find out what the top 4 best action cameras you can buy for your drones.
Top 4 Best Action Cameras for Drones
GoPro Hero 7 Black
GoPro HERO 7 Black is one of the most popular action cameras among beginners and professionals. This is one of the best gadgets that you can use it to mount on your favorite drones like HS700 Ophelia or Potensic D85. The new GoPro HERO 7 Black features an awesome 4K UHD video capabilities that record at 60 FPS. Furthermore, it comes with a powerful image sensor that beautifully captures stills and videos.
This action camera comes with built-in advanced imaging stabilization that masterfully keeps the footage smooth, even with shaky hands and vibration. The GoPro HERO 7 Black action camera makes a solid choice if you are looking to transform your drone into a professional aerial photography quadcopter. For this action camera, we recommend buying a 128GB micro SD card to go with it so that you will be able to record and store a lot of footage.
back to menu ↑
Osmo Action
DJI has taken an interest in expanding beyond what they are well-known for drones. The new DJI Osmo Action appears to take an approach that rivals the GoPro HERO action camera series. Just like its rival, the Osmo Action camera features 4K video capabilities that let you record videos at 60 FPS. Furthermore, it comes with various functions like the ability to produce slo-mo videos and more.
With its built-in RockSteady feature, it eliminates shakiness and vibration to the point where the footage is just lighting fluid. Mount the Osmo Action with any of these action camera drones. And you will have a high-quality action camera drone that you can record videos and take shots with it. Although the Osmo Action camera is priced slightly higher than its counterpart, it comes with a lot of quality including a superior imaging sensor that makes it a must-buy gadget.
back to menu ↑
VIRB Ultra 30
Another excellent action camera that you can buy for your favorite drone is the Garmin VIRB Ultra 30. This action camera is not exactly that well-known compared to DJI and GoPro. But, it has been gaining popularity recently due to its quality of images and features that it delivers. Like HERO 7 and Osmo Action, the VIRB Ultra 30 features an impressive stabilization technology that eliminates all vibration and shakiness.
This action camera is very popular for aerial activities like skydiving, parachuting, and even flying the drones. It is no wonder why the Garmin VIRB Ultra 30 is one of the preferred action cameras to go with these drones. Combined with its high-quality texture and stylish design, this is an action camera that you should be on the look if you want the best gadget.
back to menu ↑
YI+ 4K
An alternative option to these expensive action cameras is the YI+ 4K. This action camera is made by YI who is well-known for manufacturing popular action cameras and surprisingly, drones too. That being said, the YI+ 4K action camera is an awesome pick because of its ability to deliver quality footages at a stunning 4K resolution setting. Furthermore, it comes with a bunch of features like the ability to record videos at the Slo-Mo setting.
You even can remotely control the YI+ 4K action camera up to a limited distance so that you can keep flying the drone without having to land and adjust the setting. However, the stabilization technology in this action camera isn't that advanced compared to the top 3 popular brands. It still provides an alternative option for those who are curious about integrating action cameras on their favorite drones.
What's Your Favorite Action Camera for Drones?
Since there are limited options for mounting the top 4 best action cameras on the drones due to the required feature for image stabilization. If you were to ask me what is my favorite action camera that I will buy to go with these flying gadgets such as 3DR Solo. It will have to be either GoPro HERO 7 Black or Osmo Action. Alternatively, you also can check out the Garmin VIRB Ultra 30 as it is a good choice too.
If you are on a tight budget. You can stretch your money by buying the YI+ 4K action camera. It isn't the best compared to other action cameras. But, the quality that it provides is still pretty good. After all, if you want to be able to produce your content for traveling purposes. You can just dismount these action cameras and mount them on a selfie stick. Then you can use these action cameras to record yourself for your audience.
Regardless, these top 4 best action cameras for drones are the best of all. Even though the options are currently limited. We are excited and looking forward to new brands popping out and expansion of future action cameras. Perhaps the quality of action cameras will get to the point where it is just objectively a better option compared to the best drones under $1,000. Creative remote pilots already have found ways to transform their drones into photography quadcopters by installing a 3-axis gimbal stabilizer mount combined with an action camera that maximizes vibration elimination.
Alternative Options
If you don't want to shop for action cameras to go with your drones. Perhaps you prefer the minimalist approach. Don't worry about that because we have guides that cover the best camera drones that you can shop right now. One of the main advantages that these camera drones have over action camera drones is that they don't take up too much space. They are easier to maintain and often comes with the best support.
Although, they are also considered much more pricey compared to these action camera drones. That's a fact. But, if you take good care of these camera drones. You can see them continuing to provide you quality aerial shots and footage for many years to come. So, be sure to check out our following guides below to find your perfect drone match:
You also can check out our guides about the best DJI Mavic Air clones and best DJI Mavic Pro clones that just look like their grand sibling. But at an affordable price tag and somewhat average camera quality. They do make great training drones that will teach you how to capture aerial shots. A stepping stone that will help you develop skills before you plan to buy either Mavic 2 Pro or the more expensive Inspire 2 drone.