Introducing the Xiaomi FIMI X8 SE drone. This is one of the latest smart foldable quadcopters that brings a lot of new technology and features. Xiaomi is a Chinese-based company that is well known for crafting high-tech gadgets at low and equitable prices. Recently they have been in progress with shipping all different levels of technology and the superior quality that it has to offer. This is why the brand new Xiaomi FIMI X8 SE drone is a sterling looking foldable drone that resembles high-tech appearance.
If you're a beginner or experienced remote pilot looking to upgrade to an expensive drone from one of these toy-grade drones under $50. You'll be impressed with the FIMI X8 SE drone ability to capture pictures and videos at different angles and heights where you can't reach. Xiaomi invented a drone for people who wants all features and technology packed on a smart and compact drone.
Thanks to its unique and appealing design, the brand new Xiaomi FIMI X8 SE drone looks like a strong competitor against DJI Mavic Air, Parrot Anafi, and more recently the Hubsan H117S Zino. The Xiaomi FIMI X8 SE is the second and most beautiful drone we have seen from the company so far which is likely to become popular. I hope you will find our Xiaomi FIMI X8 SE review helpful, informative, and insightful. Without further ado, let's dive into the details.
Inside The Box
Getting to know what is inside the box is my favorite part of the Xiaomi FIMI X8 SE review. You will be surprised to learn what accessories and parts that the drone comes as it helps you become prepared if you need to get additional batteries and such. However, we are going to keep this part short and sweet. The FIMI X8 SE drone comes with the following content in the box:
Package Contents:
FIMI X8 SE Foldable Drone
Remote Controller
Intelligent Flight Battery for Drone
Intelligent Battery for Transmitter
3 USB Cable
6 Propellers
AC Cable
Battery Charger
User Manual
Related Article: Top 10 Best Drones Under $500 for Beginners: The Ultimate Guide
What Is Xiaomi FIMI X8 SE Drone?
The Xiaomi FIMI X8 SE drone has taken a very different approach, focusing on the minimalist approach and making it super user-friendly. Because of its visage, this portable drone is packed with a lot of features that make it an economic good. That being said, the design is carefully crafted to be easily utilized by beginners and kids. While it achieves at meeting your expectations such as doing flight projects without issues.
Also, it has a lot of intelligent flight modes that you normally would find on professional-grade camera drones. Such as the ability to create Hyperlapse, Panoramic Shots, and Image Tracking. Not only the FIMI X8 SE drone is loaded with a bunch of amazing features, but it is also astute. It'll be very exciting to see this drone giving challenge and strong edge over popular brands as this drone's technology are quite advanced.
Sleek and Minimalist Design
The design of the FIMI X8 SE drone is completely different which looks complete like an ingenious product that matches its specifications. This foldable drone features an ultra-portable design that makes it unique. It's outfitted with four foldable motor arms that provide the drone slight raise and excellent length to improves its stability. The wings contribute a lot to the drone's appearance, in the peculiar feature that is the foldable technology.
When the drone is folded, it's slightly bigger than a smartphone. This is a great and ergonomic design for travelers. Furthermore, the remote controller looks like a PSP. It features dual antennas at the end. On the bottom left, you can find a power button shaded in sliver. Above the power button is where the connectivity slide switch is located at. It's commonly known as the Sports / GPS mode. Below the power button is Smart Return to the home button. Altogether, the product provides a professional appearance that makes you want to have it without knowing about its specifications.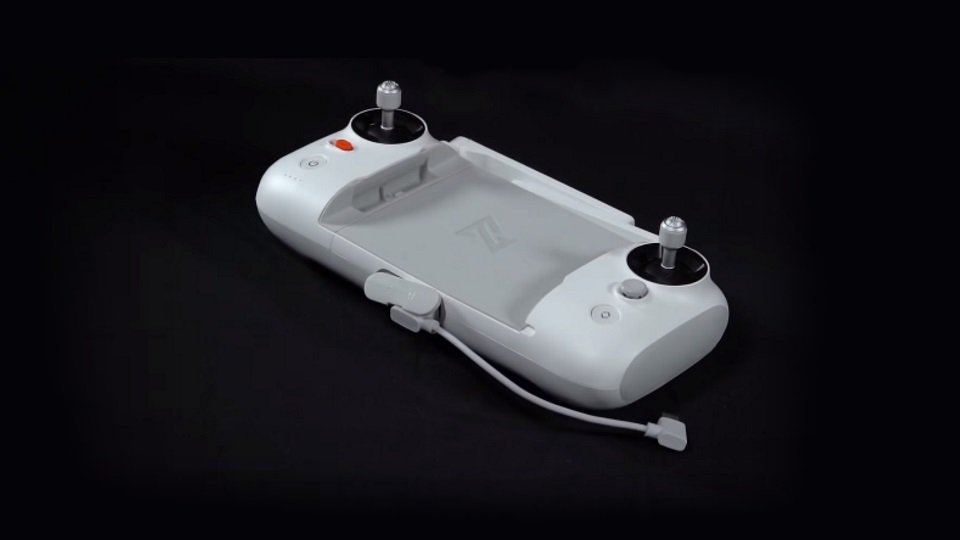 Furthermore, the remote controller has an expandable wireless connector that provides a better connection. It can support maximum remote control distance up to 5,000 meters. The FIMI X8 SE drone only weighs 790 amazingly light grams. Xiaomi promises that this drone will be the quietest and far more capable than the Mavic Pro.
Related Article: How to Buy Drones in 2019: The Ultimate Guide for Beginners
Advanced & Smart Features
This brand new foldable drone released by Xiaomi comes with a lot of amazing features along with its unique design. For your information, the FIMI X8 SE drone is packed with a super powerful intelligent flight battery that provides a mouthwatering 33 minutes. Furthermore, it can record videos on a 4K UHD resolution setting at 30 FPS with a video bitrate of 100 Mbps. Which easily pushes both DJI Mavic Pro and Mavic Air out of the air.
Coupled with a powerful 12MP camera that features Sony IMX378 1/2.3-inch Sensor on a 3-axis gimbal stabilizer. It can support intelligent flight modes such as hyper-lapse, panoramic, image tracking, and custom way-points. Furthermore, the FIMI X8 SE drone has nine other amazing shots. Which includes orbit, rocket, drone, and spiral that transform your videos into professional and cinematic footage. Not to forget to mention that this drone is outfitted with a digital zoom up to three times closer.
The most important part about the FIMI X8 SE drone is its ability to perform smart return to home function whenever its battery reached the critical level or signal loss. The drone is equipped with advanced wind warnings. Which provides safe flight information in case you need to perform emergency landings. Also, Xiaomi made sure that this drone is equipped with precise vision positioning that makes it easy for beginners to fly it.
Besides, it comes with a built-in rechargeable 11.1V 4500mAh Li-ion battery that delivers 33 minutes of flight time. Overall, the FIMI X8 SE drone is packed with top-notch quality that you can rely upon. Now, let's dive into the specifications and technology. I'm thrilled to tell you that I am impressed with this drone already and will happily give it a reference.
Connectivity & Reliability
What do all professional-grade camera drones have in common? Great connectivity and reliability are the cornerstones that make these drones great. In the Xiaomi FIMI X8 SE review, this drone is integrated with dual GPS / GLONASS systems. Which makes it easy to track the drone and provides accurate positioning for smooth and precise flight controls.
Furthermore, the remote controller is outfitted with 2.4GHz wireless connectivity that supports up to four channels. The remote controller provides a maximum control distance of up to 2,500 meters. That's quite decent for an advanced foldable drone. Some ports give you more options that work with the drone such as Fireworks. Even flying during the night time that enables LED. There's also a servo supported port.
The FIMI X8 SE drone remote controller comes with an AV out port, a micro SD card slot, and of course USB charger. This makes it easy for you to view videos and stills on your TV screen. The micro SD card also can be used to provide a connection to various tools for flexibility and comfortability.
Related Article: The Ultimate Guide to Taking Proper Care of Your Drone Batteries
Built for Performance
While there are a lot of good things to be said about the Xiaomi FIMI X8 SE drone. It comes with aerial capabilities that can reach up to a maximum height of 500 meters. Furthermore, it can operate up to 33 minutes continuously. The drone is supported by two radio modes that help keep the connection stable while ensuring a smooth response. On the positive side note, the FIMI X8 SE drone is equipped with a powerful camera that does a great job delivering flawless footage and certainly will not dissatisfy you at all.
This quadcopter comes with quick-release propellers that make it easy to install and remove during a pre-flight inspection. Not only it is easy to maintain the FIMI X8 SE drone, but it is also perfect for beginners and kids. Inside the package, it comes with everything you need to get started flying right away. It even comes with a user manual that helps people who aren't familiar with the remote controller. This allows them to learn the basics of flight to become an experienced remote pilot.
Customer Experience
Though there are only seven reviews and thirteen ratings in Amazon, the Xiaomi FIMI X8 SE drone's average rating is five over five. That means that every single person that rated the drone cannot find any faults and is perfectly happy with their purchase. A reviewer who owned several other drones said that the X8 held its won against them all. It's straightforward to fly at first use. It's smooth and stable. The drone's camera also takes excellent photos and videos, its quality nearly like the Mavic Air 2. Even the controller is handy and easy to operate. Those who bought this drone are clearly satisfied by this incredible drone and highly recommend others to buy it.
Final Verdict
Before we conclude the Xiaomi FIMI X8 SE drone, we think this is one of the best looking quadcopter crafted for entry-level aerial photographers and professionals. It comes with superior specifications and amazing design that makes it already one of the best choices. The whole weight itself is 2,300g. But the drone is merely 790g, making it one of the lightest gadgets suitable for travelers. It also can support multimedia formats such as JPEG and RAW that makes it a very desirable drone.
You can order the FIMI X8 SE drone for $499.99 or less which is surprisingly reasonable given how juicy and packed this quadcopter is at. For some of you, it might sound a bit too high. But you need to see reviews and shop accordingly to make the right choice. Now, that you know all the features, performance, and key specifications that this drone has in the game for you.
It is ultimately your choice whether you want to buy a high-tech drone at a reasonable price with overall great features. Or do you want to have a heavy drone that makes it hard to travel around? If you decide to make my decision and buy the FIMI X8 SE drone, I can assure you will be happy with this quadcopter. Happy flying and fly smart!

Last Amazon price update was: August 18, 2022 10:18 am
×
Product prices and availability are accurate as of the date/time indicated and are subject to change. Any price and availability information displayed on Amazon.com (Amazon.in, Amazon.co.uk, Amazon.de, etc) at the time of purchase will apply to the purchase of this product.
Editor's Review
The Xiaomi FIMI X8 SE drone is the latest foldable quadcopter that introduces a lot of innovative technology and features. It has strong edges such as amazing features and high-powered battery that makes it powerful competitor against popular brands. Thanks to its built-in camera that delivers quality images and videos at 4K UHD resolution. This foldable drone is simple, yet easy to fly around thanks to a number of smart safe flight navigation systems. We highly recommend the Xiaomi FIMI X8 SE drone for beginners and professional aerial photographers.
PROS
Comes with powerful intelligent flight battery that provides 33 minutes of flight time.
Integrated with 12MP Camera 1/2.3-inch CMOS Sensor that delivers 4K UHD stills and videos.
Dual GPS / GLONASS positioning systems for precise flight controls and stability.
Easy to use, perfect for beginners, travelers and even professional aerial photographers.
Compact and portable that makes it easy to travel around the world.
Incredible lightweight, weighting only 790 grams.
Cheaper than DJI Mavic Air and Mavic Pro, making this drone one of the best choice for beginners.
Amazing long remote control distance up to 2,500 meters, giving you plenty of flying space.
Built-in advanced wind warning systems that keeps you in the loop.
CONS
Doesn't comes with built-in Obstacle Avoidance Detection Systems.
Add your review
|
Read reviews and comments