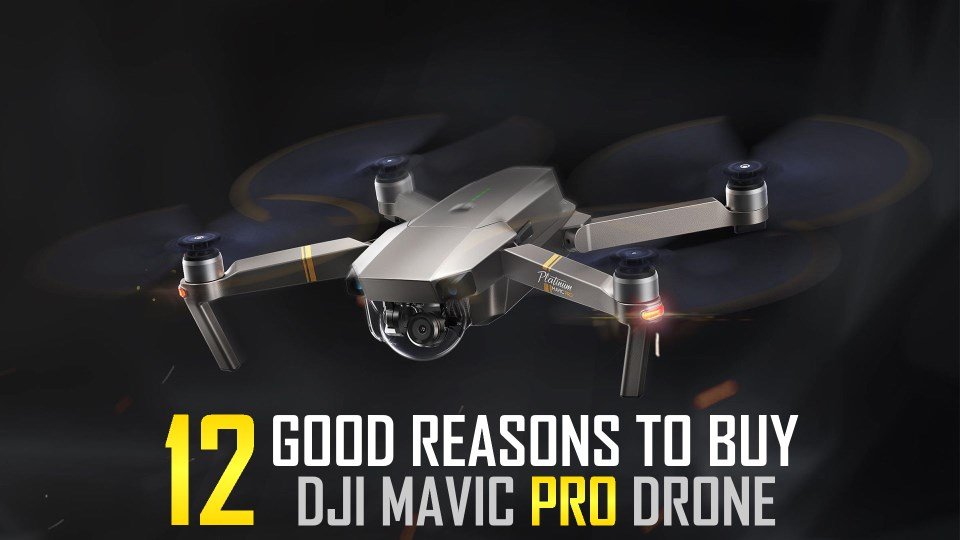 The DJI Mavic Pro is one of the most popular drones to this date. Tourists, professionals, and hobbyists use it for many different purposes, whether for fun or to make money. If you are thinking to buy an expensive camera drone just to have fun flying it around or even to make money. There is a good chance that you are thinking to buy DJI Mavic Pro for a good reason. But you aren't entirely convinced yet.
Perhaps you need good reasons to buy DJI Mavic Pro. After all, my reasons will convince you to buy one. As a DJI Mavic Pro owner, I can say a lot of things about this spectacular drone. However, if you want to know my top 12 reasons to buy DJI Mavic Pro. Then read below to find out!
12. Trusted Brand
The Mavic Pro quadcopter is manufactured by DJI, a highly reputable drone industry that is well known for popular and intelligent drones such as Phantom 4 Pro and to a certain extent, Inspire 2. You will always find their logo branded on every drone, like this one on the DJI Mavic Pro.
DJI is a highly respected drone industry that excels in customer service support and quality of products. The products that they have to offer via the online store will rarely disappoint you. If you need additional batteries or propellers, you can easily purchase extra from them.
11. OcuSync
The DJI Mavic Pro is a badass drone because the remote controller that the drone uses is equipped with the OcySync transmission system feature. Now, you might be asking yourself this question: what the heck is OcuSync? It is just like Lightbridge that Phantom 4 and Phantom 3 uses. Except, it is far better and superior because of its ability to block off signal interference.
Plus, the OcuSync features an automated channel that switches between 2.4GHz to 2.483GHz for smooth flight experience. Never again, you will have to worry about losing signal or experience choppy video frames on your smartphones and tablets. This feature lets you fly at a greater distance while maintaining smooth and flawless communication between the drone and transmitter.
10. Incredible Stable
The DJI Mavic Pro uses satellites that enhances its stability. Because it has a built-in GPS/GLONASS system, the drone can link and lock-on up to 21 satellites to bolster stability, precision, and speed. Furthermore, stability allows beginners to learn how to fly a drone without having to worry about maintaining its position.
One of the many reasons to buy DJI Mavic Pro is because of its ability to fly with grace. The drone itself is incredibly responsive and communicates with the remote controller exceptionally well. Even in high wind conditions, the drone can easily resist up to 22.4 miles per hour and more in sports mode.
9. Portable
Do you want to have a drone that is easy to carry around with you? Nobody wants to carry an additional 5 pounds on their body, right? Fortunately, the DJI Mavic Pro is lightweight that only weighs 1.62 pounds. Plus, it is foldable which makes it super easy to store inside a travel case (see our best travel case guide).
Unlike other popular DJI drones like the Inspire 2 or Phantom 4 Pro, the Mavic Pro is designed to target for people who wants to have a drone that is lightweight, portable and compact. Plus, it is small enough to fit in close quarters like inside the home or in a crowded alley. This gives the DJI Mavic Pro a major advantage over its contenders.
8. Packed With Features
Unlike most drones you normally would see on the consumer market. The DJI Mavic Pro is one of the fewest foldable drones that is actually packed with a ton of features. And I don't just mean simple features like altitude hold function, headless mode, return to home, etc. This smart foldable drone can do a lot more than you think.
From being able to follow you everywhere you go to performing preset of flight modes such as Waypoint Mode, Helix, Rocket and more. Plus, you can adjust its camera setting via using your smartphone or tablet. You can do a lot of the features that this drone brings to the table using both remote controller and a mobile device together.
7. Very Intelligent
For construction projects, inspecting roofs and assessing the damage, you need a smart drone that can do these tasks. Fortunately, the DJI Mavic Pro is very capable of doing them. All you need to do is install an app on your smartphone or tablet to utilize these features.
The apps will turn the drone into a self-automated flying machine that does everything on its own. It can be incredibly useful for mapping out the buildings and landscape. Even to construct 3D models to be used for planning the development phase. Not only it is smart enough to do these tasks, but the DJI Mavic Pro can also detect objects and adjust accordingly using the obstacle avoidance system.
6. Amazing Range
With DJI Mavic Pro, you can the drone up to 4.3 miles away from where you are. Thanks to OcuSync technology, you can easily uncover secret places and perform beautiful aerial pictures from a stunning distance. If you want to capture a picture of volcano island, the Mavic Pro drone makes it possible. What is more to love than not for its awesome flying distance? Creativity potential just got even bigger.
5. Superior Battery Life
A single intelligent flight battery gives the DJI Mavic Pro an average flight time of 23 minutes. It is lower than what it is supposed to be as advertised. However, for a drone with a flight time of 23 minutes, it is quite decent. This gives you plenty of time to fly around, uncovering secret places and taking pictures at high altitude.
Plus, the intelligent battery lets you know all the status of its juice, health and more. You even can know if the battery is in self-discharge mode via DJI GO App. The battery that DJI Mavic Pro uses is truly an intelligent battery that focuses on ensuring you know the current status of it. The Mavic Pro "Fly More" combo pack comes with two extra batteries which is a good deal. But I would recommend you to buy an extra or two batteries to complete the setup.
4. Accessories
Believe it or not, there is a lot of kickass accessories you can buy to complete your DJI Mavic Pro gears set up. I use PolarPro camera filters set, landing legs extender and a mount holder for my CrystalSky video monitor. Finding good ones for cheap might be a bit challenging, but I am going to list the best setup for the Mavic Pro so that you know what to get. At the end, you will thank me for having a truly complete and functional setup that adjusts to everything anywhere you go.
3. FPV Goggles
Ever want to fly like a bird? Well, you can with DJI Mavic Pro. You will need to get a FPV goggles that works with this drone. In this case, the DJI Goggles and Racing Goggles both will provide you a smooth FPV experience. Just connect it to the remote controller and let your head do the piloting.
2. Very Durable
Let's be real here. My DJI Mavic Pro has its own share of battling against obstacles and crashed few times. Especially when I flew my drone into a tree and it got stuck. A person gladly lend me hand and shook the drone off tree which fell around 40 feet while we catch it with the blanket.
How high it fell from the tree is more than enough to break Phantom 4 Pro or even Spark into pieces. But, oh boy, this flying beast is a tough mofo. Aside from its battle scars on the hull body frame and chipped propellers, the Mavic Pro is your ultimate to go travel drone that will handle any damage like a boss!
1. Affordable
Yes, DJI Mavic Pro is becoming affordable and affordable. Thanks to the recent release of Mavic 2 Pro / Zoom, the price tag for Mavic Pro has dropped significantly. Right now, you can easily get the drone starter bundle for less than $800 and combo pack for around $1,000. Which is $300 lower than what it used to be when it first made the debut.
However, DJI is still selling brand new Mavic Pro through their online store. Since the price tag tends to fluctuates, we advise you to check out the price tag for Mavic Pro on both sites and compare which one is a better pick to buy. Also keep it in your mind that DJI tends to run special promotional codes that can be found on their deals page. Keep your eyes peeled for price slashes and discount during the busy seasons.
1 Reason Not To Buy DJI Mavic Pro
While I couldn't list any good reason not to buy DJI Mavic Pro. It is actually pretty darn good overall in terms of flight time, reliability, durability and features that it brings to the table. My only reason why you should not buy DJI Mavic Pro probably has to be Platinum version of this drone.
It is just the same model as the original one. Except, its different color featuring an apple-like sliver chrome coating and low-noise propellers. Plus they fly a couple of minutes longer than Mavic Pro does because it uses low-noise propellers which improve power efficiency. While it uses the same battery, buying the DJI Mavic Pro Platinum probably won't be worth the buck in my opinion.
Unless, you want to fly a drone that is quieter and stay in the air. Everything else is the same, camera, specs and features, you name it. In general, if you do have the cash to burn, then by all the means, go for it. But I prefer the DJI Mavic Pro because it has everything what I need for aerial photography.
Over to you!
Did my top 12 amazing reasons to buy DJI Mavic Pro convince you to get one? If so, let us know. Also, if you are a DJI Mavic Pro by any chance, feel free to share with us why you get this drone and would you recommend this drone to anyone? Comment below and let's start a conversation. Thanks, and happy flying!