Piloting the drones using an FPV VR headset can be a completely immersive and fun experience. To get the best flying experience, you must choose the best FPV VR headsets that are right for your drones. You will need to know about the field of view, IPD, glass optics, resolution, and digital head tracking. These factors will help you choose the right VR headset for your drones.
Since the drones were introduced to the market a few years ago. Several top drone manufacturers have created their own VR headsets specifically for their drones such as DJI, Parrot, Walkera, Eachine, and Yuneec. Thus, it makes picking the right VR headset very easy for beginners. Now, if you don't own a DJI or Parrot drone, you don't have to buy their VR goggles. The latest VR goggles will work on these best professional camera drones on the market.
Most importantly, you need the right VR goggles that fit your eyes. If you pick a headset that doesn't fit you, then you will not enjoy the experience as much as you should. This is why most drone VR headset on the market have adjustable settings that give you flexibility and comfortability. In our top 5 best virtual reality headsets for drones guide, we are going to look at the most popular FPV goggles on the market.
Almost all FPV headsets shown in this guide can be used for anything from flying drones to watching movies and even playing games. Before I share the top 5 best virtual reality headsets for drones guide, there are several important parts that you need to know to understand the VR fully. If you have prior experience / understands how it works, you can click here to skip ahead and start browsing the best FPV goggles for drones.
Related Article: 7 Best Travel Drones for Travelers and Adventurers
Best Virtual Reality Goggles for Drones
If you are completely new to the VR goggles for drones, here are quick explanations of the terms that you will come across. To learn more about FPV and video transmission technology, please read these articles: Drone FPV Video, Antenna Gain, and Range as well this article What is FPV Camera Technology. Both articles contain an in-depth and informative guide about FPV stuff and how these works with the drones. Now let's get to the technical terms.
Field of View (FOV)
FOV is a measurement that gives how much we can see at any given moment. When using optical equipment such as VR headset or binoculars, there are always restrictions on what we can see. With the FPV goggles, the FOV viewing range typically is between 25% to 45%. The better quality and more expensive FPV headset are, they tend to have higher FOV. The field of view is an important aspect when it comes to picking the right FPV headset.
Adjustable IPD FPV Headset
IPD stands for interpupillary distance. This is the measurement of how far the center of pupils of both your eyes. The IPD technology is important in both binoculars and FPV headset. Each of us has unique faces with different distances between our eyes. This technology allows the FPV headset to enable both your eyes to be positioned within the exit pupils of the goggles. If you plan to buy a fixed VR headset, they might not fit your eyes right and the flight experience won't be pleasant. Therefore, a VR headset with adjustable IPD is the best option all the time.
Resolution Size on FPV Headset
The FPV goggles come with several resolution size options such as QVGA, VGA, and SVGA. These options can be especially important when it comes to flying your drones. Generally, you want to have the best resolution to achieve the best flight experience. Below are the resolution options that FPV goggles currently offers:
QVGA: 320 * 240 pixels
VGA: 640 * 480 pixels
SVGA: 800 * 600 pixels
FWVGA: 854 * 480 pixels
For the best flight experience, the SVGA and FWVGA are the best choices.
Autonomous Digital Head Tracking
Most FPV goggles are equipped with digital head tracking. This technology monitors your head movement and transmits the signal to your drone. Then the camera on your drone follows the same orientation as you do. If you look up, then the camera looks up and vice versa. This brings a whole new flight experience to flying your drones. It is absolutely an immersive experience and brings more flexibility.
Related Article: How to Buy a Drone: The Ultimate Guide for Beginners
Best Advice Before Buying Drone Goggles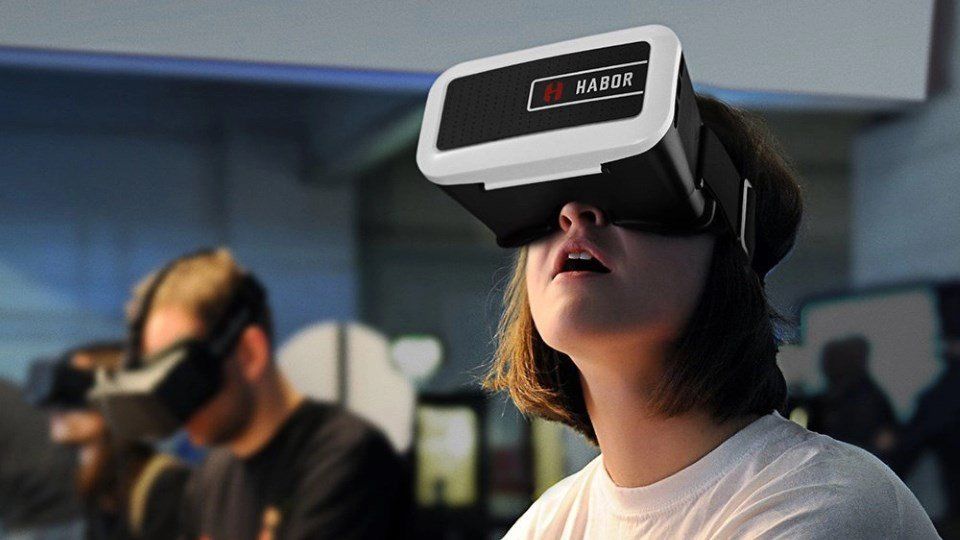 Before you plan to buy a drone goggles, you need to make sure that the goggles have a field of view at least 35%, adjustable IPD and at a minimum of VGA or higher. In addition to that, the goggles need to have both glass optics and digital head tracking. That way you will get the best flying experience. It is recommended that you buy the best FPV headset you can afford as the experience will be worth the cost. If you buy the wrong FPV goggles, you won't be able to enjoy the experience a bit. It is absolutely a real shame if it happens.
Below is the list of the top 5 best VR headsets for drones that you can find. If you are a beginner and have never experienced or flown a drone with a VR headset before. You will find our guide helpful and insightful, knowing what is the best VR goggles that you can get for your drone. Without further ado, let's dive into the details and find our top 5 best VR goggles for your drones!
Related Article: Top 4 Best Drones Like DJI Mavic Air Clones Under $100 for Beginners
Top 5 Best VR Goggles for Drones
DJI Goggles Standard Edition
The DJI Goggles Standard Edition is created for a seamless flying experience with popular drones such as the Mavic 2, Mavic Pro and Phantom 4. This DJI goggles also can connect to third-party compatible devices. We love this VR because the headsets clamp onto your head snugly, which allows the display unit to hang directly in front of your face. Instead of it clamping onto your face, this adds to the wearer's comfort and makes it easier for the wearer to use it longer. On each side of the goggle is a small speaker as well. Though it is not loud enough to be heard across the room, it is good enough for its use.
Here is a quick overview at these features that DJI goggles brings to the table.
1920 x 1080 Screen Resolution Size
6 hours operation time
Comfortable and ergonomic design that fits all size.
Direct control of picture and video capture.
Built-in Gyroscope, Accelerometer and Proximity Sensors.
Low latency connectivity up to a maximum 110ms (Tested on Mavic Pro)
2.4GHz Operation Frequency
85° Field of View and 360° Coverage
Additionally, the DJI Goggles comes with a number of flight modes, including intelligent modes:
Full Screen Mode
Motion-controlled Fight
Motion-Controlled Gimbal
Reset Motion Control
Switch Landscape / Portrait
Gimbal Forward / Downward by 90°
Amazon: Check Price
Related Article: Top 6 Best Cheap Selfie Drones That Will Make Your Holidays Special
back to menu ↑
DJI Goggles Racing Edition
The DJI Goggles Racing Edition (RE) comes with a jet black visor and headband with padding covered by high-quality red leather. This racing edition goggles are designed and engineered specifically for racing and works with drones tht uses OcuSync module. These works together to transmit digital video signal up to 7,000 meters away with an incredible low latency as 50 milliseconds in addition to analog signal.
Some see the Racing Edition as a great improvement to the Standard Edition. However, it is focused mainly on racing, of course. One notable part of this edition is that DJI reduced its latency. The initial Goggles reached 110 ms, while this one comes with a 50 ms latency. This done comes with new accessories as well, like the racing antennas and the Goggles backpack.
Check out the features that DJI Goggles Racing Edition brings to the table:
Live View Modes and Latency: 960 P50 @ 70 ms, 720 P60 @ 60 ms, 480 P50 @ 50 ms.
Multiple Antenna: the DJI Goggles can be bought with a set of external antenna for different scenarios.
Integrated Screen Display that shows important flight information such as resolution, battery level, and signal quality.
12 Transmission Channels gives access to the low-interference channel which is ideal for FPV drone racing.
Automatic FHSS technology: Switches between 2.4GHz and 5.8GHz automatically to maintain unobstructed transmission.
Gimbal Control: Gives you complete control of the camera with your head tracking feature.
Can connect directly to other racing drones using supported flight controllers like F3, F4 or Naze.
148° Field of View and 360° Coverage.
Amazon: Check Price
Related Article: 10 Best DJI Spark Accessories For All Drone Pilots
back to menu ↑
Fat Shark HDO
Another popular and well known FPV goggles for drone is the Fat Shark HDO. This VR headset features in jet white visor with soft black leather that provides comfortable distance from the goggles to your eyes. The drone resembles Fat Shark's previous models, whether it be the design, look, or feel. Instead of eyecups, the goggles use a faceplate, which is more comfortable for the wearer.
The foam used is also an improvement. Though the screen can be a tad bit smaller, the new goggles' resolution is definitely higher. This means you will see more details an even crisper image. The Fat Shark HDO is designed for professional racers as well beginners who wants to learn how to fly a drone. This VR goggles combines the latest technology with an impressive 1080P HDMI and uses updated analog DVR for the best flight experience.
Here's a look at what the Fat Shark HDO goggles has in the store:
Incredible low latency for smoother and responsive real-time video.
Supports up to 1080P HDMI
Integrated Screen Displays that show essential information such as battery level and signal quality.
720P XGA Display
Updated and Integrated analog DVR
59-69mm Adjustable IPD Range
37° Diagonal Field of View
Amazon: Check Price
Related Article: Top 10 Best Accessories for DJI Mavic 2 Pro and Zoom
back to menu ↑
Fat Shark Attitude V4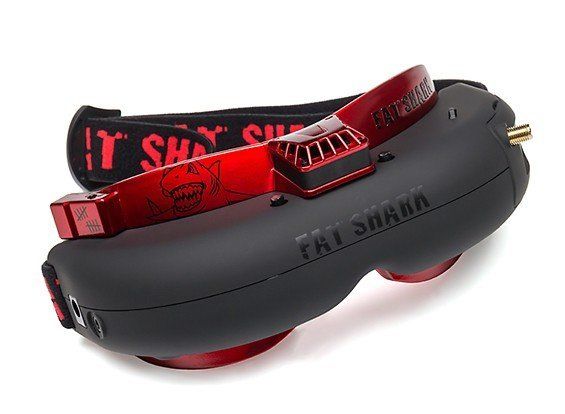 Celebrate Fat Shark's 10th anniversary with the Attitude V4 FPV goggles. This brand new includes a simple-to-use receiver that has one-touch band change capability and channel scanning. Furthermore, it can perform a simple, yet effective spectrum analysis to find a clean channel for the best flight experience. The Fat Shark Attitude V4 comes with a powerful 1000mAh Li-Po battery which gives around 2 hours of operation time. Perfect for long-distance and racing flight sessions. Below are the features and specifications you will find:
32° Diagonal Field of View
An integrated receiver that makes it the completed all-in-one kit for ready to fly packages.
1080P HDMI displays a crisp and large image perfect for racing.
2 hours of operation time.
Digital Video Recorder (DVR) included and built-in 5.8GHz frequency.
Classic, a must-have for beginners and racers alike.
Amazon: Check Price

Related Article: Top 10 Best and Popular Drones on Amazon for Sale
back to menu ↑
Skyzone FPV Goggles
Meet the Skyzone SKY02 FPV Goggles. This latest and innovative FPV goggles for drones is very impressive, consider how feature-packed it is. If you are looking for the best VR headset that isn't DJI goggles, this will be the item you want. This FPV goggles comes with a lot of features, not to mention that it is stylish and comes with a nice appearance. Check out the features below to see what makes Skyzone SKY02 FPV goggles best:
Integrated Digital Head Tracking for a complete motion control.
Built-in dual antennas that ensure stable, fast, and the responsive transmission signal.
HDMI, DVR, and AV supported.
Comes with a front camera that let you see the surrounding easily without having to take off the goggles.
43° Diagonal Field of View
SVGA Display up to 800 * 600 resolution for the best flight experience.
Ergonomic design provides comfortable facial feel.
An integrated heat-sink fan that prevents fogging.
Amazon: Check Price

Related Article: Top 5 Best Holy Stone Drones With Camera for Sale
What About Cheap FPV Goggles for Drones?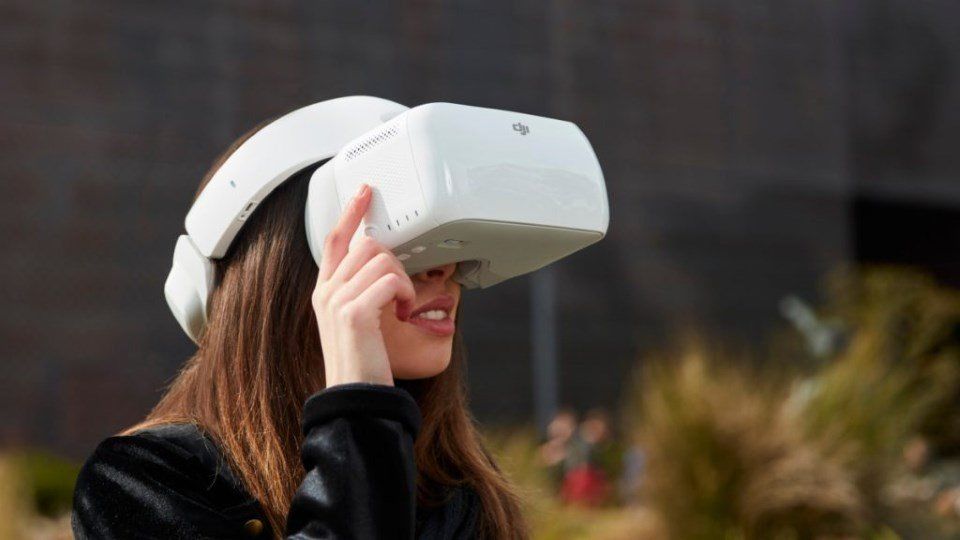 While these FPV goggles for drones that we recently listed are mostly in the hundreds. There are cheap and affordable FPV goggles that you can buy. However, we don't recommend that because they don't include the required features that you need for the best flight experience. Furthermore, cheap FPV goggles won't work with most of the high-end models. So the moment you decide to upgrade to a professional drone, the cheap VR goggles will be made obsolete and you will have to invest into a better FPV headset.
It is just better to invest in one of these high-quality VR goggles first since they can be modified to connect your drone's camera. Using the third-party modules such as receiver and antennas can be purchased to upgrade your FPV goggles to enhance flight experience. However, if you still prefer to buy cheap FPV goggles for starters. You can check out these cheap FPV goggles for a drone to find the right one for less than $100.
Related Article: Top 10 Best Drones with Collision Avoidance Feature
Which One Are The Best VR Goggles for Drones?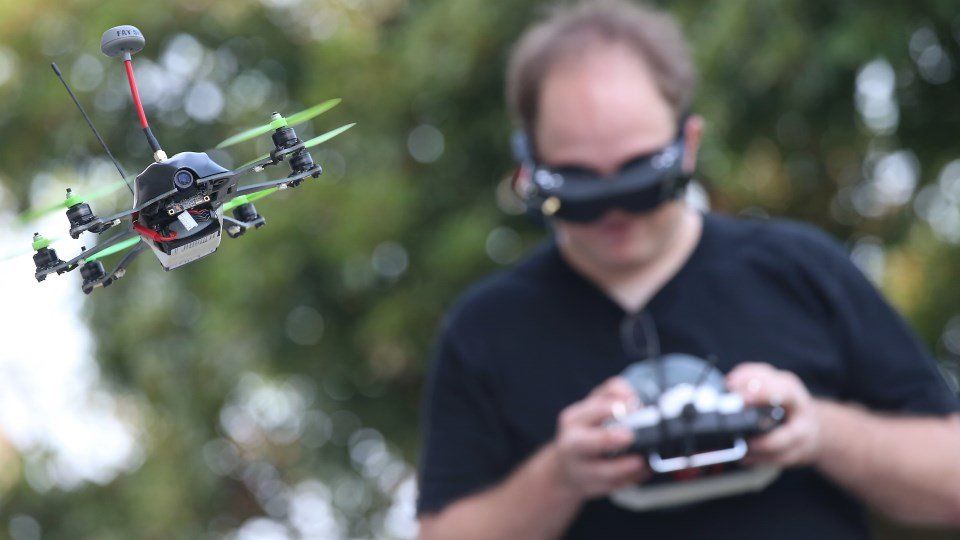 All of these VR headsets for drones are best in certain ways. It depends on what fits you better and your preference. For beginners, DJI Goggles Standard Edition is the best choice by far due to its user-friendly and stunning appearance. For racers, either the DJI Goggles Racing Edition or Fat Shark Attitude V4 is a good choice. But that is all up to you depending on what you like the best and what suits your needs for the ultimate flying experience.
If you were to ask me what is my favorite FPV goggles for the drones. It will be DJI Goggles Standard Edition hands down. It is one of the most feature-packed VR headsets that include digital head tracking and several flight modes that you can command with your head. Which gives a certain feeling that you just have become a master of mind control. The entertaining and immersive feeling is what I will describe when flying the drones with FPV goggles. The next time you plan to shop VR headsets for your drones, be sure to check them out and bookmark this guide since I update the content frequently with fresh information.
If you have any questions regarding VR headsets for drones. Please feel free to drop a comment in the comments section below. We will get back to you as soon as possible and provide an answer. We are looking forward to hearing from you and starting a conversation about the best FPV goggles for drones. Happy flying and fly smart!