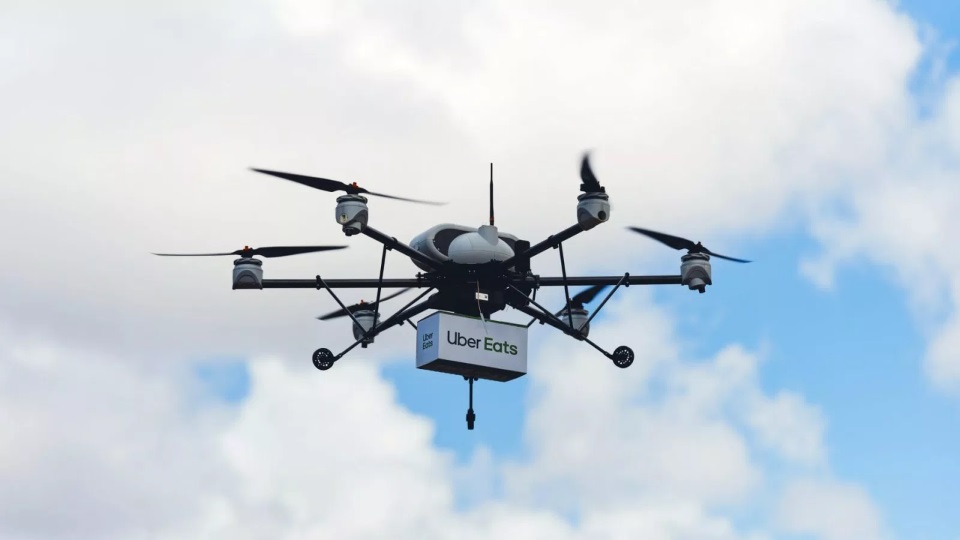 The future of cities are changing. They are getting smarter by incorporating latest gadgets such as drones flying in mass. Soon enough, people will be seeing their parcels being delivered by drone. A new method of transportation is being a viable option to ground transportation that will change the way we live our lives forever.
Some people think this is decades away. But due to rapid technology progress on drones, several tech behemoths like Amazon, Google and Uber are working hard to make this a reality. If you are late to work, all you have to do is take Air Uber to work. Soon enough, you will be able to complain about drones buzzing overhead on the way to your shopaholic neighbor. These are all part of the major plans that tech giants are working on and is in process of being executed.
The companies that are taking the lead is incumbent giants with funds and foresight to see this happening. Amazon, Google, and Uber see the opportunities to expand the business beyond ground transportation. Furthermore, they understand the value and pay-off for those who control our skies. This is happening much sooner than you think with trials under the ways and cities signing up to be the first in line.
Google & Project Wing
In Canberra, which is the capital city of Australian, Google has been working on their latest flying gadget called Project Wing. It focuses on delivering parcels directly to homes. In the past 18 months, they have been trialing drone delivery of food, drinks, medication and even locally-made coffee and chocolate. It appears that the Google Wing is competing along with UPS Flight Forward Service that was launched few weeks ago.
Google was granted an official license by the Australian Aviation Authority, CASA, after a through examination of safety implication. CASA stated that the issues have been assessed and there is no risks to people on the ground, property and aircraft in the sky.
As of now, Project Wing will start delivering on regular basis to around 100 homes with only one condition that the drones are banned from crossing major roads. Furthermore, there is a minimum distance they have to keep away from people on the ground.
Google announced plans for a second city in Helsinki. The drone delivery will bring food from two shops: Herkku Food Market and local restaurant Cafe Monami. There is also reports saying that Wing got approval in the United States to start making delivering, starting in Virginia within few months.
UberAir + UberEats = UberWin
Uber actually made less progress compared to Google. But the company is winning so good in the ambition stakes. They already made deals with Dallas-Forth Worth, Dubai, Los Angeles and Melbourne for trials in 2020 to 2023. It will be focusing on moving people around via skies as opposed to delivering the boxes.
Melbourne will be the first city outside the United States to trial UberAir. The company describe it as aerial-ride sharing that will transport people from Skyport to Skyport for the price of an UberX. This brings a lot of promising features that will reduce traffic congestion that costs around $16.5 billion a year to the Australian economy.
Uber released potential designs for both rooftop landing pads and carriers themselves. They are called Electric VTOLs that will carry up to four passengers and operate as a helicopter. Currently, Uber is working with partners like Aurora Flight Sciences, Pipistrel Aircraft and Karem Aircraft.
Meanwhile, UberEats is gearing up to get into the drone delivery game. It will offer pilot program to deliver food fast in San Diego, California. The goal of drone delivery is to reduce time and expand number of choice for customers. Furthermore, the drones will take order across skies to drop-off points where they will be picked up by Uber drivers and deliver to your door.
Amazon Prime Air Drone
Amazon is a well-known eCommerce retail that dominates global logistics. What is more surprising is that they aren't leading this race. On June 5th, they announced a brand new drone that can fly vertically. Similar to a helicopter and comes with the ability to fly in aerodynamic airplane mode. They also launched a video on YouTube that you can check out to see what they have in their mind.
The Amazon Prime Air drone was introduced on the stage at Amazon's Re: MARS conference. CEO Jeff Wilke said that the drone emphasizes on the aircraft's safety features. Citing that the consumers will feel comfortable ordering drone delivery if they know the aircraft's safety features is safe. The new drone will be equipped with thermal cameras, depth cameras and sonar for detecting hazards.
With its built-in AI system, it will help Amazon detect obstacles and navigate around them. CEO Wilke emphasizes that this is a drone that is built to exacting aerospace standards. Which isn't something new to FAA despite its advanced technology and AI system being implemented. He also commented that consumers will soon see drone delivering packages to their home in matters of months.
Now What Happens Next?
Of course, these drone deliveries will not happen right away. But it is numbered in matters of months. Make no mistakes because it will happen in one city. Then after that, it will be two cities, then five cities, then ten, twenty, and so on until it fully integrates into our daily lives. Technology will be solved, concerns will be address, and ultimately the authorities will get on the board.
Amazon, Google, and Uber won't get there at the same time. But all of them are trialing the new drone technology by introducing their own version. Just as Google Project Wing took a giant flight in Canberra, Australia. Soon enough you will be able to get the item you want on the same day for less than 30 minutes after ordering. The drones are truly changing the ways business and daily lives are taking the places.
What do you think of these drones by Amazon, Google and Uber delivering items to your home? Share your thoughts and views with us by commenting below. We hope to start conversation with you about these latest flying gadgets the tech behemoths are taking the lead. Stay tuned for more updates about drones, gadgets and other awesome things that are evolving the drones.