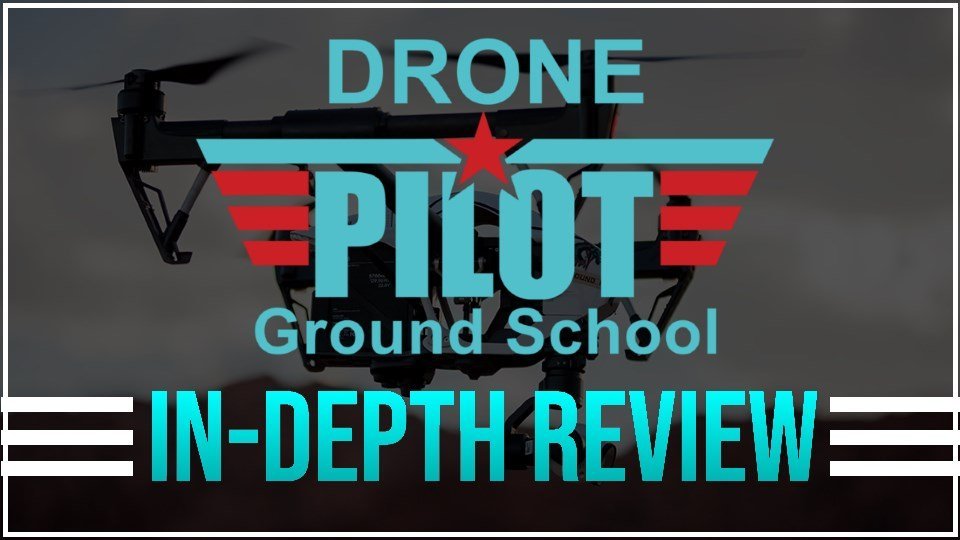 It's quite simple: if you want to be able to fly an sUAS to make money in the United States. You need to obtain a Part 107 license by the Federal Aviation Administration (FAA). Currently, there are over 700 FAA testing centers that you can schedule an exam to demonstrate your airman knowledge. With a rising number of pilots looking to make money, the demand for a safer sky is even greater now. This is why I wrote an article about the Drone Pilot Ground School review to share my insights with you.
The biggest part of becoming a certified remote pilot is to take an exam called the Part 107 Aeronautical Knowledge Test. This exam consists of 60 multiple-choice questions that are randomly generated from over 300 FAA-inspired questions library. These questions cover a wide range of topics such as weather observation, communications, regulations, and map reading. To take the Part 107 FAA exam, you need to schedule the appointment and pay $150. If you don't pass at least 70%, you'll have to wait 14 days before retaking the exam and pay another $150.
About Me
Before I start talking about the Drone Pilot Ground School course. I want to take a brief moment to explain to you who I am and why I recommend Drone Pilot Ground School as your to-go practice course for the Part 107 exam. I'm an FAA-certified remote pilot who enjoys flying around drones for both recreational and commercial purposes. Plus, I offer a wide range of drone services from private one-on-one training to photography for weddings, real estate, and construction.
Aerofly Drones is the only drone business that is deaf-owned and run by a Deaf certified drone operator. I enjoy traveling around the world and meeting new people. While criminal justice is my major, I picked up drones as a hobby almost three years ago. My interest in drones quickly exploded as I saw the use of drones in law enforcement that I wrote articles about how it benefits first responders and serving the public better.
Granted, there are so many drone training courses that you can already enroll online. But Drone Pilot Ground School stands out the most. Because other drone training courses that I've looked at like RemotePilot101 and Gold Seal don't offer the same benefits that Drone Pilot Ground School has to offer. Which I will discuss later in the article.
As the drone regulations and laws are evolving at a rapid pace given how deeply popular the quadcopters are. You must enroll with a drone training program that gives you the best bang out of what you pay for. Plus, keeping the information fresh so that you can stay updated. What is even better is having a drone training program that puts their students first because they want the best for them. How awesome is that, right!?
Find out why you should enroll in the Drone Pilot Ground School course.

How Hard Is Part 107 Exam?
For those remote pilots who are wondering how hard is Part 107 Exam. I'll be the first one to tell you that it isn't an easy exam. Some questions are very tricky and can be mind-boggling. It's harder than a driving exam. Because you're required to know how to answer these questions like:
What is the most dangerous type of thunderstorms?
Do you know how to read an aeronautical map and determine which route military flights use and what altitude do they fly at?
How do you monitor air traffic at airports that don't have control towers?
Do you know the difference between advection fog and radiation fog?
Do you know what is the minimum height you can fly over a federal wildlife preserve?
If you do fly over 400 feet, what airspace classifications will you be in A, B, C, D, E, or G?
Finally, my favorite personal question: Can you locate tower A near Airport O'hare and tell us the latitude and longitude it is at?
What Does It Have to Do With Flying A Drone?
Of course, you're probably thinking this right now, "What do all of these questions have to do with flying a drone!?" The answer is straightforward: some cases you do need to know and some you won't face that often. But, it'd be nice if you have aeronautical knowledge to communicate with the airports and flying safely. By testing a broad range of your aeronautical knowledge, the FAA wants to integrate drone pilots into the family of professional aviators.
The professional aviators are trained to take a systemic approach toward a safer sky and have a deep understanding of the United States' well-regulated airspace. In other words, the tests help separate you from people who don't use drones properly and leading to better, safer skies. Keep that big and noble goal in your mind as you quietly curse at FAA for expecting what direction an airplane is going when it is downwind from runaway 27 at an airport!
At this rate, I couldn't answer most of these questions when I started studying for my Aeronautical Knowledge Test. After three weeks of studying, I passed the test with a 94% score and I'm very proud of it. The Drone Pilot Ground School course is the best way I know how to study quickly and efficiently to reduce the expensive prospect of failing. Plus, once you buy their course, you keep it for a lifetime with updates.
What is Drone Pilot Ground School All About?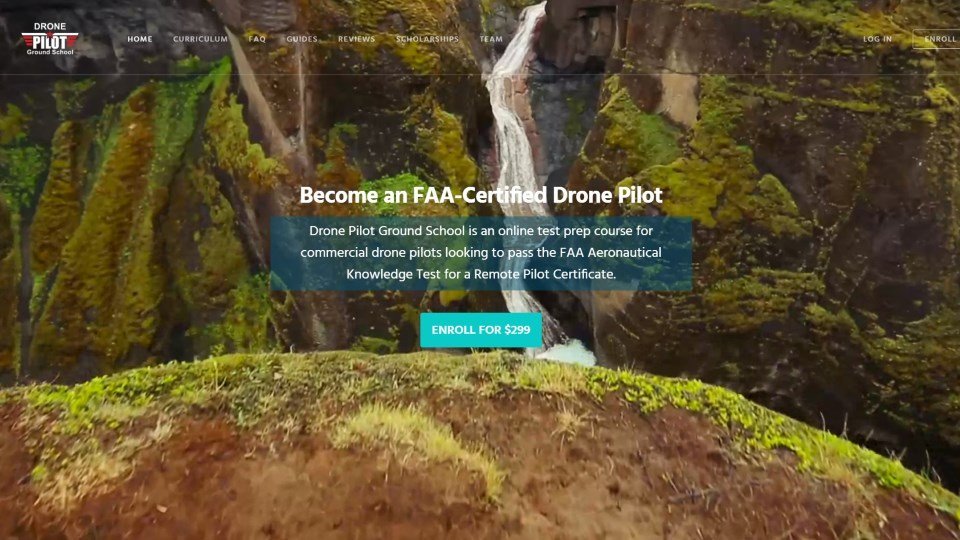 First of all, the Drone Pilot Ground School is an interactive stay-at-home practice course for anyone who wants to become an FAA-certified drone pilot. It's designed for pilots who don't have the time to dig through the FAA Remote Pilot Guide or finds it too hard to read by providing video tutorials and text/image guide with short quizzes at the end of each section.
The information they provide is very dense, juicy, and informative that keeps your attention while you process throughout the course. In the end, they even mimic an actual exam by pulling out 60 FAA-inspired questions from the library. Almost every time you take the exam, it's always different. So, knowing the regulations, airspace classifications, and other topics are very important to pass the exam.
You can enroll in their course for just only $299. That price tag might be more than enough to make you pause for a moment. But here's why they are worth the money:
1 on 1 Support via phone and e-mail.
Flight Proficiency Challenge, they hold you to a high standard by challenging you.
Over 70 videos and text lectures that delivers informative guides.
Money-back guarantee, if you fail the FAA exam, it is free.
+10,000 students took the practice course and 99% succeed.
Lifetime Access – once you buy it, you have access forever!
It's easy to see why the Drone Pilot Ground School is the winner by putting their students first and challenging them to go beyond expectations. If you have any questions regarding the course, you can easily e-mail Alan Perlman, who is an FAA-certified drone pilot and he will help you out. No other drone training courses offer the same level of customer service that the Drone Pilot Ground School does.
Why Should You Enroll in Drone Pilot Ground School?
I'm recommending a Drone Pilot Ground School course because it's one of the best training programs you can learn how to become an FAA-certified remote pilot. In this part, I'm going to show you what it looks like when you are taking the practice course. First and foremost, the information you'll see on the course is packed with everything you need to know. The practical course also covers a wide range of topics like operating limitations, airspace classifications, and flying during night time.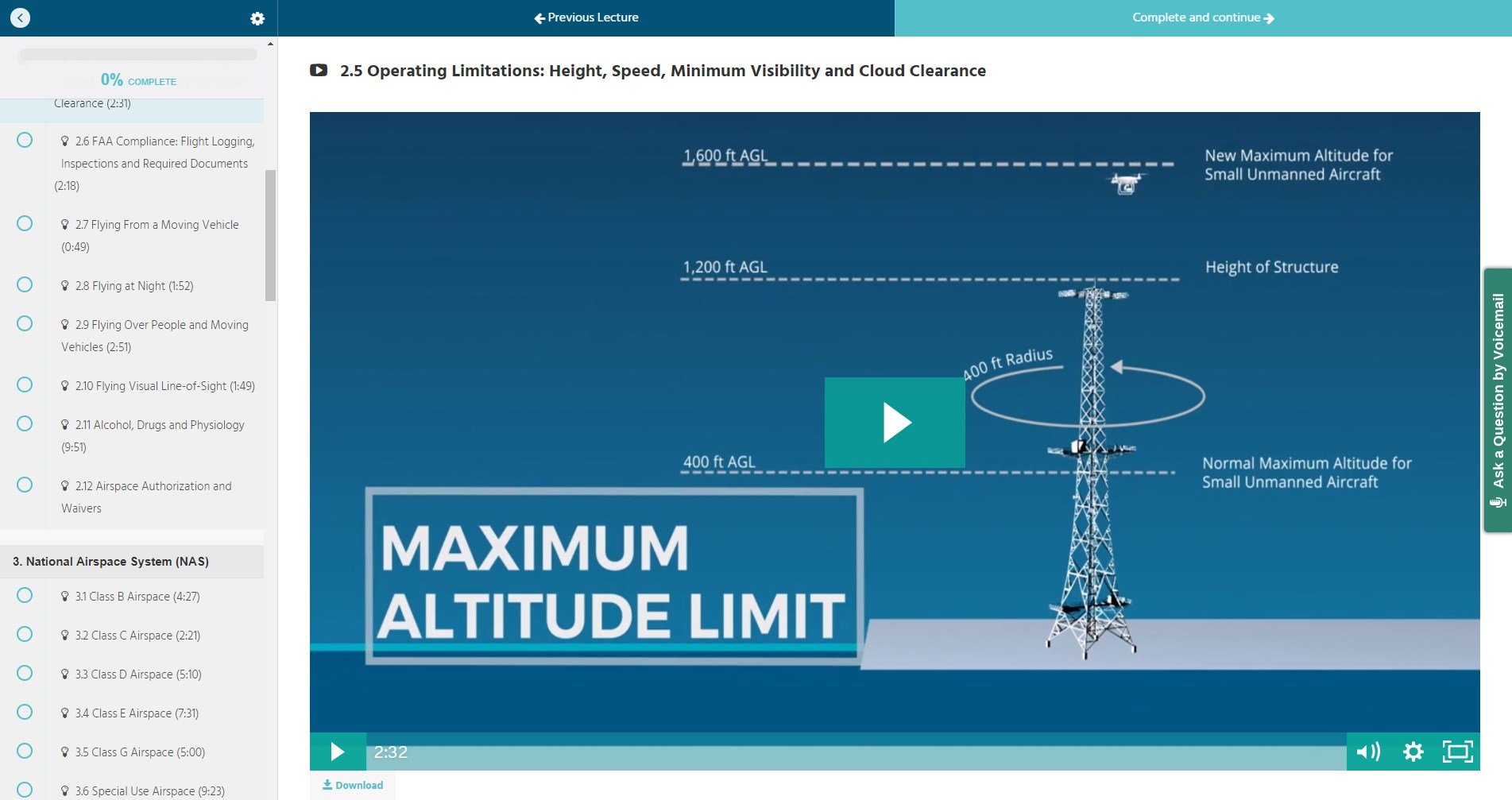 The course is organized neatly in 10 different chapters that will tell you what is inside the chapter. Every chapter has an interactive video that features a professional UAV coach who'll explain to you about rules, tips, and more, both visual and audio. However, if you ever get bored watching videos, you can easily read the text section. I especially like it because it lets me alternate between videos and text sections so that it keeps the course engaging.
At the end of each section, there is a mini-quiz that tests your knowledge. It helps you know how well you are absorbing the content and these quizzes can be repeated as much as you want to. Since you will get the practical course for a lifetime, you can always go back and practice to stay updated with current FAA regulations.
Drone Pilot Ground School makes all of the information that you need to know easy to study and understand. Compared to studying directly from the FAA Remote Pilot Knowledge guide that is both complex and hard to read. This is beneficial for those who are beginners, hate to read, or simply want to start making money with drones. This means you can easily learn all the materials within 2 to 3 weeks depending on your pace.
Takeaways From Drone Pilot Ground School
There are so many things going on with the course that Drone Pilot Ground School has to offer. Here are five takeaways from what the course brings to the table:
It is taught by Alan Perlman who is an FAA-certified drone pilot, journalist, and instructor. He put the course together with the help of an FAA-certified Flight Instructor. He does a great job at delivering the content in a simple, easy, down-to-earth terms that focus on the concepts, not just teaching you how to pass the exam.
The course materials are delivered in two different ways: video lecture for each chapter and text/images for each chapter. I appreciate the dual approach that the course brings to the table. It lets me keep on going without getting tired from watching videos or text/images repeatedly.
Beyond the crystal-clear lectures, the course shines thanks to quizzes and practice tests with multiple choices which are closely inspired by the questions you will see on the actual exam. Each course core chapter ends with a short quiz. After each chapter, you will take a long quiz consist of 25 questions. They will give you a good idea of how you understand each chapter. Once you finish all of the course material, you will have five full-length, 60 questions practice exams available to you. Each question is generated randomly from a pool of over 300 FAA-inspired questions. Plus, you must complete them within the two-hour window that FAA imposes. I found these five tests helpful and took a test each day leading to my scheduled exam. As of a result, these practice exams gave me confidence in the actual exam.
Once you are enrolled, Alan strongly encourages students to contact him with any questions you have via phone or e-mail.
The course is available to students for a lifetime. It is very useful and helpful because the FAA requires commercial pilots to renew their licenses every two years. This means you need to retake the exam and it is nice to have a great tool that will be available to you when the time comes.
What People Are Saying About Drone Pilot Ground School
So what's the buzz with people saying about Drone Pilot Ground School? More than 10,000 students enrolled in their practical courses and passed the actual exam with a 99% success rate. Many people who took the course found it to be very helpful, educational, and easy. Some did learn something new who took a self-guided approach before they decided to enroll in the practical course. Take a look at what the people are saying about it here.

Drone Pilot Ground School Review Wrap-Up
At first glance, Drone Pilot Ground School might seem like an expensive price to pay. But that is just the cost of doing business when it comes to becoming a certified drone pilot. At the expense of $150, the cost to take Part 107 is substantial. You don't want to waste your time and money by being unprepared.
The nice thing about the program that they offer is a money-back guarantee. If you fail the Part 107 test, they will cover the $150 fee. Because their practice course is so good, they have a 99% success rate. This is likely you won't fail the exam by taking their course.
With more than +10,000 students who took their course and became licensed remote pilots. You can easily become the new licensed remote pilot and start making money with your drones. Furthermore, they have over 800 reviews with a rating of 4.9 out of 5.0 stars. You can rest assured that you will have the best course that makes your studying a breeze.