Are you tired of looking at drones that come with the same boring functions? Space key DC-104 drone is one of the latest quadcopters that features innovative changes for kids and beginners. Unlike most drones, this quadcopter is outfitted with aerofoil technology and improved fuselage made of durable plastic that is tougher than standard toy-grade drones you'll see on the store shelves. This makes it much easier for beginners to fly the Space key DC-104 drone indoors and outdoors.
In our Spacekey DC-104 drone review, we're going to talk about design quality, performance, features, and other tidbits that make this quadcopter unique. If you've been looking for a great quality drone, to begin with. Stick with us to find out more information about this camera foldable drone. So, without further ado, let's get the propellers spinning and see if Space key DC-104 drone is the perfect match for you.
Design & Build Quality
First and foremost, the design appearance of the Space key DC-104 drone is unique compared to other quadcopters. This drone features foldable technology that was introduced by high-end models like the Mavic Pro and Parrot Anafi that focuses on making it compact and portable. Because of the technology trickling down, it isn't a surprise to see that the Space key DC-104 drone has adopted the portability feature.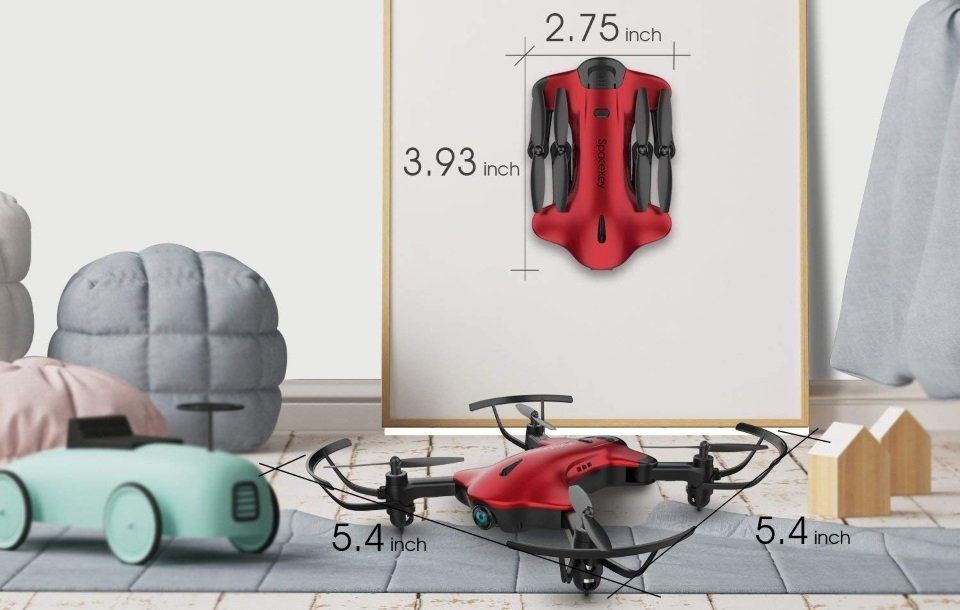 I especially liked the color choice for this drone. It adds personality that gives out a great impression when the bystanders watch you flying the drone around. In addition to that, the Space key DC-104 drone incorporates the latest durable plastic. Which means it's harder to break the drone apart on impact. It's a significant improvement in terms of quality and durability. Furthermore, the Space key DC-104 drone comes with a built-in camera in the front.
Because this drone is designed to be modularized, you can easily replace the battery without hassle. The battery is modularized so to maximize battery efficiency and improve its overall performance. A single battery on average provides the drone approximately 7 minutes of flight time. Finally, the Space Key DC-104 drone is foldable which means you can easily store it inside your backpack or travel case on the go.
Performance
When it comes to performance, the Space Key DC-104 drone possesses amazing aerial capabilities for beginners and kids. It's relatively lightweight and can't handle moderate to high winds that well. However, it comes with speed mode that provides flexibility for the remote pilot to learn how to fly. By default, the drone will be at its slowest speed setting so that new drone users like you can learn how to fly. Once you master the flight controls, you can adjust the speed setting to maximize your piloting skill.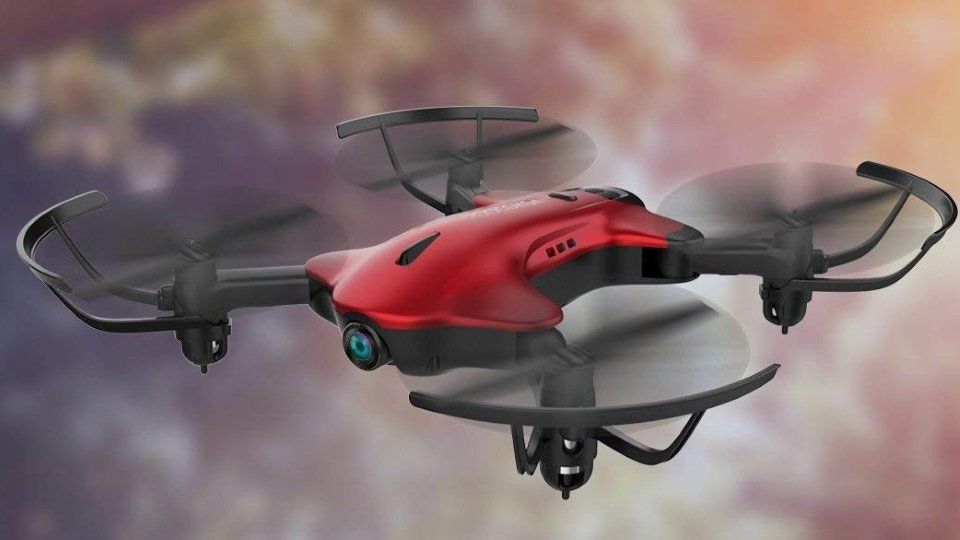 Along with its good performance, there are a set of beginner-friendly features that help out with its overall performance. It's especially important for new drone users who have never flown a drone before. Key features such as altitude hold, headless mode, and built-in barometer that automatically adjust the drone's stability for ease of flight controls. This drone offers kids and beginners with features they never have before.
Features
At the price that the Space Key DC-104 drone is going for, it certainly has a lot of features to offer. The most noticeable feature is its altitude hold and headless mode. For those readers who are new to drones and have no idea what the heck is a headless mode. That will be explained later in this article. First, the altitude hold is an important feature that all drones definitely should have. With an exception for racing drones. The altitude hold help keeps the drone stable and flies more steadily.
It's done by adjusting the air pressure to keep the drone leveled within the external environment. Secondly, the headless mode switches control orientation from drone to your remote controller. Instead of flying the drone-based on its face direction. It flies based on the direction you're moving the movement levers at. It's extremely beneficial for first-timers who don't fully grasp the flight controls just yet.
Along with these two most important features, the drone can perform an aerial stunt. It's a great way to impress your audience who's watching you flying the drones. In addition to that, it comes with automatic landing and takeoff that simplifies the whole flight operation. The features that the Spacekey DC-104 drone brings to the table makes it an excellent training quadcopter for beginners.
Final Conclusion of Spacekey DC-104 Drone Review
To wrap up the Spacekey DC-104 drone review. I have several final remarks to say about these quadcopters. Out of all these drones under $100, I think the Spacekey DC-104 drone is one of the best modern entry-level camera drones for beginners. With a built-in 720P HD camera, it's capable of delivering quality aerial shots from the sky. If you're looking to become an aerial photographer someday in the future. Purchasing this quadcopter can be a great option to understand how flying the drones works before you plan on buying professional-grade camera drones such as Phantom 4 Pro or Mavic 2.
Set Lowest Price Alert
×
Notify me, when price drops
Set Alert for Product: Drone for Kids, Spacekey FPV Wi-Fi Drone with Camera 720P HD, Real-time Video Feed, Great Drone for Beginners, Quadcopter Drone with Altitude Hold, One-Key Take-Off, Landing Foldable Arms (Red) - $69.99
Last Amazon price update was: January 12, 2022 10:40 pm
×
Product prices and availability are accurate as of the date/time indicated and are subject to change. Any price and availability information displayed on Amazon.com (Amazon.in, Amazon.co.uk, Amazon.de, etc) at the time of purchase will apply to the purchase of this product.
Editor's Review
We think the Spacekey DC-104 drone is an excellent entry-level quadcopter for beginners and kids. With its foldable and aerofoil technology, it encompasses compactness and portability made for easy to travel around the world. Thanks to its modularized design, flying the Spacekey DC-104 drone is incredibly easy and simple. A battery provides 7 minutes of flight time with a maximum remote control distance of 50 meters. It is the ideal choice for entry-level camera drone.
PROS
Crafted with durable plastic that provides toughness and resilences.
Modularized design for better power efficiency and flight control.
A built-in camera that delivers quality aerial footage.
Portable and compact, makes it easy enough to take with anywhere you go.
Incredible affordable and suitable for beginners and kids.
CONS
The battery doesn't last that long.
Limited control distance.
Quality of the camera isn't that stellar, but it is not that bad either.
Add your review