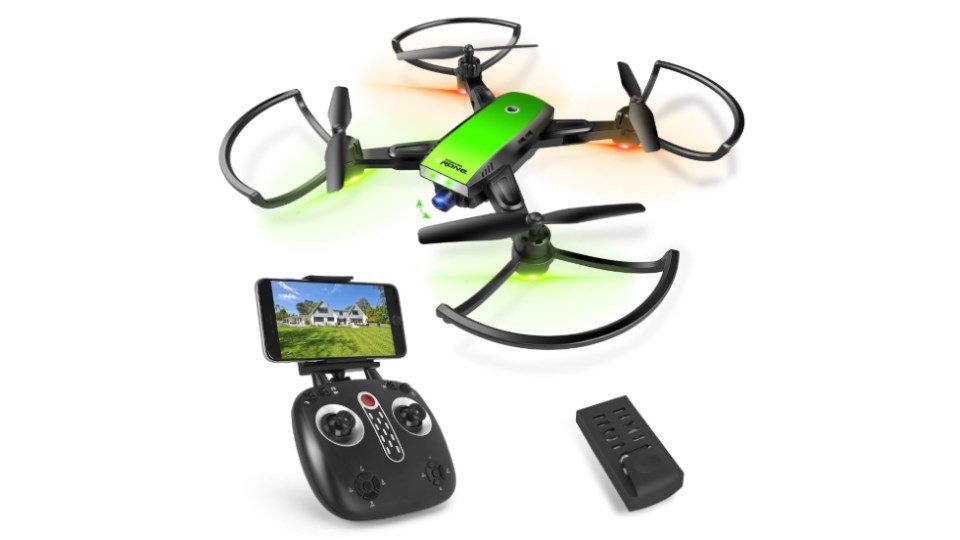 Update - 2019.12.14
This drone is no longer available on the market. We apologize for any inconvenience it may have caused.
As the drones are becoming popular these days in several industries. They are also getting affordable and accessible to beginners and recreational pilots. These drones like the Becrot RC drone comes with high-quality material and are packed with a multitude of features that makes them a serious contender. In our Becrot RC drone review, I will talk about its build and design quality, performance, features and other tidbits that make it a must-have quadcopter.
If you look at this drone on your first impression, you will see that it does resemble a strikingly similar style that DJI Spark has. In many good ways that offer beginners and recreational pilots a choice to buy DJI Spark clone at an affordable price. Regardless, I am going to share information with you about what you need to know about the Becrot RC drone. At the end of the review, you will be able to make an informed shopping decision. Without further ado, let's dive into the details.
Related Article: How to become Part 107 Certified Remote Pilot: The Beginners' Guide
Build & Design Quality
First and foremost, the Becrot RC drone has a similar design layout as the popular DJI Spark quadcopter does. However, it features bright green coating on the top of the body framework which provides a nice appearance. In addition to that, the power button is located on the top that can be easily accessed. The motor arms are foldable which lets you easily fold the drone to a compact size. When folded, you can store the drone inside your backpack or travel case for easy to carry mode.
As you can see that the Becrot RC drone uses a modularized battery that protects against discharge and overcharges. Not just only that you can fly with peace of mind, the modularized battery is designed to deliver the power more efficiently for better flight performance. This is a must-have build feature for modern drones such as the Visuo XS809S and TENKER DC-014 quadcopter.
Furthermore, the Becrot RC drone comes with a built-in 720p HD camera that delivers clear images and videos. The only drawback is that the camera can't be adjusted remotely. This means you need to adjust the camera manually if you want to capture certain aerial shots. Regardless, this green stylish drone does make an appearance splash in a style which is a big plus for beginners who wants to start strong with high quality and durable foldable drone.
Related Article: 7 Quick and Important Tips for Beginner Drone Pilots
Performance
The two most important things you should consider when shopping for the perfect drone. First, you need to know if a drone is durable and can withstand beatings. As I mentioned previously that the Becrot RC drone is an incredible durable quadcopter built with great material that guarantees long service life. Secondly, you want to know how well a drone can perform such as is it easy to fly the quadcopter? Speaking of performance, the Becrot RC drone comes with a multitude of features geared toward beginners.
Commanding the Becrot RC drone is relatively easy thanks to a built-in 6-axis gyroscope that provides stability and smooth flight experience. Furthermore, it is responsive to the controls with precision and lighting speed. The drone can be controlled up to 300 meters away which is way more flying room compared to most drones in its price range. Plus, a single battery on average gives you a flight time of 9 minutes. I think it is pretty good for an affordable foldable drone under $50.
Along with that features, the Becrot RC drone can perform a set of functions such as altitude hold function, headless mode, return to home, gravity sensor, FPV mode and of course VR mode. In case you are wondering what the heck is a headless mode. That feature switches the control orientation of drones to a remote controller. This means instead of flying the drone-based on its facing direction, it flies based on the direction you are pushing the movement lever. This lets beginners focuses more on the movement instead of worrying where the drone is flying at.
Related Article: 12 Amazing Reasons to Buy DJI Mavic 2 Drone
Features
The Becrot RC drone is truly a compact quadcopter packed with features. As I briefly touched on the features in the performance section. I will further expand what each feature does and how beginners will benefit from using them during flight operations. First, we have an altitude hold function. This feature detects changes in the air pressure automatically and adjusts accordingly to keep the drone hover steady.
Also, it has a return to the home function that you can easily recall with a push of a button. It is useful if the drone is too far or you are not sure where it is. Just make sure that the flight path is clear before you activate the return to home. Additionally, the Becrot RC drone has speed mode that provides a smooth learning curve for first-time flyers to master their piloting skill. On default, the drone will be at its lowest speed setting. Once you master the drone flight basics 101, you can increase the speed mode to challenge yourself. It is a great opportunity to train before you plan to splurge on expensive camera drones that make you money.
Finally, you will have three ways to control the Becrot RC drone. First, the most common thing is a remote controller. Secondly, you can fly the drone using virtual sticks on your smartphone. However, that comes with reduced control range up to 50 meters. And third, you can fly the drone using the gravity-sensor feature. Which means, the drone flies based on the orientation of your smartphone. If you tilt it to the left, the drone will fly left and so forth on. Overall, I think the Becrot RC drone is truly a feature packed quadcopter that will meet customers' expectations.
Related Article: Top 5 Best Drones to Buy for Travelers and Tourists
Remote Controller
The Becrot RC drone review isn't completed without talking about how darn professional the remote controller is. Compared to other drones such as HS210 Night Elf and HS160 Shadow, the Becrot RC drone's remote controller blows them out of the water. Now let's get started talking about this remote controller design and functions. I loved how it looks with black coating and sliver chrome touching around the levers. From an initial impression, it looks like a professional-grade level remote controller that is very comparable to high-end drones such as Phantom 4 Pro.
The red button located on the top is the power-on button. On the right side are the movement lever and features. On the left side is the lever for altitude and rotation as well as other features. My only quip about this remote controller is that it doesn't come with the inscription on the button. Which makes it hard to understand what each button does. So, if you are thinking of throwing away the instruction manual, don't, because you will need to use it to understand how the controller works.
Finally, it comes with a mount holder that you can insert your smartphone. If you are using a smartphone with one of these popular cases, it will work fine since the mount holder can hold up big smartphones. This is incredibly useful if you want to view the drone's video in real-time or just to experience first-person view mode. Additionally, you can use a VR headset and connect to the smartphone to enable VR flight experience. Two VR headsets that I recommend are HS 3D Virtual Reality Headset and Lightweight SwagDrone Virtual Reality Headset.
Related Article: Top 5 Best Holy Stone Drones With Camera for Sale
Final Verdict
In conclusion, we think the Becrot RC drone is a masterpiece quadcopter built for beginners. Here is why: it is one of the most durable drones crafted with ABS plastic which provides resilience against damage. Secondly, it is in line with modern drones that we see them using advanced features and modularized batteries. Because of that, you can easily fly the Becrot RC drone without having to worry about hazards. Not just only that, you also get to fly a long time. So, it is a big win-win advantage here.
Before I conclude the Becrot RC drone review, beginners and recreational pilots who are looking to buy an affordable drone with a camera are highly encouraged to check this quadcopter out. There are so many good things to be said about the Becrot RC drone. From a multitude of features to performance and durability. Beginners will not be disappointed with their choice if they get the Becrot RC drone. You can check its price by visiting the official page.

Last Amazon price update was: June 19, 2022 3:22 pm
×
Product prices and availability are accurate as of the date/time indicated and are subject to change. Any price and availability information displayed on Amazon.com (Amazon.in, Amazon.co.uk, Amazon.de, etc) at the time of purchase will apply to the purchase of this product.
Editor's Review
The Becrot RC drone is a professional crafted quadcopter built for durability and countless of fun hours. We think beginners and recreational remote pilots will find themselves very happy and satisfied with this foldable camera drone. It is the perfect drone for both training and aerial photography.
PROS
Built-in Camera
Stylish
Easy to Control
Perfect for Beginners
Packed with Features
Long Control Distance
CONS
Average Battery Life
No GPS/GLONASS Feature
Add your review