Meet the DJI Spark drone, the most portable, and beginner-friendly quadcopter yet. This mini drone was released in 2016 marketed toward beginners and recreational remote pilots who are looking for a lightweight quadcopter packed with impressive camera quality. With today's drone technology evolving at a rapid pace, drones are becoming accessible and easy enough for first-time flyers to learn how to fly one.
In the DJI Spark Review, we'll talk about its design quality, performance, camera quality, features, and remote controller. However, because our DJI Spark review is quite long. I encourage you to bookmark this guide so that you can read it bit by bit. The goal of this guide is to help drone shoppers as you become informed of what the DJI Spark has to offer in the store for you. If you're still reading this, the chance is that you're probably very interested in having a DJI Spark drone. Without further ado, let's dive into the details.
Related Article: Top 10 Best DJI Spark Accessories You Need to Buy for Beginners
Design Quality
First and foremost, the DJI Spark drone comes in five different colors: red, blue, yellow, green, and white. This is especially nice because it gives you choices to choose your favorite color. The drone itself has a body dimension of 143 * 143 * 55 mm which is around one and half times your palm of a hand. It goes to show how small the Spark drone is. The intelligent battery can be found underneath the drone in the rear.
The DJI Spark comes with built-in sensors located in the front as well underneath which protects the drone. Furthermore, the motor arms can be installed with quick-release propellers that only requires a hand to mount on it. Which makes it super easy for beginners to install and replace the propellers.
Obstacle Avoidance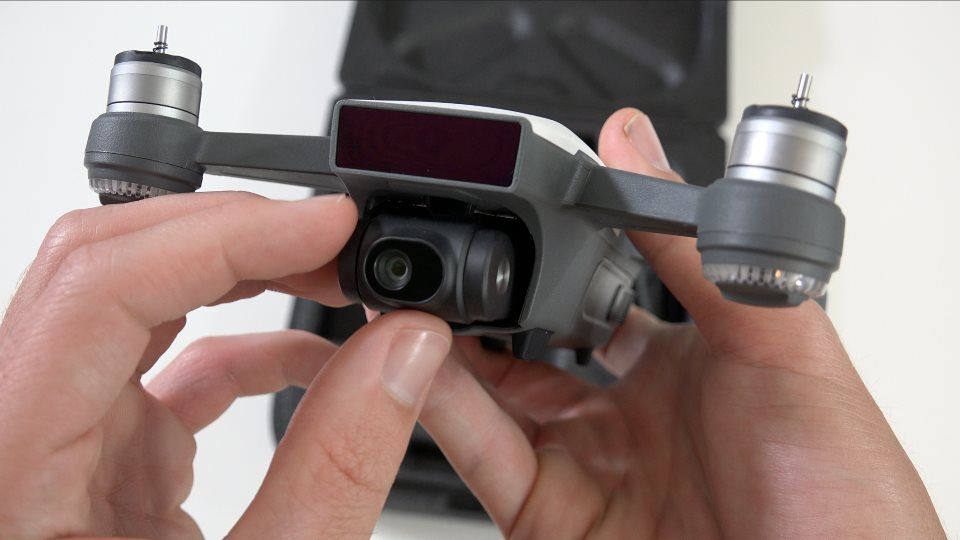 As mentioned previously, the DJI Spark is equipped with an obstacle avoidance feature. See the red-tinted glass located at the front, that is obstacle avoidance. There are also another additional two sensors mounted on the bottom that provides a safe landing for the drone. The obstacle avoidance feature acts as a layer of protection that keeps the drone from colliding against the object.
It collects the data in real-time and relies on the motherboard which then processes all the information that tells the drone whether it is safe to fly there or not. The obstacle avoidance feature is done autonomously without the need of an independent remote pilot to do the job for them. This feature makes it possible for beginners and recreational remote pilots to have Spark drone follow them anywhere they go without having to worry about the drone colliding into objects.
Intelligent Battery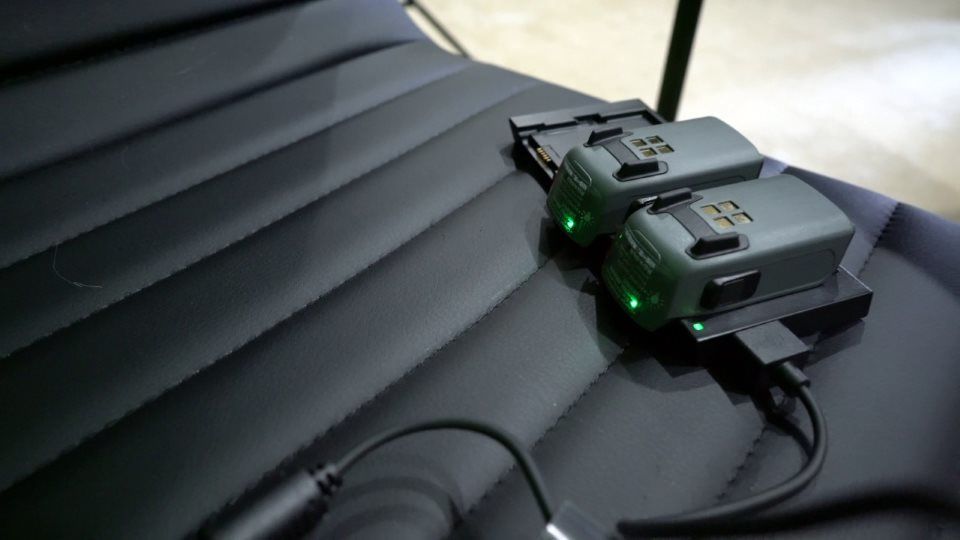 A DJI Spark Intelligent Battery on average lasts about 14 minutes realistically. On the product page, it's advertised to have 16 minutes. But if you take all of these into account: landing and takeoff time, weather conditions, and performance usage. These factors will impact how long you can fly the DJI Spark.
If you do plan on flying the drone over a long period, it's recommended that you purchase at least four to five extra batteries. With four batteries, you'll easily fly the drone for over an hour while charging other batteries. These batteries are very smart and designed to protect themselves in events of overcharge and discharge. By eliminating these hazards, remote pilots can fly the drone with peace of mind.
Gimbal Systems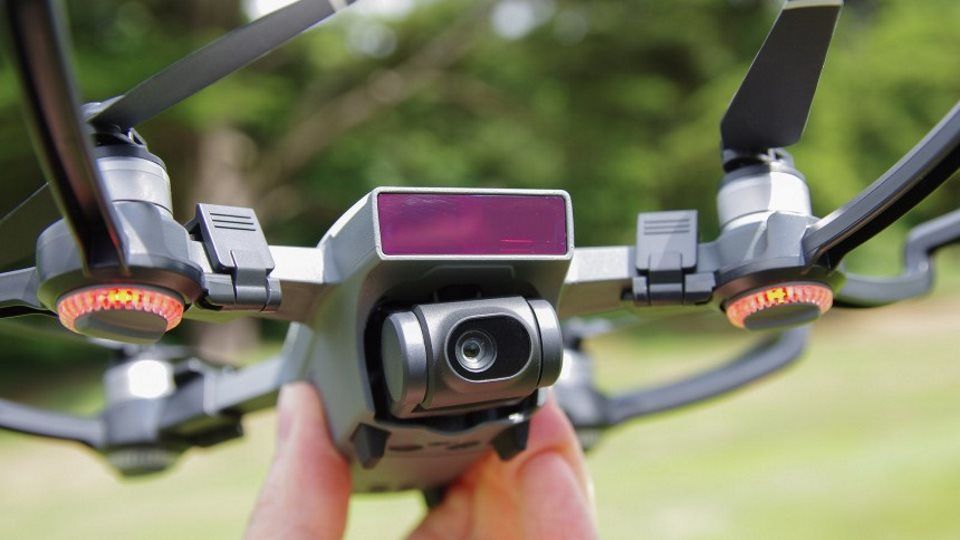 Finally, the DJI Spark drone comes with a built-in camera mounted on 2-axis gimbal camera systems. Unlike high priced models such as Mavic Pro which features 3-axis gimbal systems, the Spark drone only has two. This means the camera can be rotated via pitch and row. Even though this lets the remote pilots take steady and beautiful shots, the Spark drone's gimbal systems are more stable compared to the floppy gimbal that the Mavic Pro uses.
This is particularly advantageous for a couple of reasons: the Spark drone can easily maintain its camera stability in the high wind without vibration. Secondly, it's more reliable and durable that will hardly come off the mount. All good things to be said about the Spark drone for beginners and recreational remote pilots.
Related Article: Top 5 Best Selling and Popular Foldable Drones for Remote Pilots
Performance
In the next part of the DJI Spark review section, I'm going to talk about its performance. You would want to know how well a drone performs. After all, it's one of the major factors when it comes to deciding whether to buy a drone or not. While I explained about several design features that the DJI Spark comes with which helps the drone performs far better compared to toy-grade quadcopters such as the Bolt Bee or X12 Drone.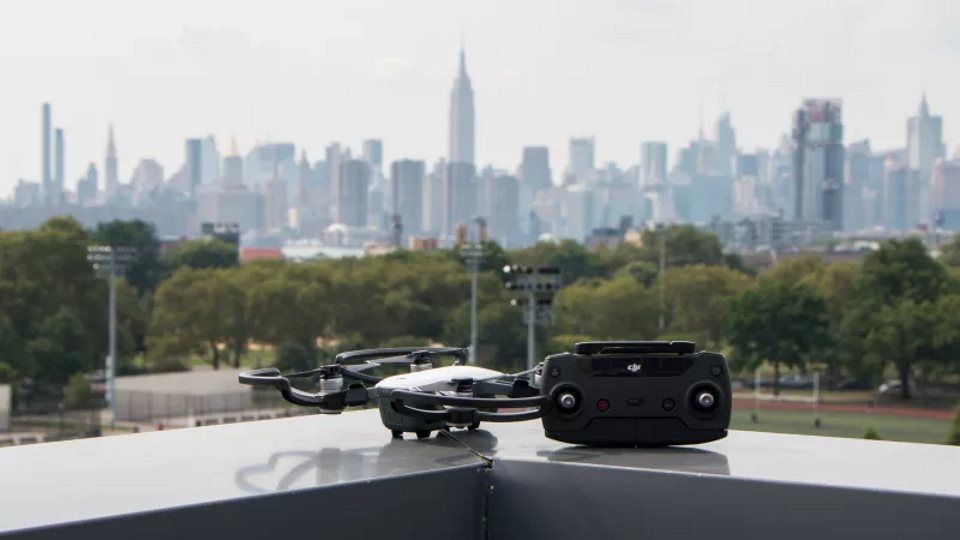 Thanks to a built-in GPS module, the DJI Spark drone can communicate with the satellite to acquire a stable and steady hovering position. Not only beginners and recreational pilots can fly without worrying too much about the drone's position, but it's also both responsive and incredibly easy enough to fly with basic controls.
Its propulsion force, however, is strong enough to withstand against wind level of 4 to 5 with ease. Because it's lightweight compared to flying beasts such as the Mavic Pro and Phantom 4 Pro, heavy winds will easily blow it away. Regardless, it enables the drone to fly around with an impressive control distance up to 2,000 meters away.
Most of the DJI Spark drone's performance will be shown via video review below. This is just to give you an idea of how well the DJI Spark drone performs when it comes to flying it outside. Testing its performance against wind speed is a good factor to consider if you plan to fly outside because you'll always face them anywhere you.
Related Article: Top 3 Best Drones Like DJI Mavic Air Under $100 for Beginners
Camera Quality
The DJI Spark drone comes with an impressive 4K ultra-high-definition resolution camera. This is especially quite a feat for a mini-sized drone since that will make you wonder how the heck DJI managed to stuff high quality on a small drone. Regardless, this lets you capture aerial shots at high-level details that will capture your audience's attention. Since it features a 1/2.3″ CMOS sensor with 12MP image quality, it can catch all details and colors in its true form.
The only drawback to this is that the DJI Spark drone can't record videos at 4K resolution. Since it only can record up to 1080P HD at 30 frames per second. I would agree with you that it does sounds disappointing, but if you're a beginner looking for a smart entry-level drone. You'll love this drone because of no matter what camera quality it has to offer. If you know or are willing to invest time into learning how to Photoshop images. You can easily turn a picture taken by Spark drone to the quality level taken by Phantom 4 Pro.
It's possible and has been done before. Sounds cool right? Below is another DJI Spark review this time on the video quality. If you want to learn more about the video quality as well as images. This video will help you decide whether it is worth investing in a DJI Spark drone. Check the video out below.
Related Article: 5 Best Cheap Selfie Drones That Will Make Your Holidays Special
Features
My next favorite part of the DJI Spark review features. Believe it or not, this mini-sized drone is packed with a ton of features. Thanks to essential modules such as GPS, built-in sensors, and other fancy tidbits. First, let's talk about GPS mode and how it enables intelligent flight mode. The GPS module ensures precise and smooth flight controls that beginners can easily learn how to fly a drone.
In addition to that, it enables intelligent flight modes such as Orbit Mode, Follows Me, and Waypoint Mode. If you're that type of person who enjoys taking a selfie or go on solo trips. The DJI Spark is very capable of performing autonomous intelligent flight modes without the need for a second drone operator. Simply activate one of those intelligent flight modes and the drone will do itself automatically.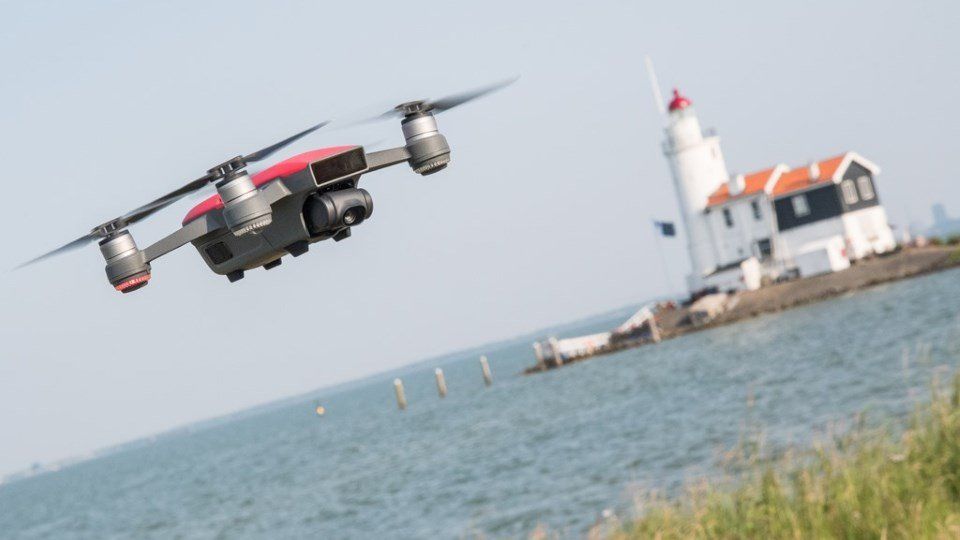 As I mentioned previously about the obstacle avoidance sensors. It's one of the key features that ensure a safer sky for everybody including the pilots themselves. The sensors not only keeps the drone from colliding against objects but ensuring safe takeoff and landing using soft impact. Contrasted to the toy-grade drones that usually will perform rough landing, the DJI Spark lands and takeoff absolutely like grace.
Lastly, the drone has two flight modes. One is a normal mode which means the speed and performance are dumbed down for beginners. It's suitable for aerial photography and casuals who simply want to enjoy it. The second flight mode is sports mode which increases the speed and performance. It's a good choice for windy conditions but it comes at a small price, the obstacle avoidance is disabled. So you will have to fly with care.
Related Article: How to Become Part 107 Certified Drone Pilot: Guide for Beginners
Remote Controller
The DJI Spark review isn't completed without talking about the remote controller. This professional-grade transmitter comes in a nice jet black coating around its body framework that gives a stylish appearance. Furthermore, it features foldable arms that can hold your smartphones. On a side note, it can't hold a smartphone with a case. If you do wish to use a remote controller that supports bigger smartphones and tablets, please refer to my master list for smartphones and tablets for the DJI Go App guide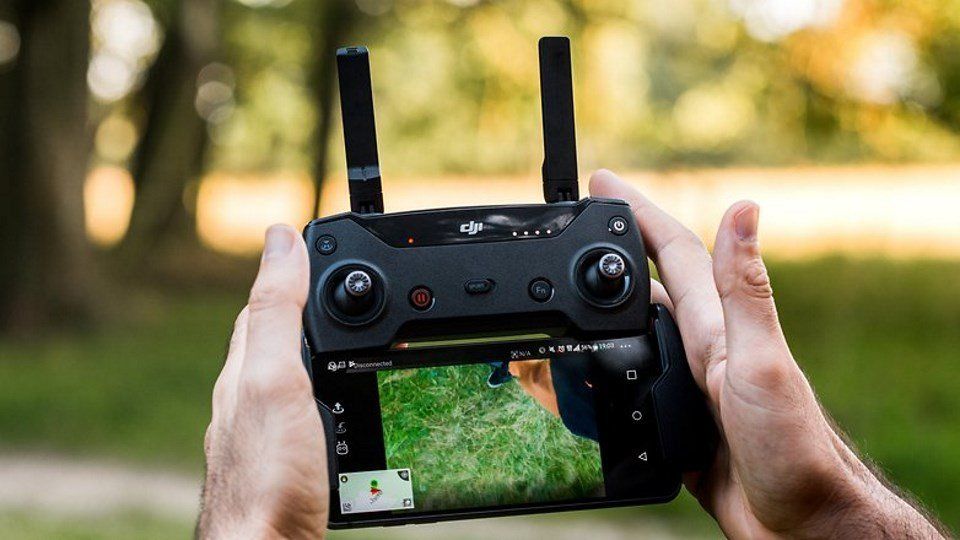 With a remote controller only, you can power it on and activate automatic landing/take off as well as smart return to the home button. If you do want to see the video in real-time, you'll have to connect your mobile device to the remote controller and activate DJI Go App. From that point, you'll have more access to a variety of features like intelligent flight modes and such.
Also, keep it in your mind that there are three ways you can control the DJI Spark drone. The first and most obvious is the remote controller. Secondly, you can pilot the drone using DJI Go App but that comes with are limited control range. Lastly, you can command the drone using hand motion. Ever want to become a Jedi? Yep, now you can with DJI Spark drone.
Related Article: How to Interact with Curious People While Flying Your Drones
Customer Experience
The DJI Spark drone has an average rating of 4.2 out of 5 on Amazon. Seventy percent of this comes from five-star reviews. Clearly, with a high average rating, many of those who bought this drone love it. Many of them say that Spark is an amazing starter drone, exceeding their expectations. They are thrilled with the drone's camera quality. Even in its tiny size, the images and videos they got from it are nothing short of high quality. If you're a beginner drone user looking for your drone, this is a perfectly splendid choice.
Final Verdict of DJI Spark Review
Before I conclude the DJI Spark review, I have a few final remarks to share with you about this mini-sized drone. If you're a beginner or first-time flyer looking for a portable and intelligent drone to start with. The DJI Spark drone is a perfect choice. Based on what it has to offer from a wide range of features and tools that make professional videos possible.
Not only that, beginners will have an amazing opportunity to learn how to fly and master aerial photography skills. It is also a great drone for educational purposes if you have kids or students who want to learn how the drone works. The DJI Spark makes a good candidate for learning the ins and outs of drone engineering.
We think the DJI Spark drone is great because it's smart enough to fly on its own. Plus, it comes with awesome features like obstacle avoidance sensors that makes flying the drone much safer. Nobody has to crash their drone on the first flight attempt, right? After all, the most important is the performance, durability, and the quality of the camera that makes the DJI Spark drone an incredibly popular choice for beginners.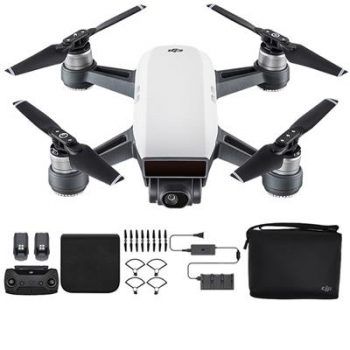 Set Lowest Price Alert
×
Notify me, when price drops
Set Alert for Product: DJI Spark, Fly More Combo, Alpine White - $799.00
Last Amazon price update was: September 7, 2023 11:19 pm
×
Product prices and availability are accurate as of the date/time indicated and are subject to change. Any price and availability information displayed on Amazon.com (Amazon.in, Amazon.co.uk, Amazon.de, etc) at the time of purchase will apply to the purchase of this product.
Editor's Review
The DJI Spark drone encompasses advanced and intelligent flight modes that makes it super easy for beginners to fly around. Thanks to built-in GPS module and sensors, flying the Spark has never been that easy and simple before. We think the DJI Spark is a professional crafted designed to bring a lot of features and cool stuff that will provide endless hours of fun. A great choice for beginners and recreational remote pilots.
PROS
Built-in GPS Mode
Obstacle Avoidance
Intelligent
Portable
Lightweight
Easy to Fly
Beginner-Friendly
Stable
High Quality Camera
CONS
No 4K Video
2-Axis Camera Gimbal
Average Battery Life
Add your review
|
Read reviews and comments