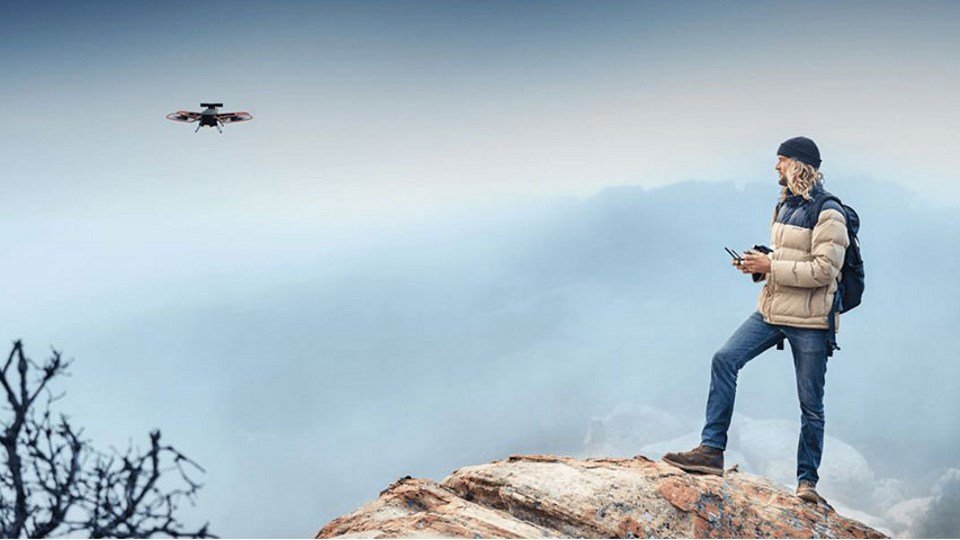 Last week, I published an article about the new Hover 2 drone that is supposed to be one of the most advanced autonomous quadcopters that fly on its own. It certainly has captured the attention of drone users who are looking for a portable quadcopter that does everything on its own. Now that the trailer video is out for brand new Hover 2 Camera Passport Drone. I am going to dive into the details to talk about what was shown in the video below.
Related Article: How to Become Part 107 Certified Drone Pilot: Guide for Beginners
360-Degree Swiveling Optical Radar
In my previous article, I talked about the strange object that is mounted on the drone. As it turned out to be rather a pleasant surprise: a 360-degree swiveling optical radar. This built-in optical radar can detect objects all around it and provide real-time data to the drone so that it can adjust its flight path accordingly.
Using the new suite of AI algorithms, the optical radar ensures that the Hover 2 Camera Passport drone can flies on its own without the need for help from the remote pilot. I can truly imagine this drone doing itself if I have it following me under the forest canopy. How cool would that be if you don't have to check on the drone just to make sure, rest assured that it can fly on its own? This creates entirely new potential for professional and cinematic solo journeys all around the world.
Long Battery Life
The original Hover Camera Passport drone only has a battery life of 10 minutes. While we all can agree that it is extremely short for a 4K camera drone. The drone company that has been working on the Hover 2 Camera Passport drone made sure that it comes with longer battery life. With a battery life of 23 minutes, the remote pilots can do a lot more with a single battery charge.
Longer Control Distance
If you think that is all about what the Hover 2 Camera Passport drone has to offer. You are wrong because it comes with an upgraded control distance. It can fly up to 2,000 meters away while delivering high-quality images and videos to your smartphone in real-time. In some sense, this foldable camera drone can be used for professional aerial photography thanks to its high-quality camera.
Who would love to have an autonomous and intelligent drone that can take long and amazing aerial shots while you are climbing Mountain Everest? I think it is certainly a nice upgrade on its side and of course a good move as it will give beginners and recreational remote pilots more flying room to soar around.
Related Article: 7 Quick and Important Tips for Beginner Drone Pilots
Smarter, Durable, and Autonomous
While the Hover 2 Camera Passport drone hasn't been released on the generic market like Amazon and such. You can pledge on its official Kickstarter page and grab a Hover 2 Camera Passport drone when the company is ready to launch it. Since they created a Kickstarter page almost two days ago, they have already earned a $550,000 pledged fund out of $100,000 required to launch the drone.
So, it is certainly an impressive feat for Zero Zero Robotics. If you want to grab the Hover 2 Camera Passport drone early, you can become an early backer and get it to deliver to your home in March 2019 for only 43% off its retail price. Or, you can wait and see if it is worth the money for what it has to offer. Stay tuned for more updates and information about the brand new Hover 2 Camera Passport drone.
Editor's Pick: