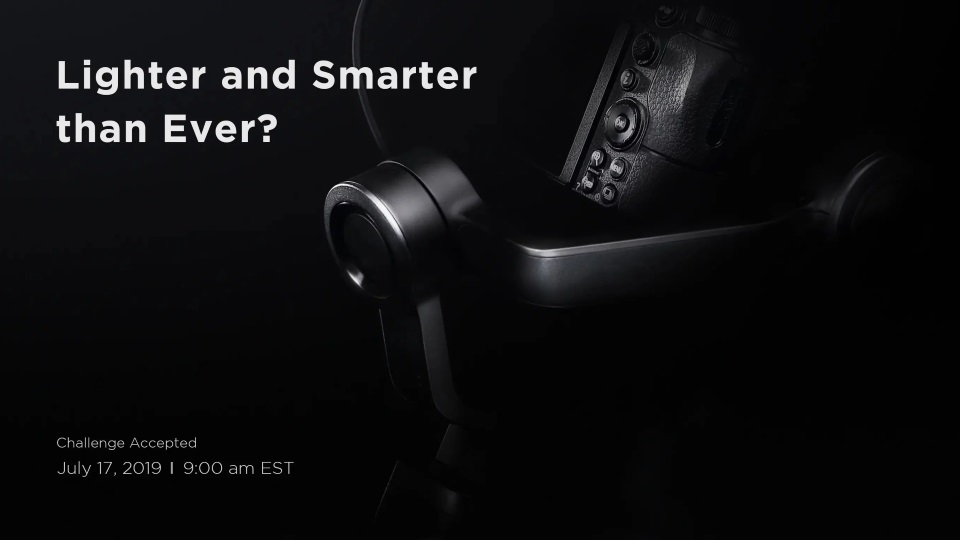 It looks like DJI is about to release a new lightweight gimbal for mirrorless cameras. It was revealed on the DJI's official teaser page as well a blueprint video showcasing the new product. This new Ronin gimbal appears to be lighter and more compact than the current Ronin-S.
The DJI Ronin-S was launched in Janurary 2018 and has gotten a little bit extra tooth. It competes with other popular 3-axis gimbals like Zhiyun and  Moza that offers similar performance and variations for the same price or less. Furthermore, the mirrorless camera market is expanding. Which makes the 3-axis gimbal stabilizer absolutely sweet spot for offering functionality and price for those mirrorless users. Even more so, it benefits early adopters like Canon, Nikon and Pansonic.
The updates to the Ronin-S is just a few days away according to this teaser page on official DJI's website. As well a short trailer below that shows what the new lightweight gimbal is all about:
Based on the glance of blueprints seen above and the teaser image. It looks like the new Ronin gimbal will maintain similar form factor as Ronin-S. However, the only difference is that the new Ronin will be lighter and more compact. It won't sacrifice that much in terms of performance and payload capacity.
The new Ronin gimbal stabilizer is set to release on July 17th. It is also the latest product to come out along with its other two popular gadgets: Osmo Action camera and Robomaster S1 Tank. Be sure to keep an eye on it and we will share the news once it is official. What do you think of the new Ronin gimbal stabilizer? Share your thoughts and views with us by commenting below.