Why I Choose The Potensic T35 Over The Potensic T25: Insider's Guide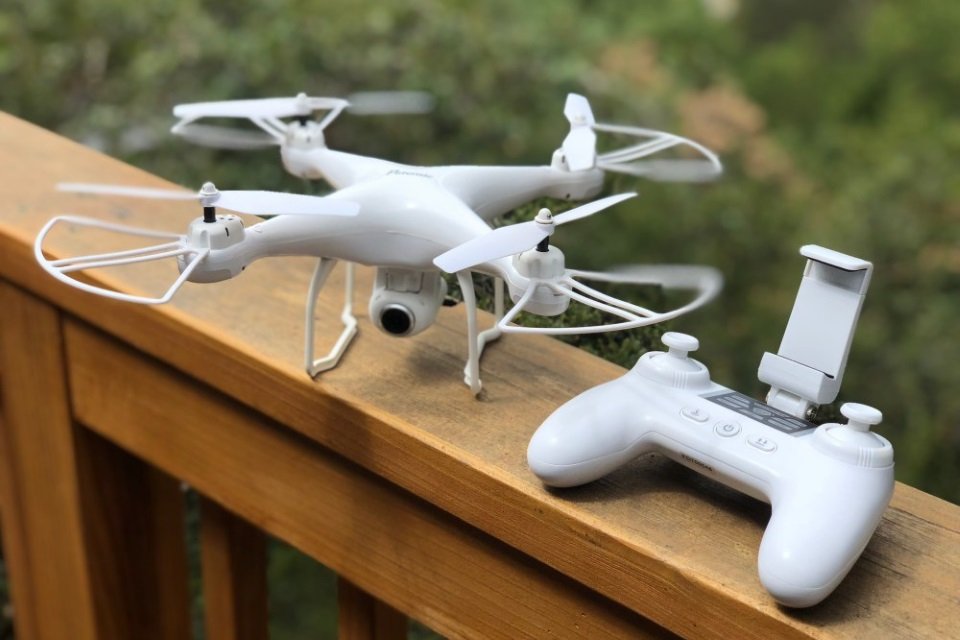 The Potensic T35 drone is a great quality quadcopter that is super easy to fly for beginners. It is also built with high-quality material that encompasses good durability and wind resistance. Both the Potensic T35 and T25 are perfect for anyone who wants to have a smart camera drone without spending too much money.
The characteristics and its performance operate exceptionally well. Although for new drone users, the remote controller might take a while to get used. Most of the remote controller can be replicated on the mobile devices that makes it easier to fly the drone. Since the Potensic T35 and T25 drones come with a built-in Wi-Fi camera, it can be connected to your mobile devices to enable live-video in real-time.
The quality of the video is flawless and runs smoothly up to a fixed distance. It delivers crisp and clear images when close to items and softening in high altitude shots. The intelligent flight modes run well with this Wi-Fi camera that makes it easier to use the settings. Not to forget to mention that these controls are readily accessible.
Why Choose Potensic T35 Drone
Let's be real here, the Potensic T35 is a smart camera drone. It is outfitted with an advanced GPS/GLONASS feature that is designed to locate the drone and provide you with intelligent flight performance capabilities. If you have been looking for an affordable smart camera drone, to begin with. Stick with us to find out the top 7 best features of Potensic T35 drone:
Top 7 Best Features of Potensic T35
The Potensic T35 drone will automatically activate Smart Return to Home if its battery is low or loses signal.
To activate Smart Return to Home, press the button once and the drone will fly back to its last point where it took off.
Follow Me Mode: Follow along with the built-in GPS feature on your smartphone that ensures the drone captures footage with precise.
First Person Mode: Optimized 1080P HD camera that delivers quality FPV mode for the best flight experience.
Beginner Friendly Features Altitude Hold, Headless Mode, One-Key Take-off / Landing, Emergency Stop.
Improved Control Distance and Longer Battery Life Time.
Built-in LED Lights and Night-Assist Night Flights.
That's a lot of features for an affordable smart camera drone, right? You would be surprised by how easy it is to fly this drone. Especially if you are a first-time drone user and have no prior flying experience. The Potensic T35 drone is perfect for anyone who wants to have a quadcopter that looks like DJI Phantom 4. I bought this drone because it is a fraction of the price and the specifications are pretty similar. It also comes with built-in GPS and a powerful camera that delivers a 1080P HD resolution setting.
How to Set-up The Potensic T35 Drone?

Keep it in your mind that the Potensic T35 is the best smart camera drone under $250. It is certainly not that cheap, but consider the specifications that it has. It is definitely worth the price tag. Before you fly the drone, you must do a GPS calibration. I highly recommend you read the user manual as it will tell you what to do and download the app called, "Potensic-G".
To start flying the drone, simply push the takeoff button. I charged the battery to full before flying the drone and it was able to achieve a maximum flight time of 15 minutes. It would be nice if the manufacturer provides fly more combo pack or something. Since the battery lasts approximately 15 minutes per charge, I would recommend purchasing extra batteries as not to disappoint your friends or kids when we finally get to the park.
To recall the Potensic T35 drone, simply press the Smart Return to Home button. One of the main features is that it is significantly better compared to drones under $100. Because it is so advanced enough to command the drone to return to the last point it took off. The same feature can be found on professional-grade camera drones as well. Which alone makes the Potensic T35 an incredible capable smart camera drone for beginners.
How is the Camera Quality of Potensic T35 Drone?
The Potensic T35 drone is outfitted with a 1080P HD camera that features a full angle in a crisp and clear resolution setting. It comes with the ability to adjust up to 90-degree remotely. Which gives you the freedom to point the camera in any direction you want to, making it possible to capture a special moment. Not to forget to mention that the drone comes with a user manual that helps you how to use the camera.
What's The Difference Between T35 and T25 Battery?
While the Potensic T35 and T25 battery look similar in some ways. Both are very different. The Potensic T35 battery is heavier and features longer flight time. It is a 2500mAh high-performance Li-Po battery that provides up to 15 minutes of flight time. On the other hand, the Potensic T25 battery features 1000mAh Li-Po that provides up to 10 minutes of flight time. It is not exactly that powerful as the Potensic T35 battery.
Why I Choose the Potensic T35 drone over T25 and F183DH?
All of these reasons, I chose the Potensic T35 drone because it has amazing camera quality and performance. I flew the drone around and was able to capture some really beautiful aerial shots. It is easy to get hang of the Potensic T35 drone once you give it a few practice flights. Plus, it is fun to watch the drone take off and land. This is about the closest drone you can get that looks like a DJI Phantom 4 for less than $250.
With built-in upgraded 9-axis gyroscope which provides advanced stability and precise flight controls. It is also wind-resistant that makes it easier to fly in moderate weather conditions. Furthermore, it comes with a load of beginner-friendly features like headless mode and altitude hold function. And did I forget to mention that you can fly a Potensic T35 drone for up to 15 minutes with a maximum remote control distance of 300 meters?
Where to Order Potensic T35 Drone Parts?
In events where you accidentally break apart your Potensic T35 drone. I have assembled a list of parts that you can buy to replace/repair your drone. There are several reasons why you should always at least buy extra so that you can get the drone back into the air quickly. I also recommend buying a 32GB microSD card so that you can capture and store quality aerial footage with ease. Don't forget to include these accessories and parts during your checkout:
What do the customers love about the Potensic T35?
Compared to the T25, the Potensic T35 has a higher average rating in Amazon. Those who have given it a positive review commend the T35 for being one of the best budget choices if you're thinking of starting your flying experience. It is easily assembled, and the camera shots good quality photos with sharp and accurate colors. Operations are easy to master, as well. If you're looking for your first drone without blowing a big chunk of money, the T35 is your choice.
What Is Inside The Box:
Below is the list of parts that you should expect to get when unboxing the Potensic T35 drone:
Potensic T35 Drone with a 1080P HD camera

Transmitter

7.4V 2500mAH Battery

User Manual

USB Battery Charger

Screwdriver

Extra Landing Gears (2)

Extra Propeller Blades (4)

Extra Protection Guards (4)

My Recommendations
My recommendation for you is to follow the user manual carefully. It will tell you everything you need to know about the Potensic T35 drone before flying like what each button does and how to activate intelligent flight modes. Be sure to fully charge the battery first so that you can fully enjoy the true flight experience. Let us know how you like about this drone. Happy flying and fly smart!